Just after Easter I managed to wangle a little leave from work and we headed up to the Cederberg for a hideaway from reality. The Cederberg is a big deal for Cape Townians – its one of those go to holidays. However, this was my very first trip out to the Cederberg! We had the most fantastic two nights away and I loved the jaw dropping landscapes, reading books by the fire and the escape from cell phone signal. I wanted to share out time away and provide a little run through of how to 'do' the Cederberg.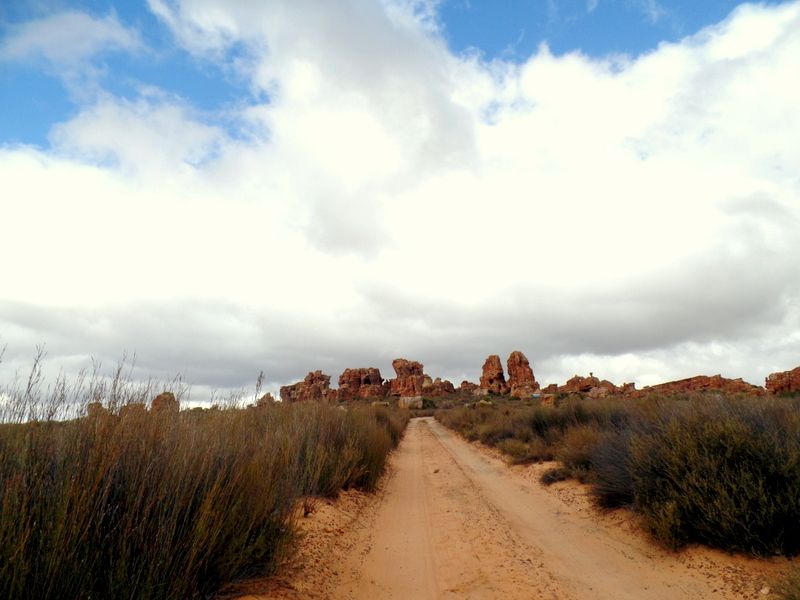 1) Where to stay:
We stayed at the lovely little Sanddrift Self-catering Holiday Cottages. They offer a variety of three star cottages. We stayed in 'Die Stal' which sleeps four people – two in the double bed and two in the bunk beds in the living room.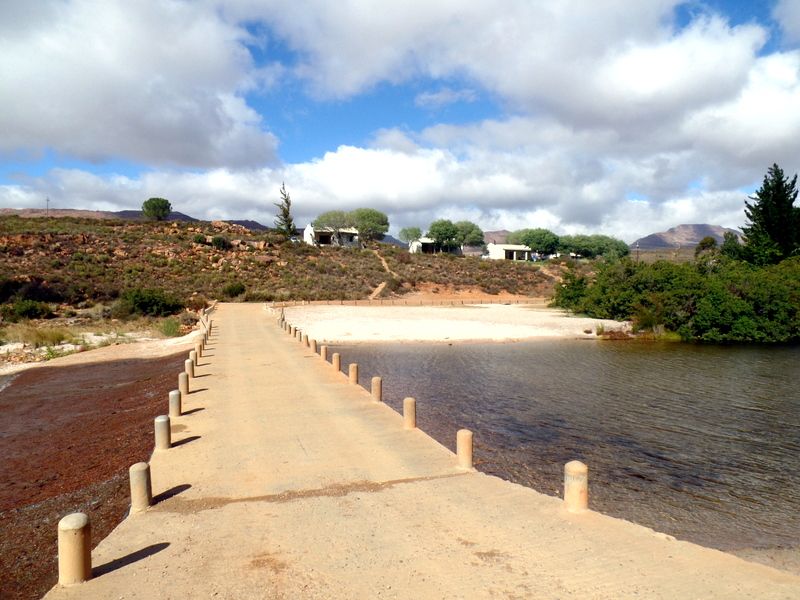 Sanddrift is in no way fancy but provided for everything we needed! The double bed was super comfy with extra blankets included, the shower boasted amazing water pressure and fresh towels, and the kitchen was fully equipped! I was most impressed by how kitted out the kitchen was – I wasn't expecting so much from a 3 star self catering spot! And to add in a little luxury a cleaning crew comes round once a day! Nothing says holiday like not doing the dishes ;)!
Each cabin also has an outside braai and an inside fireplace. The weather was actually really cold the week we were there despite all the sunshine and we were so grateful for the inside fireplace! As we were only two we decided to move the braai inside and were able to warm up by the fire with books and wine whilst braai-ing dinner!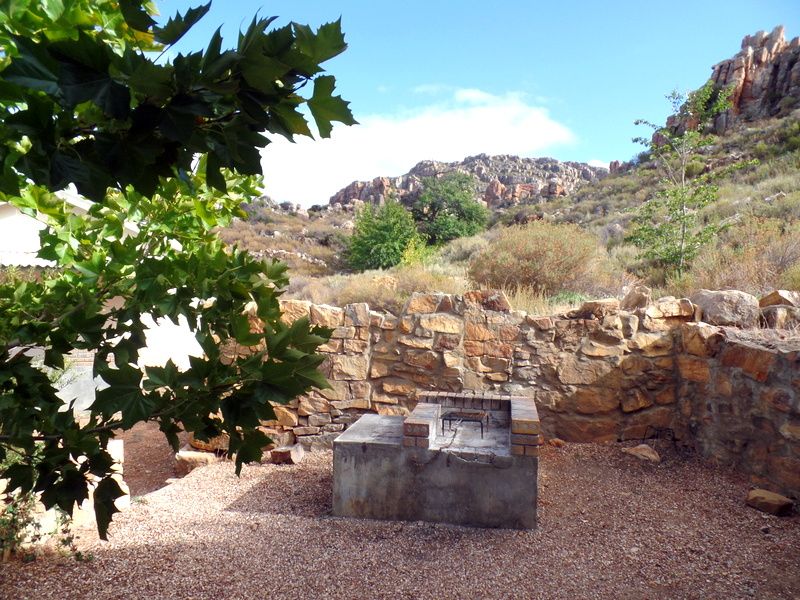 We really enjoyed our cottage at Sanddrift and I would 100% recommend a stay over. The best part is that its a huge bargain! The cottages are R850 per night for four persons and then R175 per additional person. Our cottage only slept four people but some of the bigger cottages can sleep up to ten people.
2) What to eat:
Cederberg is not exactly foodie friendly. In fact, I don't think there were any restaurants at all. However, Sanddrift had a super kitted out kitchen and we cooked some delicious meals!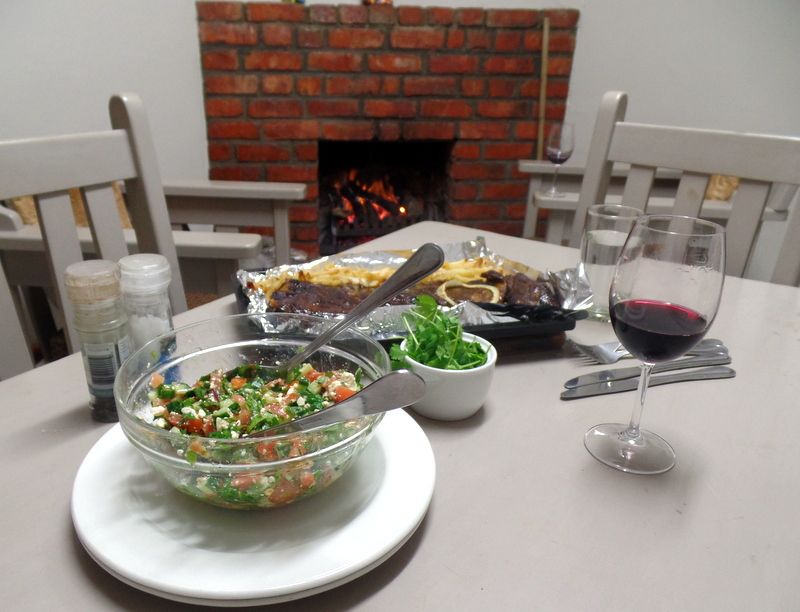 We arrived late on night one so we just warmed out some ribs and chips from the night before in the little oven and added a fresh salad and some red wine. The rest of the night was spent reading books by the fire and eating Easter eggs.
Unfortunately, we missed breakfast on the second day because I had a work call. So ended up starting our day with a wine tasting and then a late bubbly brunch! The sweetheart makes the best scrambled eggs so he was in charge of breakfast. I was in charge of drinking the bubbly and admiring the view. I didn't even need to do dishes because of the daily cleaning service! Such a great win!
Dinner on night two was a braai done on the inside fireplace. We assembled braai broodtjies, roasted sweet potatoes and onions, lamb chops and some more fresh salad. I can't tell you how damn delicious this simple dinner was after a day out and about walking and taking in the fresh Cederberg air!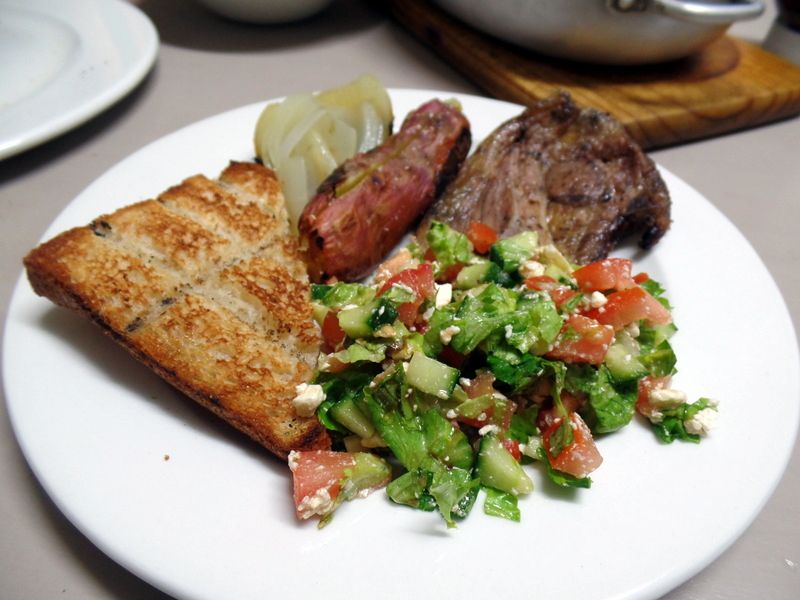 3) What to drink: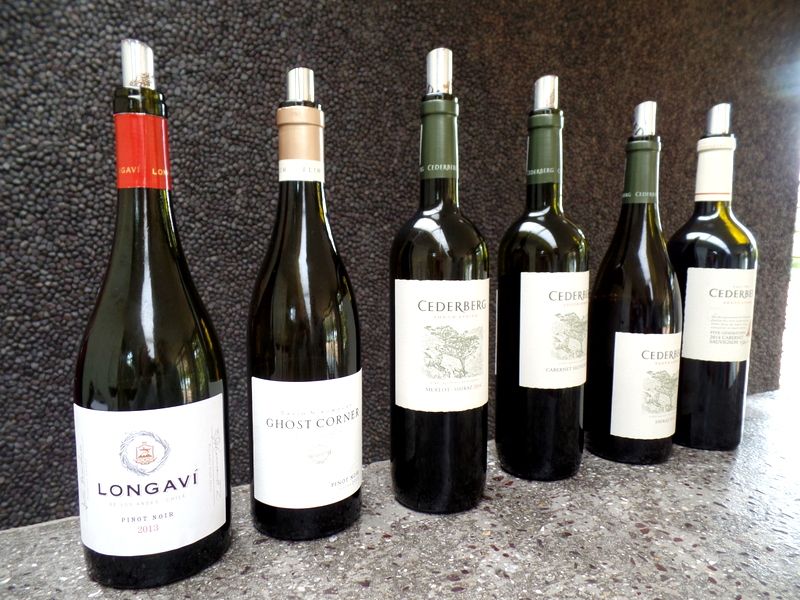 Sanddrift is on the Dwarsrivier farm which is home to Cederberg Private Cellar. This means there is wine! We enjoyed a tasting of the full range of Cederberg wines. I have to say I was really impressed! The vineyards are the highest in the Cape at 1 000 metres above sea level and are dubbed 'Wines with Altitude'. The tasting was informal and we just stood at the front counter. Our favourites were the MCC, Bukettraube and the Five Generations Chenin Blanc.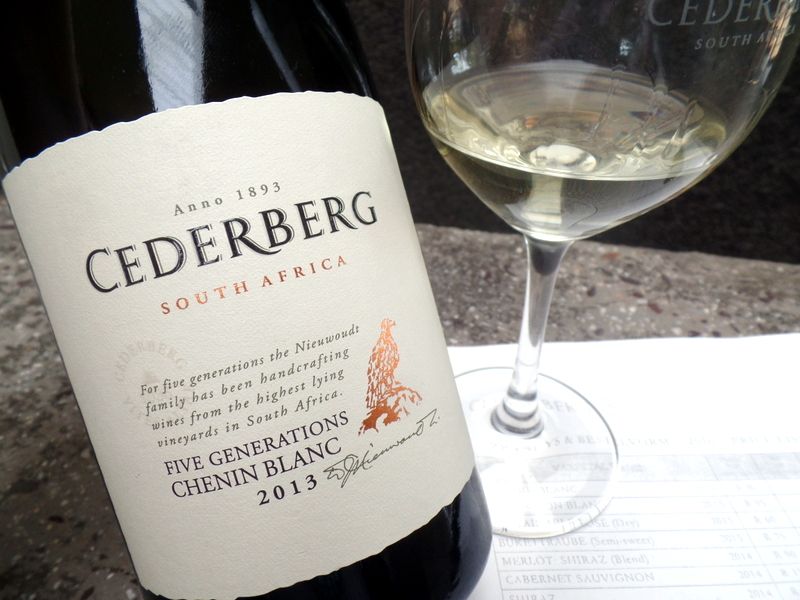 Cederberg also makes their own beer! What does this little gem not do!? The beer is available for purchase at the shop on the farm. Its always exciting to support local and to find a new beer! I especially loved the beautiful labels! Make sure to pick up a few Cederberg beers when stocking up on fire wood and wine at the little shop!
4) What to do:
I was a little concerned that I would be dragged up hills all weekend. I love a good walk – but walking up hill makes me tired just thinking about it. Cederberg can certainly provide you with these hills but they have hikes and walks for everyone! Cederberg has the most stunning scenery and the best way to see it is to walk through it.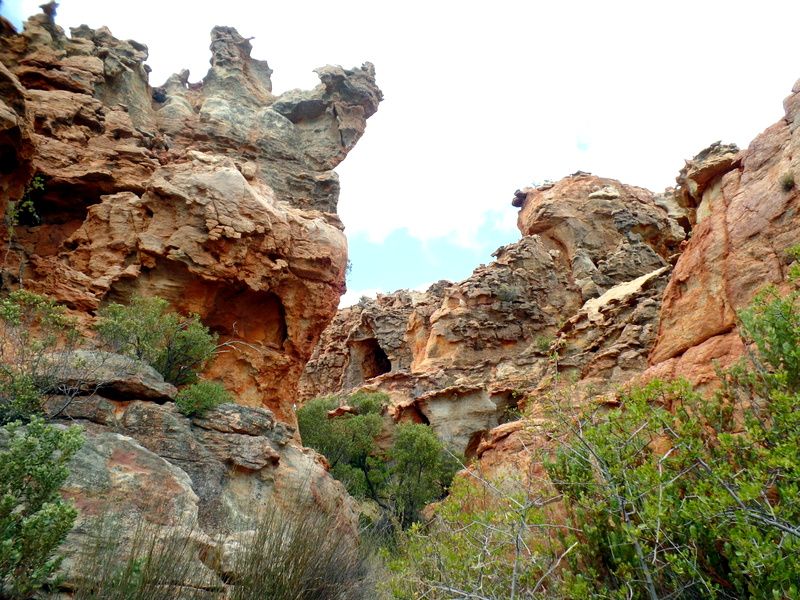 Cave Exploring
If you're keen for a little Cederberg magic with limited walking and absolutely no exertion I would recommend the Stadsaal Caves and bushman paintings. You will be able to drive right up and walk around the Stadsaal Caves which are beautiful and the bushman paintings can be reached by climbing a set of stairs. Remember to pick up a permit and the lock combination otherwise you won't be able to gain access!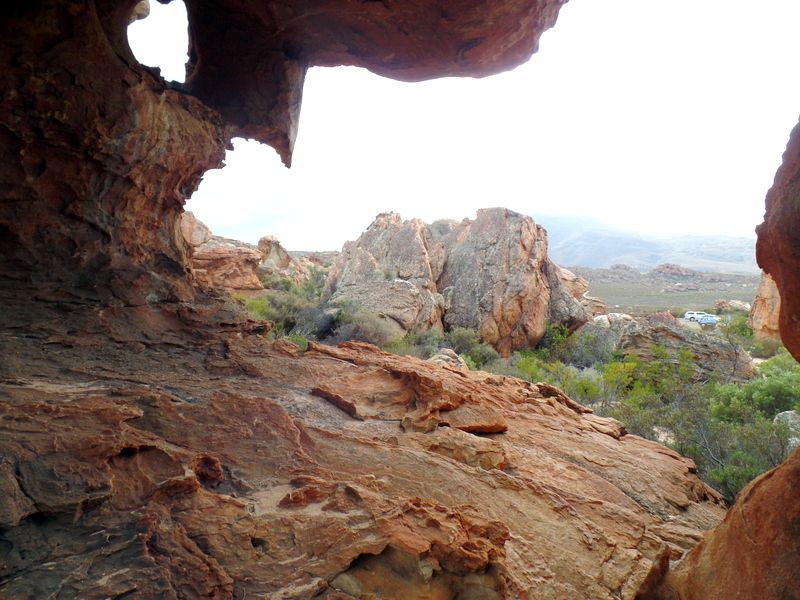 Maalgat and the Waterfalls
If you're looking for an hour to an hour twenty really easy going walk then head over to Maalgat. If you're visiting in summer you're definitely going to want to head down here for a swim and a jump of the crazy high rocks! Maalgat is a huge natural swimming pool with 8 m and 11 m high cliffs which the brave jump off! Maalgat is accessible just down the way from Sanddrift. However, if you're not staying at Sanddrift you need a day visitor pass. Maalgat is a really beautiful spot and even though the weather wasn't good enough for swimming it was wonderful to visit. I loved the little waterfalls and giant cliffs surrounding the swimming pool.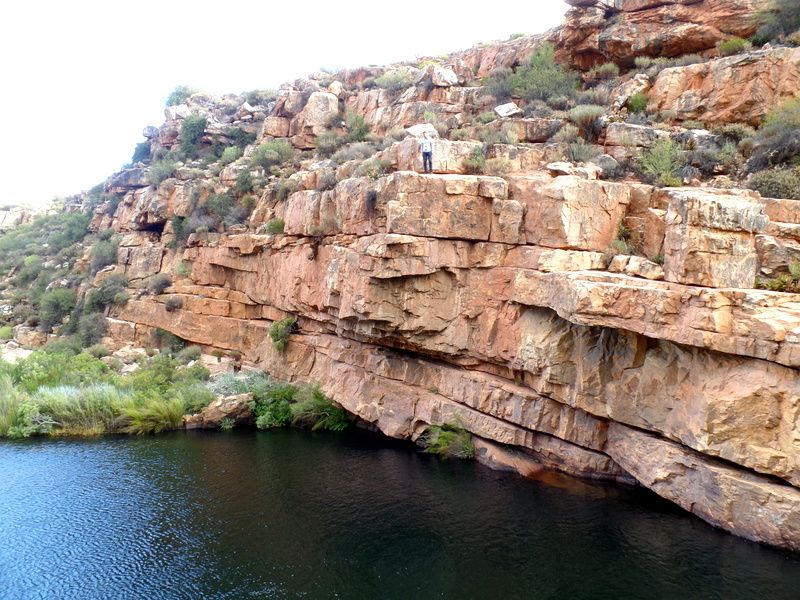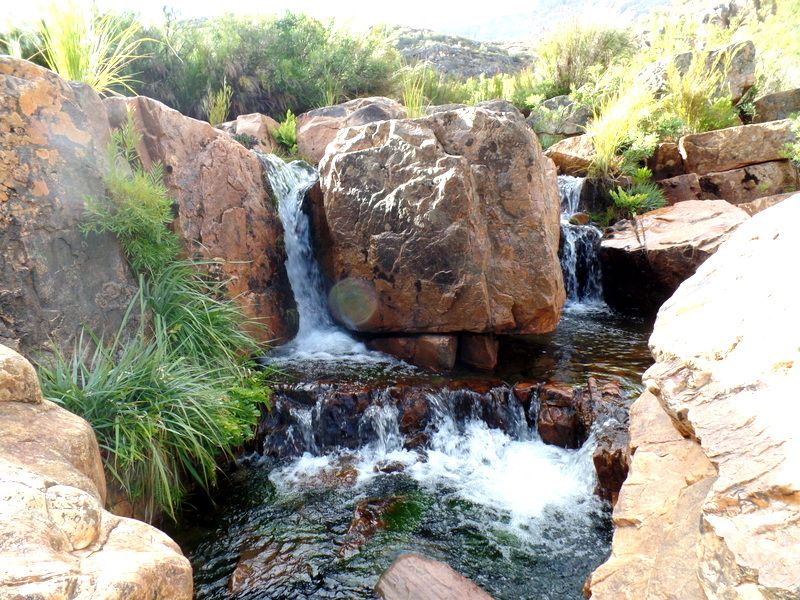 Easy walks for the lazy hiker
If you're up for a little more of a walk – maybe one to two hours then try out Lot's Wife and Window Rocks. You start by a gradual walk to see Lot's Wife (she's the rocky bit on the left in photo five that looks like woman praying) and then a little further to Window Rocks. The walk was so beautiful and we were the only ones on the trail. It was such a pleasure to have all that big open space to ourselves! I would highly recommend this walk and it was probably my favourite of our outdoor adventures.