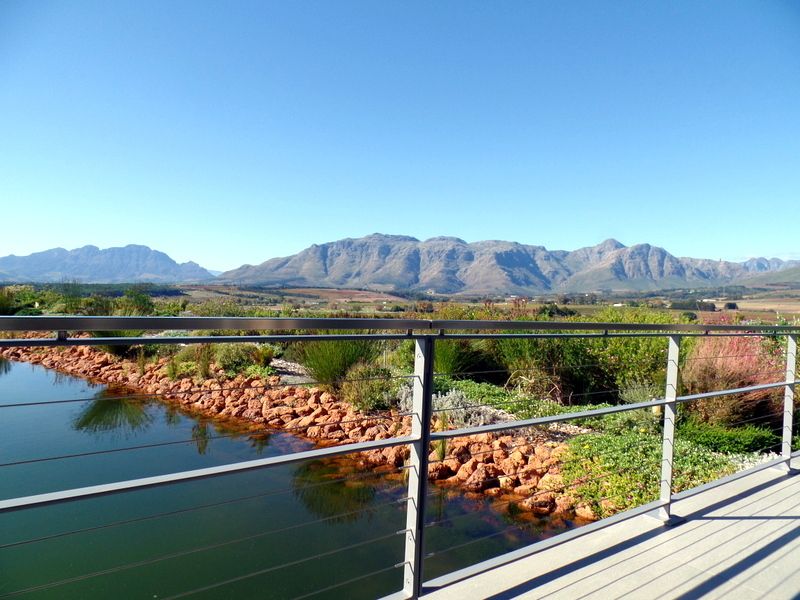 On a recent Stellenbosch escape we visited Cavalli. We were lucky enough to tie this in with restaurant week. If you haven't heard about restaurant week I am sorry to say you have missed it this round but according to their website they are heading back in Spring! The idea is that a restaurants in Cape Town, Johannesburg, Durban and the winelands get together and commit to creating a menu at a certain price. There are some really great options and I wish I had been able to try out more but unfortunately work had me tied up that week. I was so glad that we could squeeze in Cavalli as it is one of my favourite spots in the winelands.
If you'd like to know a little more about restaurant week for their Spring edition you can visit their website over here.
Cavalli is a beautiful estate and there is much more to it than just their beautiful restaurant Equus and Cavalli
The art gallery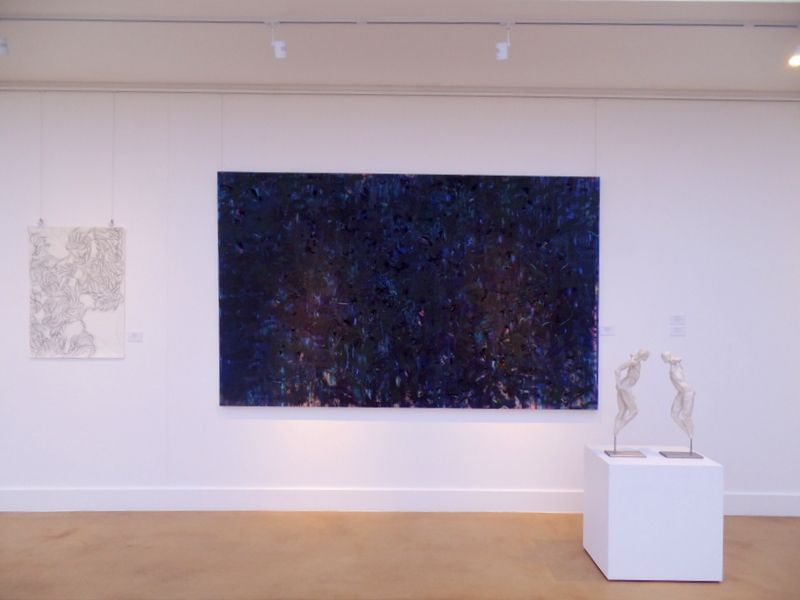 I love walking around art galleries. Its probably not very cool, or maybe its cool again and I missed the memo? I miss most of these memos.
But despite my apparent un-coolness the Cavalli art gallery is a real beauty. I visited the first time in December and now again in April and despites the South Africa greats all the art is new. The space is so beautifully curated and I rediscovered my obsession with Alexia Vogel's art. One day when I'm a real life grown up I'm going to own a piece of her art.
2. The Wine Tasting
Cavalli produces some amazing wines with my favourite being the Cremello 2014 which is a chenin, verdehlo and chardonnay blend. The tasting room is dark and moody and really fantastic! You can work through their entry level wines of three wines for R35 or try their flagship range for R50 per person. We opted for the flagship range and got really lucky in that the two red wines normally not for tasting had been open for a German exported the evening before. So instead of the usual one white and three reds we enjoyed five reds! This was a big win!
Hot wine tasting tip: If it says not for tasting ALWAYS ask if maybe they have a bottle open from  a previous tasting or event. If have got lucky many times by asking this question!
Whilst I really enjoyed all the reds I do think they need a little longer in the bottle to reach their full potential. We bought a few bottles for cellaring – so I'll get back to you in a couple of years to see if I'm right! 😉
3. The gourmet food!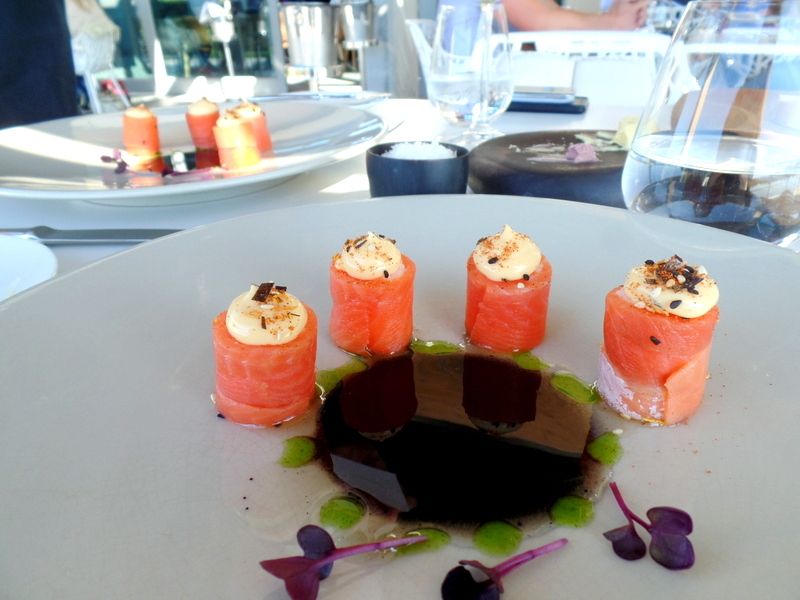 This was my second lunch at Cavalli and it was just as delicious as the first! While soaking in a little winter sunshine we enjoyed farm style health bread served with a red wine butter and a herb butter.
Our first course was smoked salmon roses with sushi mayo and sesame seeds. This was served with a squid ink ponzu and coriander juice. This was seriously delicious! Granted, not much like a traditional salmon rose but wonderful for what it was. The sweet sticky rise with the smoked salmon, fresh coriander juice and sweet squid ink ponzu was an amazing pairing! I could easily have eaten this dish doubled as a main course!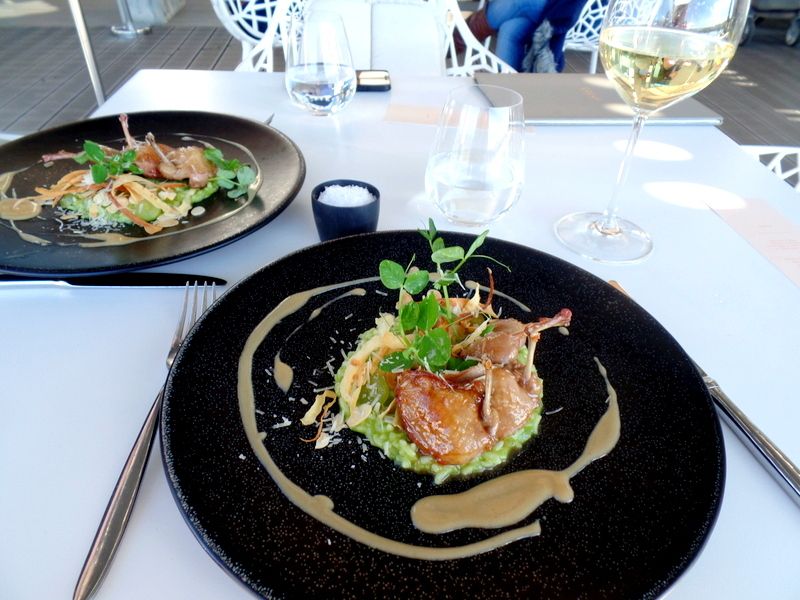 Mains was a lovely honey glazed quail with parsley risotto, white grapes, toasted almonds and sweet sticky verjuice sauce. I love quail – really really love quail but it is a dish that is easy to mess up. Quail often arrives boney and dry and I was delighted to find this quail succulent and juicy. I also loved the inclusion of the crunchy almond flakes and the sweet white grapes. However I feel the parsley risotto let the dish down a little as it was slightly undercooked and lacked the creaminess often associated with a risotto.
Ten out of ten on the quail though!
We had a fantastic lunch and it was such a priviledge to enjoy a little of the autumn sunshine. Unfortunately after our two courses and a great bottle of the Cremello we had to turn down dessert! But I am sure we will be back soon!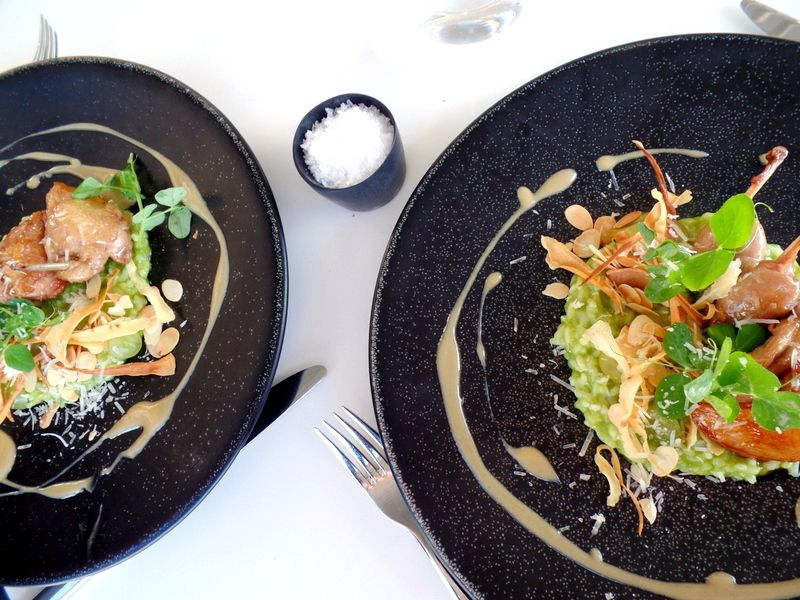 DETAILS:
Location: Cavalli Wine and Stud Estate, R44, Somerset West
Opening times: Wednesday to Sunday from 9am til 5pm
Contact details: 021 8553218