On my first visit to The Larder I feasted on cinnabons, giant hot chocolate and the famous  Johnny Depp breakfast of two soft poached eggs on sourdough with crispy bacon and hollandaise sauce served with delicious exotic tomatoes. You can have a read about my first visit over here!
The fantastic breakfast cravings kicked in and luckily The Larder invited me back to try some more of the menu! As impressed as I was by my first visit – the second visit managed to top it!
I'm starting my breakfast post with coffee. This is probably normal for your standard foodie blogger but I don't drink coffee (I know). However, my breakfast sweetheart is a one cup of coffee a day kind of guy. Over breakfast he had three coffees. I can't come up with a better compliment than that! He had two double shot flat whites and then powered down to a single shot for fear of a serious caffeine buzz kicking in! That has got to be damn fine coffee!
The Larder has a two-for-one coffee going on with The Entertainer – so if you have The Entertainer make sure to give them a visit soon! They also have a two-for-one going on the Johnny Depp breakfast for this month (May). I know that sounded a little like an advert – but it really wasn't I'm just a big fan of The Entertainer. And I love a good two-for-one! Haha!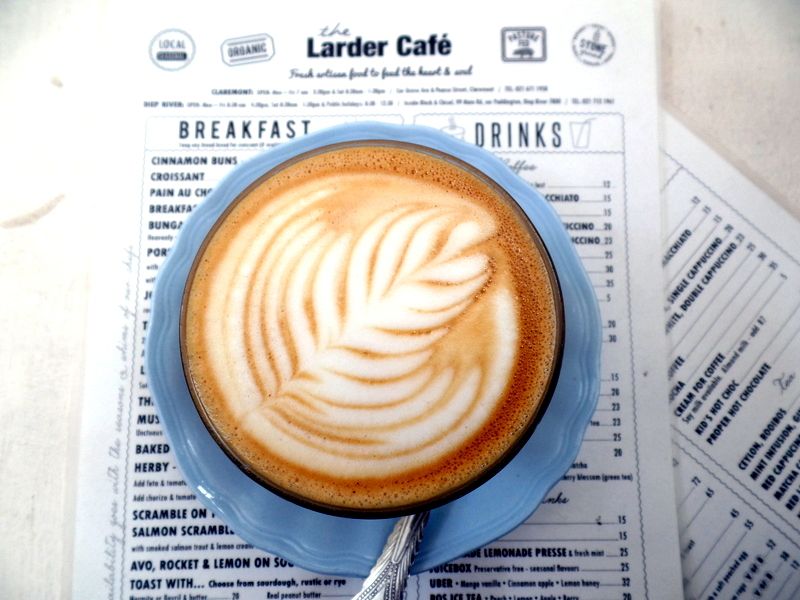 I still can't do the coffee thing but I have to say that this detox fresh pressed juice of carrot, ginger and apple pretty much saved my life! I shamefully was a little hungover that Saturday morning and the detox juice was fantastic! The Greenie with spinach, celery, ginger and apple sounds delicious too! I'll have to head back – for my health and all 😉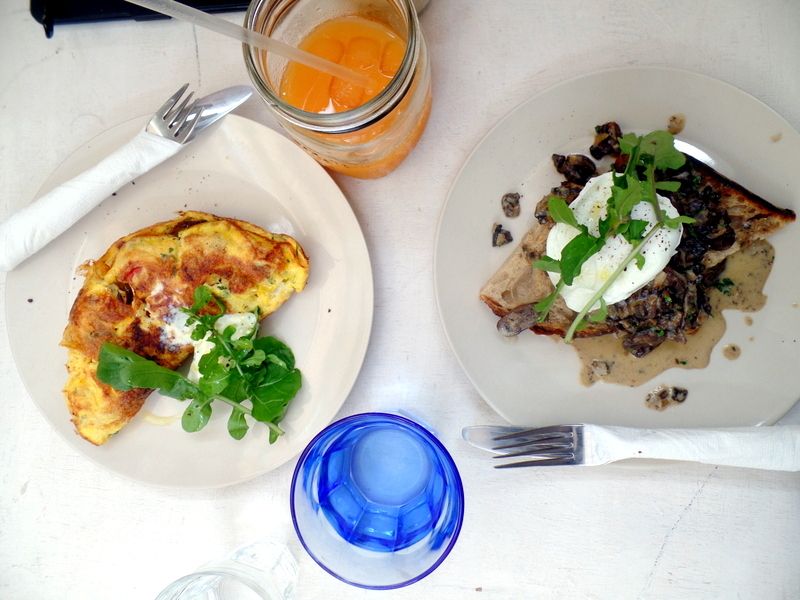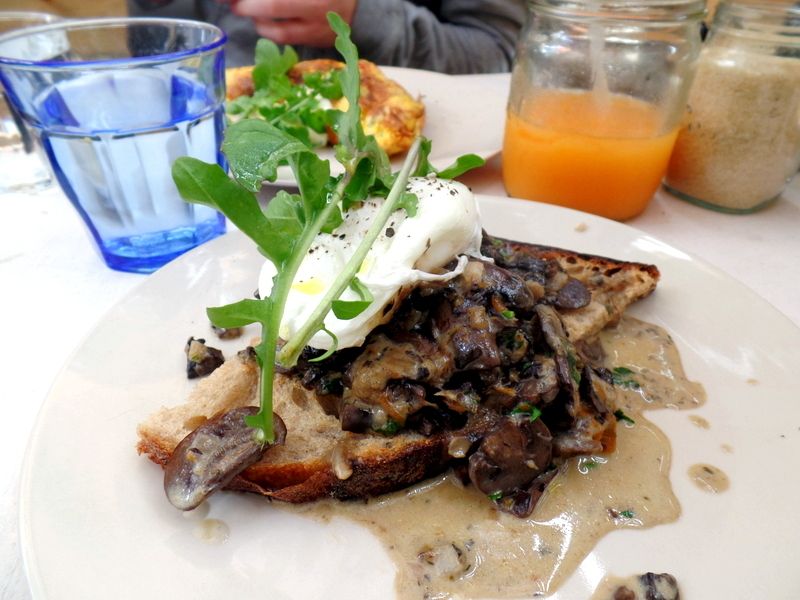 For breakfast I went with the mushrooms on toast. This doesn't sound too glamorous at first but wild mushroom and thyme ragu on sourdough topped with a soft poached egg is a perfect breakfast choice! I have talked about my mushroom obsession before and this dish ticked all the boxes.
The sourdough toast had a gorgeous crust and a chewy middle, the creamy mushroom and thyme ragu was sensational and it soaked into the toast. And the poached egg was a perfectly soft poached egg as promised – soft poached eggs are a big deal at The Larder.
My favourite Cape Town breakfast is the Oriental Eggs Be-lean from Four & Twenty which is exotic mushrooms, crispy bacon, umami hollandaise and poached eggs. So clearly saucy mushrooms and poached eggs is a big thing with me. I have had a loose list of my top five breakfasts – The Larder helped firm up that list and I am delighted to say that the mushrooms on toast is now my second favourite breakfast in Cape Town. That's a really big deal.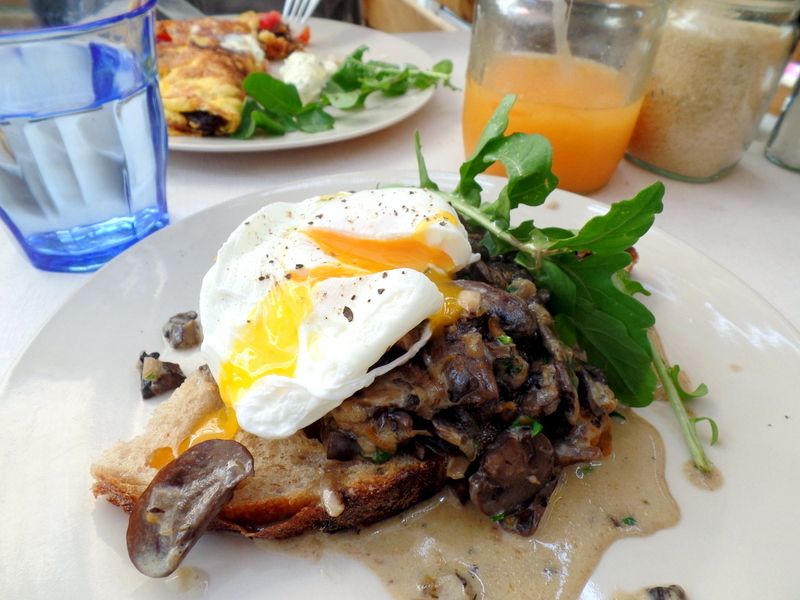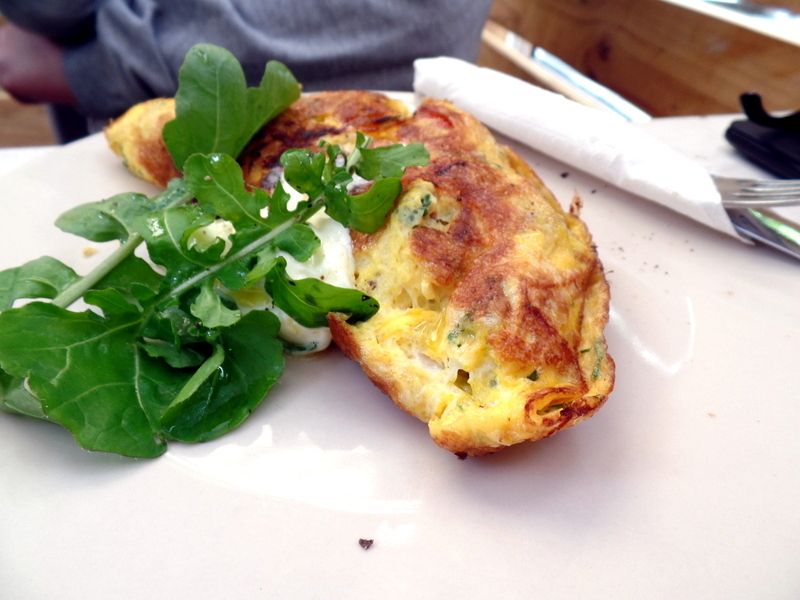 The sweetheart went with the Herby omelette served with lemon cream cheese. He opted to add chorizo and tomato because that is what Saturday mornings are about! The omelette was light,fluffy and delicious!
One of the things I find impressive about The Larder is the pricing. Really delicious breakfast places can get carried away with the prices – yes, I'm look at you Four & Twenty. My mushrooms on toast was R55 and the omelette with chorizo and tomatoes was R58. Delicious food with reasonable pricing makes The Larder a winning combo! I can completely see why they spent most of their morning welcoming regulars back for breakfast and quick coffees!
The Larder does a great breakfast and I will be back soon to satisfy my mushroom on toast cravings!!
DETAILS:
Location: 5 Grove Building, Grove Avenue, Claremont
Opening times: Mondays from 7am til 9:30pm with supper club of whole roasted freerange Elgin bird plus three sides and a bottle of wine for R600 for a table of four. 7am til 6pm pm Tuesday and Wednesday. Thursday from 6pm til 9:30pm with curry night. And Friday from 6pm til 9:30pm with burger and pizza night! Saturday from 8:30am til 1:30pm. Closed on Sundays.
Contact details: 087 550 3526
Disclaimer: We enjoyed our breakfast as guests of The Larder. However, all images and views are my own.