I love Cape Town – I truly do, but nothing is better than a quick city escape! We have some amazing getaway options from Stellenbosch to Franschhoek, Elgin and even Hermanus and Langebaan. We recently snuck away to Bonne Esperance for two nights in the sleepy town of Stellenbosch.
We spent the weekend walking through the pretty Stellenbosch streets, buying cheese, charcuterie and fresh bread for a make-shift picnic, having lunch at Jordan and discovering the Stellenbosch University Botanical Gardens. It really was a perfect escape.
I am used to staying away on a wine farm but it was actually wonderful being located in the town. We stayed across the road from the Botanical Gardens which made an easy stop after our breakfast on the first morning. We spent Saturday visiting Cavalli and Ernie Els wine estate. Sunday was for Asara wine tasting and lunch at Jordan and finished with Chinese take aways from around the corner which we ate in bed ( don't tell on us 😉 ). All of these spots were either in easy walking distance or a quick drive away. If you're looking for an adventure I would recommend an escape to Stellenbosch!
If you need ideas to fill your Stellenbosch itinerary you can have a look through this link which has summed up all my Stellenbosch posts and where I would recommend! Definitely don't miss Schoon Companjie for breakfast if your accommodation doesn't have breakfast included!
Bonne Esperance has two accomodation options. They have the modern and fresh self catering and the cozy bed and breakfast in the main house. We decided to spend a night at each! Both come with the mandatory wifi and are only a road apart making them both convenient and centrally located.
Bed and Breakfast
This was our lovely home for one night. The bed is a giant king plus and made for a perfect nights sleep! Our room had a great view over the swimming pool which looks tempting for the summer months! After a really busy day we enjoyed climbing into the bed with our Chinese takeouts and watching some random Disney-esque movie. In the room there is a kettle, tea bags, instant coffee and ginger cookies so that in the morning you can have your first cup of the day in bed!
They are currently running a South African local special where if you stay two nights over the weekend you get 40% off. That sounds like a deal to me and you can find the information here!
Breakfast is a luxurious affair and served in their beautiful dining room! They have a large continental selection from fruits, cereals, cheeses to fresh pastries! They also have a small but complete cooked breakfast menu. I couldn't resist ordering the French toast with bacon, Camembert and sweet caramelised onions! This was an amazing breakfast choice – I would highly recommend it!
The eggs Benedict with two poached eggs and ham on English muffins was also a delicious option but it was a little disappointing to see the eggs were poached in cups and not made the traditional way. I'm unfortunately a bit of an eggs Benedict snob and I like it done properly!
Self – catering
Our other night was at the lovely little self-catering across the road. They have eight semi-self-catering studio apartments. Personally I almost always prefer self catering. It normally comes with a little more space, more privacy and more independence.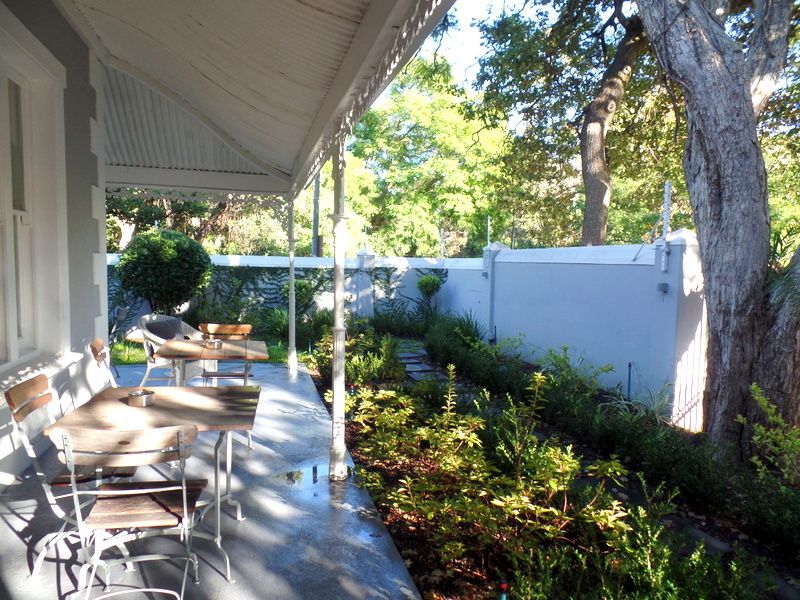 The Bonne Esperance self catering was fantastic – and whilst both options are lovely I preferred the self catering. The self catering boasts large and modern rooms with a little kitchen tucked in the corner. I also loved the giant bath and free standing shower in the self catering – remember to pack bubble bath!
It is worth noting that it really is self catering light – there isn't a stove top or even a sharp knife. There is a microwave so you could get away with ready meals or soups but no serious cooking in going to happen. We were more than happy with the set up as we only needed the basics to assemble our picnic in bed!
We had an amazing weekend away in Stellenbosch and drove back into Cape Town feeling like we'd been on a proper holiday!
So long Stellenbosch – and thanks for all the cheese!
DETAILS:
Location: Corner of Neethling and Van Riebeeck, Stellenbosch
Contact details: 021 887 0225 or stay@bonneesperance.com
If you would like to stay at Bonne Esperance you can visit their website over here!