Alright. I know. Valentine's day is stupid. It's superficial. And I know it's a big marketing ploy. I know all these things. But I still really like Valentine's day. I like the sentimental, I like the unnecessary fuss and I like having an excuse to do something special.
Valentine's doesn't need to be a big fancy expensive thing! Anything could work for Valentine's day! It could be a Harry Potter movie marathon and great toasted cheese sandwiches, it could be a pillow forts outside with books and jugs of Pimms and it could be a lazy morning in bed with cups of tea and bovril toast. I don't know! I don't know you.
But the best part is that the person in your life does. They know about your odd obsession with exotic mushrooms, that you like salt and pepper on your popcorn and that you're stupidly mushy about golden retrievers. And that's why I like Valentine's day.
Here's a run through of some exciting ideas for this upcoming Valentine's Day to suit all occasions, vibes and budgets!
Fine dining:
If you're looking to pull out all the stops this Valentine's Day and take part in some fancy fine dining these are the places you're going to want to book.
La Mouette for their amazing tasting menu featuring truffle croquettes, tuna carpaccio, duck, and tiramisu! The food is superb, the venue is romantic and they have an incredible wine list! Another bonus is that they are open for dinner on Saturday and Sunday and lunch on Sunday. Their tasting menu is R395 per person for 6 course.
Waterkloof for their spectacular food art! Chef Gregory Czarnecki is beyond brilliant and every one of his dishes will wow! This year Waterkloof was crowd the number six restaurant in the country and this is a truly well deserved position! Look out for the marron and foie gras dishes – always special and unique tastes!
Terroir is an absolute classic! With beautiful views of the Kleine Zalza wine estate and honest country cooking with modern presentation you can never go wrong! I would recommend them for a lunch time visit and to try book a table outside! Make sure to order their signature dish: prawn risotto with sauce Americaine!
The Kitchen at Maison is pure elegance! They use only the very best and most seasonal ingredients! If the octopus is still on the menu make sure to order that! My favourite dish on the menu is actually the wild mushrooms with thyme garlic and potato puree side dish! After a decadent lunch make sure to climb into their bird nest swing!
Winelands Escape:
We are super spoilt living in Cape Town with great winelands just around the corner from us. You can't go wrong with heading out to Franschhoek, Stellenbosch or Constantia to celebrate the mushy stuff!
Jordan Bakery is a serious favourite of mine! I make sure to go a few times a year. Which is high praise considering how many fantastic options there are to find in the winelands! Make sure to order some of their estate wine over lunch – their chenin blanc and riesling are great choices. Book a table outside for lunch under their huge tree and take in a beautiful day!
A Warwick picnic is such a romantic option. Any picnic is such a flipping romantic option! I mean really! And Warwick is pretty much the winner of all picnics. Book a spot on the lawns under the big umbrellas with giant cushions and park off for the day!
Sushi Box at Beau Constantia is one of my most favourite and special places. I have such fantastic memories here and I have had some perfect dates here. Sushi box makes brilliant sushi and the views at Beau Constantia are jaw dropping! Make sure to do the wine tasting before lunch so you can work out which bottle to order over lunch! This is a serious must book so make sure to call right now if you're hoping to get a table!
Foodie favourites:
If you're looking for a fantastic foodie experience which is a little outside the norm these guys are perfect options!
Cheyne's is a hidden gem! You have to find this hidden gem in Hout Bay which does seem like a drag but it is so worth it! Cheyne is pumping out the most fantastic food from the South Pacific rim. His food is like nothing else you can find in Cape Town. Make sure to order the the fire cracker crayfish and the pork belly!
Tjing Tjing Torii is another brilliant choice. They have a gorgeous roof top bar upstairs which would make for perfect pre-dinner drinks! You can't go wrong with their gourmet hot dogs, triple fried chicken and a killer wine list!
Hallelujah is probably my favourite restaurant. It is expensive so sadly I'm not there smashing lobster rolls with glasses of bubbles as often as I'd like. But goodness do I dream about this place! I dream about steam buns filled with crispy pork belly and cucumber. I dream about grilled prawns covered in coriander and lime sauce. And I dream about those lobster rolls. If you're up for a splurge Hallelujah will not disappoint!
South China Dim Sum Bar makes the best dim sum in Cape Town. Don't argue with me – because I'm right. Sit at a little rickety table in an intimate setting and eat perfect little dim sums, pot stickers and baos. Hot tip is to order the Painted Wolf Den Pinotage which is served slightly chilled and is magic with the dim sum!
Kyoto Garden Sushi is another big splurge but totally worth it kind of place! I visited recently for my birthday dinner and was blown away again. Their newest menu item is uni nigiri which is pure magic! They also create some incredible cocktails which add to the special occasion! My best advice would be to let the waiter suggest their favourites and run from there! The menu is extensive and can be a little overwhelming at first. It is mostly overwhelming because you want to order everything!
A little more adventurous:
If you are up for something a little more informal and fun then these suggestions may just fit the bill! There are so many beautiful spots in Cape Town and soaking in some of what this city has to offer is always a great idea! Doing something a little more creative is also a great way to still keep it affordable whilst having a great time.
Kirstenbosch is truly beautiful and makes for a fantastic picnic venue! Pack a picnic, have a walk along the boomslang and then find a perfect spot and spend the afternoon eating fancy cheese and drinking wine!
Babylonstoren is another fantastic garden in Franschhoek. Entrance is only R10 and you can spend the afternoon getting lost! Make sure to look out for the prickly pear garden, to meet the little hedgehogs and to climb into the human sized bird nests!
Take a walk along the promenade in Sea Point, jump on the swings and admire the wonderful public art. Make sure to stop at The Creamery which has just opened there! I'm dying to try their soft baked cookies topped with a giant scoop of ice cream!
Gorgeous breakfast spots:
With Valentines day being on a Sunday it makes things a little more tricky! Breakfast could be a fantastic idea – particularly if you have breakfast with bubbles! These are some of my favourite breakfast spots!
Hemelhuijs makes a potato rosti topped with poached eggs and salmon which is really magic! This also pairs perfectly with a glass of MCC! Hemelhuijs is such a beautiful restaurant which gets an entire interior revamp every season! Every time I visit Hemelhuijs I want to leave with all the crockery and cutlery in my bag! I would however advise against doing that!
Schoon Companjie is a gem in the middle of the town of Stellenbosch. They are producing some of the best bread you can get your hands on! My must order is their brioche french toast with baked apples, brie, clotted cream and Buchu syrup. I'd highly recommend a walk around Stellenbosch after breakfast and popping into the art galleries in the area!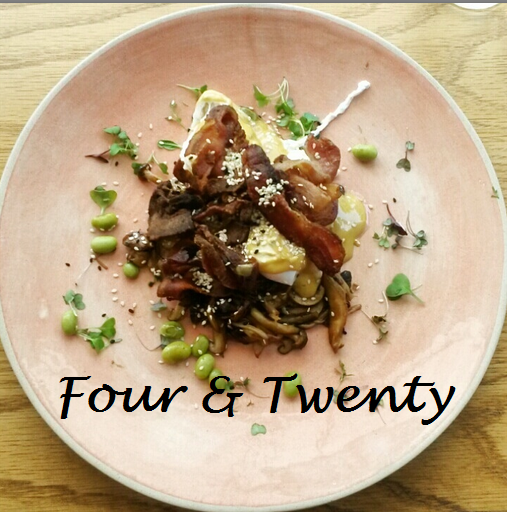 Four and Twenty is a regular favourite. The restaurant is gorgeous and filled with pink roses and beautifully baked cakes! Make sure to grab some 'Outrageously chewy chocolate cookies' on your way out after breakfast. My favourite breakfast is the Oriental Eggs Be-Lean which is exotic mushrooms with perfectly poached eggs and tons of sesame crusted crispy bacon!