I've been holding out on this post for a little while. It is completely selfish on my part. You see, I really love this place. Batavia is a little quirky and a little odd and a lot delicious. So I'm kind of hoping that a tiny bit of Cape Town can stay all mine. That is obviously absurd but sometimes I am a little absurd. So I'm going to share my little gem with you.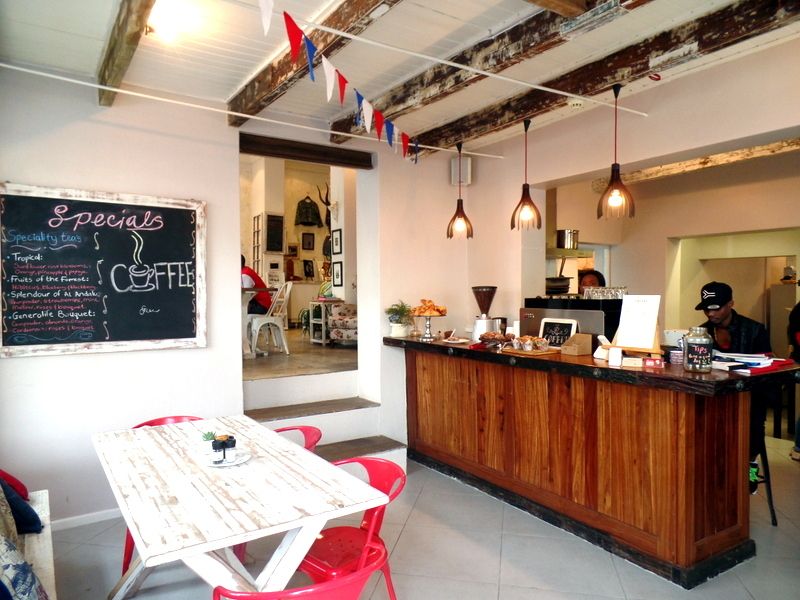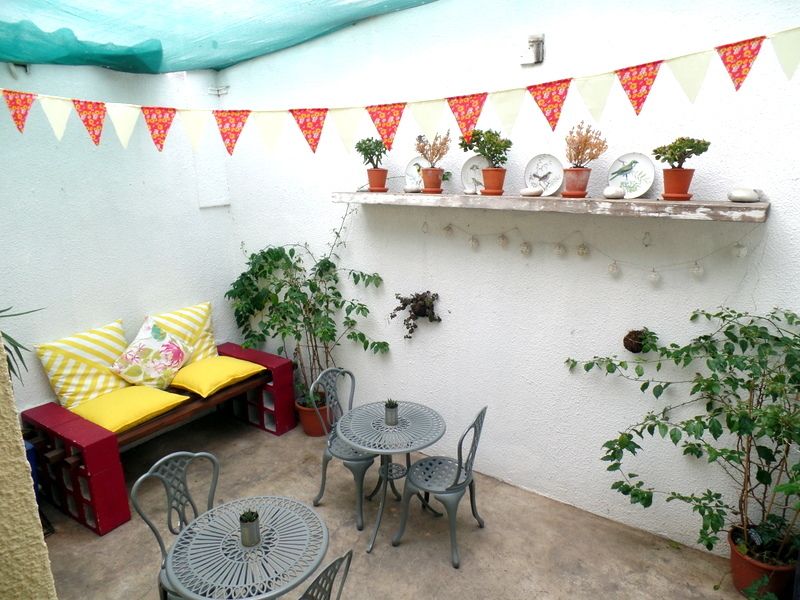 Batavia can be found in the beautiful Bo-Kaap! We sat at the window where I spent a large chunk of breakfast getting excited about the beautiful bright blue walls across the road. The Bo-Kaap is a truly wonderful neighbourhood in Cape Town and I would highly recommend a little after breakfast walk around to admire their brightly painted homes!
But enough – you want to know about breakfast!
I am definitely in strong support of doughnuts for breakfast. I spent a chunk of 2014 eating a Jason Bakery doughssant every Saturday morning until I had to give up my skinny jeans for a little while along with the doughssants! Despite all that – I am still pro doughnuts for breakfast on occasion! I'm particularly pro doughnuts when they are koesisters!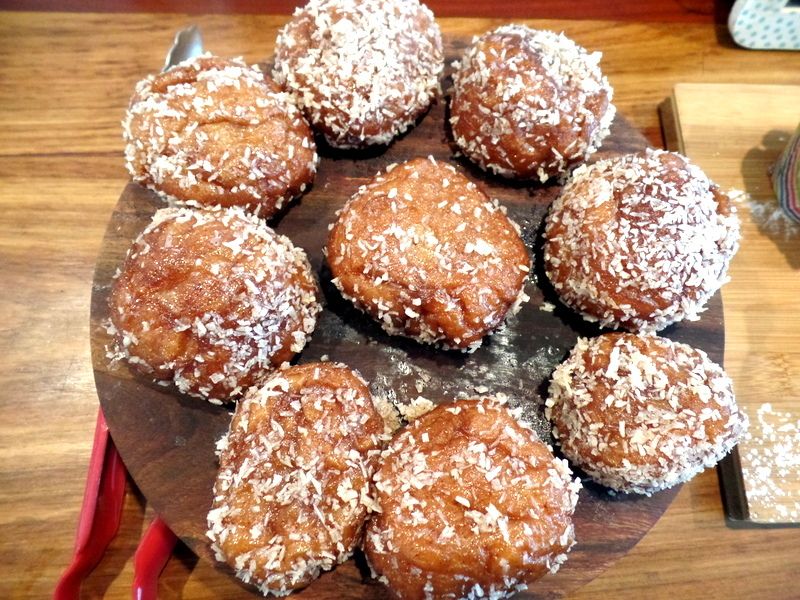 Now I'm going to give you a little education here: Koesisters are not koeksisters. They are different things. Many of you may be rolling your eyes and muttering 'obviously' but many people are in the dark over what a koesister is! Koeksisters are those sticky sweet plaited deep fried things which the Afrikaans tannies make. I love these too! But Koesisters are part of Cape Town's beautiful Cape Malay culture and are a sweet treat in their own right! Koesisters are rounds of dough boiled in syrup and have a gorgeous sweet spiced flavour from aniseed, cinnamon, ginger and naartjie peel and then covered in desiccated coconut! And that is how to start breakfast at Batavia in the colourful Bo-Kaap!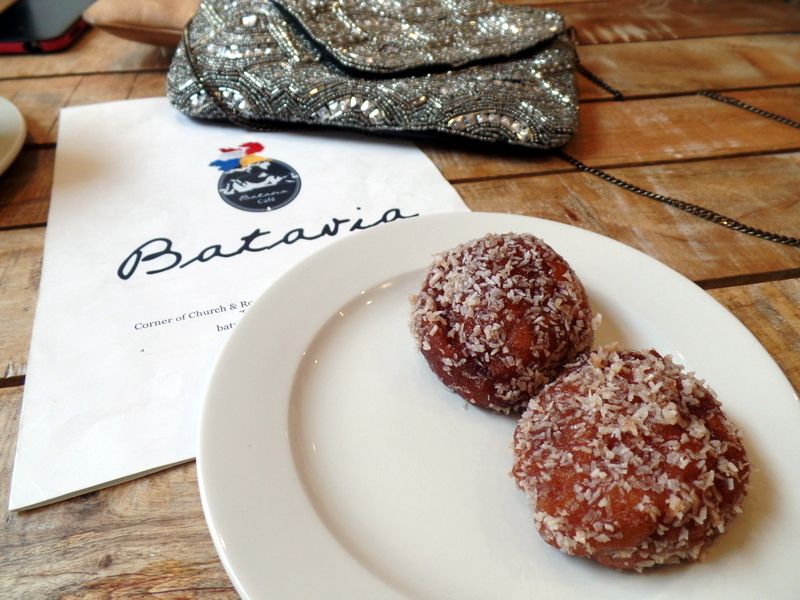 Whilst eating koesisters and licking desiccated coconut off our fingers we ran through the breakfast menu. The interior is beautiful and there are little bits and bobs for sale. It is a lovely vibe where you can walk around, browse through their sales items and help yourself to water at the front. However, due to Batavia being so lackadaisical and laid back the staff are pretty useless. If you need anything you need to quite violently flag them down and don't expect refills or second drink orders.
This beautiful healthy breakfast is the Health Buzz. It normally comes all together but my friend requested it be served separately. I don't know the motives behind this but it is very beautiful. She was very happy with her healthy breakfast of fresh fruits, crunchy muesli and yoghurt. I consider ordering this type of breakfast a foodie sin – but each to their own!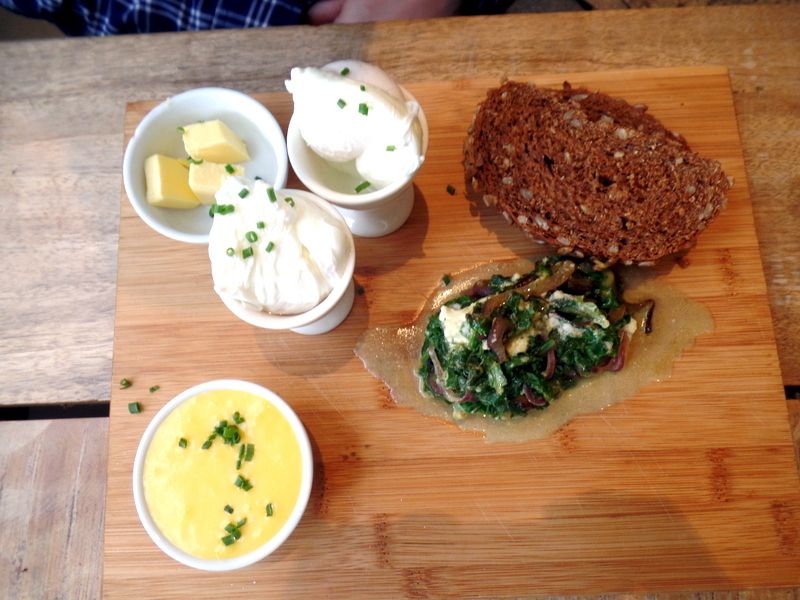 This is the Veggie Pal for my vegetarian friend. This involves two poached eggs and a spinach, feta and red onion mix served with seeded loaf. The breakfast was delicious despite the fact that the spinach looks like it had a little wee… The spinach, feta and red onion mix makes for a mean combination and would definitely make for a great omelet filling too!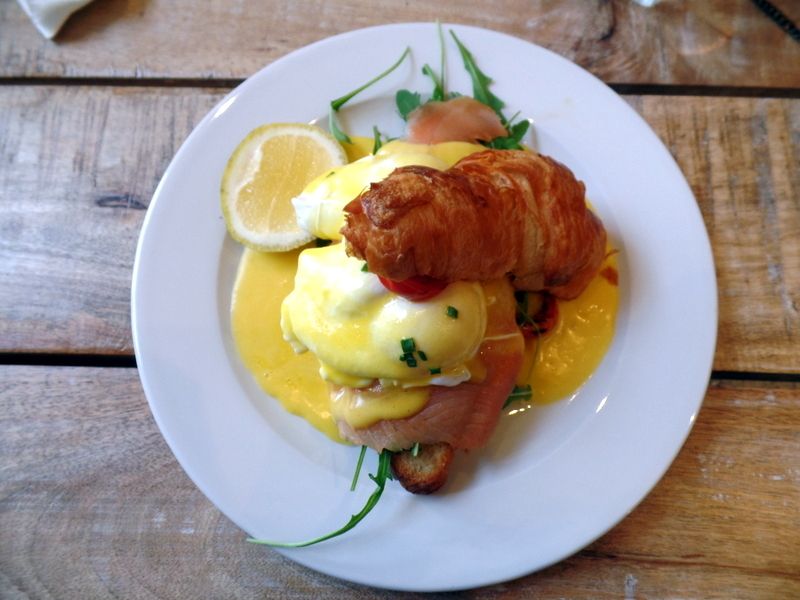 I went with the serious crowd pleaser: The Eggs Benedict! And this was a particular good one of poached eggs and hollandaise sauce served on a fresh croissant with smoked salmon for only R65! This was a giant and truly decadent breakfast! I will definitely be back for another Eggs Benedict soon! The hollandaise was gorgeous and the eggs were softly poached to perfection! And the flaky croissant was a serious champion for pulling it all together! Thumbs up all round for this!
All together Batavia is a big wow in an unassuming little restaurant. And they serve a mean breakfast and fantastic koesisters! My recommendation would be to go on a lazy Saturday or Sunday morning to avoid stressing about their floppy staff!
Happy breakfast'ing at my little gem!
DETAILS:
Location: 67 Rose Street, Corner of Church & Rose Street, Cape Town
Opening times: 8am til 5pm Monday to Friday, 8pm til 3pm on Saturday and 9am til 2pm on Sundays
Contact details:

021 300 5904