There's a whole new thing in town. Just as you've gotten used to first Thursdays and third Thursdays and all the rest we now also have Tuning the Vine! Tuning the Vine is a monthly event showcasing some really great wines and fantastic venues.  It runs along Bree Street and down to Wale Street including venues such as Youngblood Gallery, Streetfood, Publik Wine Bar,Biergarten, Bocca, House of Machines, Tjing Tjing Torii, the Gin Bar, the Reserve Wine Vault at the Taj, Mint and the Twankey Bar!
We recently went to the October event and are now heading back for the one on the 11th of November. If you'd like to get tickets there is a 2-4-1 special on Groupon over here.
We spent a lot of time running around Bree Street but my favourite stop was Tjing Tjing Torii. We joined them for their food and wine pairing for the evening which is sadly not being replicated again but you can still order all this fantastic food off their menu and make up your own wine pairing.
We drank some really great wine with our food pairings but due to the chaotic service and the many glasses of wine I had drank before I cannot for the life of me give you more details.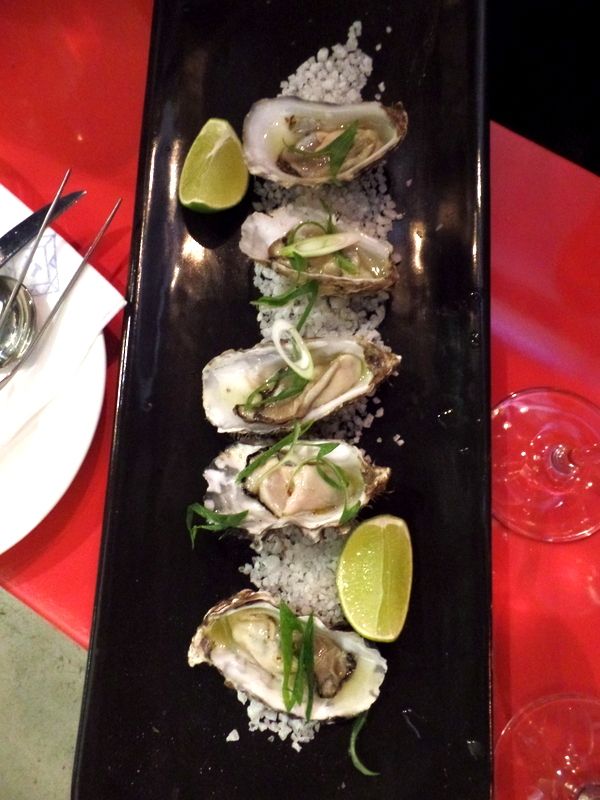 Round one of the tasting was raw oysters with wasabi and ginger dressing. These were fresh and delicious! Our non-oyster eating friend went with the thinly sliced lime-cured fish with soya sauce, cucumber, tomato, sprouts and chili aioli. The oysters were great but the lime-cured fish was superb. The subtle cured fish with the fresh cucumber and sprouts was absolutely fantastic!
Next we had the pork Atsui Dog with a pork, miso and ginger sausages with kimchi, kewpie mayo and nori. I'm still talking about these fantastic Asian inspired hot dogs. These are a strong comfort food craving when a hangover kicks in. The soft fluffy buns are stuffed with slightly sweet pork sausages, creamy Japanese mayo and amazing spicy fermented kimchi.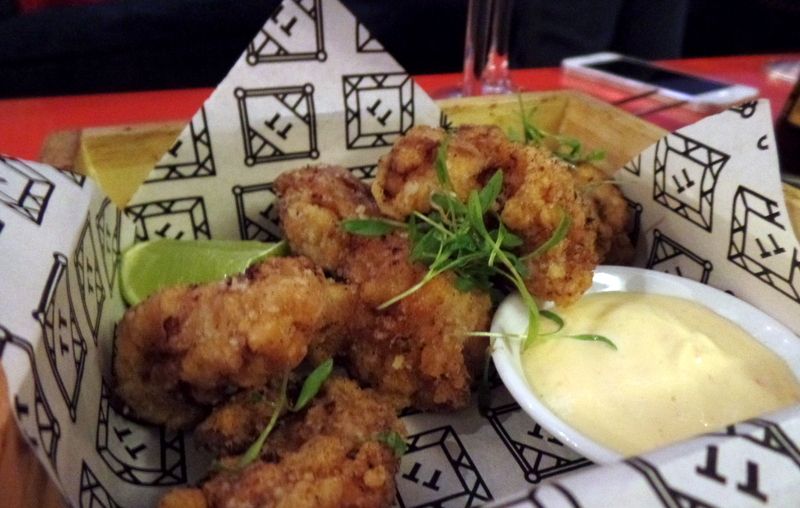 One of the best courses was the Karaage Chicken which is triple fried deboned chicken thighs with lime and chili aioli. Triple fried kids!! I can't make this stuff up! As if fried chicken wasn't enough they had to triple fry it! The chicken was tender with a fantastic crispy crunchy outside! I'm definitely coming back for more of the Karaage Chicken!
This is the panko beef tataki which is rare roast beef fillet, crumbed and deep fried with sesame, kewpie mayo and crispy fried onion. The beef fillet was wonderfully tender with a crispy panko crumbed outside. This was kind of an Asian inspired Beef Wellington and it was delicious!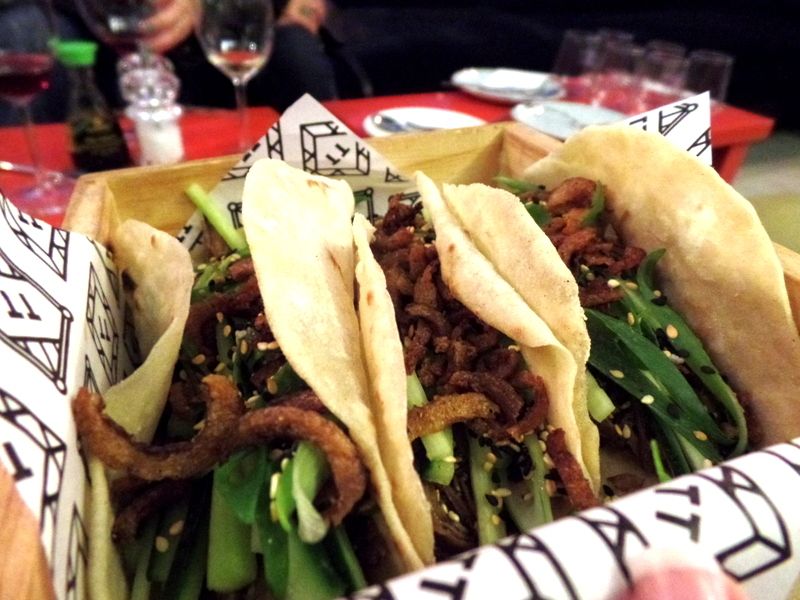 The last taste was the crispy duck pancakes with strips of cucumber, spring onions and sesame seeds. The duck was super crispy with wonderful fresh flavours from the cucumber and spring onions. This makes for messy eating but luckily by this point you've all had so much wine you don't even notice!
We had an amazing tasting with Tjing Tjing Torii and I am looking forward to heading back to try more of their menu! Sadly the tasting didn't include some sort of dessert to finish which had us wishing for more. Another downside was the pretty messy service. There was often huge gaps between the food and wine arriving which led to us pairing the wrong foods with the wrong wines. So you're looking at great food and fantastic wine but you're probably going to be waiting a while for food and wine to arrive. Go with a big group, go with a relaxed attitude and you'll be just fine!
Details for Tjing Tjing Torii:
Location: 1st Floor, 165 Long Market Street, CBD
Opening times: Tuesday til Friday from 4pm to 2am, and Saturday from 6:30pm til 2am. Closed on Sundays and Mondays.
Contact details: 021 422 4374
Details about Tuning the Vine can be found here!