I recently spend a day exploring Franschhoek! I have become a bit of an expert on Stellenbosch but I know very little about Franschhoek. I was so excited to find out a little more about one of our other great wine destinations! We spent a crazy busy day visiting six fantastic wine farms with a focus on Method Cap Classique. During our day we luckily squeezed in a truly delicious lunch! It was an unconventional lunch as instead of doing three courses we ate the entire starter menu and then went straight to dessert! Unconventional – but I like it!
This post is going to be very image heavy because the Kitchen at Maison is unbelievably beautiful. I have already cut about twenty photos out of the post. The restaurant, the grounds, the food and the wine are all works of art! They also have such a gorgeous little deli with fresh bread, cured meats, cheeses and preserves for a Franschhoek picnic! I am definitely coming back to stock up for a picnic on a lazy Sunday!
We had lunch outside in their wonderful gardens. I actually wanted to have lunch in their giant bird nest swing – but thought it might be a little anti-social! With summer fast approaching a table in their gardens is going to be much coveted!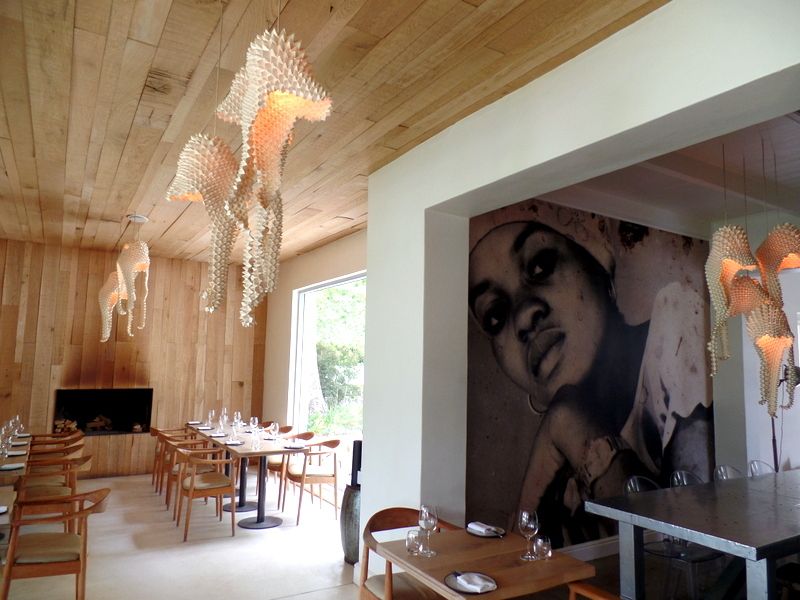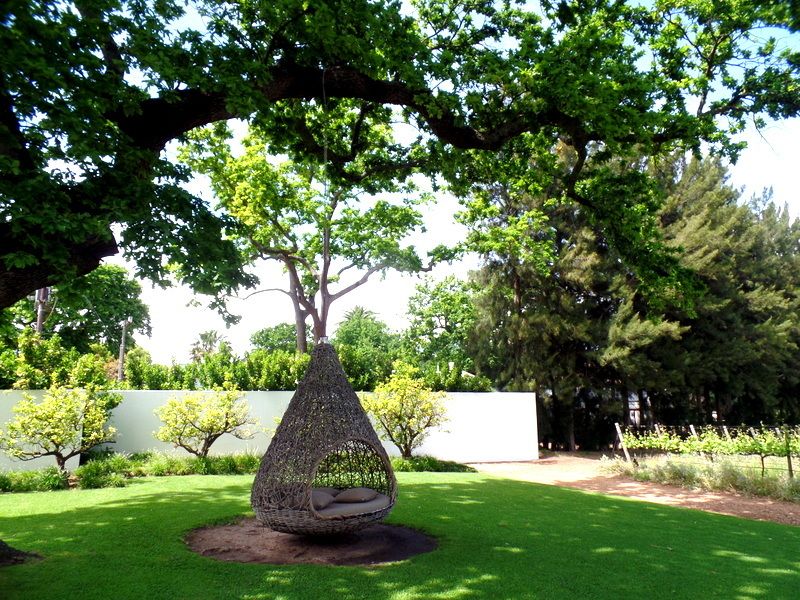 We started our lunch with their Maison MCC. They only make 2400 bottles of this delicious stuff and we enjoyed bottle number 946. The Maison MCC is 100% Chardonnay made in the traditional french style and has a wonderful biscuit finish.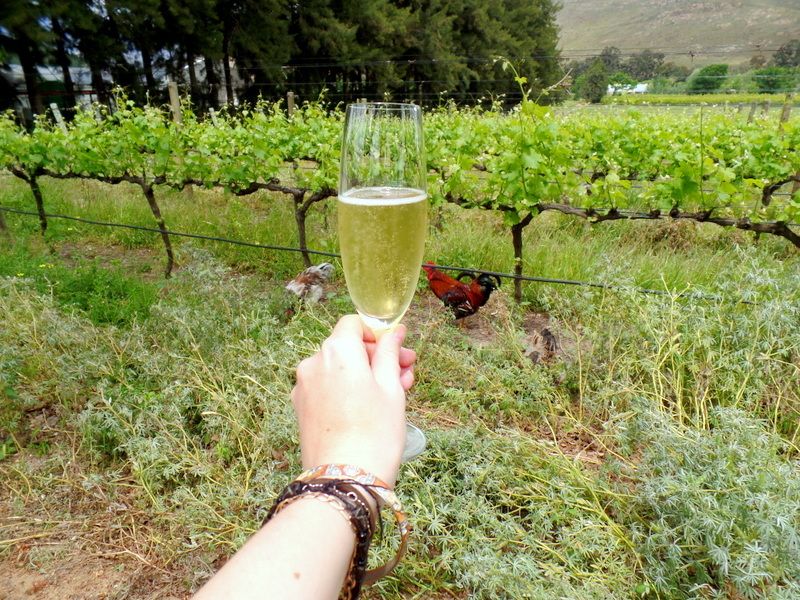 And without much fuss plates and plates of food started arriving! We tried five gorgeous starters paired with some incredible side dishes and plenty more of their MCC!
My favourite of the starters was the octopus with white anchovy, black garlic aioli, caper spice, apple and toast. I don't eat anchovy so quickly removed it (don't tell the chef!) and then found myself a perfect dish! The octopus had a firm sticky outside with a soft rich inside which was utter perfection. I don't think I have ever had a better octopus dish before. The restraint shown in the cooking of the octopus is admirable.
Another firm favourite was the beef tartare with trout roe, bone marrow, pangrattata, lime and samphire. The beef tartare was full of flavour and so tender! You can tell they use only the very best quality ingredients.
The table favourite was the cured duck breast with green olives, pomelo and buttermilk. I am a huge duck fan and almost always order it when I spot it on the menu. This dish was superb and the tender cured duck was greatly praised. However I'm not sure it made for the best pairing with the MCC.
Another delicious dish was the cured trout with mustard, skin crackling, macadamia and chives. This dish was light and fragrant and had such delicious fresh trout! I could easily have eaten a large bowl of this over fresh pappardelle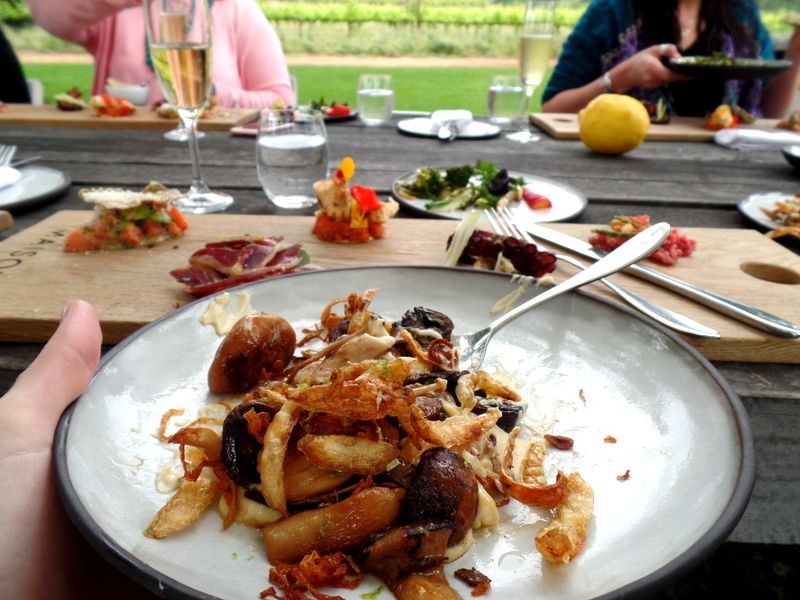 As if we did not have enough food we feasted on some decadent sides! We were even so bold as to order another dish or two of their wild mushrooms with thyme garlic, potato puree, onion candy and lime! I am a giant mushroom fan and if I was given just this dish alone I would have been suitably pleased!
Another winner was the confit beet with beet crisps, beet sultana, ricotta and spring onion! The rich earthy tones were delicious and great eaten with the cured duck breast and the beef tartare!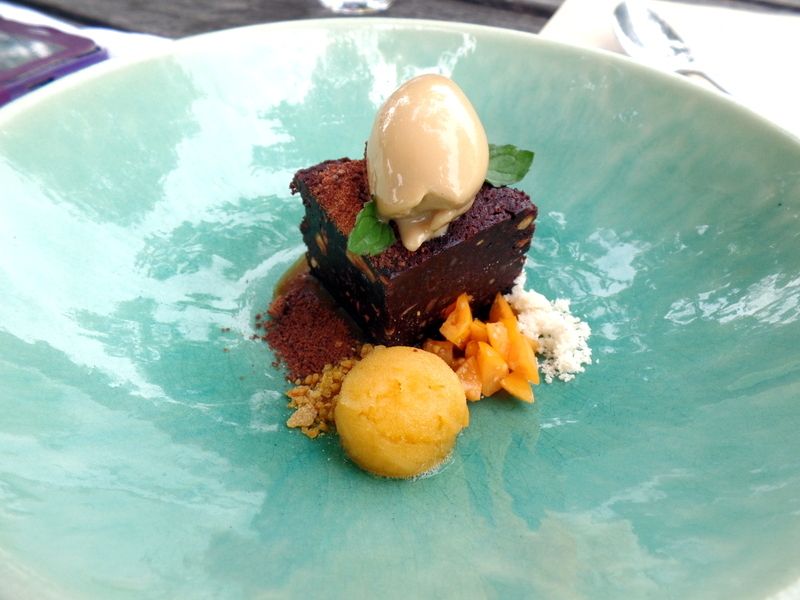 We were then surprised with this pretty little dessert! This was a hazelnut chocolate malt cake with dulce cremeaux, gooseberries, sorbet and gooseberry butterscotch. This was the perfect ending to what turned out to be a very large lunch! The hazelnut chocolate malt cake was dense and rich and the gooseberries and sorbet were light and tart making a perfectly paired spoonful!
We had a superb lunch at The Kitchen at Maison and I will definitely be heading back soon to try out the main courses!
Something else worth mentioning is that the staff are absolutely fantastic! They are seriously on the ball and know their menu backwards! Their efficient service, quick smiled and ease at answering our many questions only improved on what was already a wonderful experience.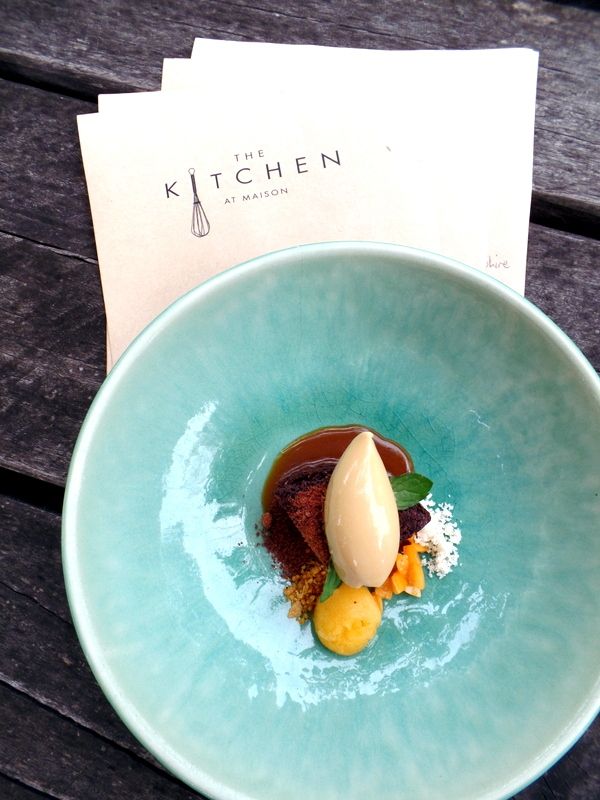 Note: We enjoyed our lunch as guests of The Kitchen at Maison however all photographs and opinions are my own!
DETAILS:
Location: Maison Estate, R45, Franschhoek
Opening times: Wednesday to Sunday from 12pm til 3pm for lunch.
Contact details: 021 876 2116