After plenty of #SeeStellenboschValley adventuring we needed to kick up our heels and have a little rest and relaxation! I cannot think of a more perfect place than Wedgeview! Arriving at Wedgeview was like taking a deep breath! Goodness, but it was beautiful!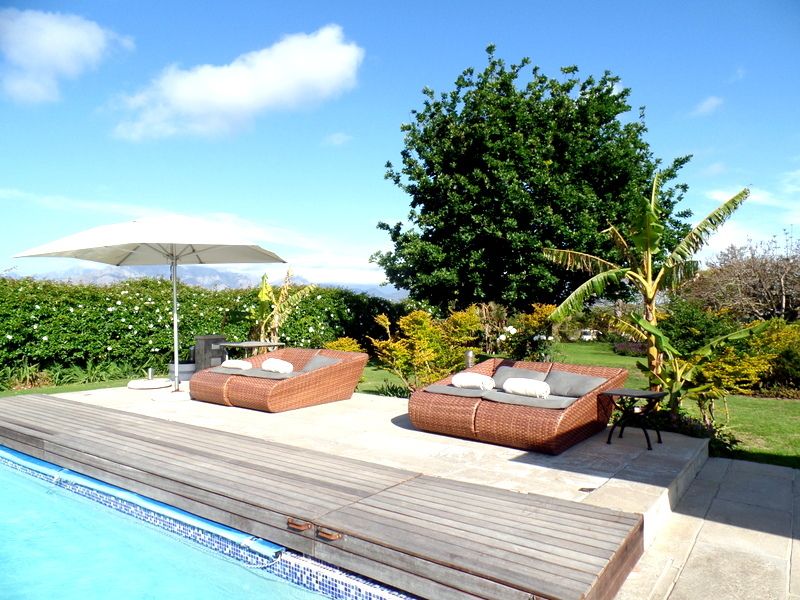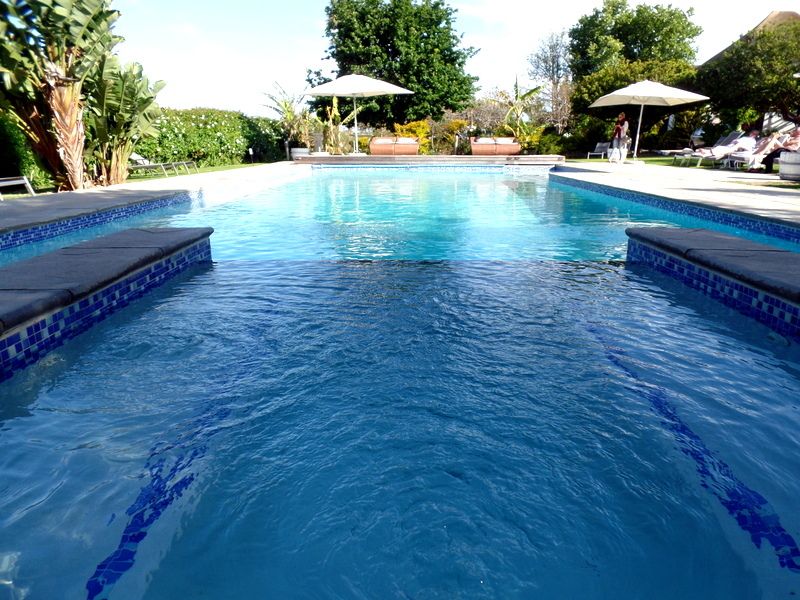 Wedgeview was the perfect place for a time out! Even better we headed through to their beautiful Spa for a back and neck massage. We climbed into our fluffy robes and slippers, took hilarious selfies and then melted onto the massage beds! I would highly recommend a stop over at their spa! The three of off pretty much floated out of there!
Wedgeview is right next door to Jordan and we had some fun running around the vineyards in the golden light post massage but pre dinner. Wedgeview really is a perfect place for a Stellenbosch escape – close enough that you can explore but far away enough to feel like you're in your own little bubble!
I definitely want to head back in the heat of summer for a splash in their gorgeous pool and a glass of MCC on one of their sun loungers! Heaven? I think so!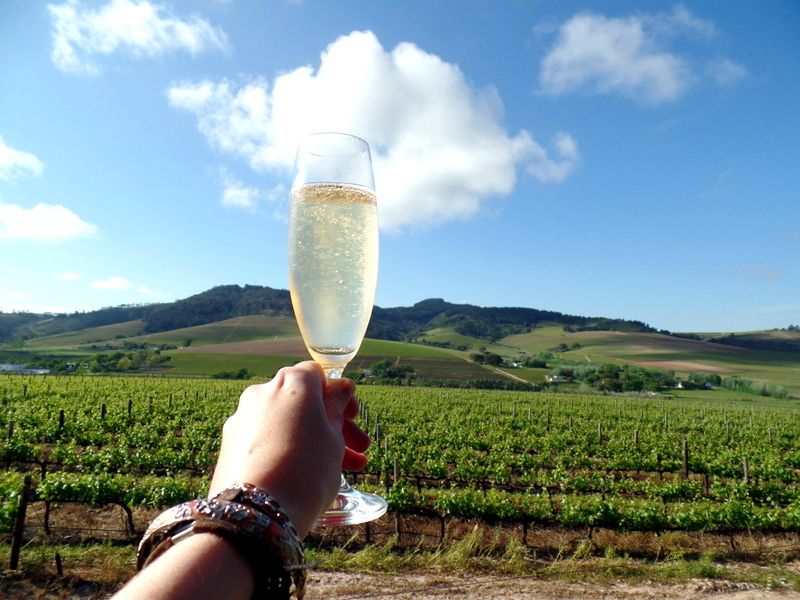 On top of having really beautiful grounds the rooms are damn gorgeous too! My room was bright red and beyond fantastic! What appears to be a built in cupboard is actually the door to the bathroom with the best bath tub!
I can be the Princess and The Pea when it comes to beds. I have the very best bed in the whole world at home which is a King Plus and comes with five pillows, extra blankets and soft white cotton sheets. I rarely find a bed that can rival mine – Wedgeview came pretty damn close with their King Plus bed, crisp white sheets and extra length pillows! Not only did I have a great nights sleep but I even squeezed in a ten minute power nap! There is enough room in this bed for a family of four!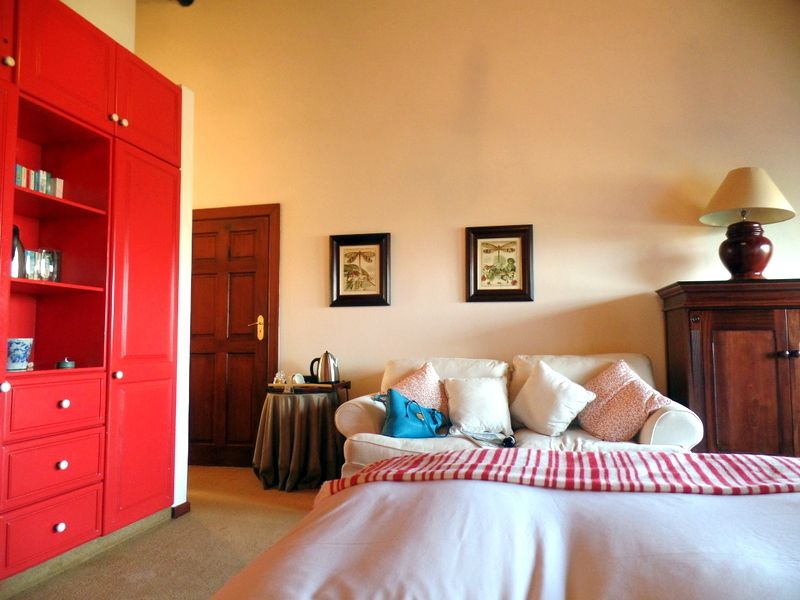 Before I got too relaxed at the room we needed to get going again for our gourmet dinner! Wedgeview does dinner on request and I'm glad it was requested! We had a fantastic feast with some great wines! Service is a little slow and they mixed up a few of our dishes but luckily everything ended up in the right place soon enough!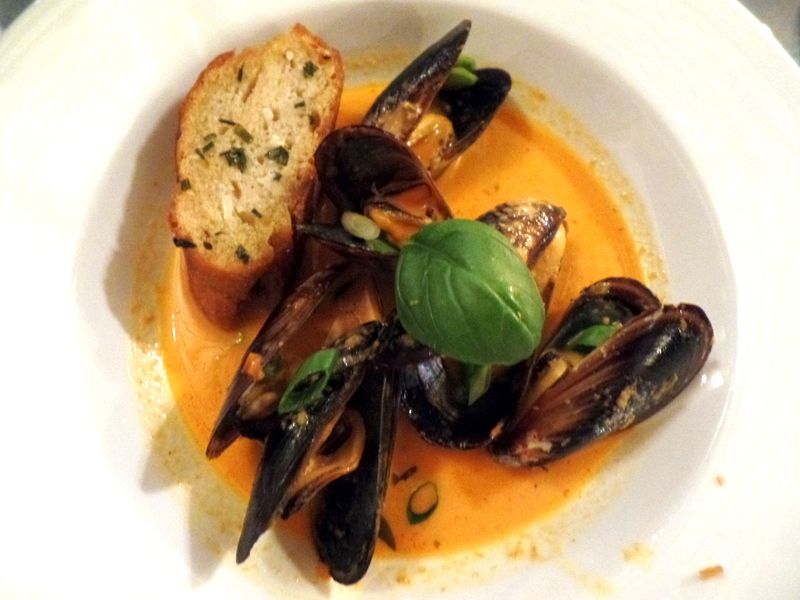 Dinner starter with a lovely amuse bouche of panko prawns with a sweet chilli dipping sauce. We then moved on to west coast mussels in a Thai red curry coconut sauce. I'm always unpredictable with mussels – sometimes I love them and other times they really don't work for me. This dish was fantastic and the mussels were perfect with their spicy coconut sauce and a giant glass of viognier! Another mussel success story! Maybe I'm getting better!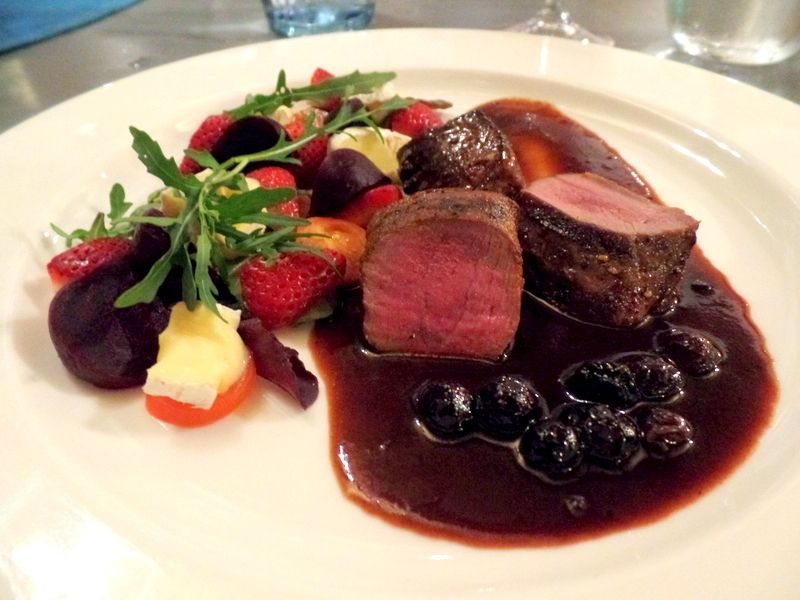 For mains we had a delicious springbok loin with berry jus and a strawberry, brie and beetroot salad. The loin was beautifully tender and perfect with the sweet berry jus.
Dessert was a darling little apple rose served with butterscotch sauce and caramel gelato. From here I turned in for the night. I grabbed my wine glass, headed up to the room and climbed into a giant bubble bath with a book! The perfect ending to a crazy busy day!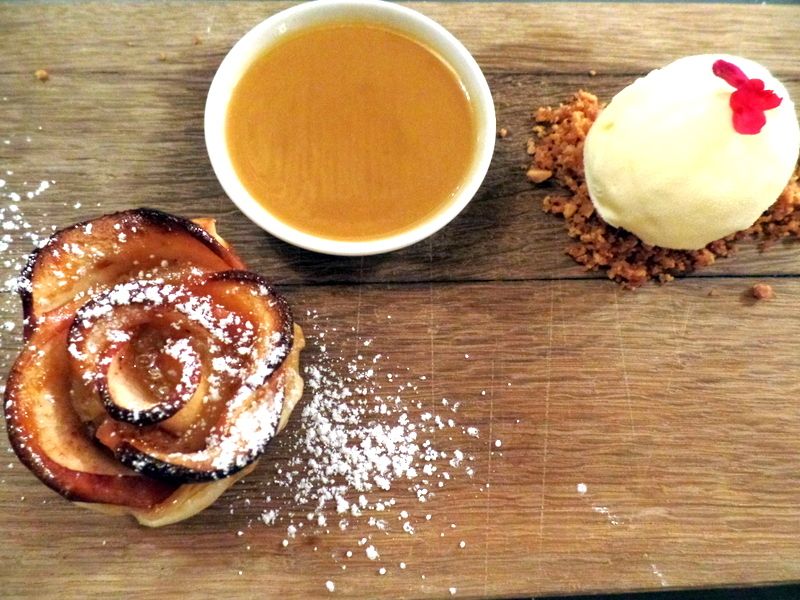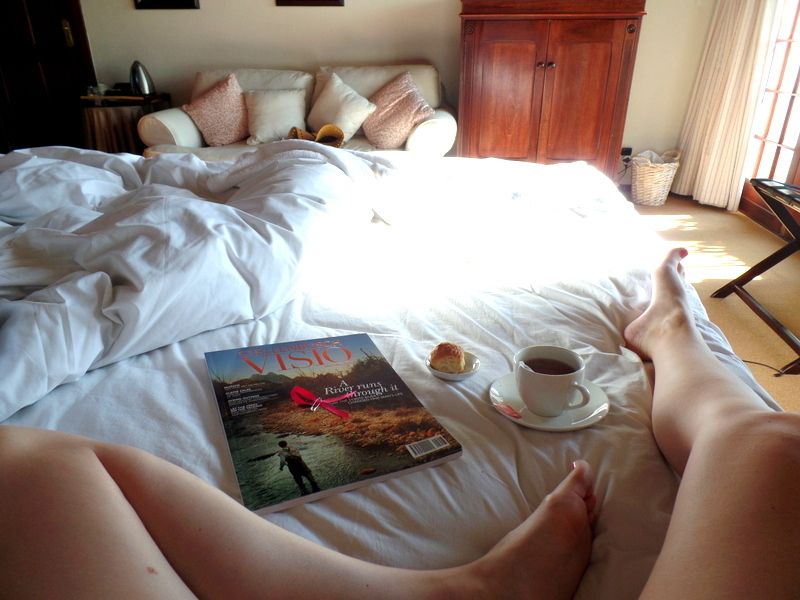 The morning wake up was a little stressful… I had tangled myself so tightly in the giant duvet that I thought I may never escape from its clutches! Luckily I did because missing breakfast would have been a real shame!
I started with a plate full of fantastic cheeses, cured meats, fresh fruit and a warm croissant that had perfect buttery flakes! At this point I was already pretty ambitious! But no, of course I ordered more! I went with the owner's special which is ham and a fried egg on toast with cheese melted over the top – it was a delicious choice!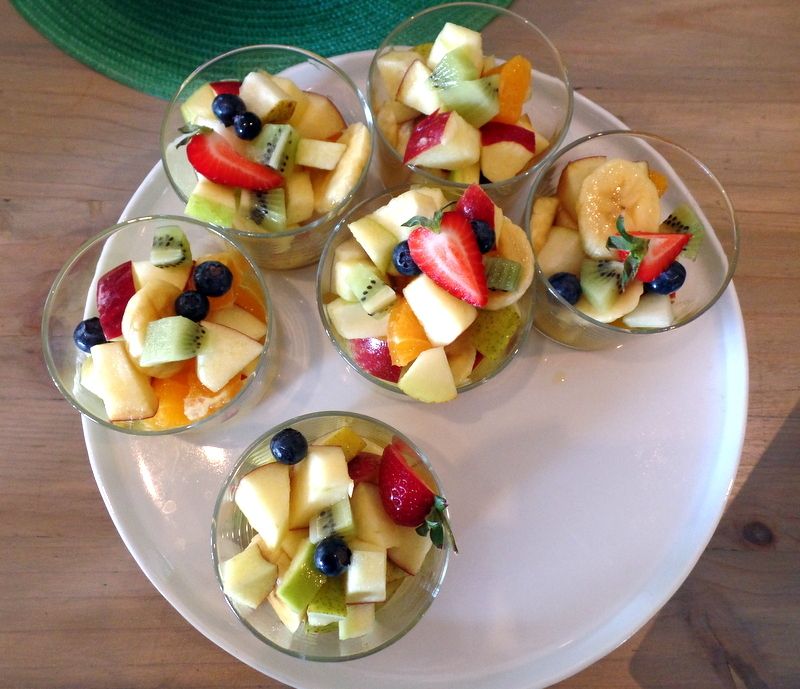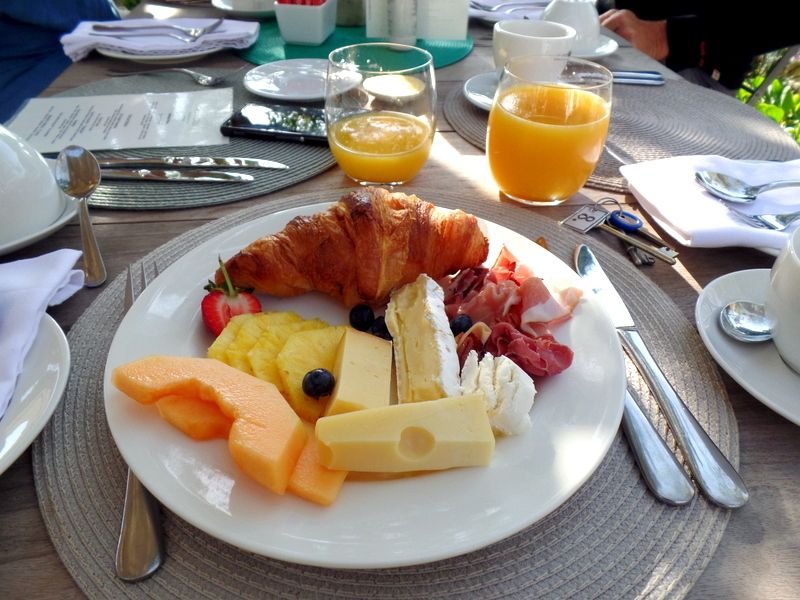 And then it was sadly time to say goodbye and on to our next adventures! We had an incredible stay at Wedgeview and it comes with my giant recommendation! Check out their site here for details! They also have some fabulous packages and specials over here!
DETAILS:
Location: Wedgeview Country House and Spa,

Bonniemile, Stellenbosch

Contact details: Email at info@wedgeview.co.za or 021 881 3525
Find out all the details on their website here!