If you've been following along with my recent winelands adventures you will know all about our #DiscoverHelderberg trip! We did some amazing wine tastings, great food and wine pairings at Longridge, a five star lunch at Waterkloof and a gorgeous dinner and sleepover at 96 Winery Road! I thought all of this was too good to be true – but that was only until they invited us back again! We recently headed back to #SeeStellenboschValley and I want to share some of the incredible tastings we tried over the two days of exploring!
1) J. C. Le Roux
I used to love J C Le Roux in my early varsity days. I used to knock back bottles of their La Valleé quite happily. But my wine education moved on a little and my tastes matured and I no longer liked J C Le Roux. When I found out we were starting our day at J C Le Roux I was a little worried. But what is really exciting is that just as I have grown up so has the brand! J C Le Roux now offers an olive and MMC pairing with five MCCs selected by the cellar master paired with flavoured olives.
I'm a huge olive fan and seriously loved this pairing! My favourite was probably the trio of flavours from the Mediterranean sosatie with the the fruity tones of the J.C. Le Roux Pinot Noir Rosé. The creamy feta, salty olive and sundried tomato with the MCC was fantastic. Make sure to book if you would like to try out their new MCC and olive pairing!
If you're starting your wine tasting early make sure to pop into the restaurant at J C Le Roux for breakfast! I ate the most fantastic wild mushroom frittata filled with mushrooms, feta, baby spinach, butternut, potatoes and sundried tomatoes – and in case that wasn't enough I ordered a side of extra bacon! I know! Breakfast is a serious affair! But the winning breakfast order has to be the french toast layered with bacon, grilled banana and strawberries, drizzled with maple syrup and served with homemade candied bacon ice cream!
2) Stellenbrau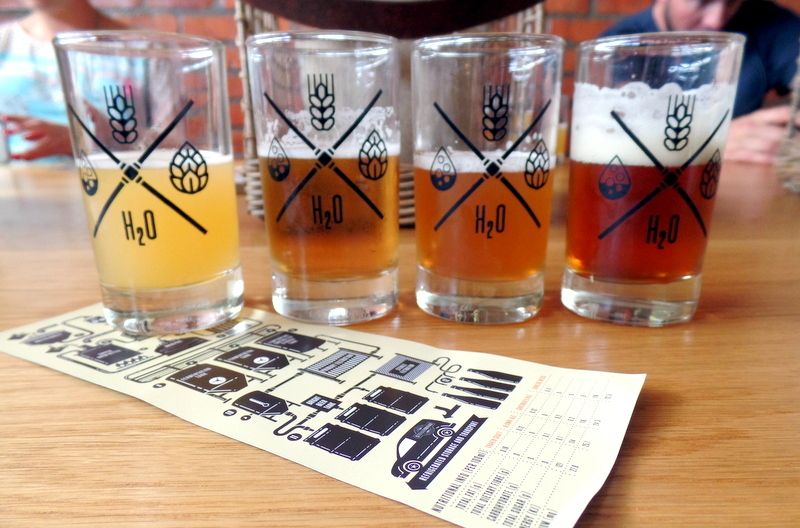 Normally on our Stellenbosch adventures we are a strictly wine drinking bunch. This trip we branched out and visited Stellenbrau to learn about their brewery and their beers. Stellenbrau has a fantastic production going and its really great to get a sneak peak behind the scenes!  They run three brewery tours a day so if you're interested in joining them make sure to visit their website for the times. We tried all four of their beers with my favourites being the Alumni Ale and Governer's Red Lager.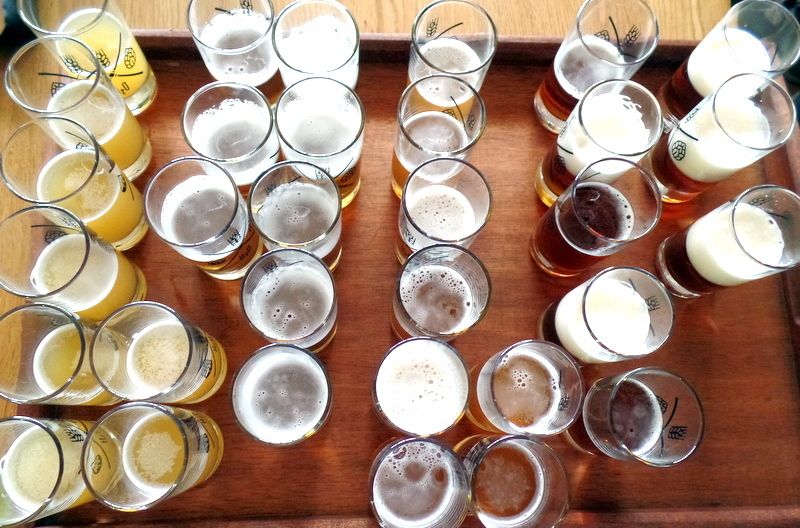 3) Middelvlei
I had never heard of Middelvlei before but it was an incredibly special experience right from the very first moment when we lay on the grass and cuddled puppies named after wine varietals. Whilst sipping our way through many of the Middelvlei wines we found out we were having a wine blending competition! We needed to create our own blend with the 2014 Merlot, Pinotage and Shiraz. It was great fun and our team actually won the best blend after a blind tasting!
After the hard work of blending wines we were treated to a great braai lunch with everything you could possibly wish for! We had a feast of boerewors, potato salad, pampoenkoekies and even delicious braai broodtjies! Middelvlei is a really great South African experience and I will definitely be back!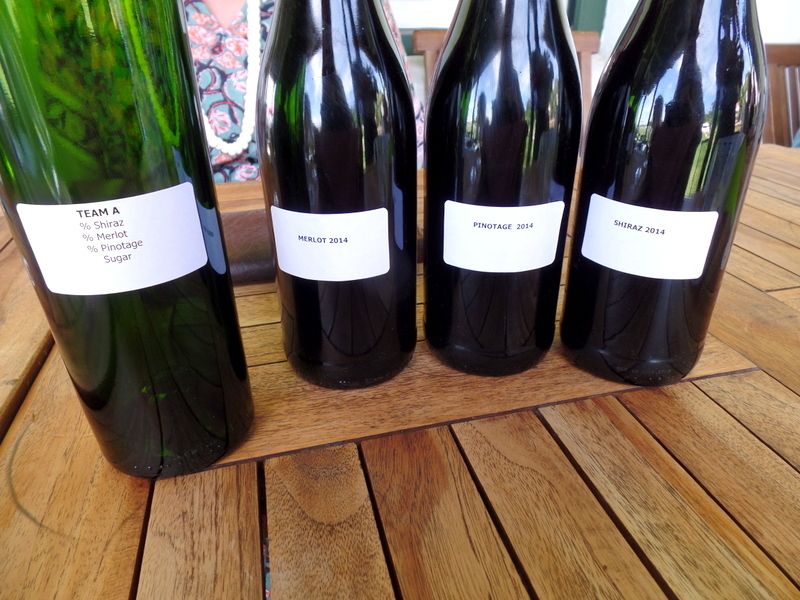 4) Fleur du Cap
This was our first tasting of day two and we joined them for their salt and wine pairing. This is a funny sounding concept but actually its really fantastic! We woke up with a walk through the cellar and the beautiful setting that is Fleur du Cap. Our tasting was held in 'Die Bergkelder' which literally means the cellar in the mountain and lived up to its title perfectly!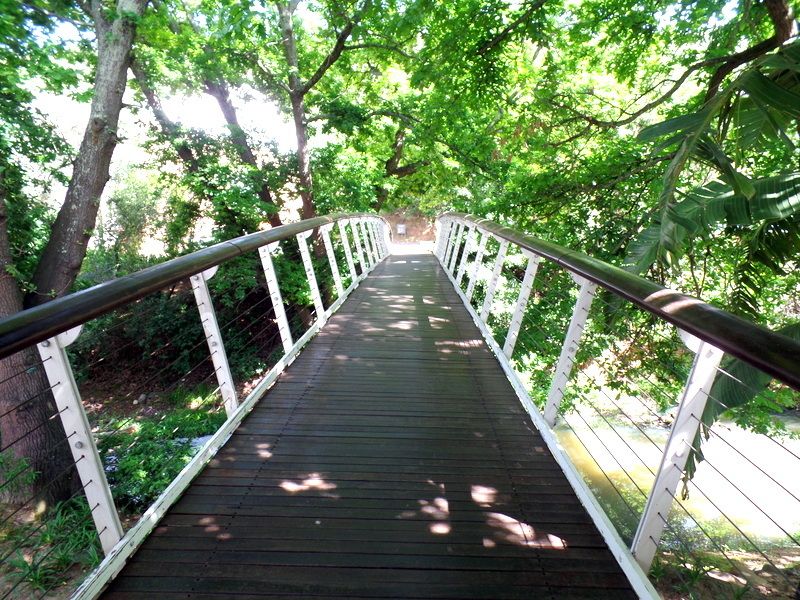 We tried five wines paired with five different salt focused dishes served on top of a slab of pink salt! One of my favourites was the unfiltered Chardonnay paired with rich green olive pesto and Black Lava Salt from the lava pools of Hawaii. My favourite of the dishes was the chicken liver pâté with caramelised onions paired with their unfiltered Merlot. I also decided to make up my own pairings by trying the chicken liver pâté with their Chardonnay – I'm a genius, it was delicious!
And if there wasn't enough deliciousness going on we finished off with the the Platter 5-Star Fleur du Cap Noble Late Harvest paired with delicious Maldon salted fudge. The Noble Late Harvest was great and the Maldon salted fudge was mind blowing – together it was pretty perfect!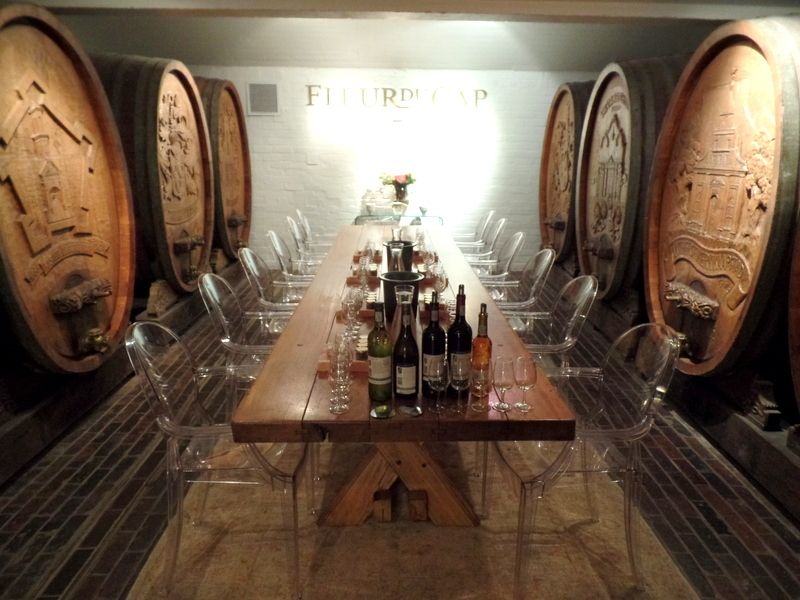 5) Stellenbosch Vineyards
Stellenbosch Vineyards has a crazy selection of wine and we were lucky enough to try many of them! One of the most special wines we tasted was the 2015 Petit Verdot straight out of the barrel!  This will make up their flagship wine when it is ready for release and I've got to tell you I need to order a few bottles before it sells out! The wines in their Credo collection are also really special and so is their Welmoed Brut. Make sure to visit them for great wines that can fit all palates and budgets.
Bistro 13 is the gorgeous restaurant at Stellenbosch Vineyards and they are turning out some of the best dishes in the winelands! Grab a table under the leaves, order some more wine from Stellenbosch Vineyards and try some of Bistro 13's fantastic dishes!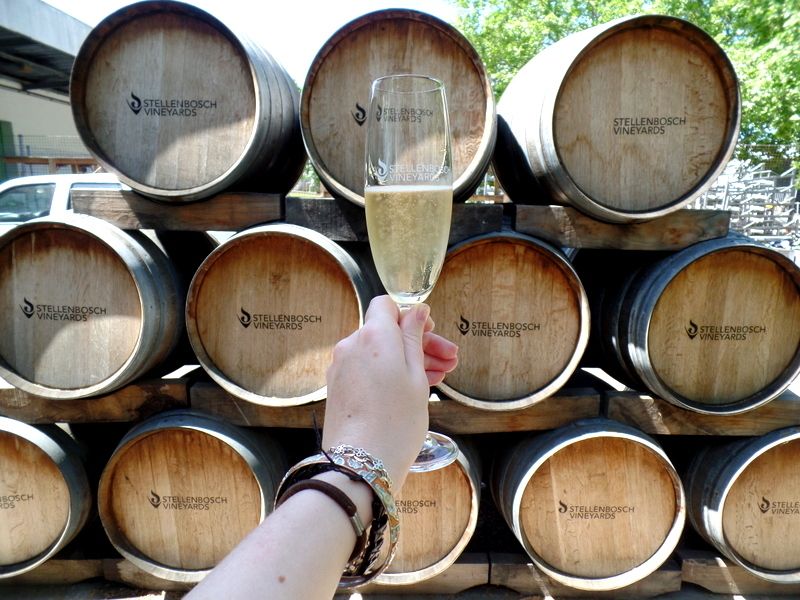 6) Van Ryn's
Our last tasting of the day was the Van Ryn's brandy and chocolate pairing. I am not a huge brandy fan and was very out of my depth. We started with a tour around Van Ryn's to learn how brandy is made and we watch a Cooper make a brandy barrel. The process is really interesting and it was great to learn a whole lot more. I'm still not a brandy fan but I'm learning to appreciate it more. If you are a brandy lover I can highly recommend a tour and their chocolate pairing. The chocolates were delicious 😉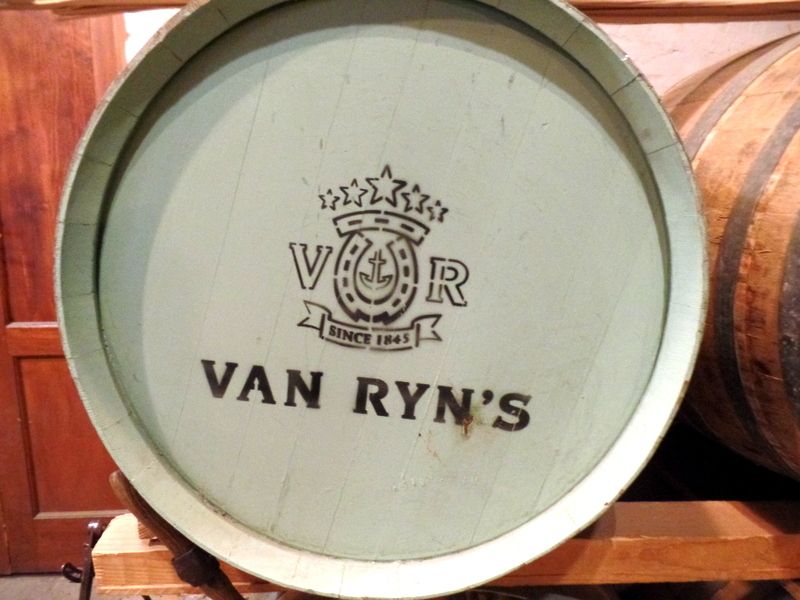 Note: I was invited to join #SeeStellenboschValley with a group of wonderful bloggers. We enjoyed all of the experiences as guests of the respective farms. However all photographs and opinions are my own.