I spend a fair amount of time drinking wine. I love wine, wine tastings and wine pairings. With this considerable wine snobbery behind my name it is rare that I am blown away by a tasting. I'm delighted to say that Longridge and their food and wine pairing experience blew me away.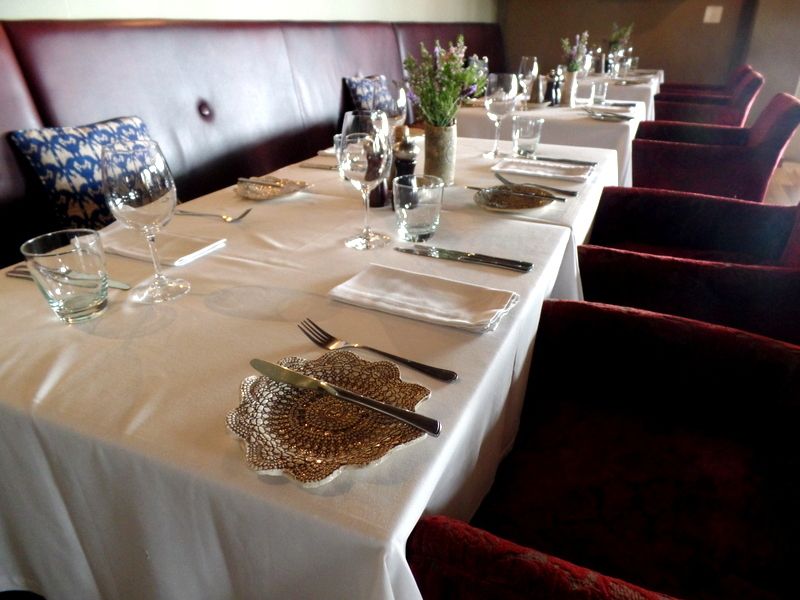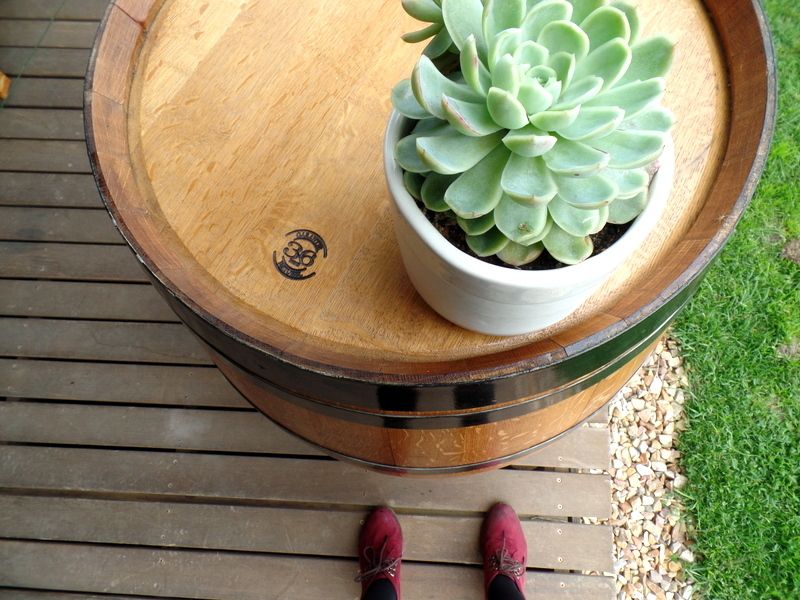 I have wanted to visit Longridge for much too long since I first tried their food at Taste of Cape Town. I tried their crispy pork belly with gingered sweet potato, sauteed spinach and a spicy tomato chutney. I was blown away by how well every single flavour worked together. Every mouthful was a perfect flavour combination. And I think for this sheer perfection the pork belly was my favourite dish of the festival.
During our Discover Helderberg trip we were invited up to visit Longridge! We visited some incredible farms which you can read all about here! We started our adventures at Longridge with a tour of the farm and a tractor ride to their beautiful Nguni cows. Our host was a little concerned about my shoe choices for our farm walk and wasn't much placated by my assurance that these were my 'hiking heels'. The Nguni cows were beautiful and we climbed into the vines with them! The farm is beautiful and definitely worth a little meander around. And I will have you know my 'hiking heels' held up just fine! 🙂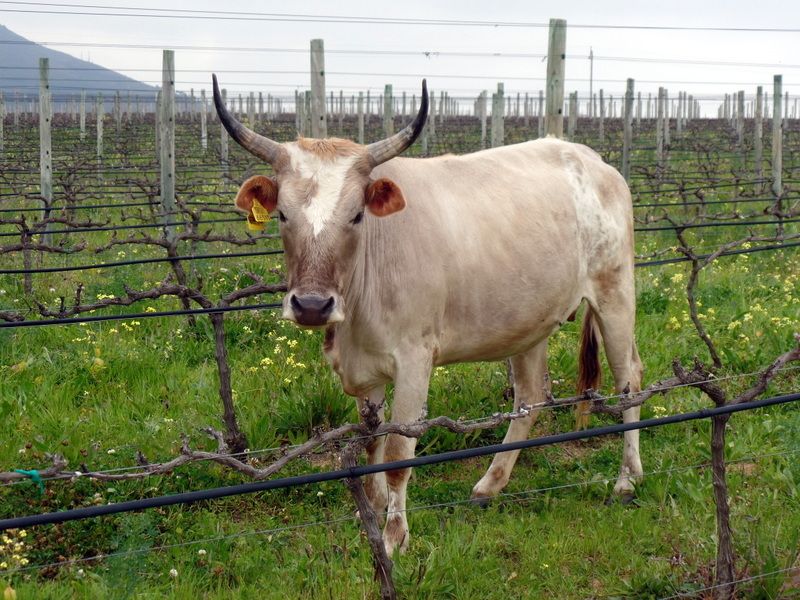 Our tasting was all set up for us as we jumped off the tracker! We were windswept and ready for wine! The tasting is a little board of five canapes paired with five of their incredible wines for R65. I cannot believe how affordable this tasting experience is and I'm definitely coming back with a large group soon!
The first taste is their home smoked salmon set in a wine jelly with organic lemon zest grown on the farm. This is served with either a Chenin Blanc, Chardonnay or The Emily as an accompanying wine. I loved the Chenin pairing with the smoked salmon but was really blown away by The Emily which is a blend of Chardonnay and Pinot Noir.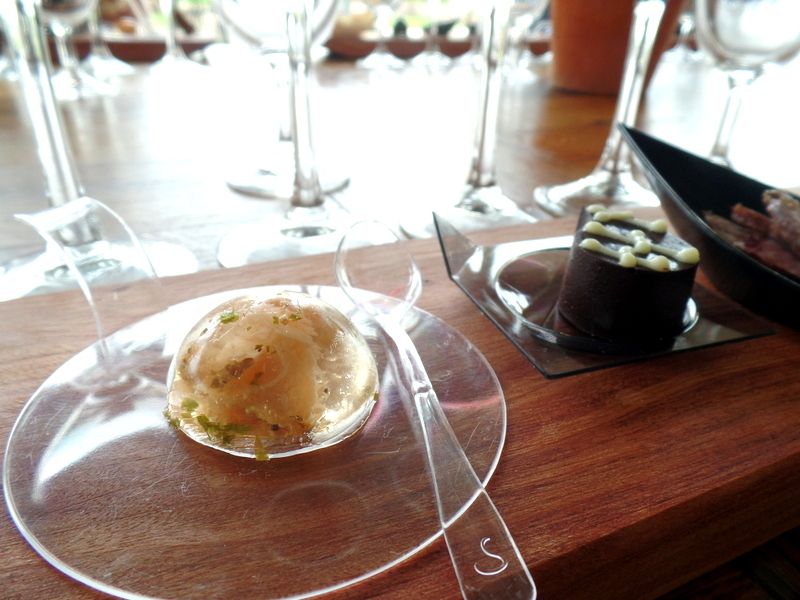 Next we had a dark chocolate orange truffle paired with their 2013 pinotage. The chocolate was delicious in its own right but with the smooth pinotage it was pure perfection. This pairing was spot on!
The third taste was slivers of Cabanossi paired with their 2013 Merlot. I am difficult with a Merlot because I often find the wine is being released too soon. Merlot is giant and bold and brave and sometimes it needs to sort itself out in the bottle a little longer. I was delighted to find this Merlot had sorted itself by the time it reached my glass! The Merlot was full bodied and well structured with softer tannins which was delicious and encouraging regarding its aging ability.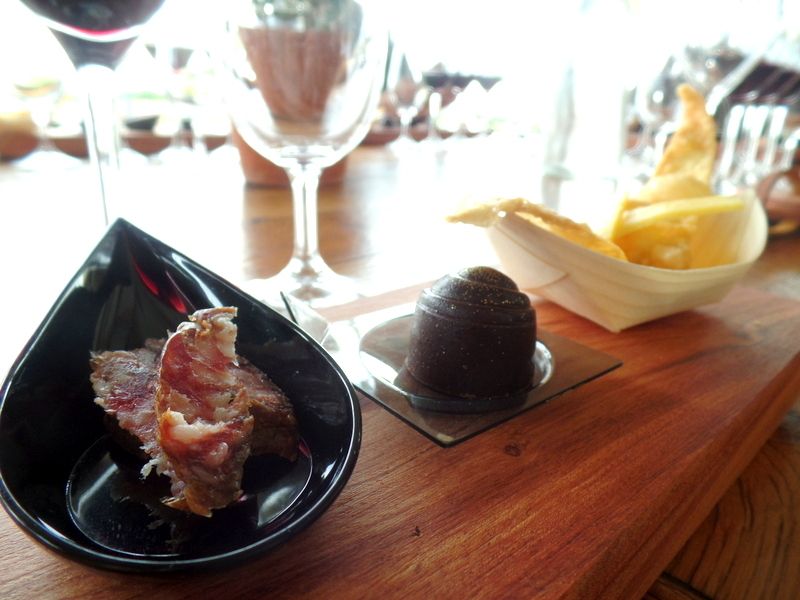 We then had a coriander and white chocolate ganache bon bon set in a dark chocolate shell with their 2012 Cabernet Sauvignon. This chocolate again was to die for and perfect with the Cab. I hate coriander so I was a little anxious to try the chocolate. However the earthiness of the coriander was wonderful with the sweet creamy white chocolate ganache.
Our very last canape was the deep fried pasta crackers with Gruyere and Edelgoud Baubles which is their 2012 Noble Late Harvest from Sauvignon Blanc grapes. This was the only weakness of the tasting. They served the noble late harvest in little plastic pipettes which are such fun but detract from the wine. Because you need to squirt the wine into your mouth with the pipettes it is almost more intense and more sweet and for a wine that is naturally very sweet its a little much. After messing around with the pipettes I actually emptied them into the wine glass which made for a better tasting.
We had an amazing time at Longridge and I would highly recommend you make a plan to visit them now that sunshine is around the corner! Make sure to book for larger groups as the tasting room is on the smaller side.
DETAILS:
Location: Eikendal Road, off R44 between Somerset West and Stellenbosch
Opening times: Monday to Saturday from 10:00am til 4:30pm for wine tasting and 17:00 for wine sales
Contact details: 021 855 2005
Disclaimer: I was invited to join #DiscoverHelderberg with a group of wonderful bloggers. We enjoyed our experience as guests of Longridge. However all photographs and opinions are my own.