Again another #DiscoverHelderberg gem which I had tried at Taste of Cape Town and longed to visit! Their duck and cherry pie at Taste of Cape Town was sublime so at least I knew my main course before I even got there! Other gems include lunch at the ever beautiful Waterkloof, exciting wine tastings all over the Helderberg and a wine and food pairing at Longridge!
I have been known to judge a restaurant by their bread board and 96 Winery Road came out very favourably. I'm all about the flavoured butters and the different bread options. The first time I ever had vetkoek it was pretty gross. It was oily and kind of wet and very stodgy. I have since learnt that vetkoek can be delicious if done right. I have now learnt that the mini vetkoeks at 96 Winery Road are mind blowing. They are light and fluffy with a slightly crunchy crust. Thanks for setting the record straight on vetkoek!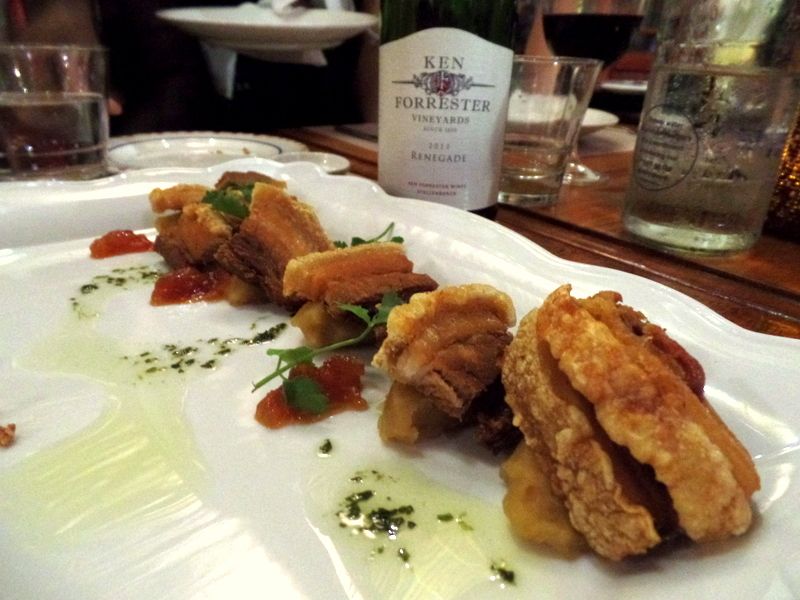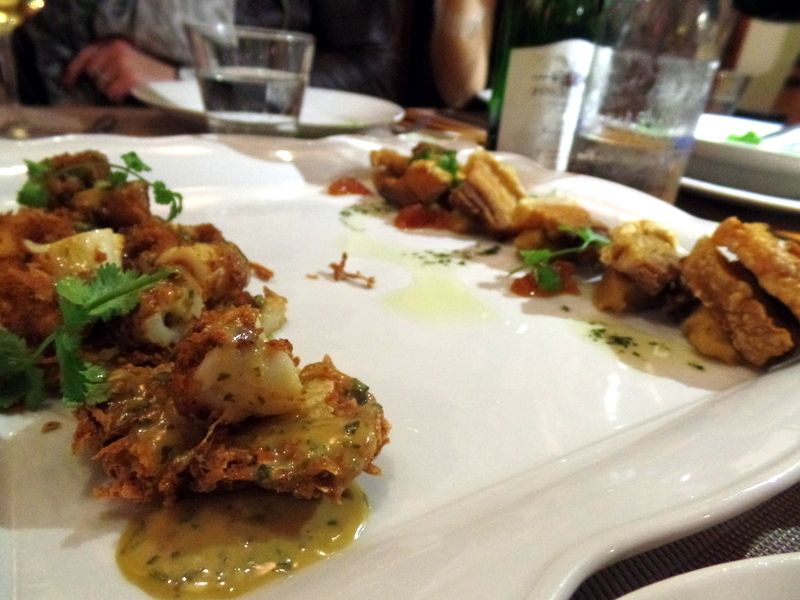 When faced with choices at a restaurant I can get a little stressed. Yes I know – my stresses in life are hilarious but that's how it goes. I was delighted to find out that an array of starters were to arrive and we were to share. Perfect! We started with crispy fried calamari on potato rostis with a coriander and chilli cream. This was a serious combination and really delicious. Their wild mushroom risotto with rocket, truffle oil and parmesan cheese smelled like heaven and tasted pretty close too! The crowd favourite of the starters was the crispy pork belly strips with caramelised sweet potato and homemade tomato chutney. The smooth sweet potato with the crispy crunchy pork crackling was an amazing pairing!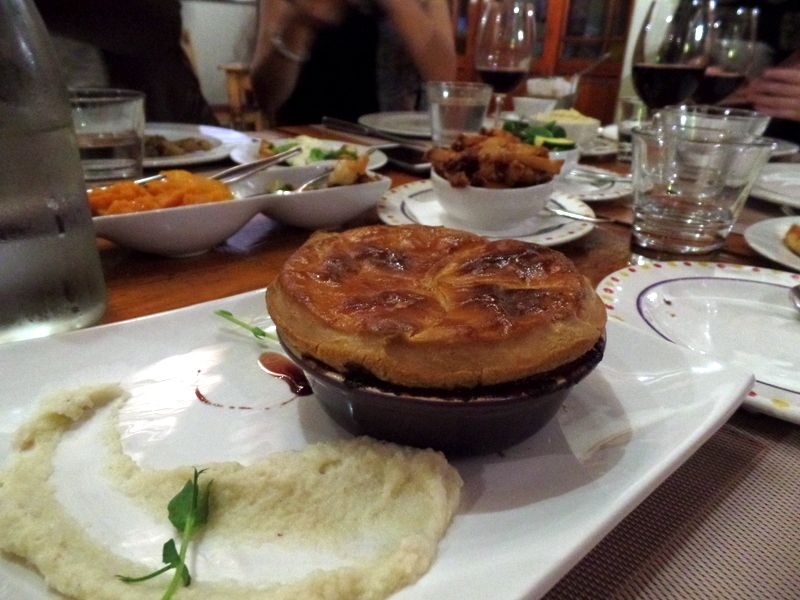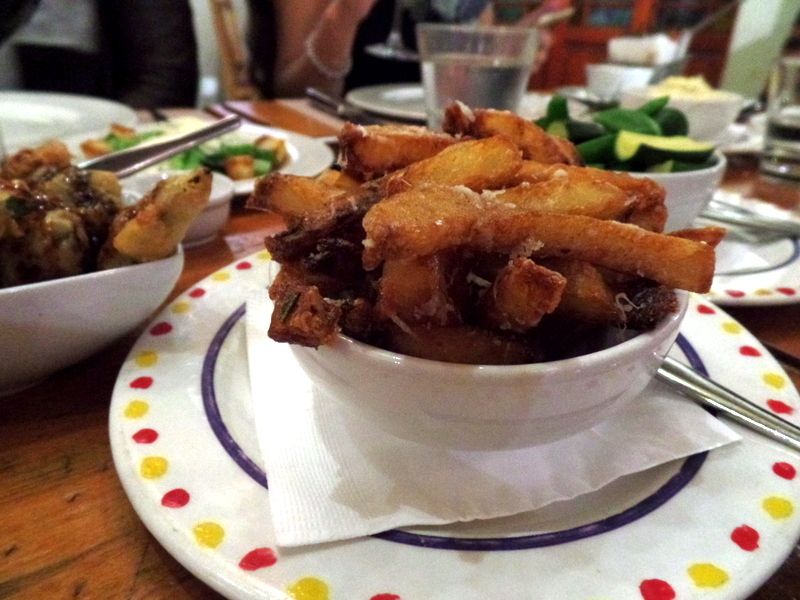 My stress over main course was sorted as I knew that duck and cherry pie was all mine! I was told that this recipe is going on 40 years old! Can you believe it- clearly a timeless classic! The puff pastry was light and crispy and the pie filling was just pure duck! Not bulked up with potatoes or peas or carrots- it was gorgeous slightly sweet tender pulled pork style duck with a delicious cherry sauce. YUM!
The rest of the table opted for the "Hollandse" pepper fillet which was set alight at the table! Another impressive order was the 500g beef burger which came with caramelised onions, sauteed black mushrooms and brie! We also opted for a whole heap of side orders. The favourite side was the house cut chips with truffle oil and shaved parmesan better known as posh chips!
Again I was excused from choices for our final course! I am a HUGE peanut butter ice cream fan! And I can tell you now I have never had a better scoop of peanut butter ice cream than this one! If I wasn't so outrageously full I would have ordered more! The ice cream was silky smooth with little lumps of peanut butter churned through. Unbelievable! I also loved the little chocolate tart – so rich and decadent! I once heard that when you bounce a spoon on the top of a Crème brûlée the spoon is supposed to bounce back a little and then slip through the brûlée. I had almost given up this game of trying to witness this phenomenom. AND THEN! It happened! The 96 Winery Road proved it was not a myth. It really was a beautiful Crème brûlée and a beautiful evening.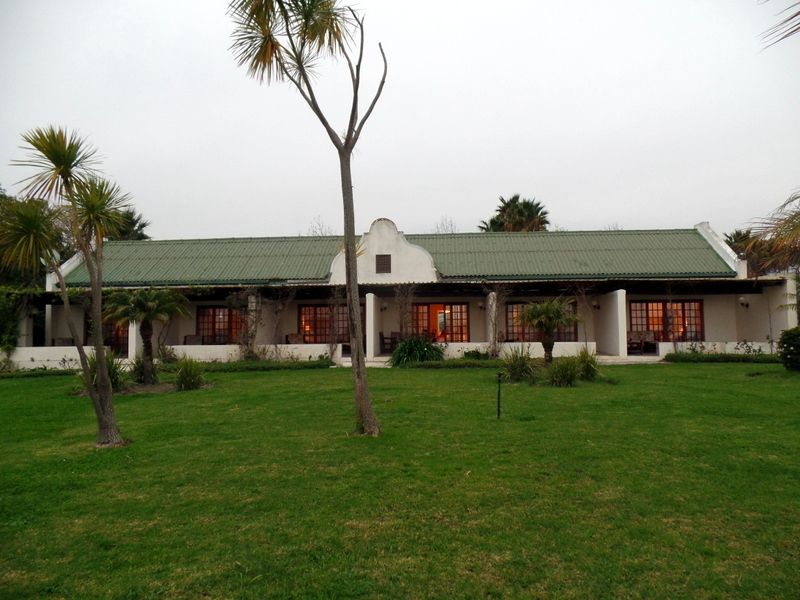 It was a real treat to just walk down a little lane home to the Country Guest House on the same property as 96 Winery Road. The room was toasty, my bed was enormous and with an incredibly full stomach I quickly drifted off! If you're looking for more than a day of adventuring in the Helderberg area make sure to check out the Country Guest House. We also had a superb breakfast with them in the morning before out 10am wine tasting! French toast, bacon, syrup and extra mushrooms! Hello happiness!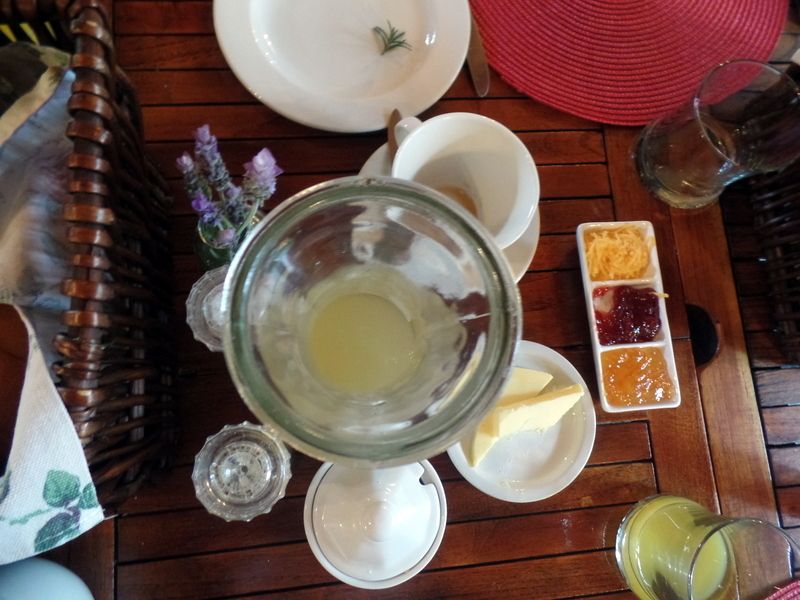 DETAILS:
Location: Zanderberg Farm, Winery Road, Stellenbosch
Opening times: Monday to Saturday 12pm til 3:30pm and 6pm til 10pm and Sunday from 12pm til 4pm.
Contact details: 021 300 9793
Disclaimer: I was invited to join #DiscoverHelderberg with a group of wonderful bloggers. We enjoyed our experience as guests of 96 Winery Road and  Country Guest House. However all photographs and opinions are my own.