We popped into El Burro's new baby, The Taqueria, over the weekend for a Saturday lunch. It is beyond beautiful and seriously instagramable with plants on the walls, gorgeous colours, great tiles and stunning food! We were an already tipsy and noisy group who they happily accommodated in one of their booths. You can't make bookings for The Taqueria but luckily the turnover is quick and the service is fast!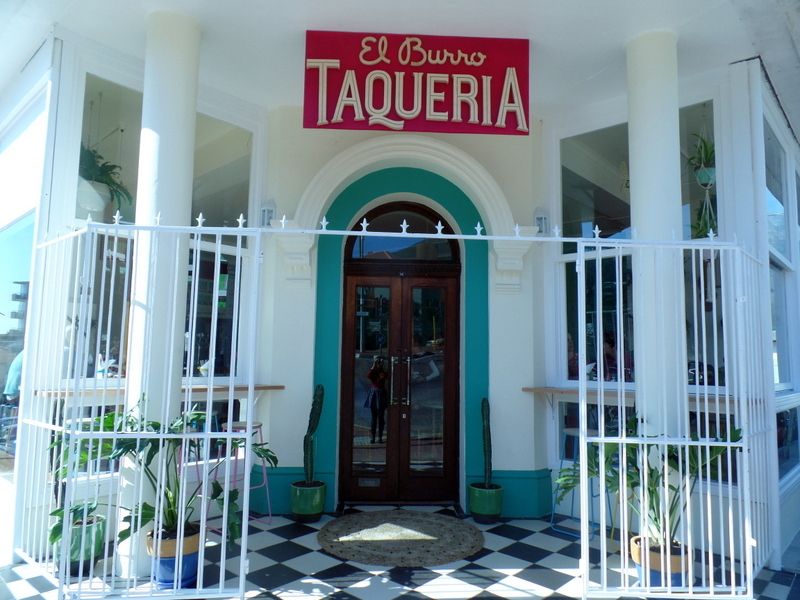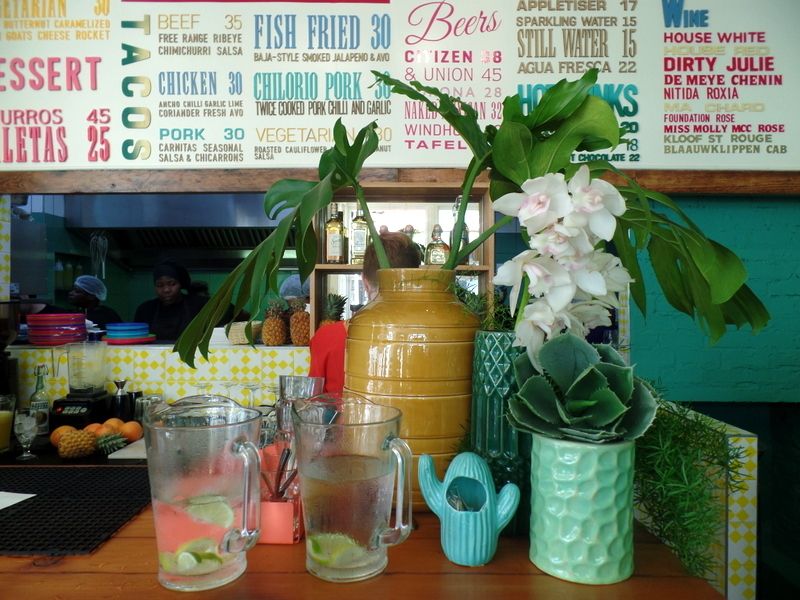 The first and one of the most important things you must know about The Taqueria is that they do not as of yet have their liquor license! This is fantastic for us – sorry for El Burro. I love when there is no liquor license because I can bring what I like and save on the bill! We unfortunately did not know in advance but luckily there is a little bottle store just up the road with a pretty decent wine and beer selection!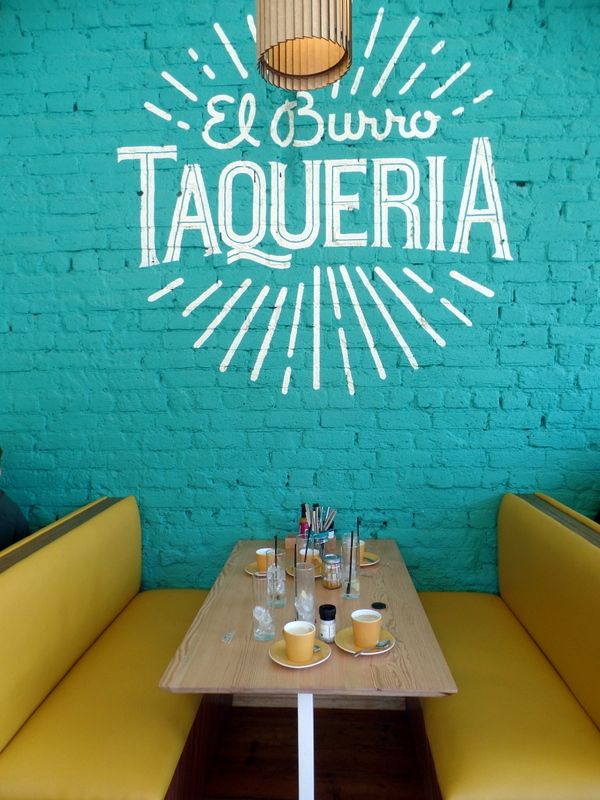 Whilst working out our main course orders we got some nachos and salsa for the table. We were a table of five and shared two baskets between us at R20 a pop. This is where I need to remind everyone what El Burro is about: fresh, authentic mexican food. That does not mean TexMex therefore their nachos or anything else they serve does not come covered in cheese. Fantastic! We're all back on the same page! This was a great snack and perfect with our wine!
They were unfortunately out of chicarrons (pork scratchings) during our visit but I will definitely be heading back to try those! YUM!
Main course is a sharing, tasting and trying kind of affair! You're probably going to want about 2-3 tacos per person. I had two tacos, some nachos and churros and was very happy. The tacos are on average R30 a go and the quesadillas are R35 and R30 for the beef and veggie respectively. We pretty much tried the whole menu between the five of us!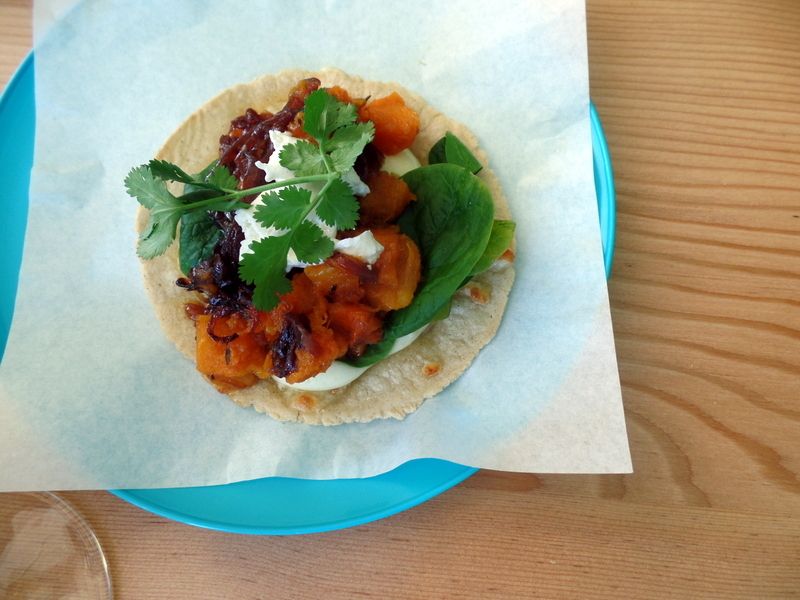 My favourite was the veggie quesadilla with roast butternut, caramelised onions, goats cheese and rocket (check him out above). Goodness this was delicious! You fold it up and start eating! Its messy but its worth it! The flavours were fresh and a fantastic pairing!
The next best is a tie between the chilorio pork and the chicken tacos. I'm a huge fan of their chilorio pork from their original spot and it was just as good at The Taqueria! The pork was tender, juicy and just a little spicy! Served with pickled red onions it was the BUSINESS! The chicken taco is fresh and served with lime, avo and coriander! All the flavours and all the delicious!
I think the only disappointment of the meal was the fish fried taco. I am beyond obsessed with the El Burro fish taco and expected this one to meet similar expectations. The fish was too fishy for our personal taste and was served with lots of iceberg lettuce which is not particularly magical.
You cannot visit an El Burro establishment and not have the churros! I believe it is a written rule somewhere! Again our table of five shared two plates between us – enough to share but not too many to have us rolling out the door. I did think they were a little pricey at R45 for three but I'm assuming the price hike due to the fantastic quality dark chocolate dipping sauce.
We had great fun at The Taqueria, the food was delicious and the service is really spot on! The service was quick, friendly and informative. The waitresses understand the vibe and buy into the food they are serving!
Here's you future weekend plans! Pop into The Taqueria, bring some wine, eat some tacos and dip Spanish doughnuts in decadent chocolate sauce! YOU ARE WELCOME 😉 !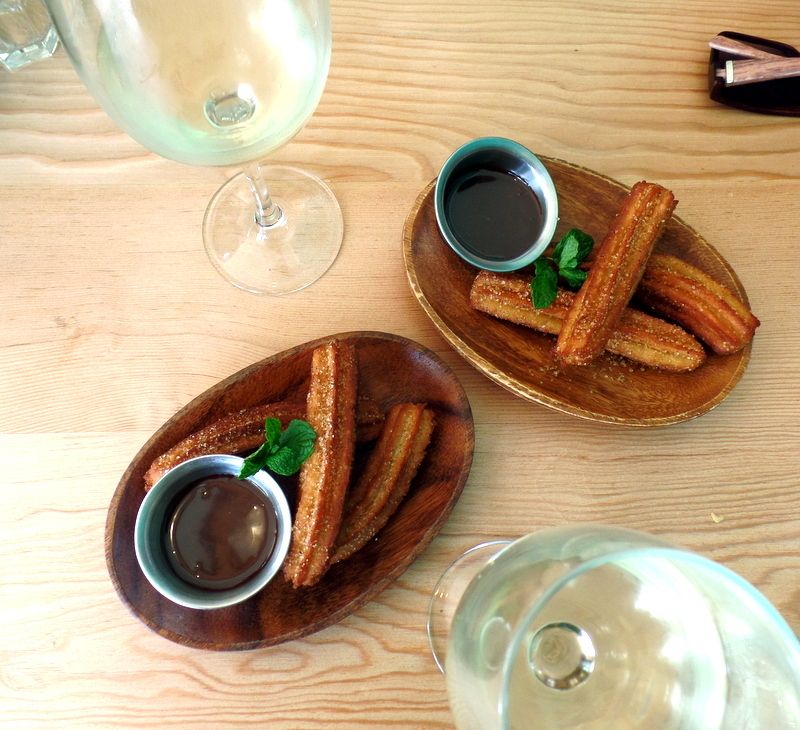 DETAILS:
Location: 16 Kloof Nek Road, Tamboerskloof (across from Rafiki's)
Opening times: Monday to Friday, 12pm til 11:30 and Saturday from 10am til 11:30. Closed on Sundays.
Contact details: 021 422 3554