One of my fondest memories of my last trip to Europe was our chocolate and beer treasure hunt in Bruges. We picked the bars and chocolatiers we wanted to visit, pulled them all into one of George's many travel apps and it cleverly plotted the best route to hit all our chocolate and beer spots! It was such fun as we raced from bar to chocolatier in between chocolate samples and Belgian beers. It was fantastic! I got a slice of that memory the other day when I walked into My Sugar in Sea Point! It was just like being back in Bruges!
My Sugar is a chocolate lover's delight! It's a skinny little spot with a few tables and chairs and a giant glass counter holding a treasure trove of beautiful chocolates. The first thing I noticed were the tiny chocolate skulls filled with caramel ganache, then came the Buddhas with miso caramel filled bellies, the chocolate logs with bright red freeze dried strawberries and the triangle prisms which appeared to be dipped in rainbows! The chocolates were a delight and that's before we started tasting them!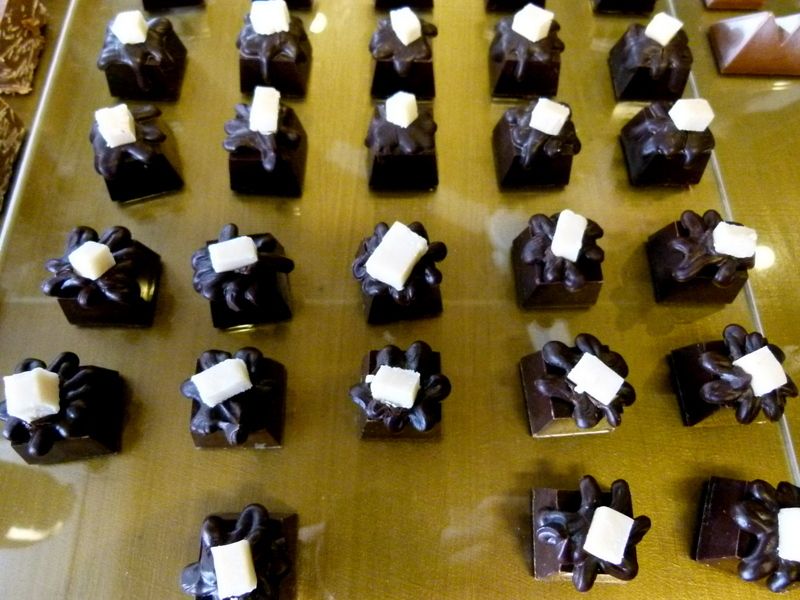 Every chocolate is a little piece of art and I loved the attention to detail! A recent My Sugar project is to create a chocolate for each of the planets in our solar system. Keeping topical I was delighted to spot Pluto (It's a planet – piss off!) with a little heart brushed on in honour of the latest discovery! I was more delighted to find it filled with citrus marshmallow!!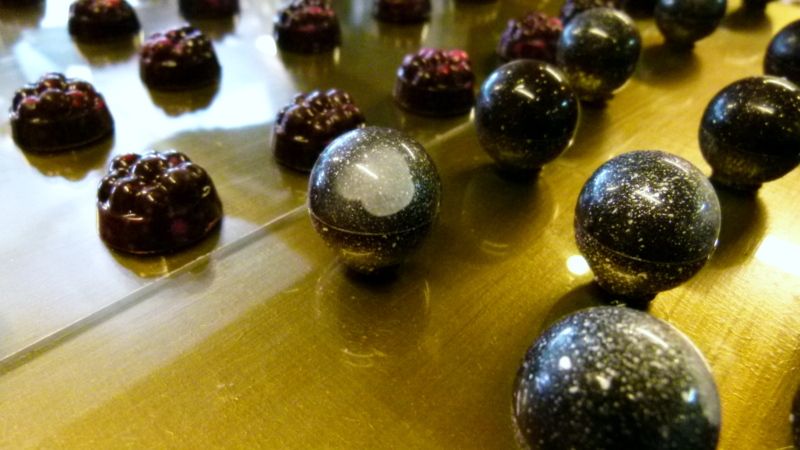 We were planning a quick pop in which quickly turned into a mid morning dessert session. Little care was given to the fact that we had just had breakfast at Kleinskys. We simply had to eat the chocolates! We each had our turn picking and choosing chocolates for a tiny fairy plate. What's interesting is that unconsciously we had all chosen completely difference chocolates! We had between five or six chocolates each and only one choice in common! Clearly there are enough flavours to suit everyone's mood!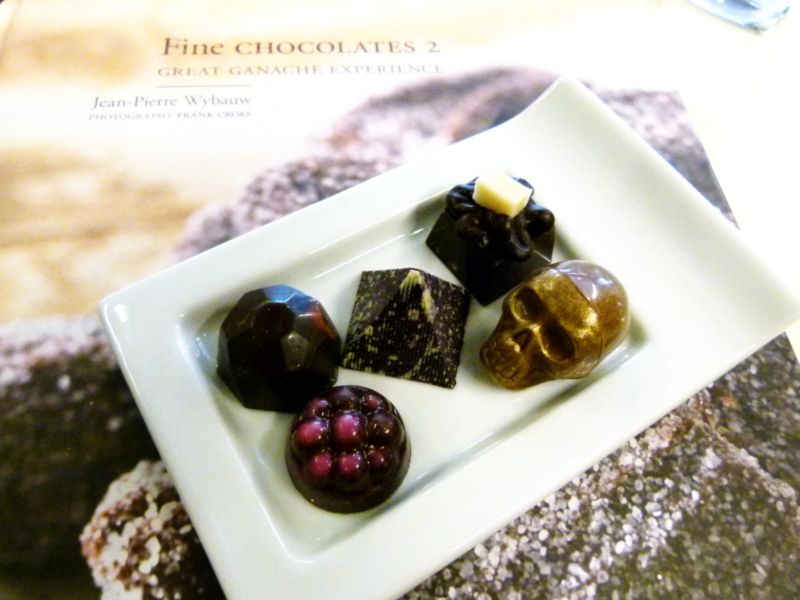 Once we settled in with our fairy plates we made a serious go of tasting everything! The three of us sat down passing around nibbles of beautiful chocolates! Above was my tasting selection! I loved the gold brushed skull filled with the smoothest caramel ganache! The Choc-work orange was another favourite with chocolate orange being one of my favourite flavour combinations. The choc fudge sundae topped with the tiniest square of white fudge was both decadent and delicious!
My favourites sampled from my friends' plates included the Miso caramel filled Buddha and the thyme and honey infused ganache in white chocolate. The thyme and honey chocolate was the surprise of the tasting being fresh and light and somehow savoury!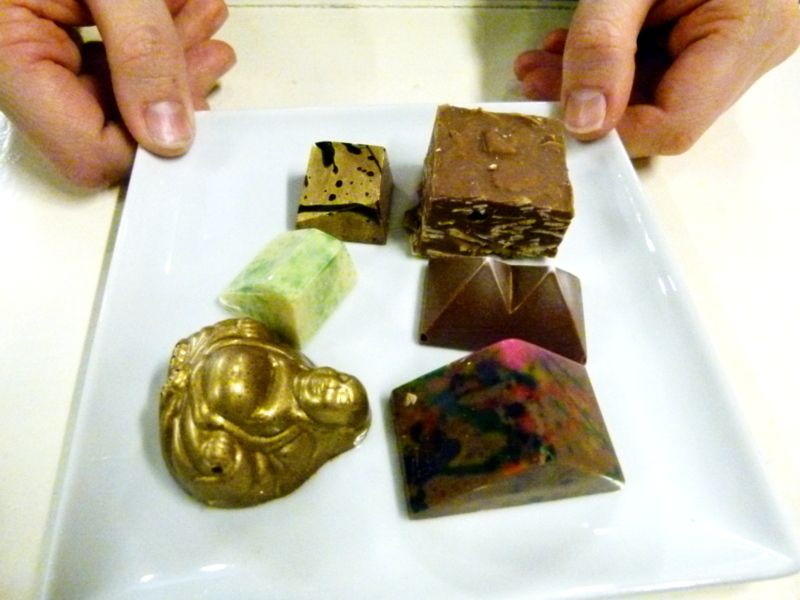 Another hot tip for your visit is to not miss out on their tiny cups of hot chocolates! The reason the cups are tiny is because you're pretty much drinking pure chocolate! The chocolate is served in a tiny cup with a shot glass of water – clever! My clever chocolate eating friend perfectly sum'ed it up – Its like drinking a chocolate brownie! YUM!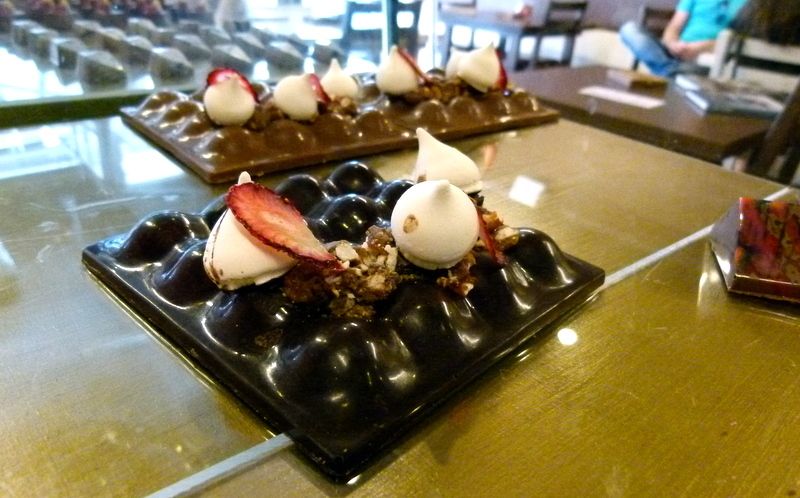 Chocolate makes for amazing gifts so I simply couldn't resist! I bought this gorgeous Larnie Log for my mama! The log has a soft marshmallow centre topped with a salty sweet crunch, toasted meringues and dehydrated strawberries. The Larnie Log gets placed in its custom sized box for a perfect hostess gift at R35. I opted for the milk chocolate version and it was delicious!
When buying chocolate gifts you can't resist buying a gift for yourself! I was seriously blown away by the salty sweet pretzel bark in dark chocolate. I think this might actually be my favourite chocolate from My Sugar! Its salty pretzels covered in gooey caramel coated in dark chocolate and sprinkled with Maldon sea salt. The savoury pretzels, the sweet caramel and the extra salt make an incredible combination! I definitely need to head back soon to stock up!
DETAILS:
Location: 77 Regent Road, Sea Point
Opening times: Tuesday to Sunday 7:30am til 5pm.
Contact details: 021 433 2335