I grew up in Sea Point and it wasn't particularly cool. Now that I've moved out Sea Point has got its game together and is turning out to be pretty cool… thanks a lot guys! First we have the gorgeous My Sugar which is my latest chocolate addiction! Try the pretzels with dark chocolate, caramel and maldon sea salt! And now there are two new divine breakfast spots in the form of Jarryd's and Kleinskys!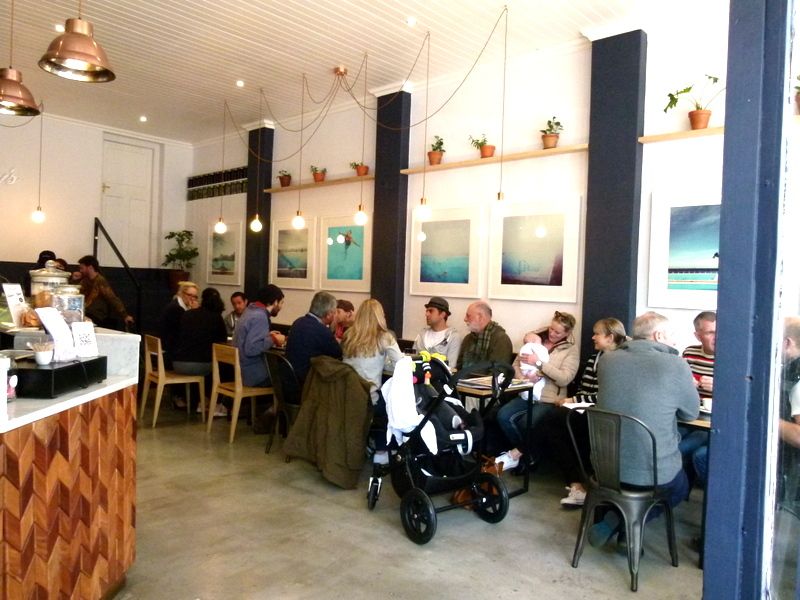 Kleinskys is a bustling little spot which is packed with happy people eating amazing breakfasts! They are known for their seriously fantastic bagels which you can eat there or takeaway and have plain or filled with some seriously amazing combinations! The menu is not particularly large and evolves around some standard breakfast options and a variety of bagels which are all kosher friendly options. The expected bacon is swopped for pastrami or salmon so it isn't really missed much.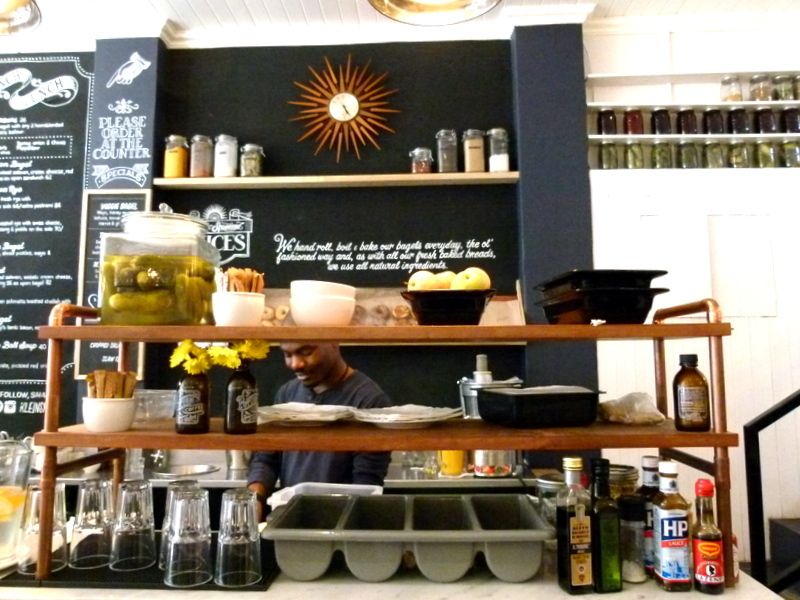 They also do some really great vegetables juices which they press freshly on site with both my friends knocking back giant green juices which were delicious! Next time I'm having a glass of their freshly squeezed orange juice!
My friends are well trained regarding breakfast with me. When dining out with me you don't actually order your own food. I hint politely about what you should order, you order and then we all share! If you're not okay at sharing we're not going to be great friends sadly.
I really struggled to narrow down my ordering choices at Kleinskys. One of the must haves was the potato latkes, two poached eggs, hollandaise and salmon for R62. This was seriously delicious with the latkes having crispy crunchy outsides and a soft potato middles. The hollandaise sauce was top notch and the eggs were perfect soft poached eggs. This whole dish tied together very well and actually beat my favourite potato rosti breakfast from Hemelhuijs.
I really loved the California bagel which was a plain bagel with smoked salmon, wasabi cream cheese, avo, ginger and soya sauce dressing for R52. I have actually been back and ordered this again as a takeaway – it was just as perfect the second time around! I don't think I've ever had better bagels than I have from Kleinskys. Bagels are more complicated than they let on. Bagels get baked and then they get boiled and this process makes them dense and sticky and delicious. If you want to eat a proper bagel then you should head to Kleinskys. The California bagel combo was inspired! The smoked salmon with the sweet sticky soya sauce dressing and the rich cream cheese with a little wasabi heat was fantastic! They also have plenty of more traditional options if you're feeling less adventurous!
The biggest surprise of our breakfast was the pastrami hash and eggs which was two fried eggs, diced pastrami and potato hash for R58. I am a self proclaimed foodie and I feel I have an above average knowledge of food. But I have never been more mistaken than I was about pastrami! I thought pastrami was a sort of sliced beef thing which was a disappointing equivalent of ham. Pastrami is amazing when its done properly! Pastrami is actually a beef pulled pork equivalent. The pastrami was tender and soft and unbelievably delicious! I owe pastrami a big apology! This breakfast was great but really large and really rich so make sure you're hungry when you order this one!!
Next time you're looking for a breakfast fix make sure to give Sea Point a try! We had a fantastic experience at Kleinskys! The only let down was that you need to get up and order your own drinks and food  and settle your bill at the front which I always find particularly irritating.
DETAILS:
Location: 95 Regent road, Sea Point
Opening times: Monday to Saturday from 8:30am til 4:30pm, with the exception of staying open til 9pm on Fridays and Sundays 8:30am til 3pm.
Contact details: 021 433 2871
http://i1296.photobucket.com/albums/ag11/toomuchloveliness/P1060797_zpsxmpjnri8.jpg