I finally got my ass in gear to head down to visit Downtown Ramen. Unfortunately I chose to visit on First Thursday so I parked about a ten minute walk away. But that's okay – a girl can walk a little for delicious bao! And Downtown Ramen has delicious bao!
We opted to have one of each of the bao. My favourite of the three was the amazing smoked aubergine and teriyaki tofu with spicy pickles! The aubergine was packed with flavour with a little warmth and the amazing teriyaki tofu! I love when the best option is the veggie option! Next up in the boa ranking was our tables favourite the charsu pork belly with citrus pickles. The pork belly was tender and moreish!
The beer braised beef short rib and spicy pickles was another winner too – it was a tough ranking to make! But someone has to 😉 ! All the baos have a fantastic soft bun and they're filled with lots of homemade pickled cucumber slices, sesame seeds and spring onions! Every bao was packed with exciting flavours and I will definitely be back for more!
These guys go for R35 each and are pretty filling!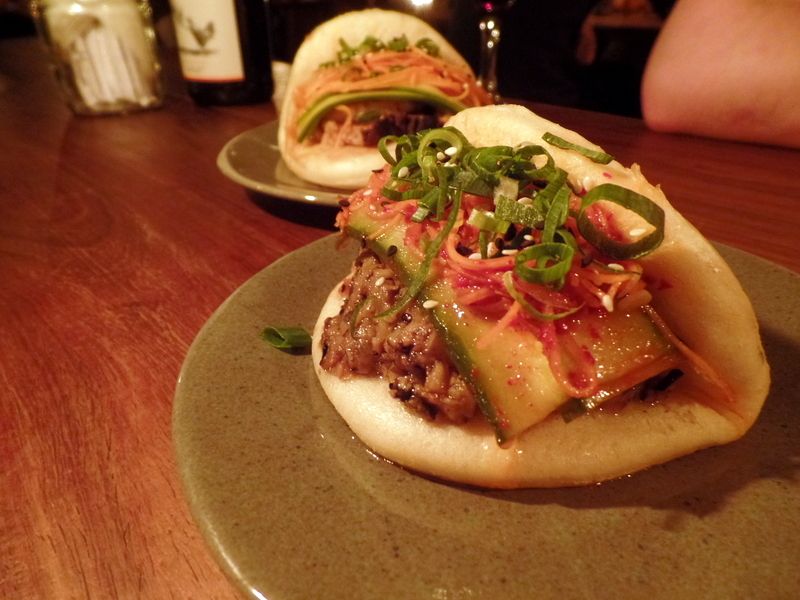 I have heard a fair amount of controversy about this ramen. I do wonder if people have a lot to say without actually knowing what ramen is about. Ramen is a Japanese noodle soup which is made up of a meat broth, noodles, sliced pork, dried seaweed and often halved boiled eggs.
We were feeling pretty full from the bao so opted to share too ramen bowls between the three of us. This worked out pretty perfectly!
We tried the Shoyu Ramen which is a light broth with charsu pork belly and sprouts, This was really delicious and I loved it! I would definitely order this again! The pork was tender and pulled apart with the chop sticks, Ramen makes for messy eating but the slurping and mess make it even better! The broth was packed with flavour and the spring onions added extra freshness!
Our second choice was the beef massaman with potatoes, noodles and peanuts. This was really really heavy and had far too much cinnamon. A few mouthfuls in all we could taste was cinnamon! However the ramen was rich and creamy which is completely different to the ramen I know and I would like to try it with a more subtly flavoured dish.
We had a tasty dinner and I definitely need more bao in my life pretty soon! One think to note is that the wine is beyond terrible. Its really cheap but also really terrible. I would HIGHLY recommend bringing along your own bottle of something delicious if you'd like to drink wine with your dinner.
DETAILS:
Location: 103 Harrington Street, above Lefty's
Opening times: Monday to Saturday 5pm til 10pm, closed on Sundays.
Contact details: 021 461 0407