I have been wanting to pop into Honest Chocolate's cafe for much too long! It's tricky because they aren't open on Sunday and my Saturdays are normally beyond chaotic! This past Saturday was a perfect example of a crazy Saturday – I started at 8am with a bread making class at Loaves on Long, I then raced to a tea pairing in Stellenbosch, back to Loaves on Long and finally to Honest Chocolate! However by this point I had eaten a fair amount and I had a ton of fresh out the oven bread in my boot! Dammit! All we had space for were their phenomenal milkshakes!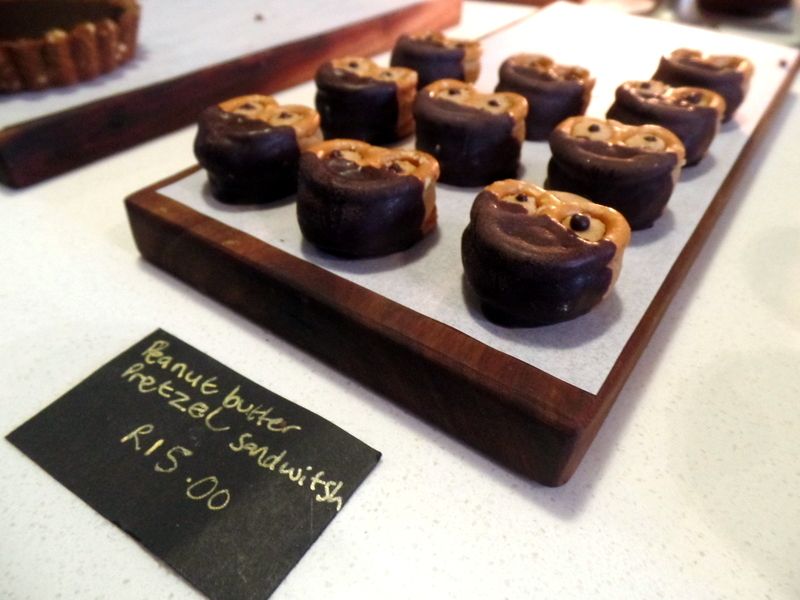 I thought I'd share some photos of why I'm so desperate to go back again! I need one of those pretzels with the peanut butter, I need one of their chocolate bunny chows and I most certainly need another milkshake! We sat outside in their beautiful courtyard curled under their outdoor heater drinking icy milkshakes. The service is pretty spotty but the atmosphere is relaxed and you don't feel rushed or obligated to order more than just a quick drink.
We ordered their chocolate milkshake and the salted caramel milkshake. The salted caramel was only a special of the day but I fiercely threatened the chef to keep it on the menu. I WILL be having words if it is not on the menu when I return soon. The salted caramel milkshake was really something else! And I found out the secret – the ice cream is from Sorbetiere! The caramel was so rich and the milkshake was super decadent.
So get your butt to Honest Chocolate Cafe, order a milkshake, eat some chocolate things and you let me know what I need to eat this time!
DETAILS:
Location: 64 A Wale Street
Opening times: Monday to Saturday 9am til 5pm
Contact details: 076 765 8306