I recently joined Dash for an evening of sophistication with the Zomato team and fellow foodie babes. I fear I may have ruined the sophistication by main course when I promptly stuck my spoon in the gravy and then directly into my mouth. Don't be too shocked though – if you had tried the gravy you might have understood! However the venue, the food and the great service made up for my utter lack of sophistication! The photo below shows a very empty restaurant but that's only because we were there quite early for our drinks. By the time we left every table was full with happy noisy diners.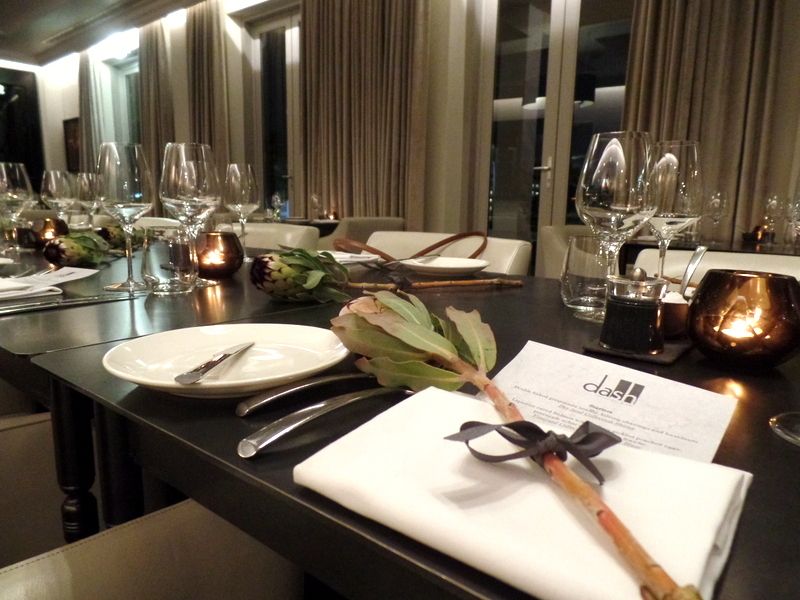 We started off with drinks in the bar area with a fabulous roaring fire! After the first round of cocktails everyone was warming up whether it was to do with the fire or the alcohol I cannot confirm. My cocktail was bright pink and delicious! The name eludes me but the main flavour was pomegranate – YUM!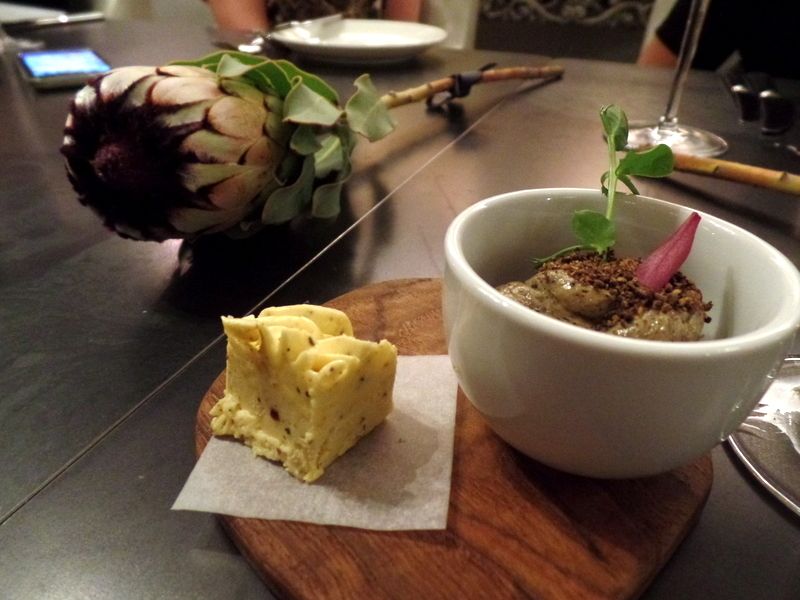 We started with beautiful fresh bread with cajun butter, and truffle butter. The truffle butter was amazing and I spread it liberally across the soft white bread. The truffle butter tasted like blitz exotic mushrooms with truffle oil and was wonderfully creamy and smooth! Really delicious! We also had a little amuse bouche of lamb bon bon with pickled veggies and a pea puree. The lamb was tender and full a flavour curled up in a little crispy bread crumb shell.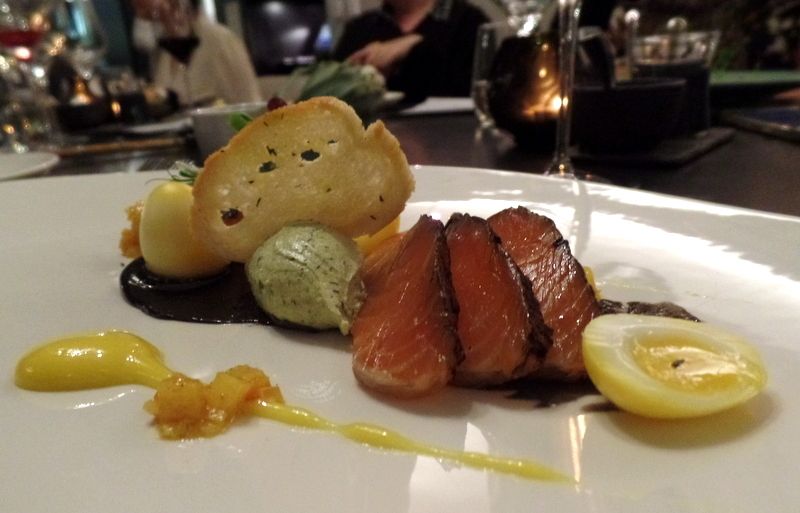 This wasn't my starter but I snapped a quick photo and begged Dom from My Bread and Almond butter for a bite! This is the liquorice cured salmon with saffron pickled poached eggs, pineapple achar and dill creme fraiche. The salmon was beautifully light with a slight liquorice under tone.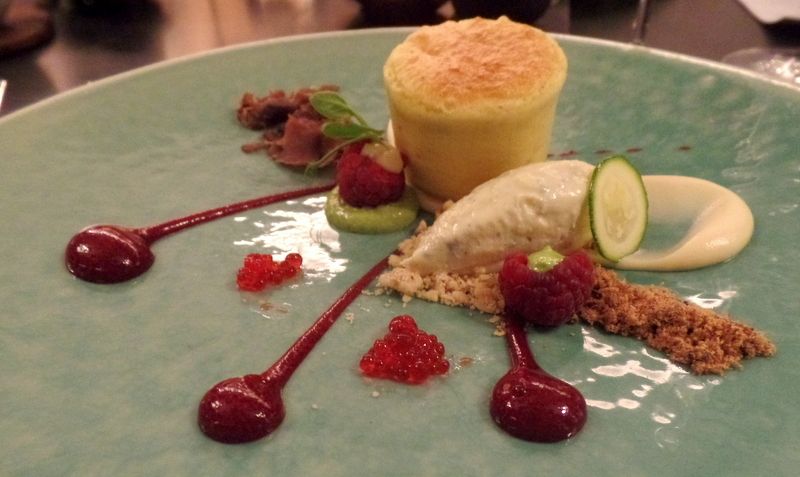 THIS was my starter of double baked gorgonzola souffle, biltong shavings and hazelnuts. The souffle was unbelievably light and was like pulling a cloud apart! I loved the addition of the tart raspberry flavours to cut the richness of the gorgonzola.
Between starters and main course we had these delightful palate cleansers! My favourite was the Turkish delight sorbet topped with a giant chunk of Turkish delight! The lemon was super sour and pretty spectacular with the sweetness of the Turkish delight! I loved this little touch which turns dinner into more of an experience than just a meal!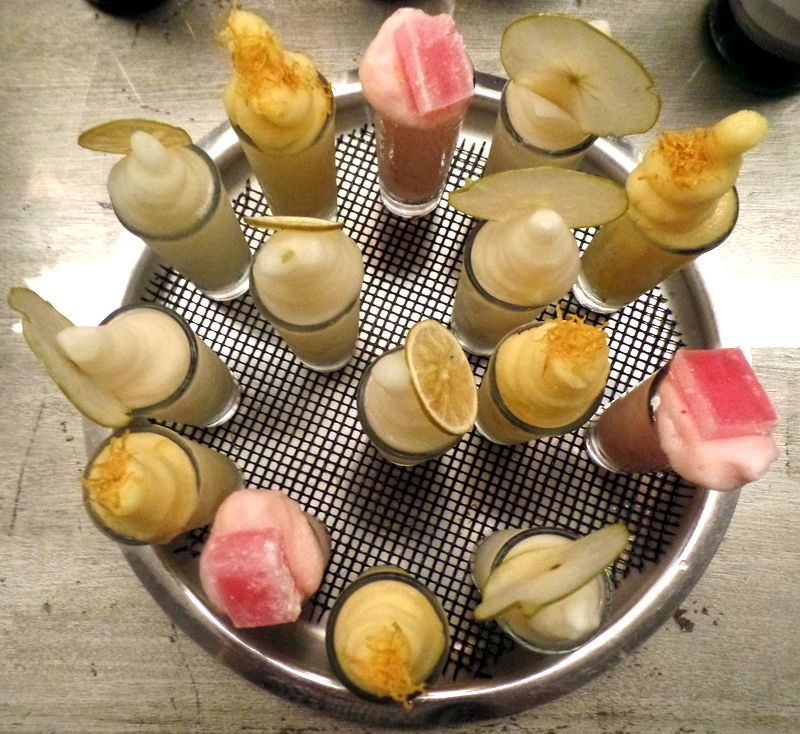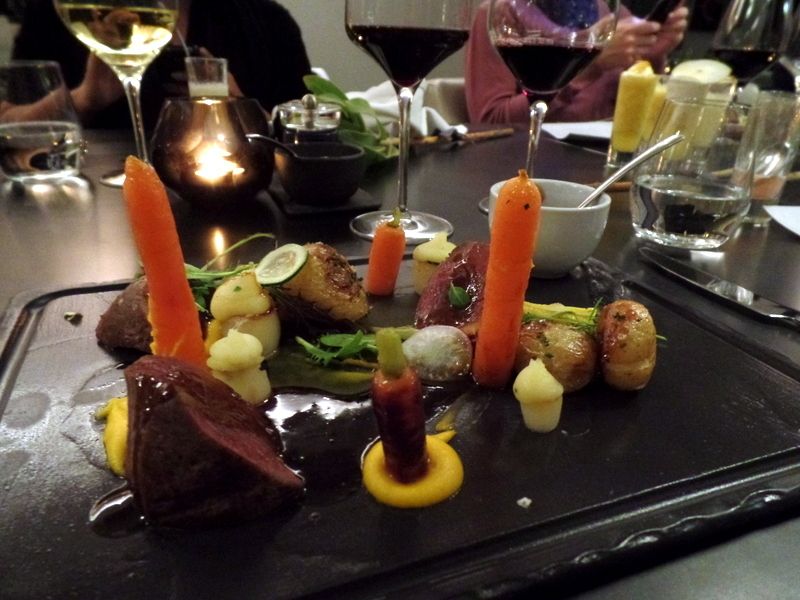 Our main course was a seriously fabulous affair! This is the pan fried loin of venison, parsley mash and carrot puree. The description per the menu really doesn't do the dish justice! What arrive was a veggie wonderland with perfectly cooked springbok and  a little pot of the best gravy you'll ever eat. The springbok was so tender and cut through like butter. I loved the smashed potatoes with soft creamy insides – they were perfect with lots of gravy! The carrots were serious stars of the dish as they were served with a slight crunch and lots of flavour. I was already feeling full half way through this dish but couldn't bare to leave a single mouthful on the plate! This was also the point were I started just eating the gravy because it was mindblowingly delicious – slighty sweet, lots of umami and then a slight bovril kind of saltiness.
I will definitely be back to eat this wonderful main course again!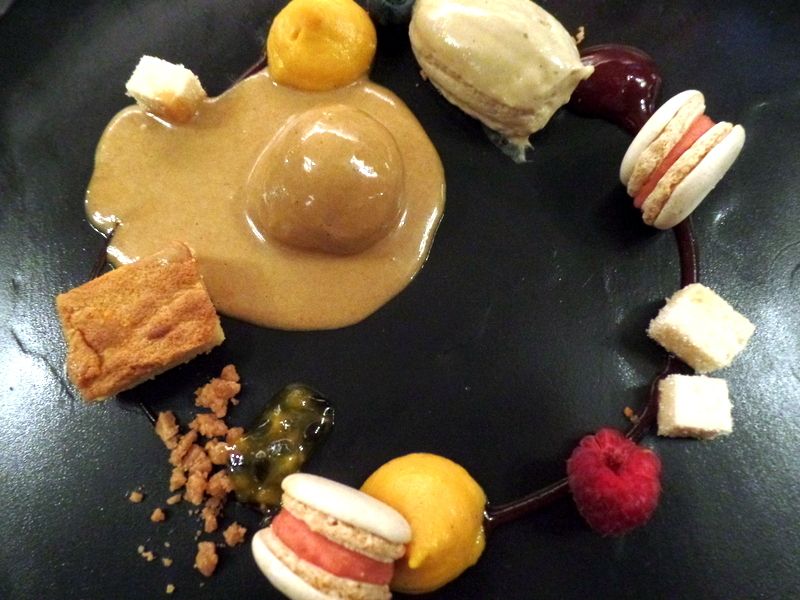 Dessert was a brand new creation by their chef Sam Wasserman – the sweet explosion! This was a dulce sorbet, gummies mousse, amarula gel, old fashioned macaroons and caramel tort. This dessert was delicious and was a whole lot of little taste experiences to finish off a wonderful meal.
We had an absolutely wonderful meal at Dash!
If you're tempted to visit Dash I have some more tempting news! They are running a winter special of two courses for R275. Treat yourself to a romantic evening of great food and a little indulgence!
DETAILS:
Location: Queen Victoria Hotel, V & A Waterfront
Opening times: Monday to Sunday 6:30 til 11am, 12pm til 3pm and 6:30 til 11pm.
Contact details: 021 300 5912
Note: We enjoyed dinner as guests of Dash and Zomato however all photographs and opinions are my own!