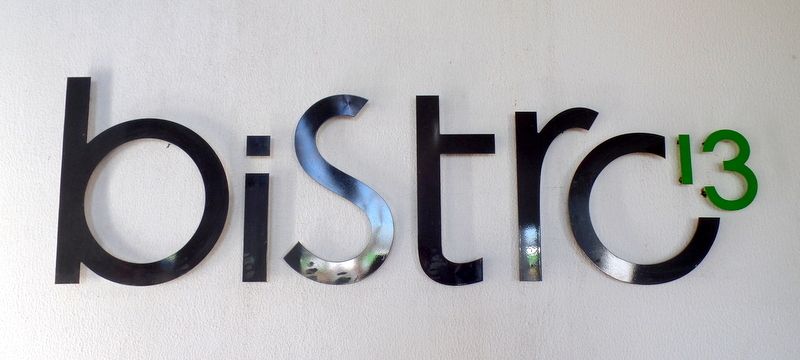 I recently had a fabulous lunch at Bistro 13 trying out their winter menu. I was actually blown away by the great deal and I can't wait to go back again! Their winter special is a deal on their Feed Me Experience. The Feed Me Experience is a great opportunity to try many of their fabulous dishes on their menu. You get to try two of their starters and two of their main courses in half portions and one of their desserts for R225 per person.
Bistro 13 is a fabulous little spot just as you come into Stellenbosch. The restaurant is gorgeous with ducks waddling about and a view over a pond. We started with giant glasses of amazing Welmoed MCC which were perfect paired with homemade flatbread and sourdough with sesame butter. The bread was delicious and I ate it with much more butter than I should have!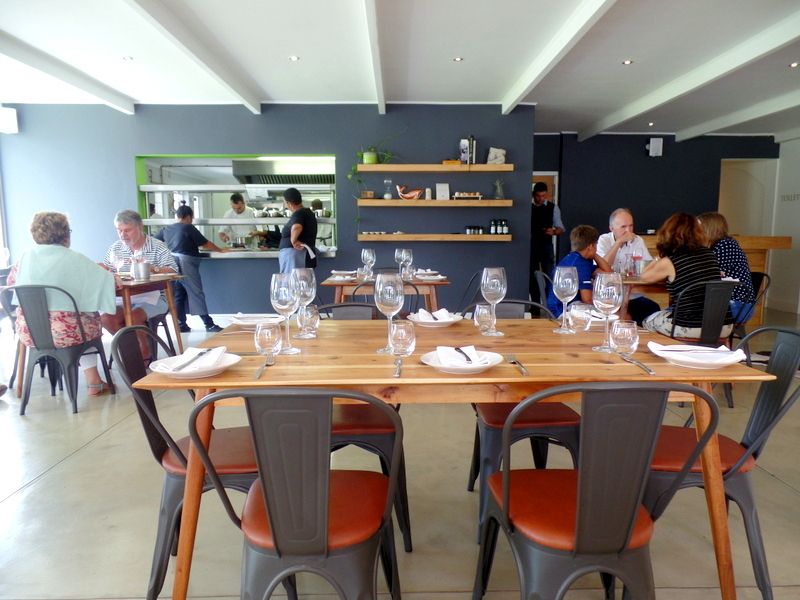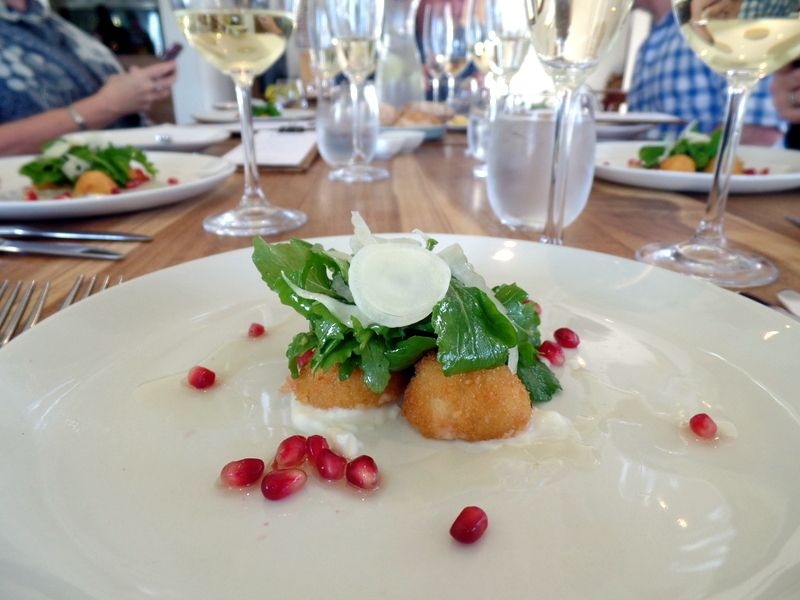 The two starters we tried were the smoked salmon croquettes, pickled fennel salad and lemon scented creme fraiche and the lamb springrolls with coconut curry sauce and plum chutney. The smoked salmon croquettes were fantastic! They were creamy and rich and brilliant with the sharp pickled fennel salad. I loved the bright sweet pomegranate seeds with the zesty lemon creme fraiche!
Of our table of six – the three boys all voted the lamb springrolls as their favourites! The lamb was lightly curried and packed with flavour! The pastry was crispy and delicious and I can see why it was a firm favourite!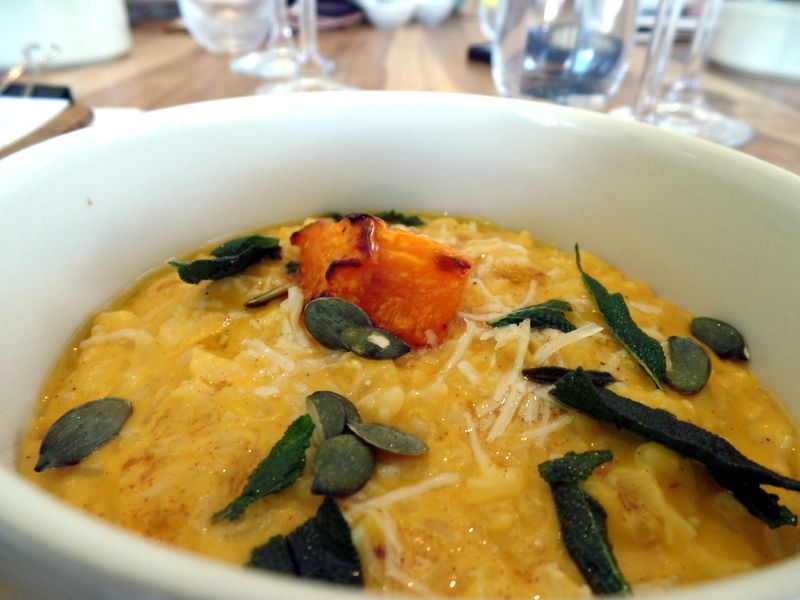 This was my favourite of the lunch! This is the roasted pumpkin risotto with gruyere cheese, sage and brown butter. I'm a huge risotto fan and this one was no exception to the rule! The risotto was rich and creamy and I loved the addition of the cripsy sage! Delicious! Winter comfort food!
Our other main course was also another winner! This is the crumbed pork fillet with sauerkraut, cripsy bacon, baby potatoes and juniper jus! I have had a variation of this dish on a previous menu and I was blown away then as I was blown away again. This is an amazing dish and I was excited to be able to try it again! The crumbed pork filled is crispy and light and paired with the vinergary sauerkraut was perfection! I loved the juniper jus and I made full use of the potatoes to scoop up all the extra sauce.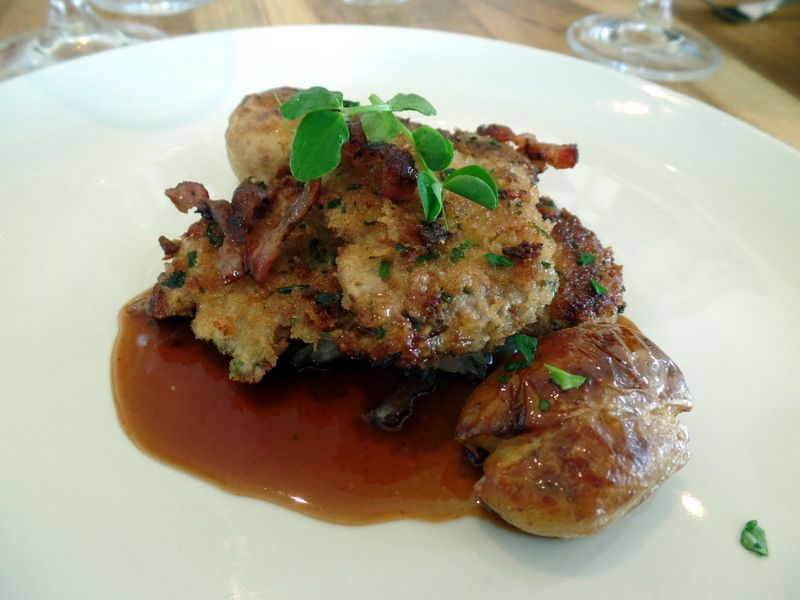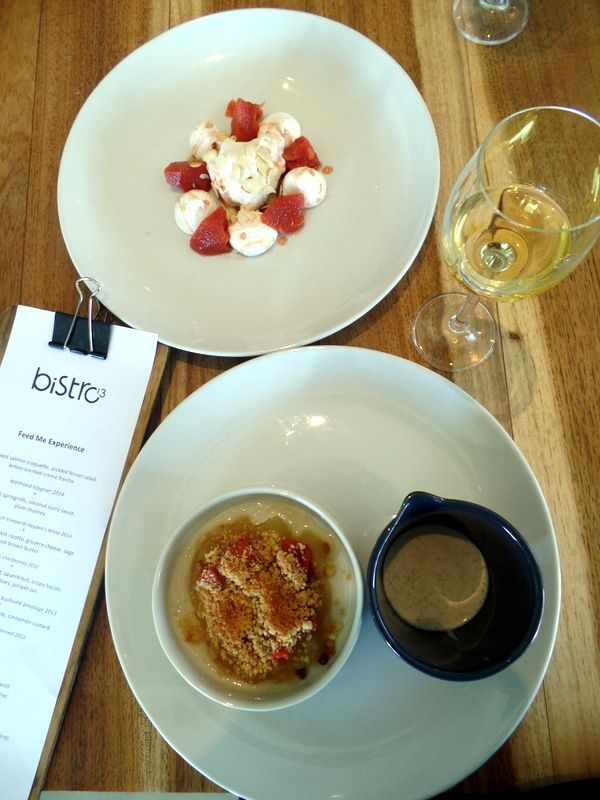 You normally only get to have one dessert but we were spoilt enough to try two different desserts between our couples. We got to try the apple and quince crumble with cinnamon custard which was outstanding! I do not like apple crumble. I have never liked an apple crumble before. I was a little anxious about this dessert. BUT I was seriously shocked to find I really loved this apple and quince crumble! It was so delicious! The apple and quince pieces were soft but not squishy and the sweet cruncy crumble on top was perfection! I loved the cinnamon custard and made sure to pour every last drop on the crumble!
We also tried the soft nougat, poached quince and almond meringue. I loved the poached quinces and the soft gooey nougat was delicious but the dessert was seriously sweet! Make sure you have a sweet tooth to handle this one!
We finished off our wonderful lunch with a glass of Infiniti Noble Late Harvest and another huge round of laughter and smiles at our table. I'm so looking forward to heading back to Bistro 13 for another Feed Me Experience lunch!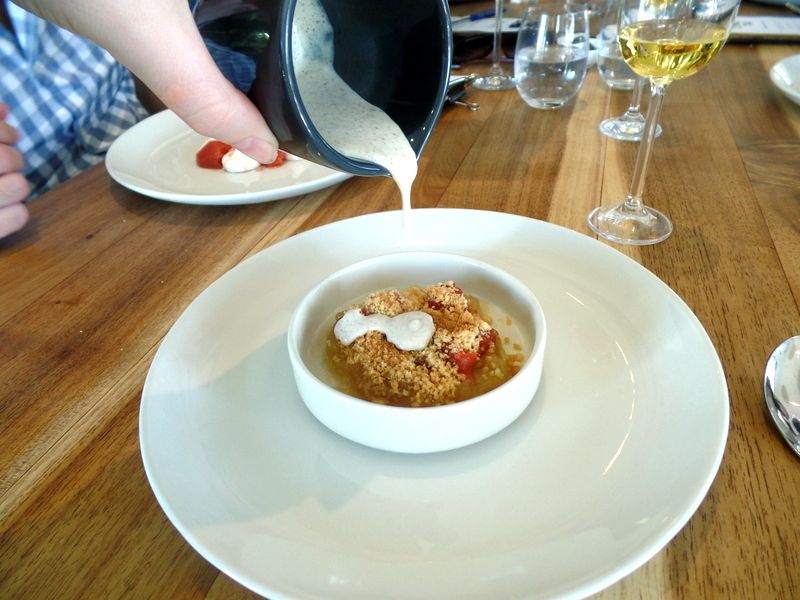 DETAILS:
Location: Welmoed Estate, R310 Baden Powell, Stellenbosch
Opening times: Tuesday – Sunday 08h00-10h30, Tuesday – Sunday 12h00-15h00 and Wednesday – Saturday 18h30- 22h00
Contact details: 021 881 3044
Note: We enjoyed lunch as guests of Bistro 13 however all photographs and opinions are my own!