Berlin is really crazy and really big and really exciting! Berlin is the city of cool. No matter how cool you think you are – go to Berlin – there's something you can learn. I was chatting to a friend over lunch the other day about writing this post. I said I had such mixed feelings about Berlin – he laughed and said that Berlin is all mixed feelings. So clearly my experience is not unique. When in Berlin there are a million things to do- and you constantly feel like you're not doing enough. When I look back on our time in Berlin I can better appreciate that we actually used our time just perfectly. The mixed feelings kind of fall away and a quiet, slow warming affection creeps in for this city of cool.
Like I said – a million things to do! Seriously! But because nobody has time for a million things I've narrowed it down to our favourite ten things that we did in Munich.
1) Free walking tour
I have done these free walking tours all over Europe. Please note – don't be an asshole. The tour is not "free" free; it requires a tip. These tours are always amazing, interesting and highly informative – by the end of the tour you will want to tip! So make sure to draw some cash before and keep 10-20 Euros in your back pocket.
We did a Sandemans tour with a guide called George. He was amazing and if you were to go on one of their tours have a look out for him to join his group. George ran us through the entire history of Berlin in what must have been eight minutes – it was incredible and I wish I had recorded it to send to my high school history teacher! If you're interested in joining one of these tours make sure to be at the Brandenburg Gate in front of Starbucks at 11am or 2pm.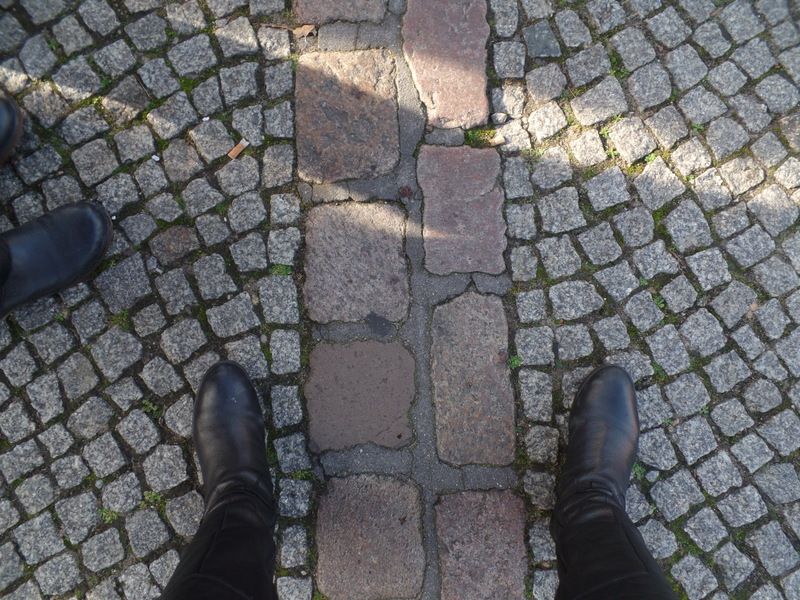 The Sandemans tour takes you across from East Berlin to West Berlin and back again multiple times. This picture of my boots may not seem particularly interesting but the large bricks between my feet used to be where the wall stood. 25 years ago this picture would not have been possible.
2) East Side Gallery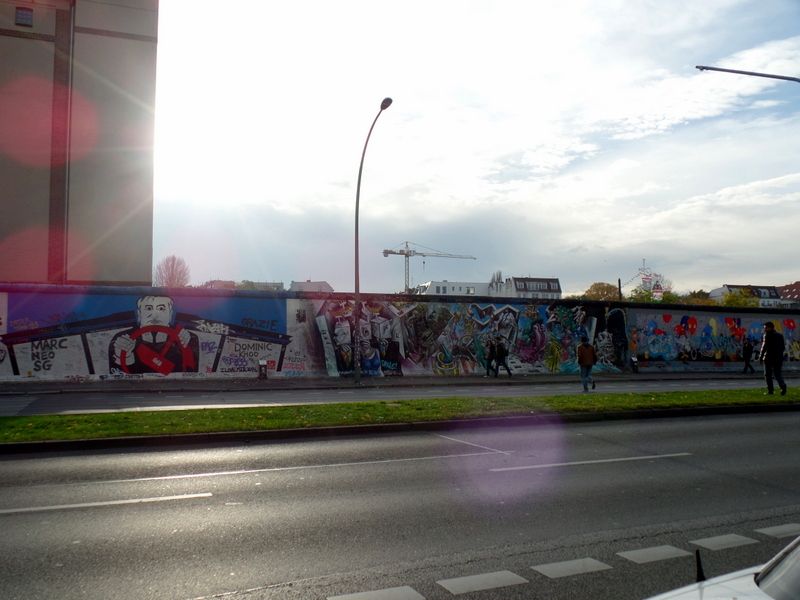 This is a 1.3km section of the Berlin Wall that now serves as a memorial. The wall is covered with 105 paintings which were created by artists in 1990. The East Side Gallery was wonderful and filled with some beautiful paintings. Some are less beautiful but it's a long wall – not all of them are going to be great ;)!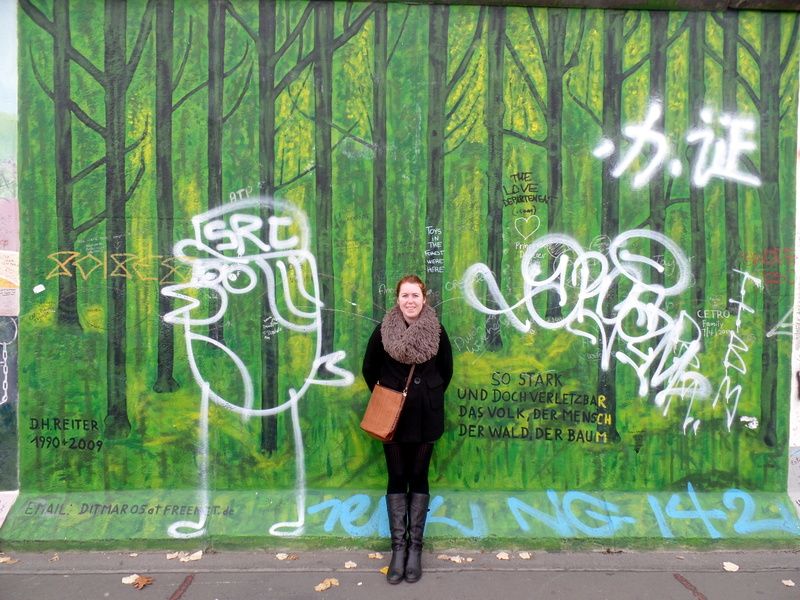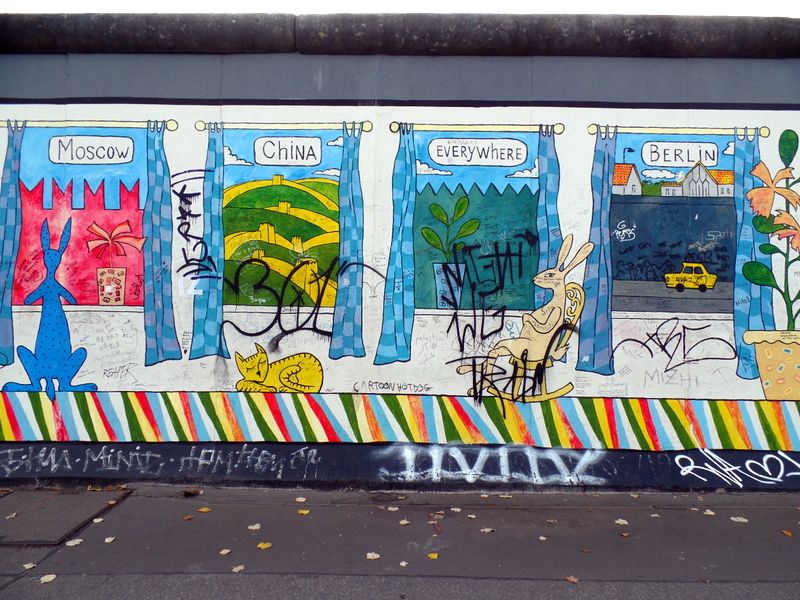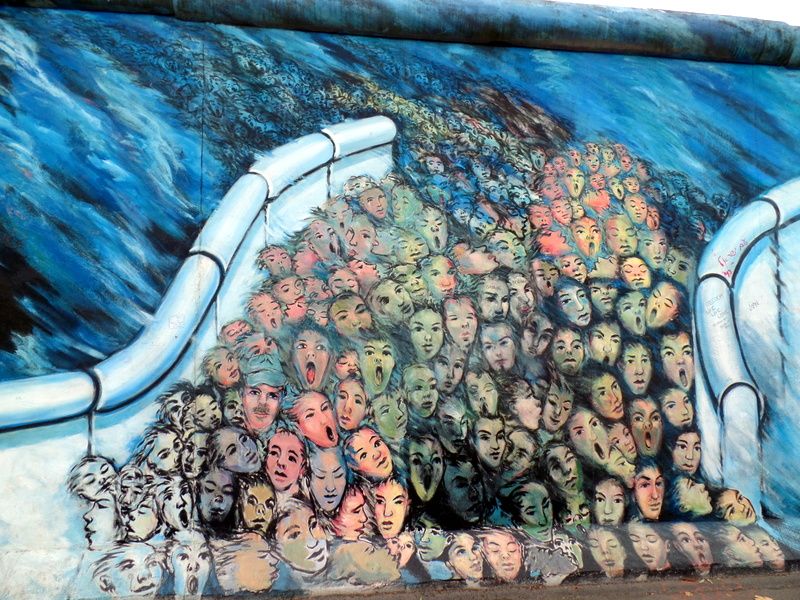 3) Sunday market at Mauerpark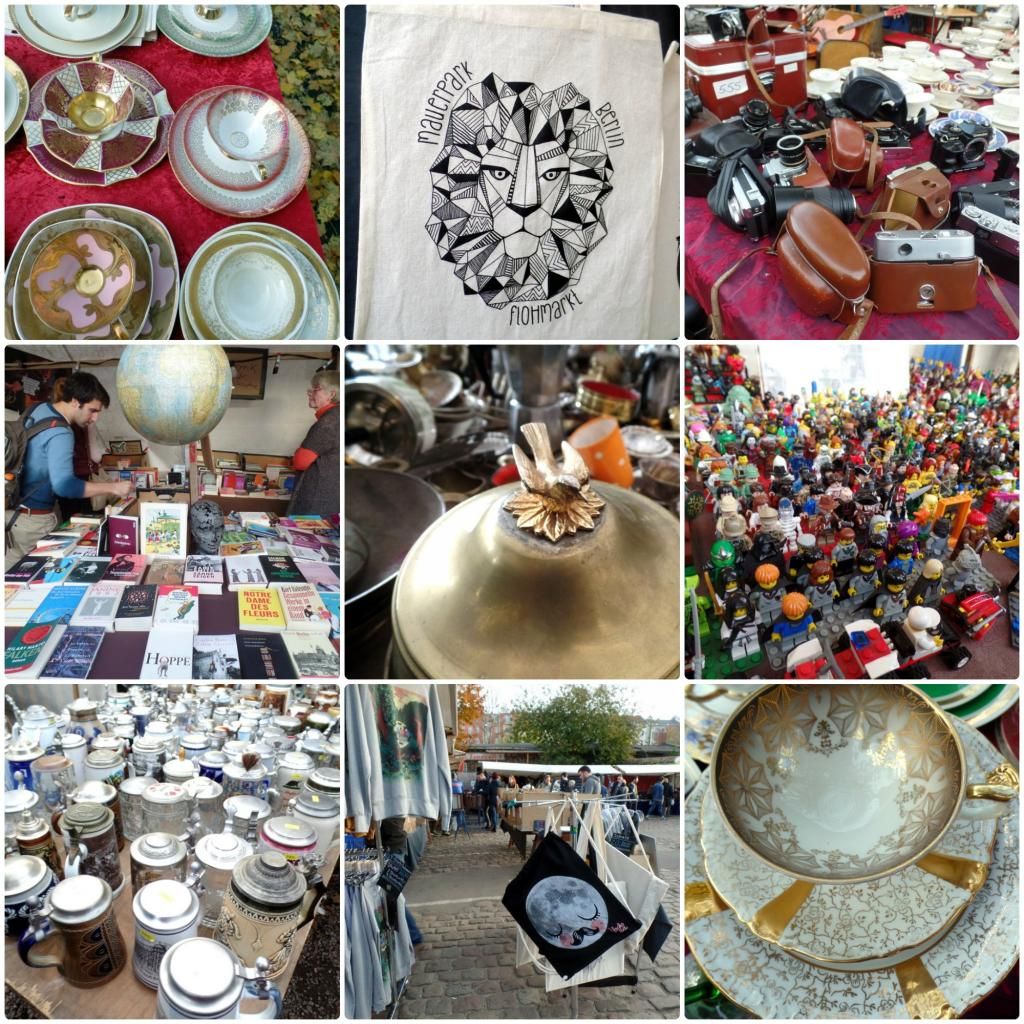 Anything you could ever want can surely be found at the Mauer Park market on Sunday. The Mauer Park market is a giant flea market packed with everything imaginable. We spent ages walking around taking in everything – it is also a wonderful spot to buy souvenirs or gifts for back home. What a really liked about Mauer Park were the huge numbers of locals! Mauer Park is a local hot spot and a true taste of super cool Berlin!
That cool shot of the market below features a spinach and pretty much spinach wrap thing. It was our only disappointing Berlin meal of our trip! Everyone was ordering them – but it was pretty flavourless. After we ate our sad wrap we stumbled upon a little food haven in the middle of the market selling gorgeous food! Don't make our mistake and order the first thing you see!!
4) Eat all the food!!
During my research of Berlin I learnt that Berlin is a serious foodie city. Maybe you all knew that already and you're giving me those judging eyes but I was excited and surprised. Berlin has an amazing food culture and we spent a chunk of our time in pursuit of food (my favourite pass-time). If I started on about all our favourite food spots in Berlin the post would become unreasonably long. I have decided to do a separate post just highlighting the food of Berlin!
Follow the link to find out about the best burgers we have ever had in our lives, our first time dining at a two star Michelin restaurant, the best places to grab kebabs and currywurst and one of the best bakeries in the world according to Buzzfeed.
5) Alexanderplatz
This is the main square in Berlin and it is packed with people! It is also packed with shops – so if you're looking to hit the shops you're going to find most of the big brands here.  You also cannot say that you've been to Berlin unless you've had a good look at their giant TV Tower and the very best place to do that is from Alexander Platz.
Hot tip: Its pretty pricey to go up the TV tower for a view over Berlin. However you can head up the Park Inn Hotel, in Alexanderplatz, which is the tallest building in Berlin to their viewing deck for a view that's just as great costs much less – AND you get the TV Tower in your photos! 🙂
6) Pergamon museum
The museum is divided into an antiquity collection, the Middle East museum and the museum of Islamic Art. If you're pressed for time have a walk around Museum Island – its free and the buildings are incredibly beautiful! But if you had to pick just one museum on Museum Island I would recommend the Pergamon museum! The museum is beautiful and has an incredibly rich collection of original antiquities. This is not normally my kind of thing but the Pergamon has an incredible collection with well-curated information that can keep even the disinterested busy for hours.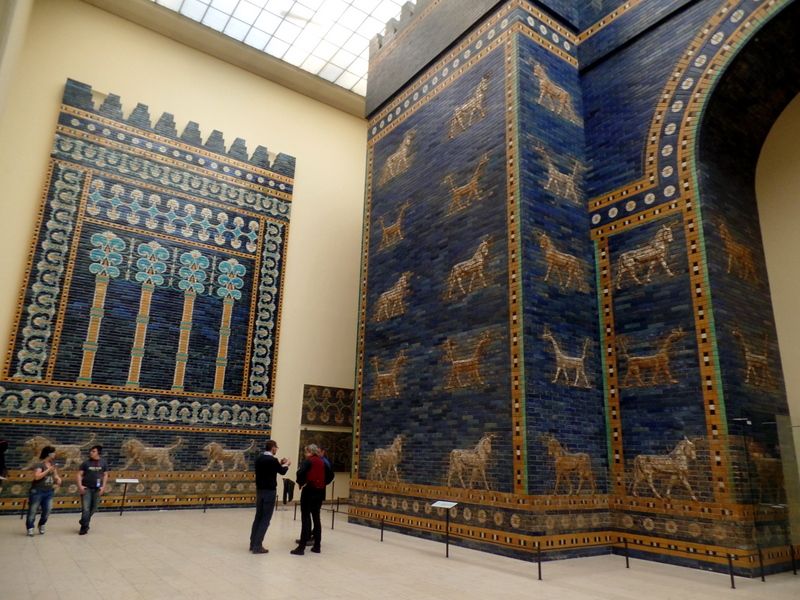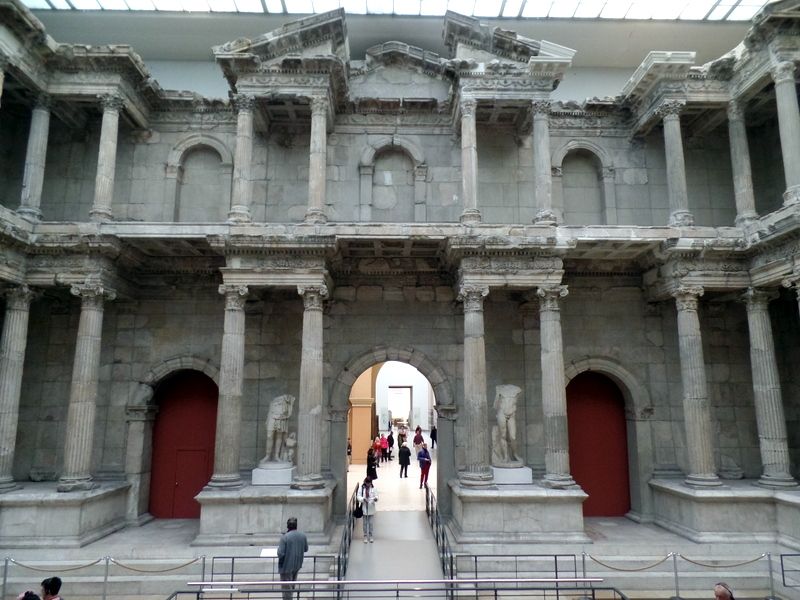 7) Memorial to the Murdered Jews of Europe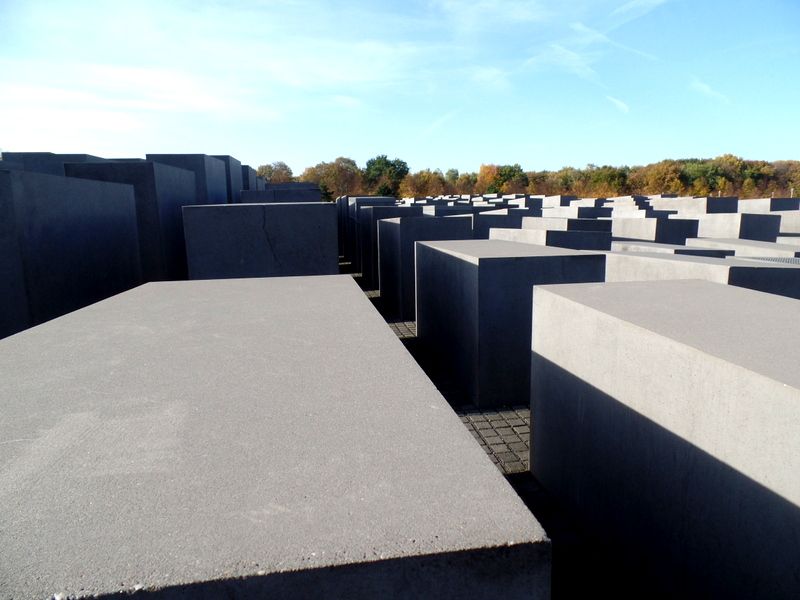 What's amazing about this Memorial is that you're not told how to feel. The architect Peter Eisenman has absolutely no commentary on the Memorial and leaves the interpretation completely up to you. The value in this is that the experience is more open, more personal and longer lasting in your memory. I'm not going to comment on my experience because I fully respect Eisenman's idea. Go visit the memorial – you will feel something in some way and that will be entirely personal to you.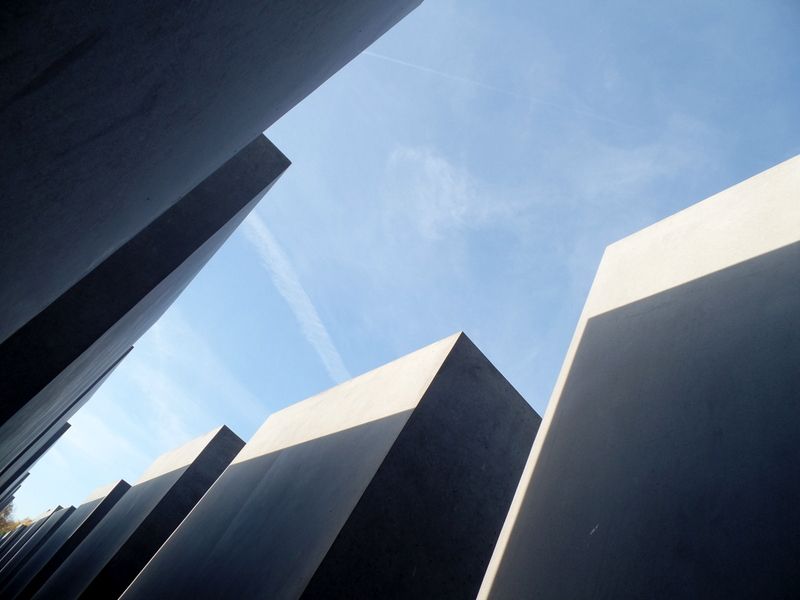 8) Street Art/ Graffiti tours
We did an amazing street art tour with Alternative Berlin Tours! The tour we did was €15 which included an introduction and tour of Berlin's street art and a graffiti work shop where you get to make your very own piece of graffiti to take home with you. The tour is advertised as being 3.5-4 hours long but it was more like 5 hours long. Berlin is very famous for their street art / graffiti scene and if you have any interest at all this is the perfect tour for you! We really loved learning about the street art and exploring neighbourhoods that we might not have visited if it weren't for this tour!
Some of our favourite street art included Victor Ash's Austronaut mural which can be found in Kreuzberg. We also loved Daleast's hanging animals, especially because we recognised his work from all over Cape Town!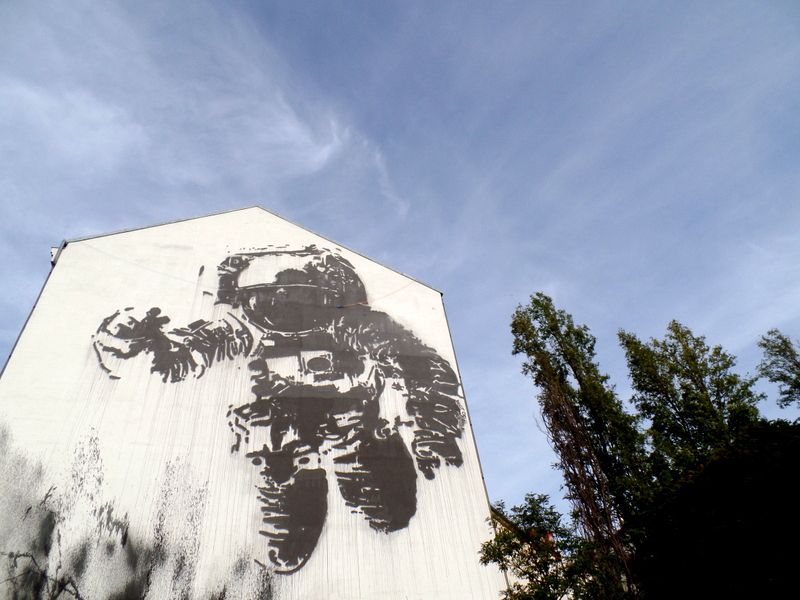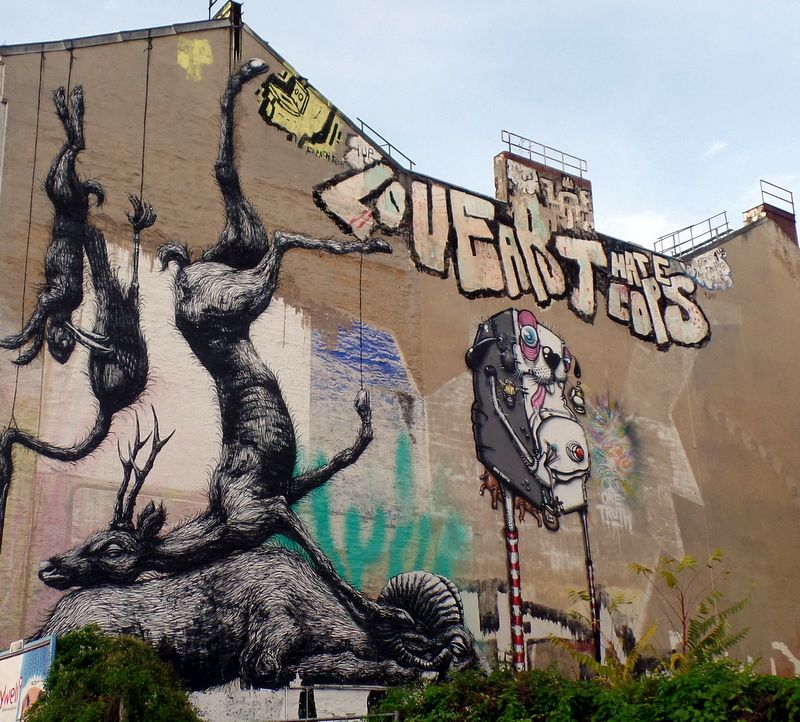 The chances of you finding all the street art and graffiti that we saw during the tour on your own whilst in Berlin is incredibly unlikely. And it would be an awesome shame to miss some of the great pieces and their interesting stories. I would highly recommend one of these types of tours!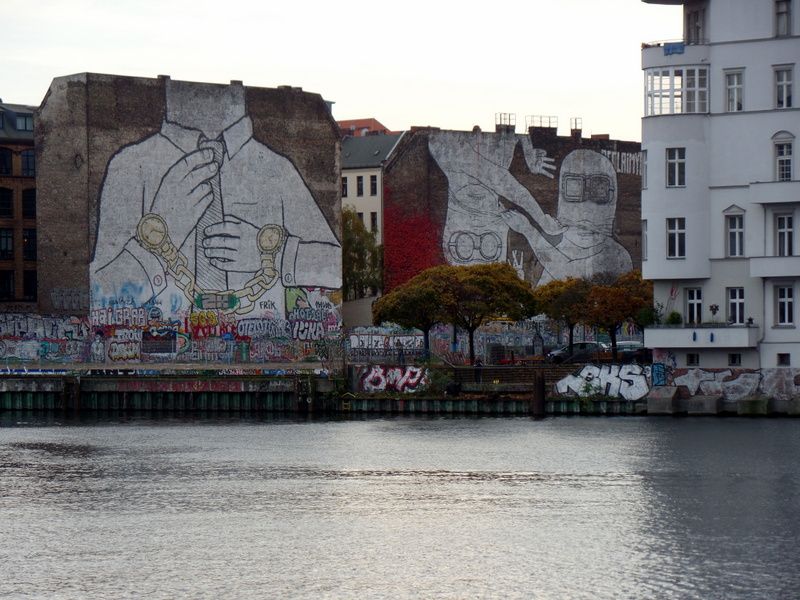 9) Walk as much as you can!
Berlin is huge and your feet get really tired really quickly BUT walking through Berlin really pays off. Some of our favourite spots were found on our walks! We loved the Molecule Man statue on Spree river! Make sure not to miss it!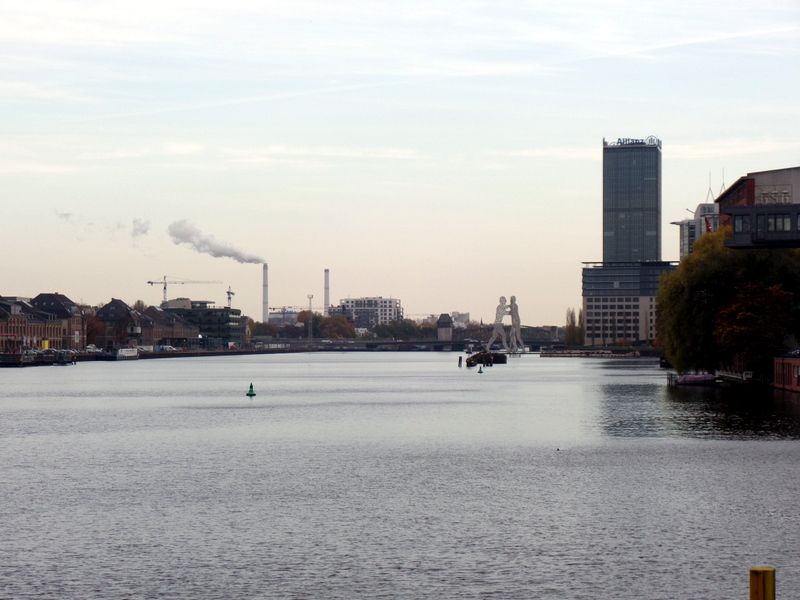 Other favourites included Bebelplatz which is a beautiful grand square. The most interesting part of the square is underground: "Bibliotek", the memorial by Israeli sculptor Micha Ullman commemorating the Nazi book burning that took place in Bebelplatz on May 10, 1933. A small square window looks down on an all-white room with empty bookcases large enough for 20,000 books, representing the number of books burned. You can easily miss this completely if you're not looking for it but it was a personal highlight of mine.
The holocaust is an incredibly difficult thing to mentally visualise because you hear about millions of people. It is very difficult to piece together that frightening number, and I'm not sure that the human brain is really wired to understand it in a concrete way. Histories and memorials, in an attempt to let you understand the sadness of these millions, often focus your attention on one or a few people (such as the case of Anne Frank). What I loved about this "Bibliotek" is that although it was a large number of books burned but you could see the shelves, you could feel the missing books. You could see all of it. Different things resonate with different people but seeing how tall these empty bookshelves were really struck me and helped me really see a number.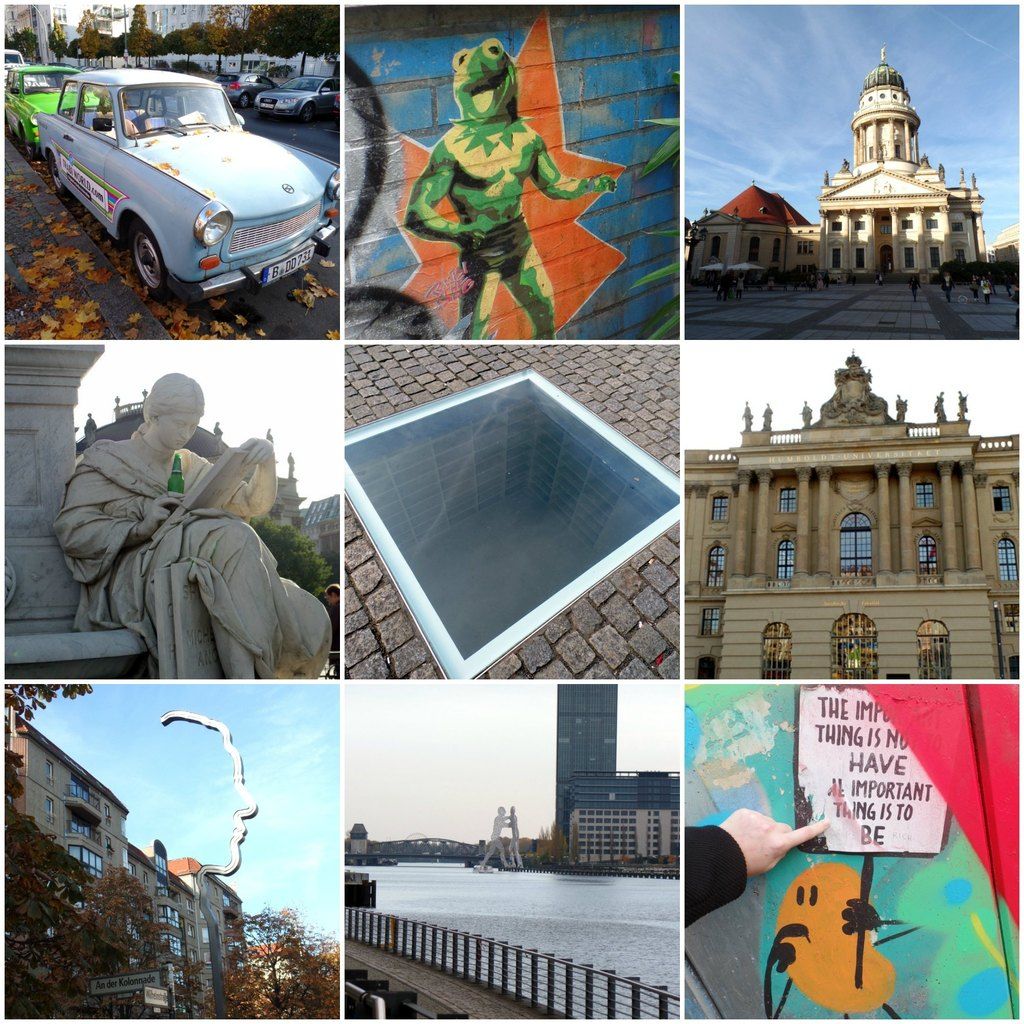 The Gendarmenmarkt is also worth a walk through. It is home to three of the most impressive examples of architecture in Berlin. The Concert House designed by Schinkel and the German and French Cathedrals (the Deutscher Dom and the Französischer Dom).
Walk, walk, walk! It will only justify more Berliners!! 😉
10) Brandenburg gate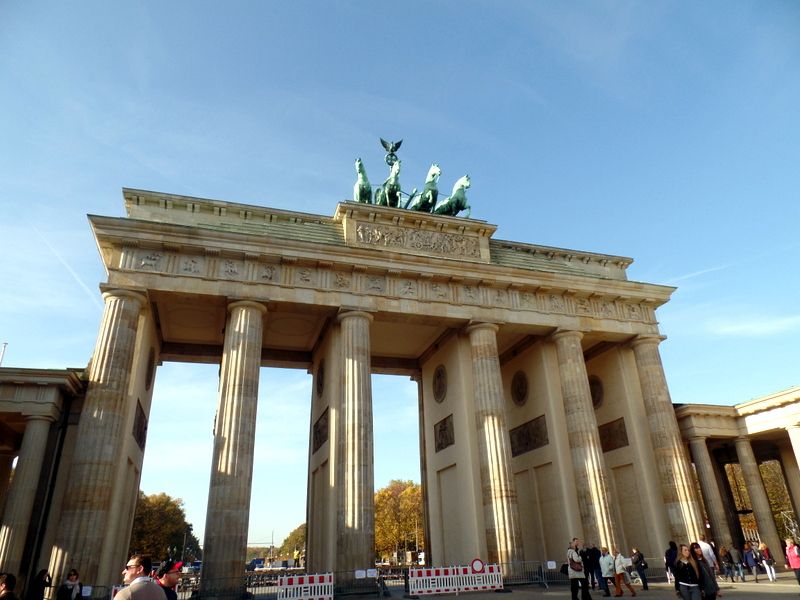 I imagine you have to get up very early to get a picture of the Brandenburg gate without the tourists. This is a really popular spot and you just need to make peace with the fact that many many random faces will be in your photos. I love the Brandenburg gate and I love it even more for the interesting stories behind it. Make sure to get on that free Sandemans tour to know what I'm talking about.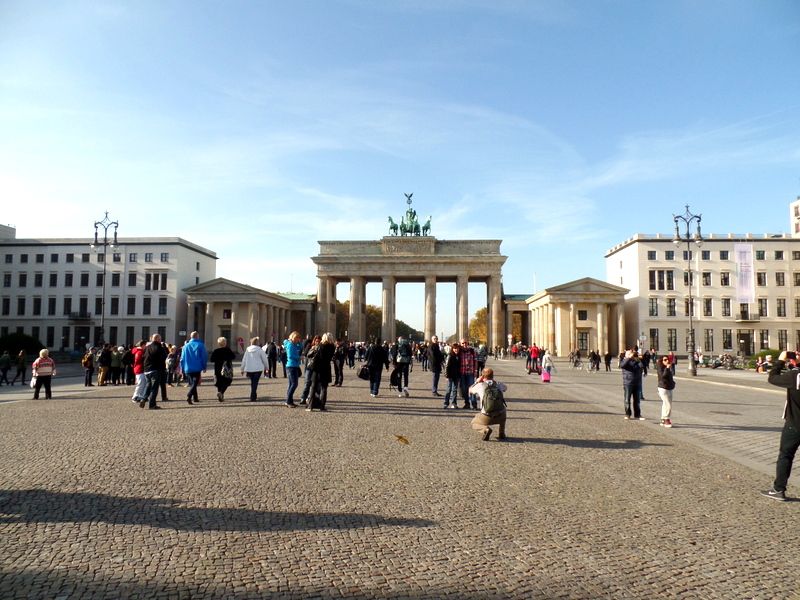 Bonus: Find the Berlin bears. I was going to put this in my top ten but thought that there would be a fair amount of judgement… These guys are all over Berlin – so make sure to look out for them!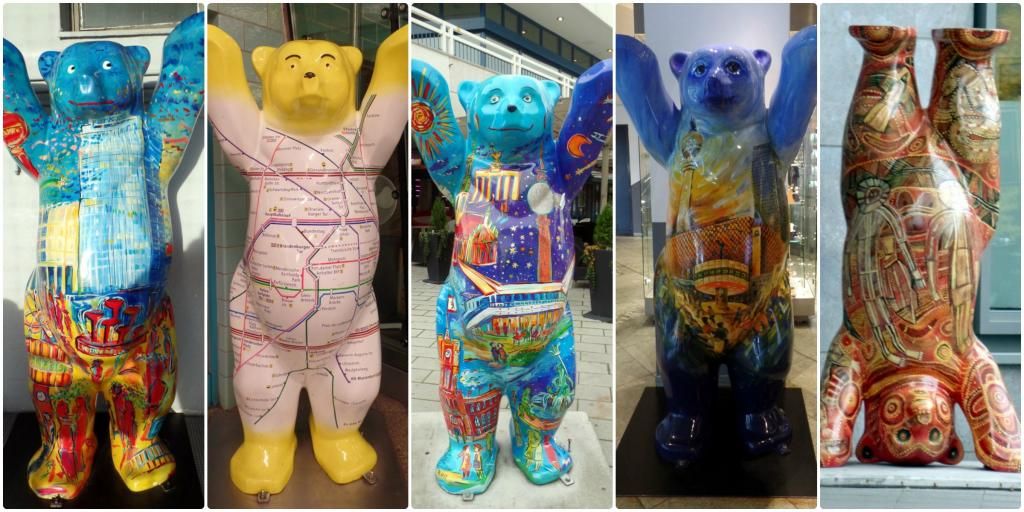 HOT TIP:
We made use of the Berlin Welcome Card for 5 days whilst there! It made our lives so much easier! For starters it covered unlimited transport so we never worried about avoiding transport costs to save money. Please understand when I say Berlin is huge – it is simply not walkable! If you're a busy tourist you will be on some form of transport at least four times a day. Do the math – buy travel cards!
We also used the Berlin card for the Zoo! I wish we had longer in Berlin because there were so many other amazing museums included in the Berlin Welcome Card!
WHERE WE STAYED:
We stayed at the Pfefferbett Hostel which is one of the nicest hostels I have ever stayed it. We stayed in a fabulous private room with a King size bed, private bathroom and plenty of space for all our luggage! The hostel is in the Prenzlauer Berg neighbourhood which is very trendy and alternative. Despite it being pretty tourist free we were right next to a underground only two stops from Alexanderplatz! Amazing location!!
I think George especially loved it because it is on the site of a former brewery! After dinner on our walk back to the hostel we actually stopped for a tasting at the brewer. You can find out more about that in our foodie post! They also have a really amazing breakfast spread and free wifi!
A giant THANK YOU to the tourism department of Berlin who were instrumental in helping us put together this amazing trip! We had such a great time in Berlin. Check out their website for Berlin travel inspiration!
I will definitely be returning to Berlin again! Do you have any travel tips or favourites I haven't included in my list for my next visit? I would love to know what you think of Berlin!