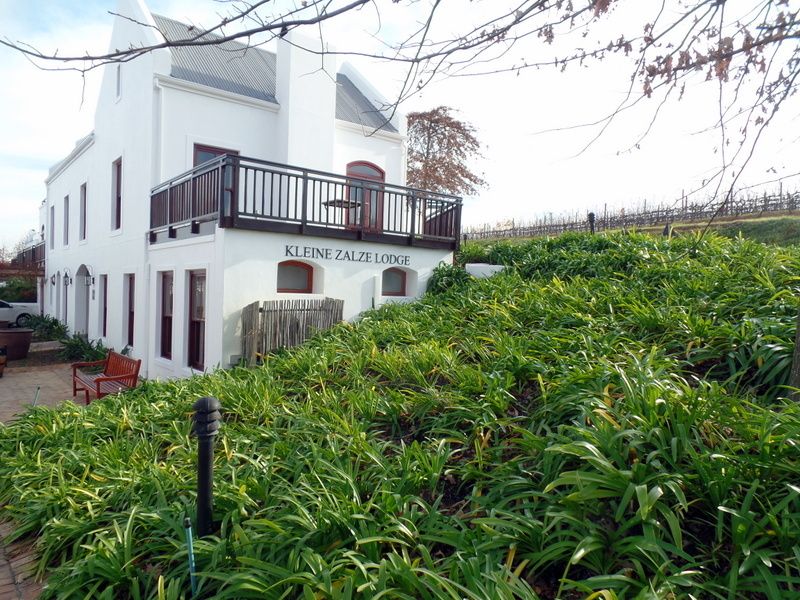 On a beautiful winter's day we headed out to Kleine Zalze Estate! They have an amazing winter special running which includes one night stay in their standard rooms with breakfast, a "Winter Plate" at Terroir with a glass of Kleine Zalze wine, a complimentary wine tasting and a bottle of wine on arrival all for R650 per person. There is also an offer to upgrade to a Superior room at R775 per person with the same deal. I would recommend upgrading as the standard room is quite basic. But whether you opt for the R650 per person or R775 per person it is an incredible winter deal! More details can be found here! This special will be running until 30 September.
This was our standard room for the evening. It comes with a giant bed, lots of space and a fully equipped bathroom. Make sure to grab the heavy blankets out the cupboards because at night Stellenbosch is getting really chilly!
Our wine tasting was lots of fun! We were luckily enough to have one of those beautiful winter's days where sitting outside on the patio in a little sunshine is an option. Some of our favourites from the tasting included the 2014 Chenin Blanc Bush Vine from their Cellar Selection and their 2013 Pinot Noir from their Vineyard Selection. A normal tasting at Kleine Zalze is R25 for five wines. They have a huge selection and top quality wines which makes them worthy of a stopover on any wine tasting adventure.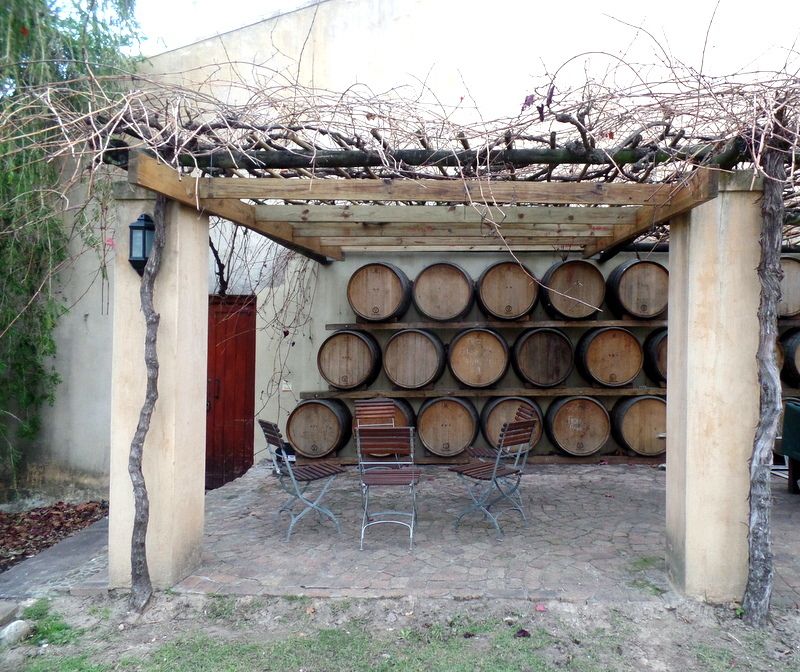 After our wine tasting we had the great indulgence of just walking down the lane to get home! We climbed into bed with a movie on before dinner for prime time winter snuggling! Terroir can be found on the Kleine Zalze estate and fantastic food can be found at Terroir. Terroir is about a 90 second walk from our room to the restaurant door so we chose to walk there to get our appetite ready!
The "Winter Plates" dinner is a new offering at Terroir where they feature two of their main courses with a giant glass of their estate wine. What I really love about the "Winter Plates" is that even though its a winter special you still get to have all the exciting extras that come with a normal dinner at Terroir. We started with a gorgeous bread selection, butter and black olives. The olives were so great that I ate all of them without noticing! The waiter was so kind as to bring George another dish which I promptly ate most of again… oops?
We also enjoyed their lovely amuse bouche platter which involved tiny smashed potatoes filled with creme cheese, cripsy croutons with chicken liver pate and fluffly light choux pastry kind of puffs. All of this got us very excited for the food to come!
When at Terroir it is very difficult to resist ordering more than you should! Even though we were only joining them for their "Winter Plates" we decided to indulge and order starters too! George had their famous prawn risotto with sauce Americaine which is a serious Terroir standard and as great as always.
I had the Garden Salad with crispy goats cheese, olive soil and marinated tomatoes. This dish was packed with flavour and very exciting! It was a little disappointing to only find two little pieces of cripsy goats cheese in the entire salad but luckily the dish was delicious enough. Those marinated tomatoes and zucchini curls were very impressive! I could eat this right this minute!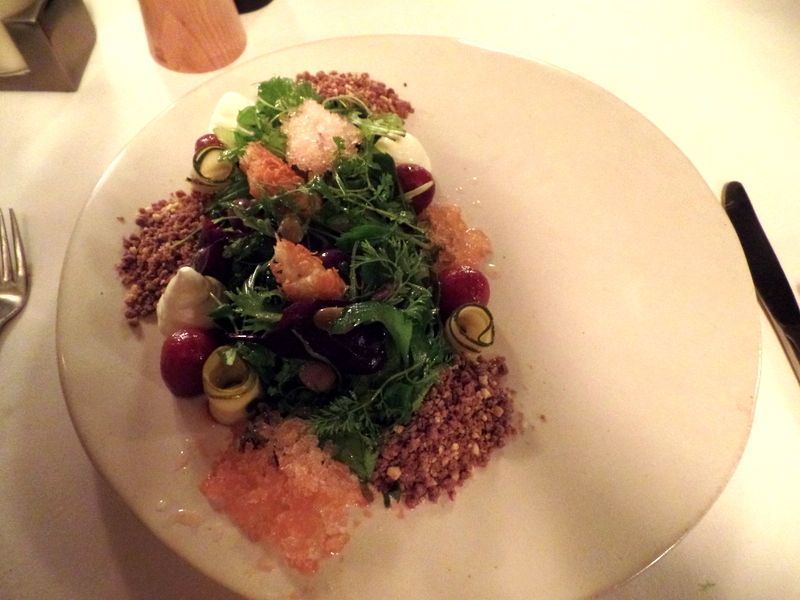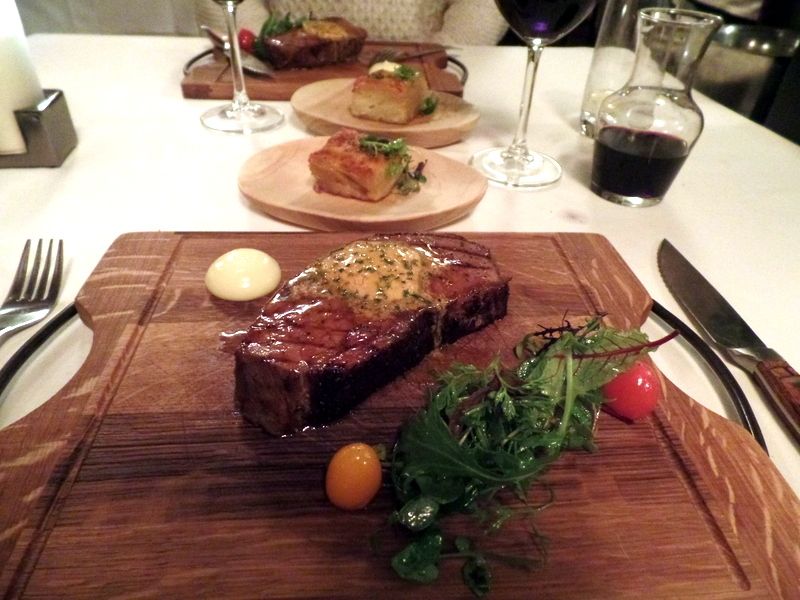 The "Winter Plate" options are dry aged sirloin with Maitre d'Hotel butter and a hearty potato bake or linefish with lemon beurre blanc and crushed potatoes. Normally George and I make an effort to try one of each but with the winter weather and Kleine Zalze's great red wines we couldn't resist both going with the dry aged sirloin. We had them medium rare per our waiters recommendation and they were delicious! The sirloin was juicy and tender with the fat rendered to perfection. I normally don't eat the fat on meat – but with this sirloin cooked so well the fat carried a lot of delicious flavour! The potato bake was also a hit and a perfect comfort food pairing!
After all our feasting we were too full to look at the dessert menu! I'm lying – you can always look at the dessert menu but really we were much too full! This is until a little pre dessert arrived with the bill and George's coffee! I don't know how we found the space – but when faced with canales from the Chef a plan is always made! The little macarons were chocolate and peppermint flavoured and tasted like After Eight mints from my childhood. The candy apple strip was a childish touch to the dish and was a perfect last bite!
After our giant feast we headed home on our 90 second walk, glad of the cool air and the change to wiggle a little room into our pants! haha! 🙂
Breakfast was a glorious affair with all you could want and more! I loved their gorgeous honey comb taking centre stage at the breakfast bar! We tucked into crispy bacon, fried mushrooms and fresh breads. I went back for soft cheeses, cold meats and smoked salmon! It would be absolutely impossible to leave Kleine Zalze's lodge breakfast hungry!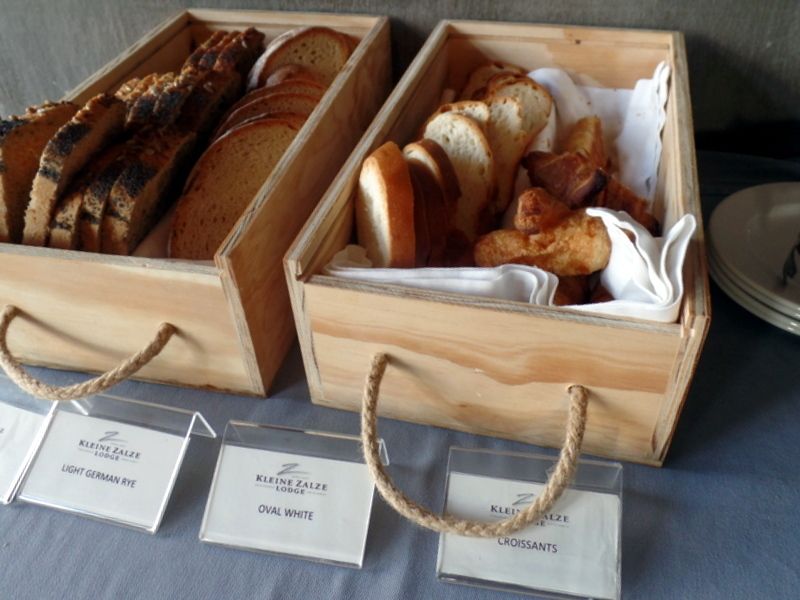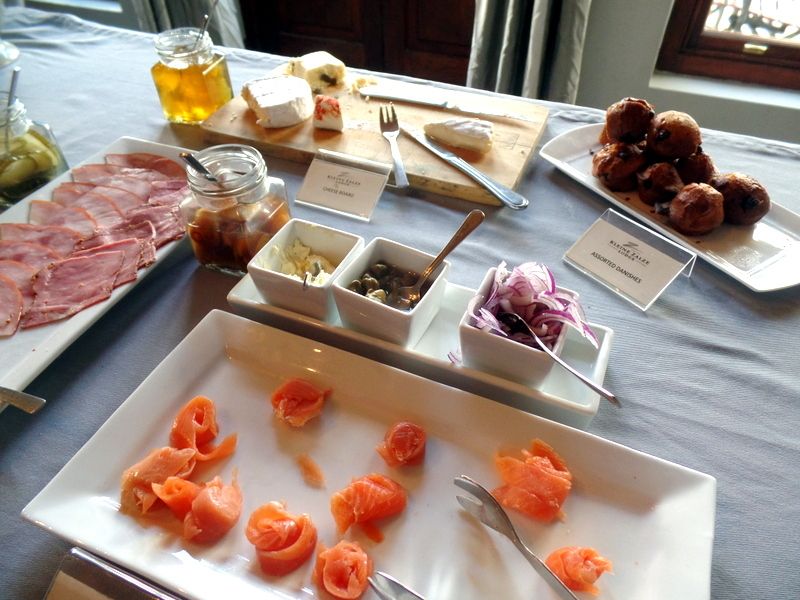 And then came the end of our weekend escape! Heading back to the city we felt like new people! A little more relaxed, a little more rested and a lot more fed!
If you're interested in joining them at the Kleine Zalze lodge follow the link here. If you'd like to visit Terroir for lunch or dinner follow the link here. And more on their winter special can be found here.
Note: We were invited as guests of Kleine Zalze and Terroir. However, all photographs and opinions are my own. The starters at Terroir over and above the winter special were for our own account.