I have a rolling restaurant bucket list that sometimes gets rolled a little too long! Makaron is today's case in point – I have been wanting to visit them for about four years now! Luckily when I finally visited we went for the whole experience and every bite was fantastic! Makaron is the fine dining restaurant and can be found in Majeka house in Stellenbosch. Makaron is an Eat Out 2015 top 20 contender and I have no doubt a member of Eat Out's Top Ten in 2016. To say I was blown away by the food would be an understatement – but don't worry – I have aaaaall the details for you!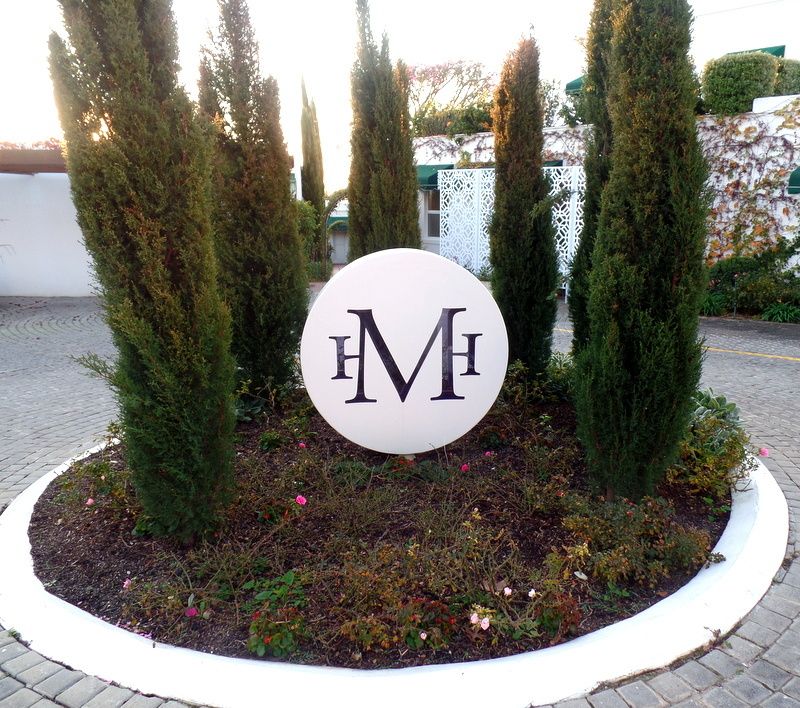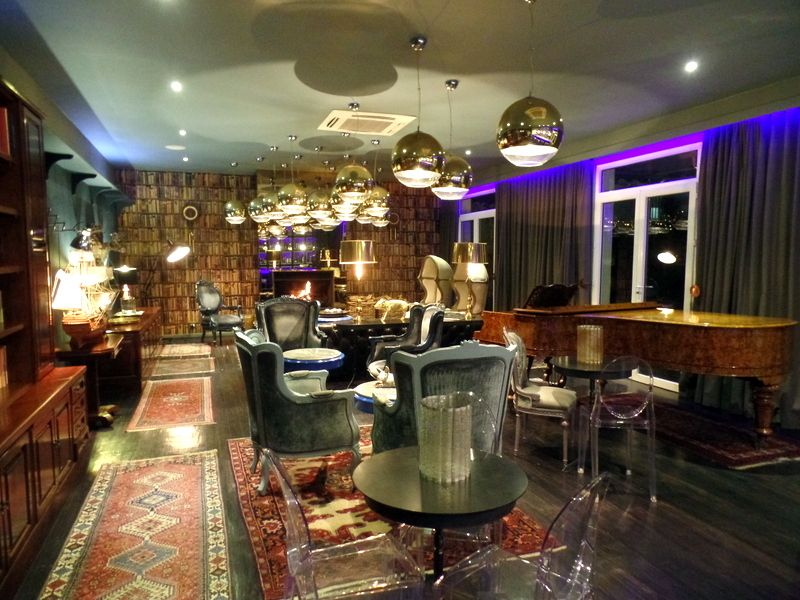 It is mandatory to visit the Mlounge when having dinner at Makaron. I'm not sure who made this rule but its a damn fine rule! This bar is the perfect spot for a pre dinner drinks. To be honest the Mlounge is the perfect place for any kind of drink for any kind of occasion! If you've ever had the pleasure of staying at Majeka house you will have spotted their multitude of pigs that continue to spill over into the Mlounge with my favourite being the giant gold piggy. I think said piggy would make an incredible feature on my kitchen table – for my next visit I'm taking a bigger bag for smuggling purposes! I threatened to steal many of the furnishings in the Mlounge including but not limited to the amazing grand piano. I will be returning with a bigger car next time too!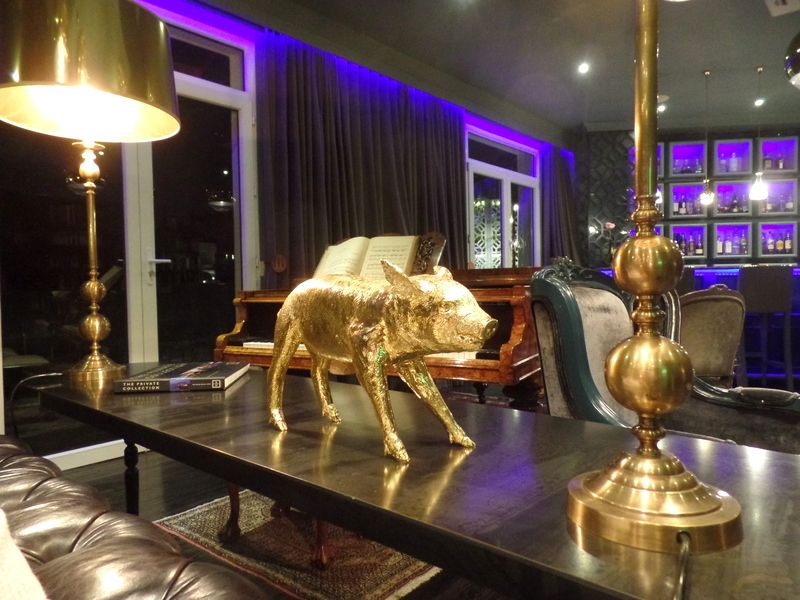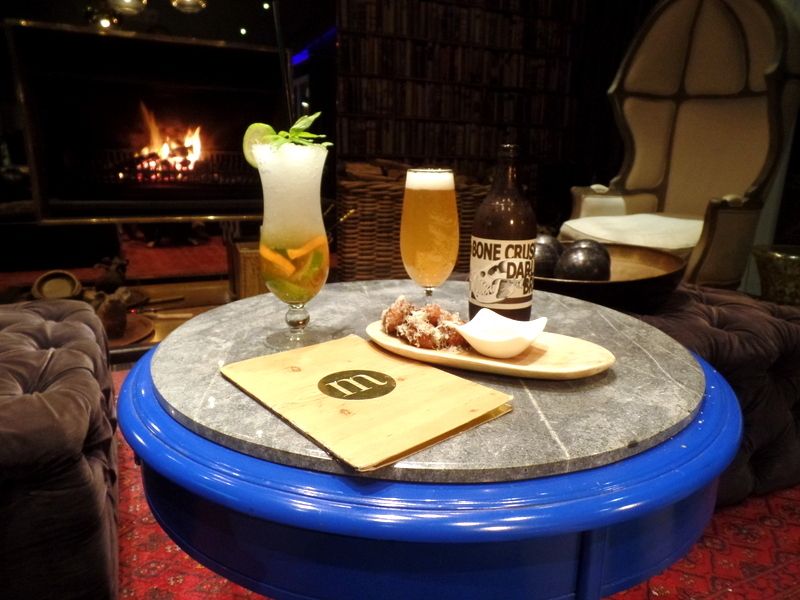 We climbed onto their giant leather couch (much bigger car… maybe a van?) in front of the roaring fire place and stared up at the giant golden light globes adorning the ceiling. The Mlounge is really a little slice of designer heaven! George ordered a Darling Brew Bone Crusher and I had the Fynbos Mojito which is a Majeka house signature cocktail. And because Majeka House does everything to the most extreme of fabulous our drinks arrived with gourmet bar snacks. So there we sat sipping our drinks and nibbling on savoury churros dipped in anchovy mayonnaise feeling like we seriously had life sorted. And you know what, I think for those few hours we did have our lives sorted ;)!
We were warned in the most strictest of sense that we must arrive for our dinner at 7pm sharp. I was a little scared of being late and despite the restaurant being thirty seconds from the Mlounge we covered the distance at a trot with the last few sips still in our glasses. The reason I was anxious not to anger the Makaron team was because we were sitting in their kitchen for the evening! (We were later told by Chef David that we were the first guests to ever arrive on time and he was surprised to see us seated at 7pm on the dot!)
We were the lucky buggers booked at their Kitchen Table, which seats two happy souls in their kitchen for dinner! In my head I was imagining a little space to the side of the kitchen mostly out of the action with a chef or two occasionally dropping off a plate. I was wrong and how delighted I was! We were in the kitchen in the most literal sense! I had the petit fours and desserts being plated to my right and the bread boards and salad plates happening right in front of me! I was told by the Makaron team that it was purposefully called the Kitchen Table instead of the Chefs Table to remove any airs and graces from the experience.
I must tell you I was in my absolute element! I was in the heart of the kitchen, I got to meet the sous chef David Botha (affectionately referred to as David and Goliath by his team), I got to fire off questions to the team at large and I got to monopolise a lot of their incredible sommelier's time! Just as an experience – before we even consider the food- this is one for the books! A special mention must be made regarding Esmé Groenewald, their kick ass sommelier who has forgotten more about wine that I will ever know. Esmé not only poured amazing wines the entire evening but she answered random wine questions, entertained us with stories behind the wine and listened to what we loved about wine and gave that back tenfold. Her knowledge, passion and energy are both admirable and enviable.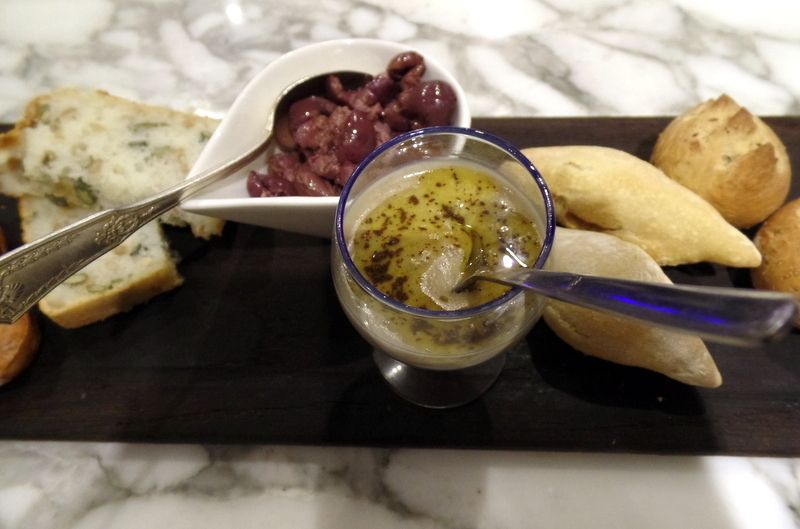 And now we can talk food!
We started with bread and bubbles which I'm now of the opinion is the only sensible way to start! The bubbles were 2010 Villiera Natural which is an MCC of theirs I have never tried before and I was most impressed – very dry with a brioche palate. The bread board was made up of chive and sweetcorn muffins, traditional fire roasted bread, gluten free bread and sourdough.
Along with the breads came all sorts of treats. My favourite was the bread soup which was unbelievable! The bread soup was thick and comforting with a slight yeasty and buttery flavour. I wish I could have eaten a whole bowl of it but I was warned by the kitchen team that trying to eat a bowl is almost impossible because of how rich it is! There was also black olives, merlot salt, maldon sea salt, chicken liver parfait, avo mousse, cream cheese and three kinds of butter, including goats butter which is like a milky goats cheese!
Next up was a little amuse-bouche which I have dubbed the tartare taco and it will be called that from now on! George and I have been talking about this tartare taco all weekend! The tender creamy tartare and the sweet and sour caper berries are hand rolled in the lettuce leaf and eaten in two delicate bites. This was exciting and fresh and so skillfully clean.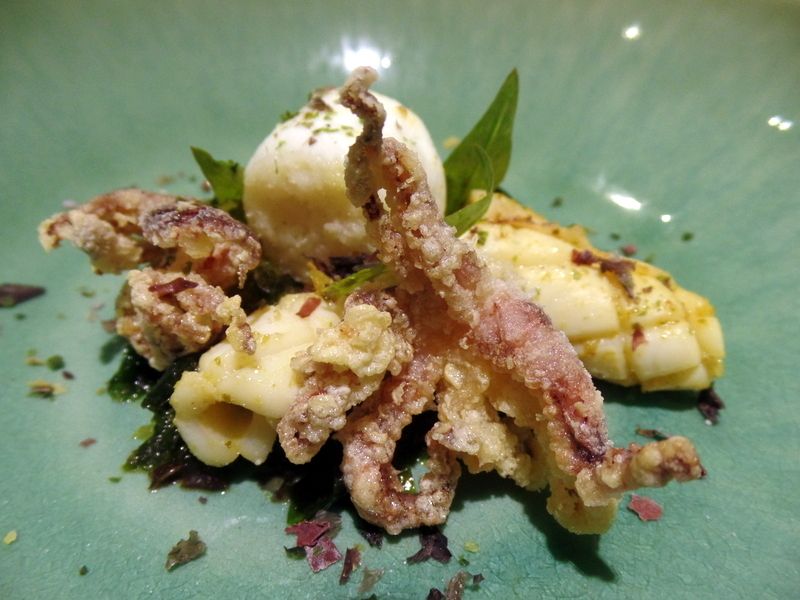 This was George's favourite dish of the night and my least favourite. I kind of love how that works out! We ate the exact same dinner, course for course, but difference flavours work for different people.This is the calamari cannelloni with cucumber and Asian dressing. George is a huge calamari fan and his favourite part of this dish was the seaweed base which makes up part of the Asian dressing. But sadly I was not a fan of the seaweed – the texture is a little strange for me! I loved the pickled cucumber squares and thought they added lots of freshness to the dish. The crunchy calamari tentacles were really delicious and my highlight of the dish. The one thing that is special about having dinner in the kitchen is that every course is a surprise and every dish tries to incorporate something new and exciting!
The dish was paired with a 2014 Craven Clairette Blanche and this is the first time I have ever tried this varietal. It was a real treat to try considering Makaron owns the bulk of it! The wine is slightly oily and salty and worked well with the calamari.
This is my favourite dish of the dinner and the worst photographed. I think I was just so damn excited to eat it! I am a huge mushroom fan and when Chef David told me they have been foraged by the Makaron team I knew I was in for a treat! This is the mushroom ravioli, fromage blanc and wood sorrel. I've got to be really honest here when Chef David said foraged mushrooms I kind of stopped listening so when I found two perfect mushroom filled raviolis underneath the mushroom treasures I was surprised! The mushrooms were meaty and delicious and the raviolis were perfect. I think I could have a whole bowl of this for dinner with many more raviolis! This dish is outstanding!
This course was also my favourite wine pairing of the night with a great glass of 2013 Vriesenhof Grenache. The Grenache was wine juice and I could have another glass right this minute!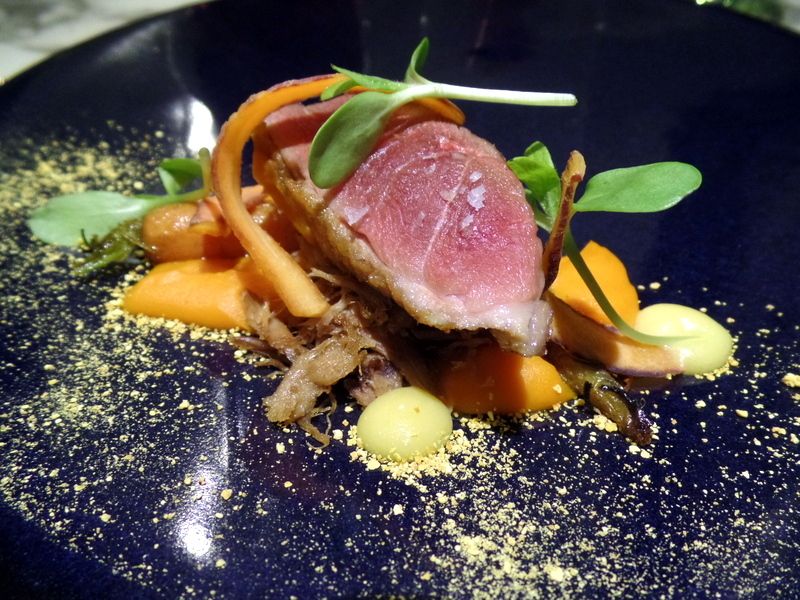 This is the duck breast, roast carrots and citrus which is Makaron's play on duck à l'orange. I guiltily got Chef David to admit that this dish is one of his favourites. George and I agreed that this dish was also a stand out for us. Chef David explained that often only four of our five tastes are catered to – sweet, salty, sour and umami. With this dish he wanted to bring out the neglected taste of bitter. The citrus of the dish was more pith and rind than the sweet flesh of the fruit, which really executed the bitter flavours in the dish. The duck was incredible – I was initially shocked to find the duck so rare but quickly got on board with the sensational taste. This dish was a serious triumph of flavours.
Our main course was the beef rib with parsley and bone marrow. This was fine dining comfort food and the perfect dish to see on a winter menu. The beef rib was so tender and was great with the rich bone marrow and the crunchy crumble. This was paired with a 2011 Oldenburg Cabernet Franc which was a savoury wine paired with a very serious savoury  dish.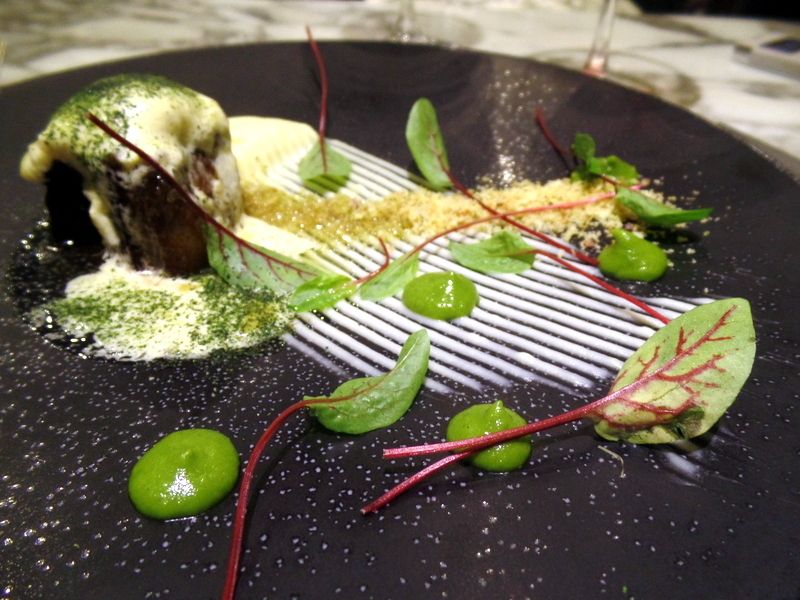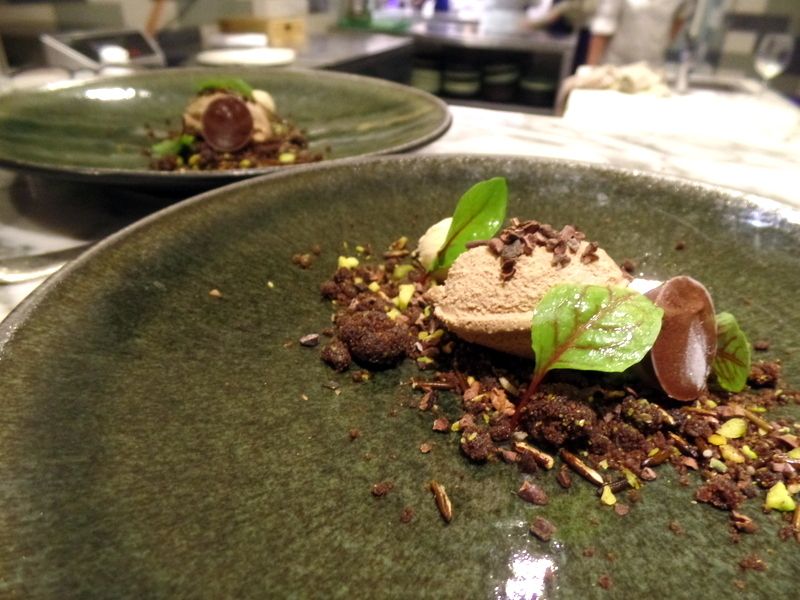 And then it was time for dessert! I love dessert time! We had chocolate, dulce de leche and hazelnut with a delicious 2013 Bloemendal Semillon. This dessert was delicious for lots of reasons but one of them is the texture! The dish includes bits of brown wild rice to be little worms and pistachio and chocolate soil to create their home. I loved the playfulness of the dish and I obviously loved the decadent chocolate!
And then our dinner drew to a close! George ordered a coffee so that the evening could last a little longer. We enjoyed a dish of petit fours whilst I finished off my wine and George his coffee. The mini chocolate cake was so moist and moreish! The twisted wrapper held the softest fudge I have even eaten flavoured with white milk chocolate and walnuts. And we snuck in a little bite of heavenly, light goats cheese cheese cake as our last taste of the evening.
We really had had a perfect dinner.
With our last sip of wine we breathed a sigh of relief that we were sleeping at Majeka House and our room was only a short distance away! But more on our Majeka House sleepover coming this week!!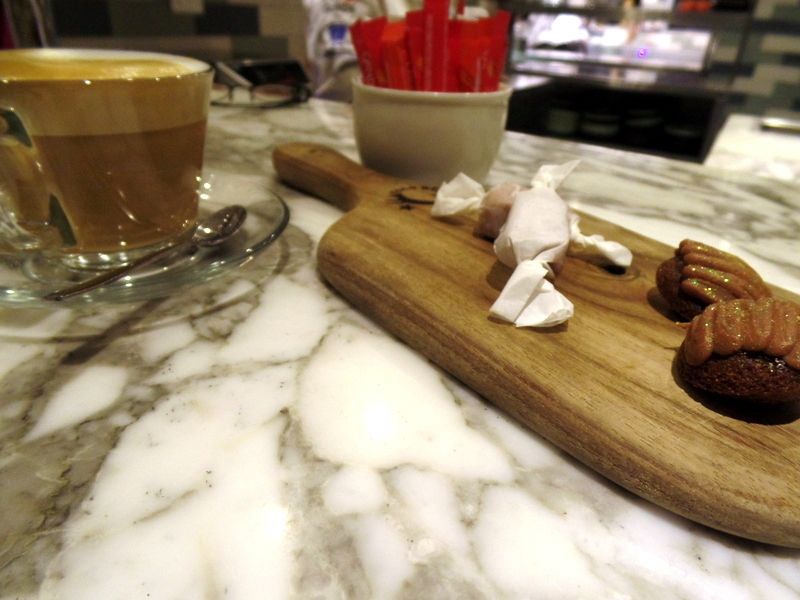 DETAILS:
Location: Majeka House, 26-32 Houtkapper Street, Paradyskloof, Stellenbosch
Opening times: Monday to Sunday 6.30pm – 8:30pm; closed Wednesdays during Winter
Contact details: 021 880 1549 (Booking is essential)
Disclaimer: We joined Makaron for dinner as guests of Majeka House however all photographs and opinions are my own.