We were invited to the launch of the wonderful Loaves on Long found at the very bottom of Long Street a couple of weekends ago. We braved the heavy rains and were rewarded with giant smiles, fresh breads and gourmet food. For the record, I will brave the rains any day for fresh bread let alone the smiles and gourmet food!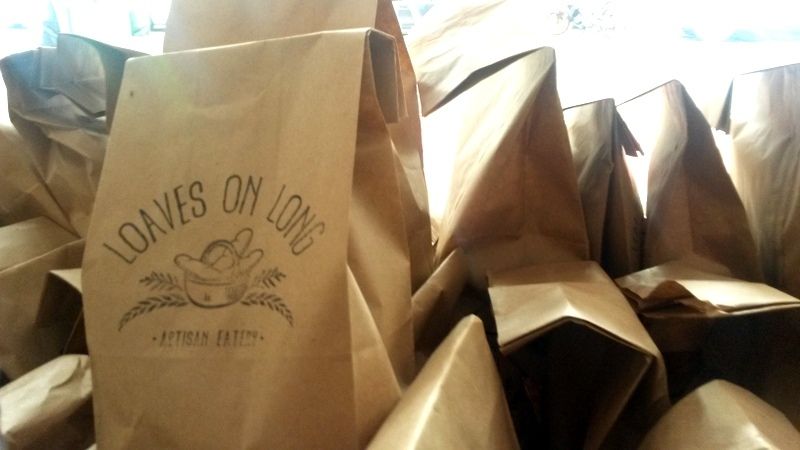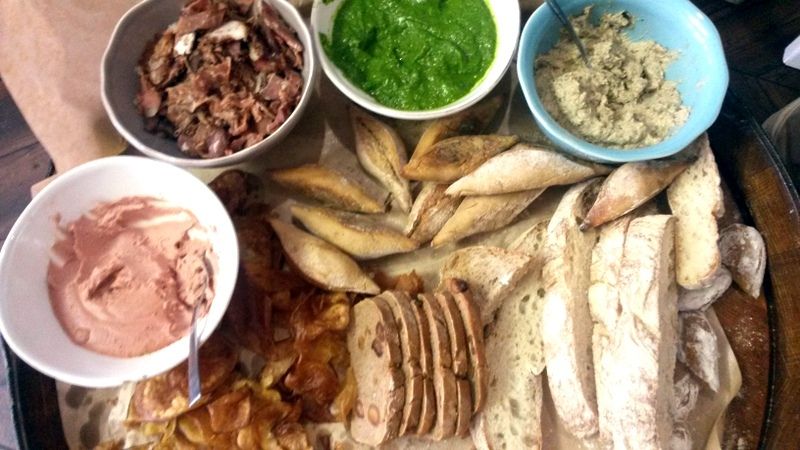 We arrived to a room buzzing with happy souls and plenty of bread platters. Before we even started on the amazing bread we were poured glasses of bubbles and warmly welcomed. We then gleefully tucked into enough bread to have Tim Noakes blushing! We ate sourdough, ciabatta, barley rolls and rye with pear and macadamia nuts. Served as exciting accompaniments to the bread were chicken liver pate, Ryan Boons' amazing biltong, rocket pesto, mustard aioli, aubergine and cumin dip, and vegetable chips. My favourite of breads were the tiny little sourdoughs which I covered with the most incredible chicken liver pate! The rye with pear and macadamia was great too especially liberally spread with aubergine and cumin dip and sprinkled with biltong. We loved the cripy veggies chips too and they were great dipped in the rocket pesto!
We thought this was the beginning and end of the food. We were not complaining and we were in bread heaven – so we happily stuffed our faces! However as we headed to the back of the restaurant we found a staircase to more restaurant!! And upstairs was even more gourmet food! I don't know how we did it! This is both a testament to my stomach and my stretchy pants!
I'm amazed at how much food we ate but it was amazing food and you've got to try everything once! As you can see from my plate above I did my best at trying everything once!
Its a really tough call but I think my favourite might have been the slow-roasted sirloin open-faced sandwich with red onion and aioli. The sirloin was unbelievably tender and the sharp red onion really gave the sandwich an extra kick. But the winning element of this sandwich was the aoili that pulled it all together! Man!! This aoili was thick and rich and slightly sweet reminding me of the duck fat we used to use as butter in Poland. This was an incredible combination and I actually tried this one three times – just to check ;)!
We also loved their veggie option of roast vegetables and feta with basil on a delicious rye loaf. The Spicy beef Carpaccio with rocket and parmesan was badass and again with the incredible quality meat!
These are the mini onion tarts with parsnip and duck which were the lightest puff pastry topped with rich and delicious duck.  Below is the pork belly with smoked mash and tomato which was a serious winner. I actually first tasted Ciska Roussouw's food at Jordan when she was manning the Jordan Bakery. She made me the very best pork belly I have ever eaten and I've spotted one on her Loaves on Long menu which I will definitely be back for! As much as I loved the launch party I can't wait to see what the Loaves on Long team have created for the permanent menu!
In our overfed state we headed out onto their balcony to catch some sunshine and cool breeze on what turned into a fabulous winters day. I think this little balcony overlooking Long Street is going to be a hot commodity during the summer months for lazy lunches and long breakfasts. Not long after settling in at our new found table we heard oohs and aahs coming from inside! Just when we thought we were done! DESSERT! And it really deserved the oohs and aahs. I've got to tell you the dessert stood untouched for about five minutes whilst everyone took photographs. I then decided they'd all had their fair chance and tucked into the dessert!
What you're looking at is The Forest Effect! This gorgeous creation involves chocolate soil to start and then date and macadamia balls, chocolate truffle "logs" with coffee and pistachio, gluten free cinnamon scrolls and meringue mushrooms with homemade honey comb and pecan biscuits! Talk about wow! I stuck with my mantra of try everything once! My favourite of the plate was a surprise to me! The pecan biscuits were mind blowing! They were so soft and buttery and such comfort food! I need to go back soon and buy a whole box for dipping in tea during this miserable weather!!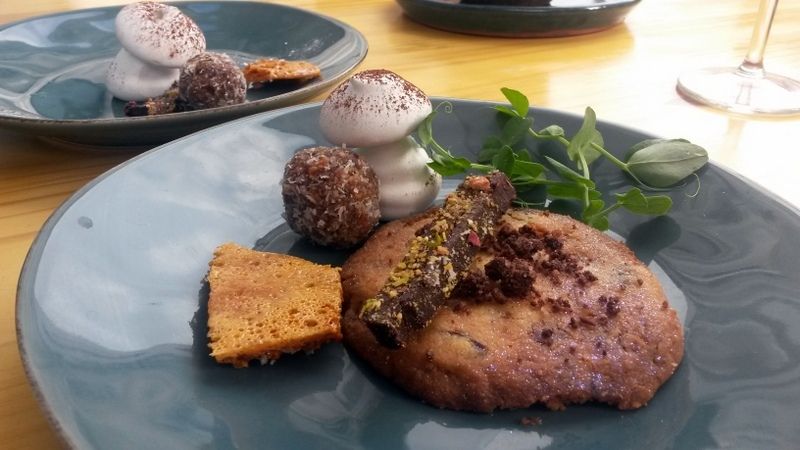 If you take anything from my epic food post is that Loaves on Long is all about the best things in life. They're about great, honest bread, they're about quality meats, elegant wines, lots of butter in their cookies and finishing meals with Amarula and a block of ice.
We ate seriously amazing food at Loaves on Long and I cannot wait for my next visit!
DETAILS:
Location: 33 Long Street, Cape Town CBD
Opening times: 6:30 am til 6pm Monday to Friday and 8am til 4pm on Saturday. Closed on Sundays.
Contact details: 081 046 6664