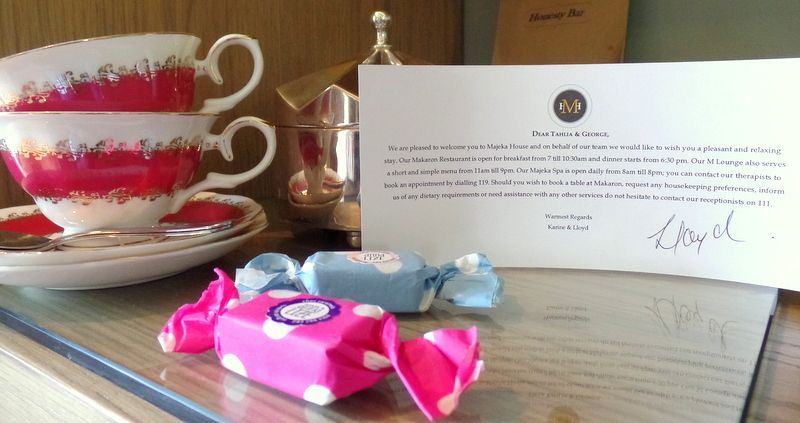 We recently headed out into the suburbs of Stellenbosch for a grand sleepover at Majeka House. We packed big bags full of books and laptops and swimming costumes. Swimming costumes in June? Most definitely at the five star Majeka House! The books came out within minutes of discovering our private pool and sun loungers and the swimming costumes not that much later. The laptops stayed away – which is actually rather perfect. A night of escape, indulgence and relaxation was exactly what we needed!
Majeka House is an absolutely marvel from your first step into the door and your last step out. As we drove away to our next destination I kept saying to George: "Wow! Can you believe that place!". Majeka House is everything you want and so much more!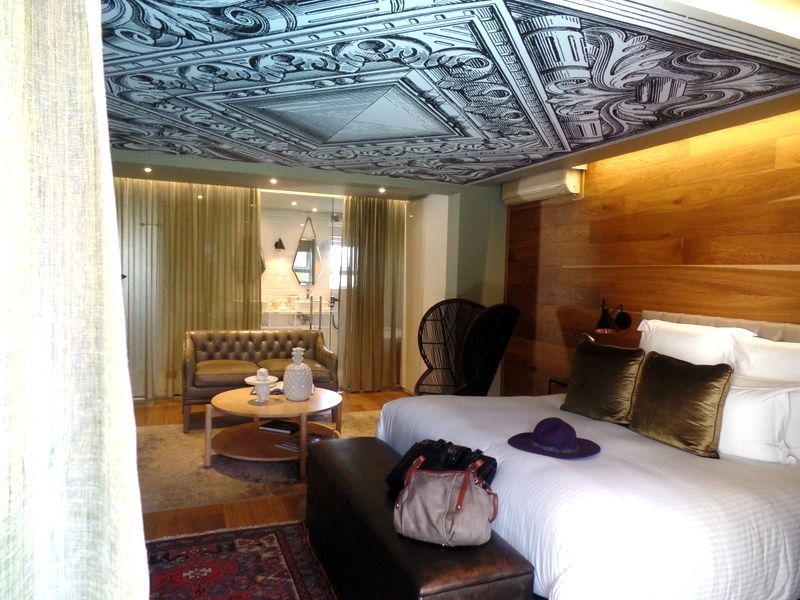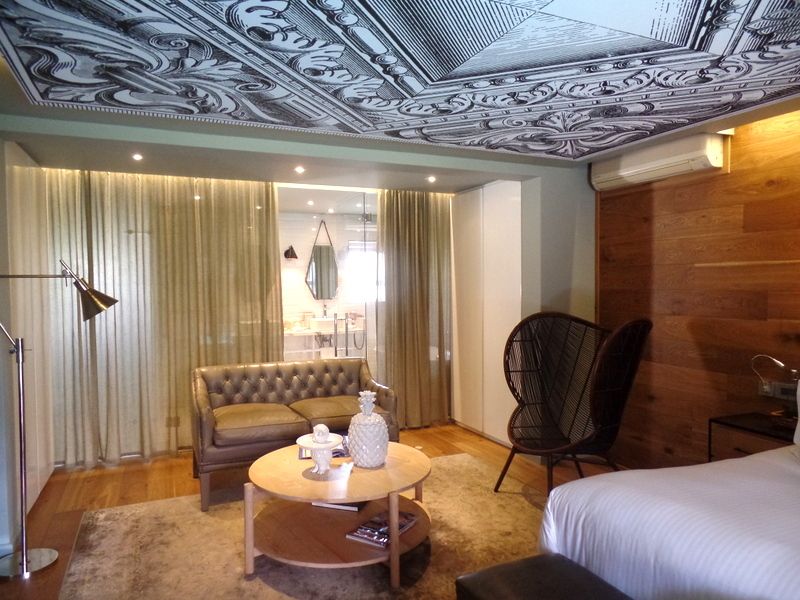 We stayed in one of the Poolside Choice rooms which shared a semi-private pool between two rooms nestled in the back of the property. Luckily our semi-private pool was fully private that day and we took full advantage of the peace and quiet! We climbed into the bathrobes, George made coffee in the room, I found their complimentary butter cookies and we curled up on those sun loungers with our respective books. Stellenbosch weather can be very forgiving and it was such a treat to be catching some sunny rays in the middle of winter!
All the rooms are uniquely decorated and I absolutely loved ours! I loved the subtle balance between quirky and classy with the giant porcelain pineapple pairing with their chic leather loveseat. The entire time we were at Majeka House I kept wishing I could recreate this luxurious decadence in my own home!
The reception and the grounds of the hotel are beautiful in their own right. When you visit make sure to look out for the many pigs! The owner began collecting pigs as a little girl and her collection has overflown into Majeka House. My favourite was the gold leafed piggy found in the M Lounge. Read more about the golden piggy and our gorgeous drinks here. The design and attention to detail in each room is wonderful. The skill of the interior decorator to so carefully walk the line between quirky and crazy is impressive.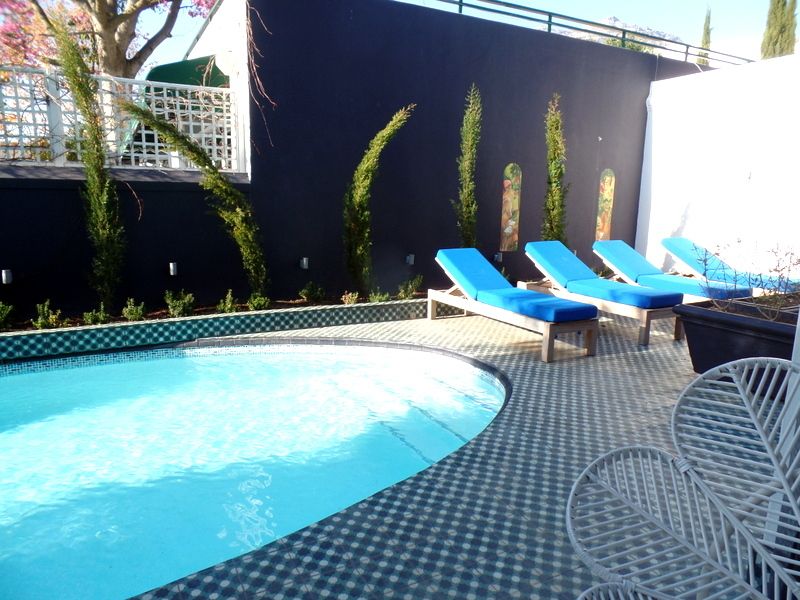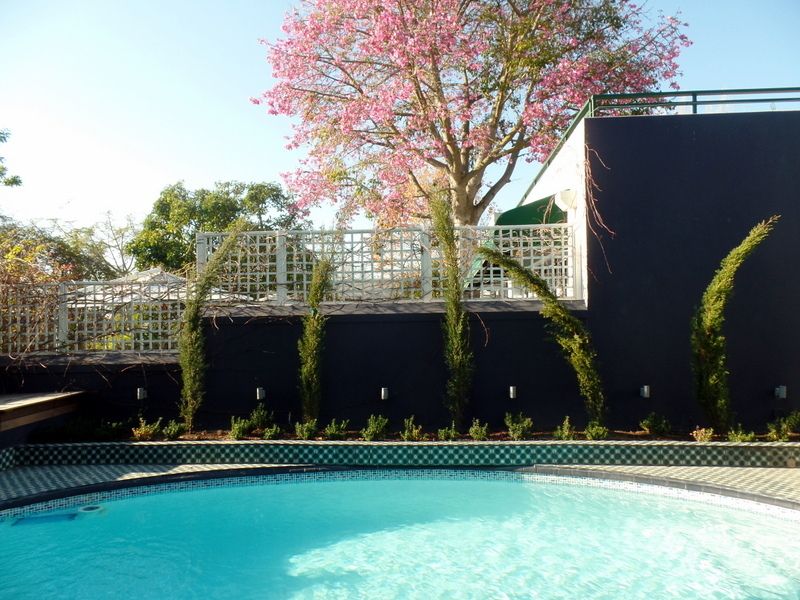 When visiting Majeka House make sure to spend some time outside appreciating their grounds. We loved their cactus walled patio, their bright blue sun loungers and their fanciful tiling.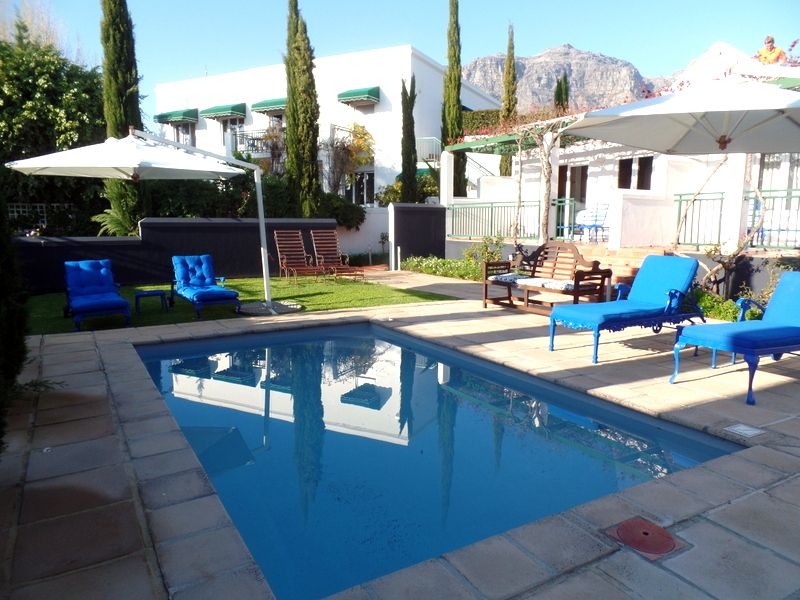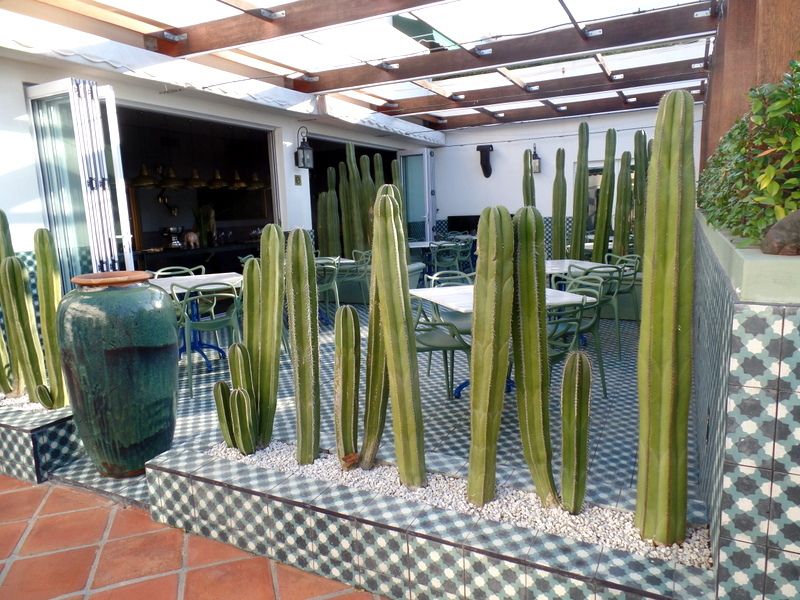 Here's where the swimming costumes in the middle of June come in! Majeka House has a heated pool, jacuzzi, steam room and sauna for their guests. I have never before seen a more beautiful indoor pool and I happily sat in the jacuzzi instagramming it all! That jacuzzi, in this place with that chandelier and those Great Gatsby Style Umbrellas was my slice of bliss. My happiness in that moment is enough to make me want to visit again.
Post jacuzzi I climbed into the amazing shower and George spent some time in the sauna. We were well and truly relaxed if not a little too floppy! But nothing a strong drink at the M Lounge and dinner at Makaron couldn't fix!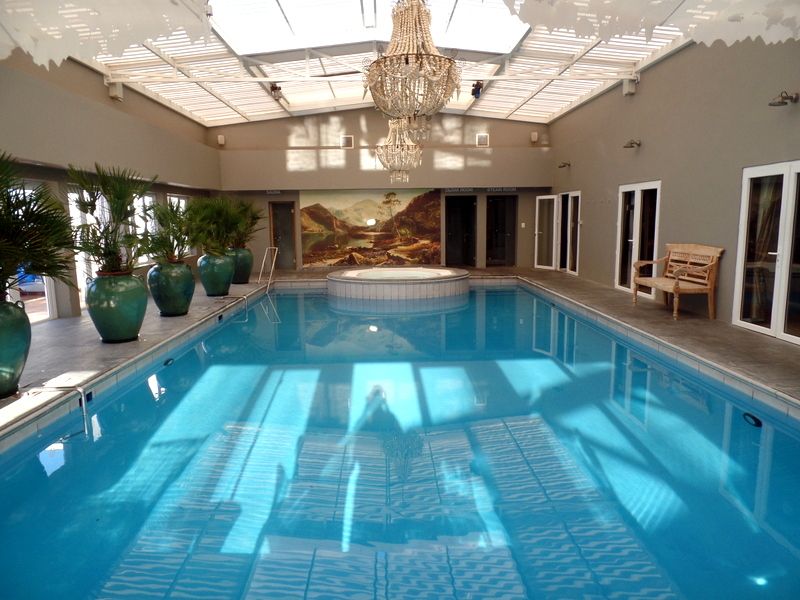 After a grand fine dining feast at the Makaron's Kitchen Table which you can read all here we climbed into our giant bed. Not before scooping little wrapped up turn down presents off our pillows and drinking both the bottles of complimentary water each though! I don't think I could have counted to ten between my head sinking it the pillow and falling fast asleep. We slept so deeply thanks to the private and quiet setting and the thick curtains which blocked out the morning light.
I woke up feeling like sunshine. I had a giant heavy down duvet tucked around me, pillows everywhere, a fast asleep George and free wifi for early morning Instagram scrolling. After a little while I started to wake up and then the effects of plenty of wine at Makaron's Kitchen Table kicked in! But luckily Majeka House had the cure!
Step 1) Jump in the shower! Piping hot water falling down on you like your own private waterfall. They had three intensity settings and the hardest setting for an impromptu head massage is magic.
Step 2) Grab the previously scooped turn down present. The softed fudge you've even eaten with crunchy nuts!
Step 3) Head on up to breakfast!
And wow do they do breakfast! The Gregor Jenkin table was laden with treats galore! I started sensibly -with a plate full of French pastries and a berry smoothie! George was a little less brave and opted for some of their freshly baked breads with cured meats and cheeses and a giant cup of coffee. Once the waiters found out we had overindulged the night before they quickly went about prescribing veggie juices! I was prescribed a green juice with a serious kick and some hectic wake up and go powers! George had an orange juice packed with goodness!
To make up for the healthiness of the green juice I made sure to eat more pastries and to order the eggs benedict! The pastries were sublime with my favourites being the little madeleines which I must have eaten about ten of and the light flaky Danish pastries! A special mention must also be to their homemade yoghurts and granola muesli. The yoghurt was light and fluffy and wonderful – making it yourself really makes a difference!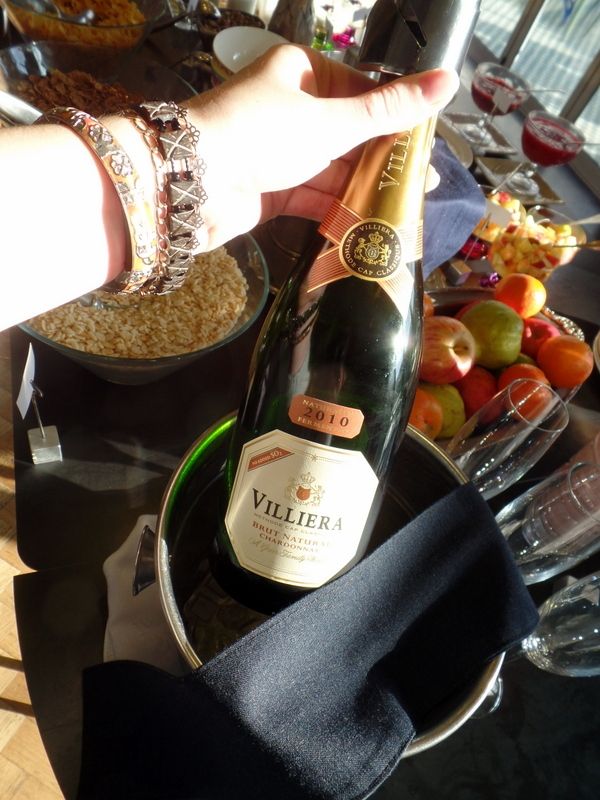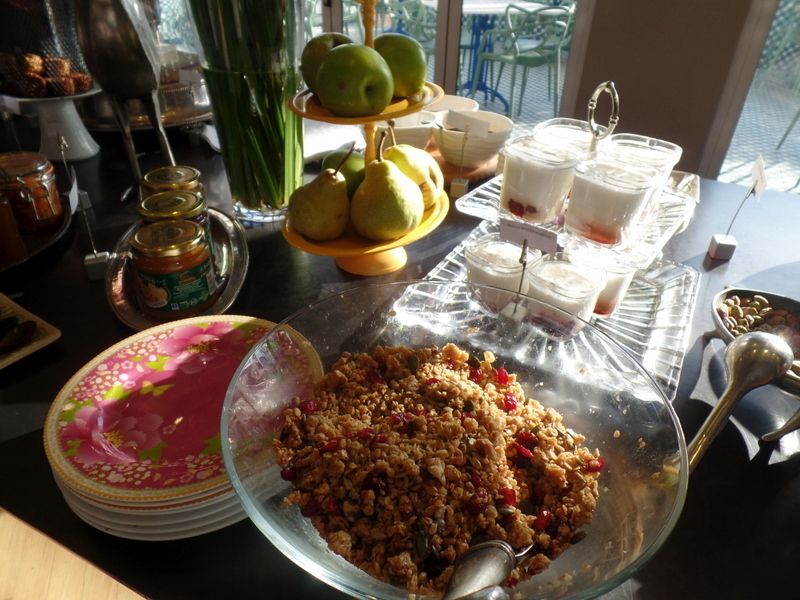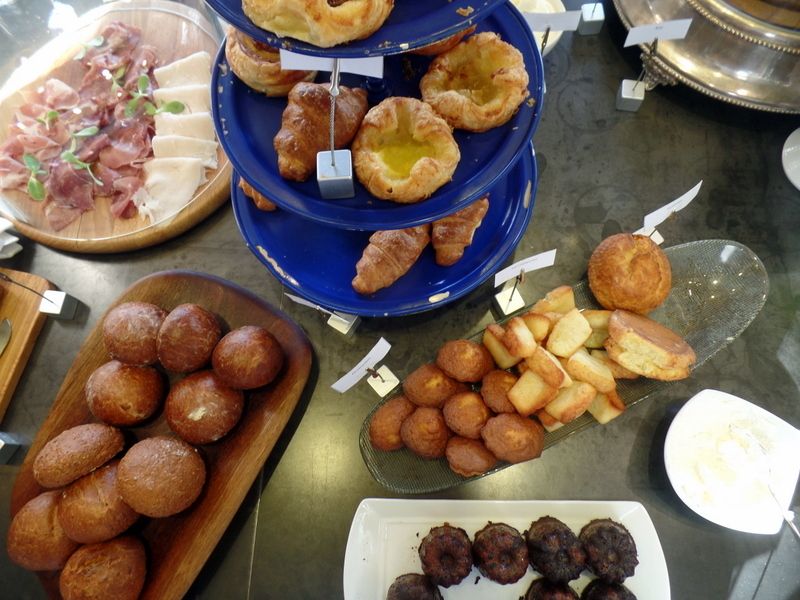 When I told people I was spending a night over at Majeka House everyone mentioned the Eggs Benedict! They either had tried them and raved about them or had heard rumours of their greatness! I couldn't resist ordering them! However with the amount of food I had already eaten and still planned to eat I couldn't cope with much more food! The kitchen kindly obliged my request for just one little poached egg on one little English muffin. I am glad I found space for this tasty morsel because it really was a top notch Eggs Benedict with a soft poached bright orange yolked egg, cured ham and homemade authentic English muffin.
The breakfast at Majeka House is outstanding and we found out that you can actually join them just for their breakfast! If you're looking for a weekend spoil that won't break the bank I could not more highly recommend popping in for breakfast at Majeka House! The perfect way to kick off a day of wine tasting in Stellenbosch! Especially with those green juices ;)!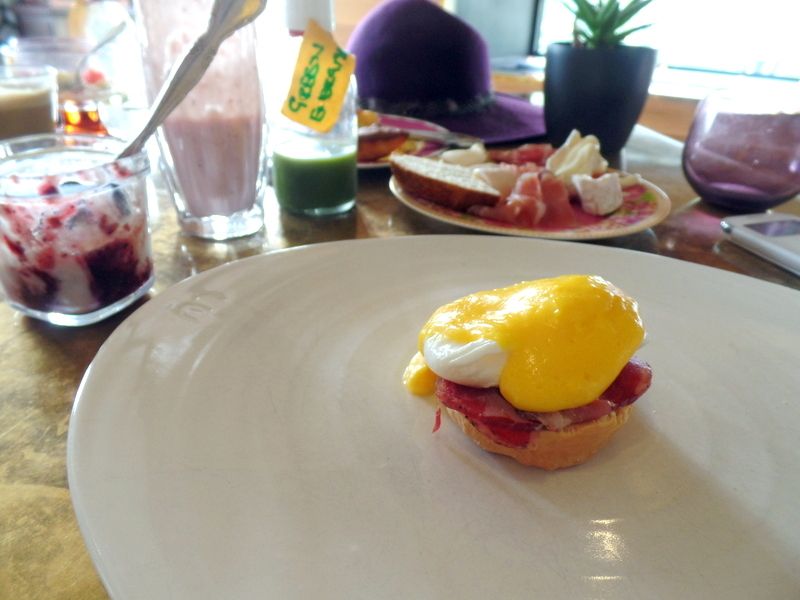 After our incredible and decadent breakfast I was feeling fantastic. George however required step four of the action plan.
Step 4) Climb back into bed with a movie
We had luckily asked the night before if a later check out would be possible and because there was no one booked into our room for the next day Makaron could kindly accommodate us. We swung past reception to pick up a movie from their huge DVD collection which is available to all guests. They were a little surprised at our choice – Harry Potter and the Deathly Hallows Part One – but that's the movie equivalent of comfort food.
We climbed back into our heaven of a bed, put on the movie and wished we could stay right there for the rest of the weekend!
We eventually did have to leave much to our regret. We had the most incredible stay over with Majeka House and are already scheming another visit as soon as possible!
By now I'm pretty sure you want to visit Majeka House to experience the indulgence for yourself. Luckily for you they're running an amazing off-season special!
During Autumn (May and June) and Spring (August and September) they have an amazing package deal for R2020 per person. The package includes one night's accommodation in a Premier Collection room, breakfast for two, a cocktail each in the M Bar, a four-course dinner at Makaron with wine pairings, and a 45-minute Himalayan salt bed treatment in the hotel's spa.
Make sure to check out their website here for all the details!
My one recommendation before I let you go: Don't make plans! Once you check into Majeka House you're not going to want to leave! The adventure is right there – there's no need to go in search of more!
Note: We enjoyed our stay as guests of Majeka House however all opinions and photographs are my own.