We ate so much food in Munich! Most of it was brilliant, but here is a run through of some of our favourites. All restaurants are fairly affordable and should suit most budgets.
If you're looking for a more general overview of Munich make sure to check out our Top Ten post!
1) Bratwurstherzl am Viktualienmarkt is a family run restaurant with the owner actually taking your orders and helping you in and out of your coats. From my foodie research we were advised to try the shnitzel and spaetzle – and the research once again pulled through! We had an amazing pork shnitzel which was amazingly tender with a crispy bread crumb crust. The shnitzel was served with a heavy German style potato salad that was a really delicious side!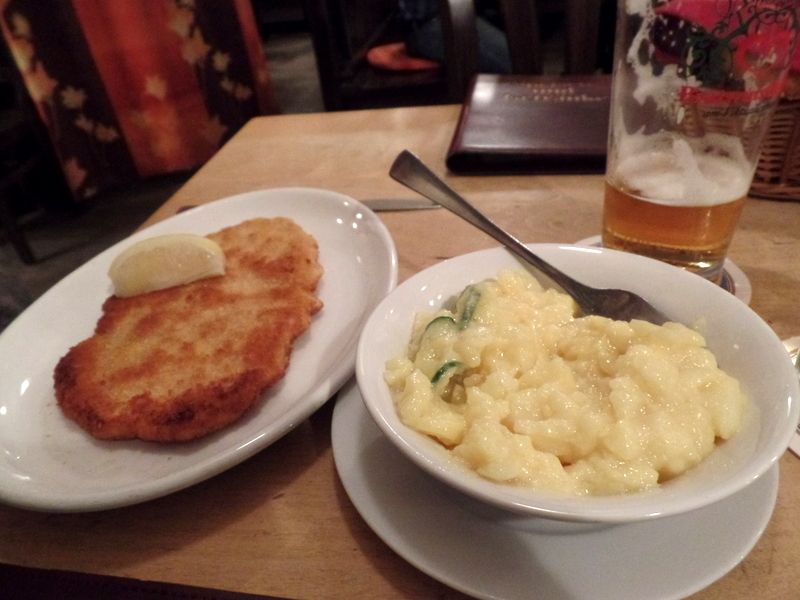 Our favourite order was the cheese spaetzle which is kind of like a hearty mac and cheese – comfort food at its finest! The spaetzle was served with a German salad… The Germans do not know how to do salad. Don't get me wrong – it was delicious – but not really like any salad we know. The salad was made up of matchsticks of vegetables preserved in some kind of vinegar dressing – not salad but delicious!
After our large main courses we normally skipped the dessert. However, due to the long communal tables of the restaurant we ended up making friends with a German couple who insisted on getting a serving of Kaiserschmarrn for all of us to share. From my research I knew that the Kaiserschmarrn was a specialty of Bratwurstherzl and I couldn't resist the offer! A Kaiserschmarrn is a dessert of shredded pancakes filled with raisins and served with apple sauce. The dessert was really delicious and I would highly recommend you try it especially because it is so traditional to Germany. This dessert can easily be shared between two people!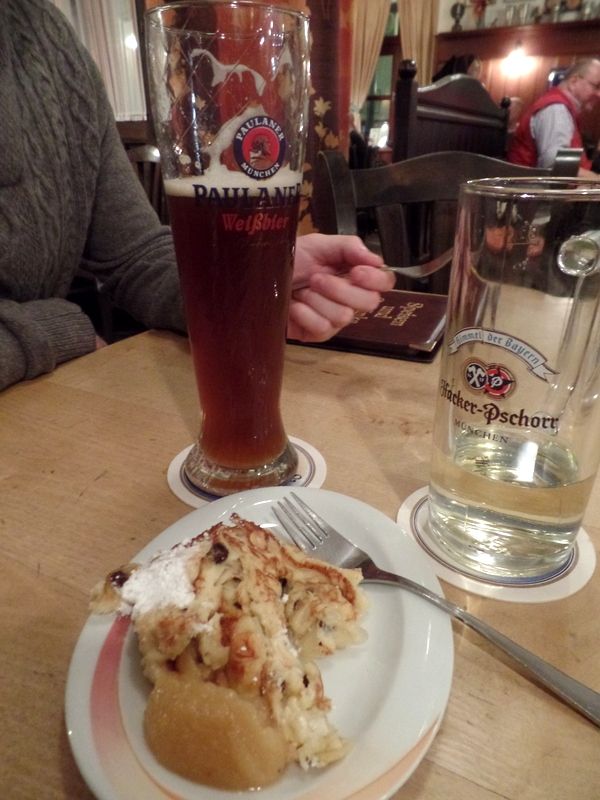 2) Viktualienmarkt is a food market just off the old square. It isn't really a market how we Cape Townians know them, with lots of pre-made food stuffs for sale. They mostly sell fabulous ingredients like cheeses, cold meats, nuts, fresh breads and seasonal fruit and vegetables.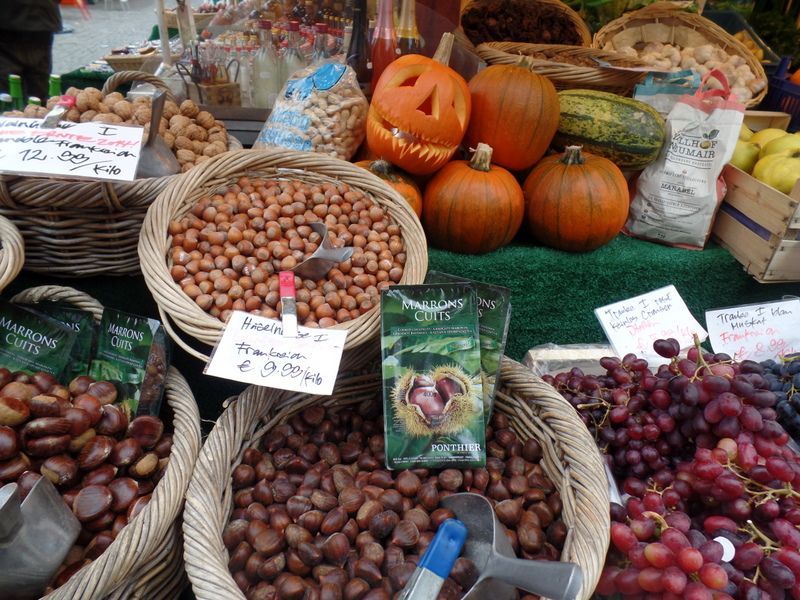 Make sure to have a walk around for some snacks during the day. Our snacks were from Backerliesl auf dem Viktualienmarkt which is a famous bakery in Munich. We enjoyed our jelly donut and Klosterkipferl on our walk about.
3) Another favourite German spot was Augustiner Großgaststätten.  We had really fabulous service and even better food. Augustiner has a seasonal menu so make sure to try to order from that menu. The Germans are big into seasonal cooking and what is seasonal is normally fresher, better and packed with flavour!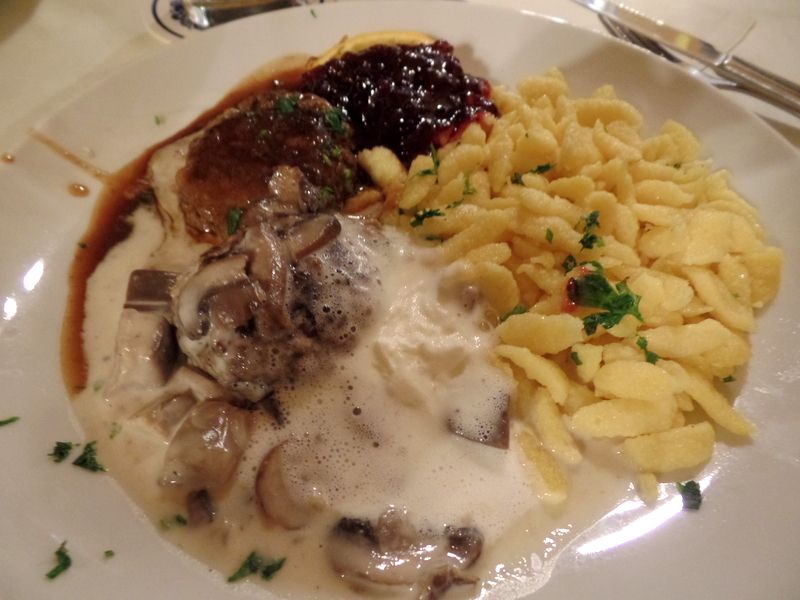 If you see any menu with Pfifferlinge mushrooms on the menu make sure to order them! They are such gorgeous meaty mushrooms and are often served with a creamy sauce, a venison type meat and German red berry sauce as pictured above. This combination is really amazing and with the added spaetzle I was in German food heaven! This wasn't a cheese spaetzle but a plain spaetzle so it was more like a soft pasta similar to little slices of gnocchi.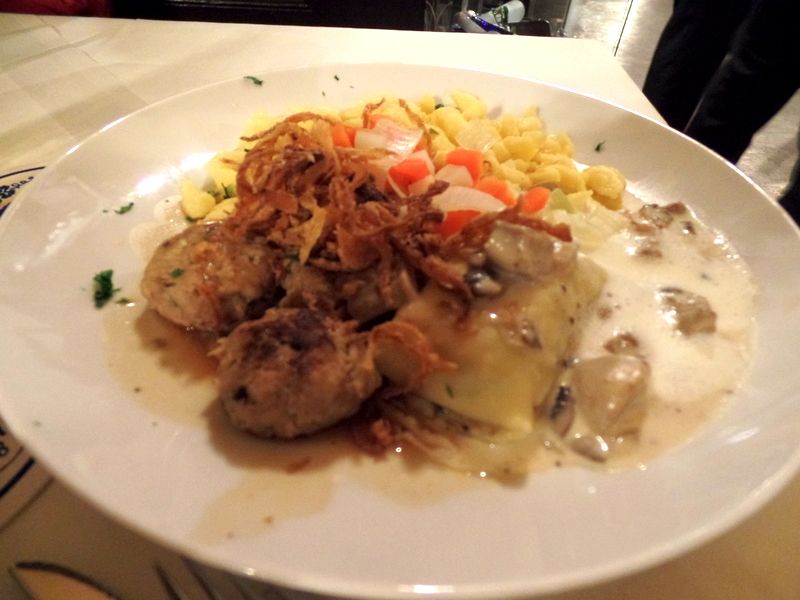 4) Hofbräuhaus is a very famous beer hall and for that reason we thought we should visit to try their beer and food. The beer was great, the food was on the average side and the service was unfriendly and the vibe pretty chaotic. We had such wonderful warm dining experiences at the smaller beer halls that I would suggest choosing another beer hall for dinner and just visit Hofbräuhaus for a round of delicious, litre beers. It's great for locals who are used to it and know what to expect, but as a tourist it feels a bit rushed.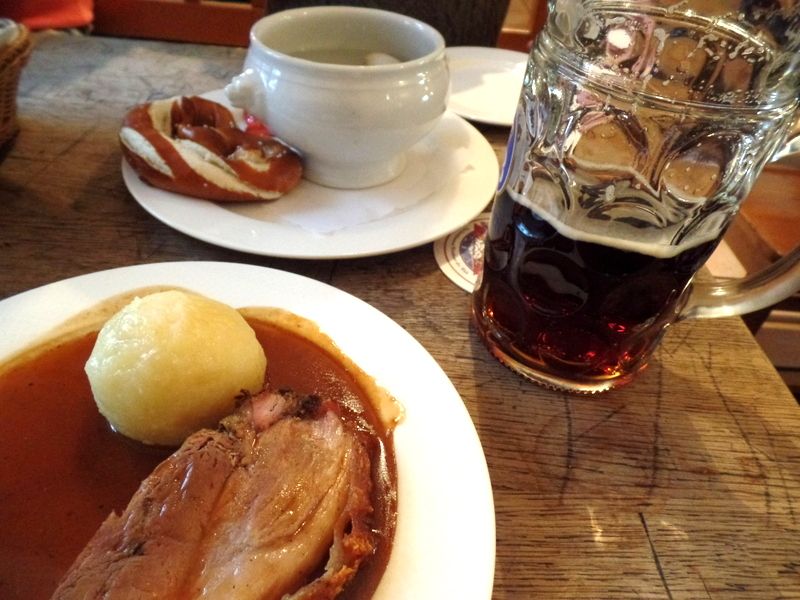 5) Cafe Neuhauser is an amazing pizza spot just outside of the old town centre. You'll probably want to catch an underground to get to it but it is definitely worth the effort. Cafe Neuhauser was our first dinner in Munich and it did not disappoint! Luckily for us we visited on a Tuesday night which is their Giant pizza night where you get an extra large pizza for the price of a normal pizza! We had a gorgeous skinny base wood fired pizza covered with parma ham, parmesan, fresh tomatoes and rocket! Cafe Neuhauser reminded me a lot of Massimo's – so if you're looking for a great pizza fix make sure to give them a visit!
6) Der Verrückte Eismacher translates to the Crazy Ice Cream Maker. The ice cream maker must be crazy with some of his unusual flavours – I'm talking about salmon, potato salad, ham or beer ice cream! Don't worry – they aren't all weird flavours! The ice cream cafe is decorated around an Alice in Wonderland theme and it is really fantastic – pop in just for the jaw dropping decor and costumes worn by the staff!
The staff are really friendly and speak English perfectly so don't be shy to ask them to translate the names of the flavours into English or ask to sample something before buying a whole scoop!
We had the pleasure of tasting: Raspberry and Champagne, Toffifee, Strawberry with basil and balsamic glaze, Cuba Libre, Hugo (cocktail similar to a mojito), Beer and Chocolate Orange. Yes… we went a few times…
All the flavours were really amazing and tasted exactly like you would imagine them to taste!
7) BallaBeni Ice Cream is just across the road from the Brandhorst museum so it is perfect for a pit stop when topping up on culture! BallaBeni is a lot more traditional than Der Verrückte Eismacher but still makes great scoops of your classic favourites! We tried the Hazelnut which seriously creamy and delicious and the Stacciatella.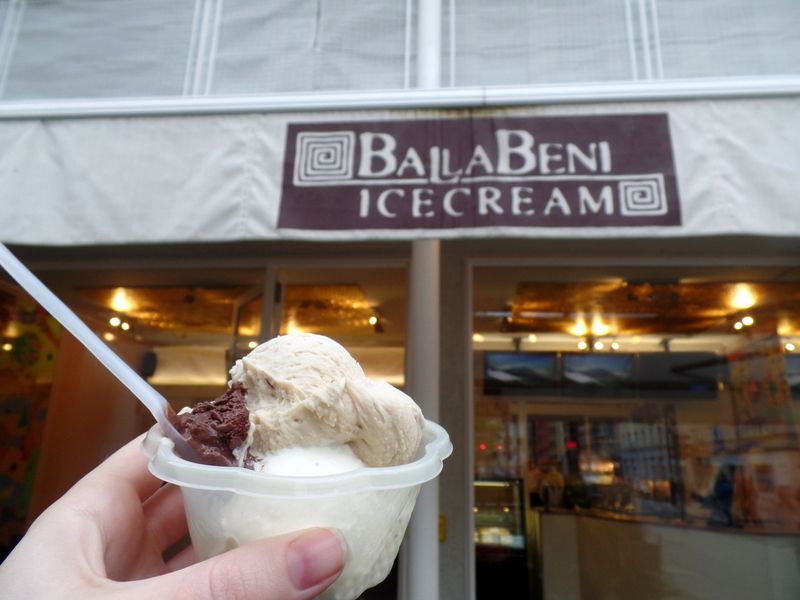 Happy eating! 🙂