I'm a sucker for a menu that includes a pre-dessert. I think I'm actually a sucker for any kind of menu with multiple courses! I'm all about the tasting menus and La Mouette's tasting menu is pure class every single time! La Mouette is actually one of my favourite Cape Town restaurants and I have such a personal affection for both the restaurant and the wonderful people running it. If you have never tried a La Mouette tasting menu I think you're missing out on a true Cape Town experience!
Go on – give them a visit! It will be the most affordable gourmet experience of your life!
I have blogged about them before – check out my previous post for serious foodie inspiration! I also go on a lot about this amazing bread pictured below. My bread cravings couldn't afford to do it again!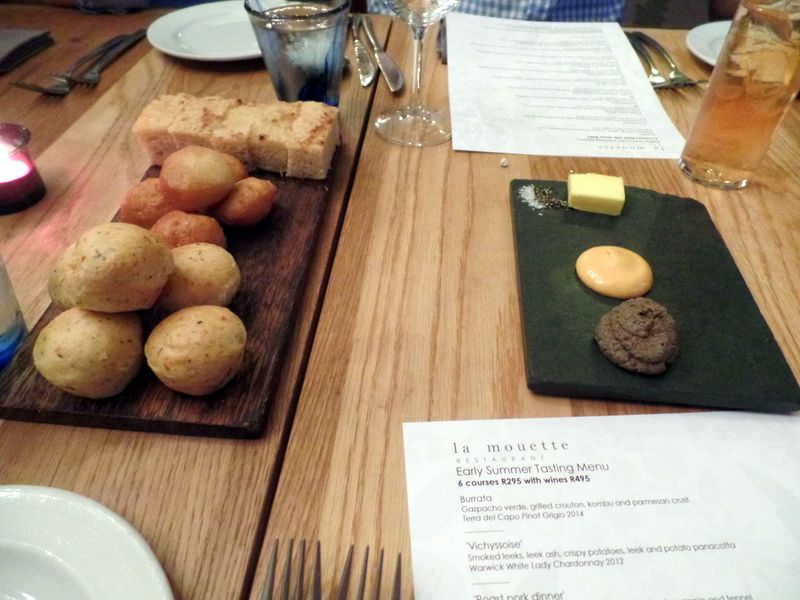 For my darling's birthday we celebrated at La Mouette and we were blown away.
Disclaimer: We are pretty much always blown away when dining at La Mouette. La Mouette was the perfect choice for our large noisy group and the waiters handled all 17 of us without any indication of stress. Our courses arrived quickly and never once did I have a half empty glass.
For our 1st course we had the burrata which is served with gazpacho verde, grilled crouton, kombu and parmesan crust. A beautiful assortment of gems arrives in a gleaming white bowl before you – but you have to wait! Because once you've admired the gems they pour perfectly chilled gazpacho verde on top. I love the showmanship of the simple dish. The burrata is so light and creamy and perfectly paired with the tomato flavours.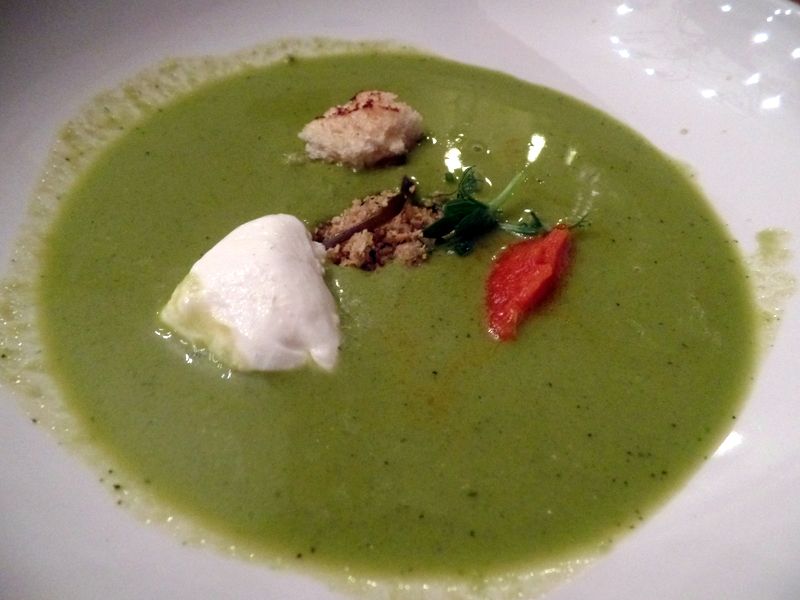 Second course was a vichyssoise with smoked leeks, leek ash, crispy potatoes and leek and potato panna cotta. The inclusion of the crunchy potato sticks with the cool vichyssoise was perfect! I loved the combination of the textures. The soup was wonderfully moreish, rich and filling. And I can't get over the gorgeous presentation of the dish! What a great idea! 🙂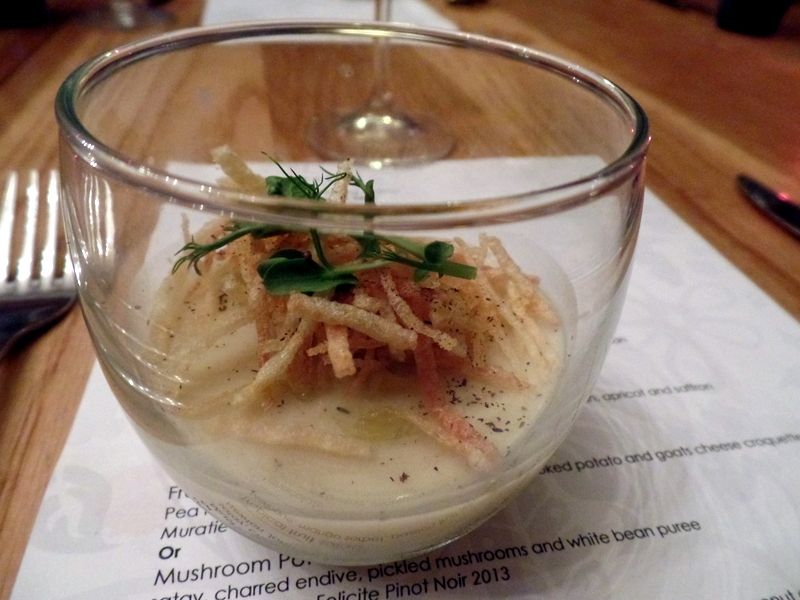 The third course was a choice between the roast pork dinner or the seared tuna or the truffle croquettes. I chose the seared tuna which is served with cashew nuts, raisin puree, crispy cauliflower, carrot and curry emulsion. I'm a serious sucker for seared tuna and this was about as fresh as it gets. The tuna was so rich and creamy and was perfectly set off against the raisin puree. I could easily have eaten five more of these- so delicious!
When dining at La Mouette it is almost mandatory to chose the dishes that involve the truffle and cheese croquettes. I luckily did a half and half deal so didn't have to decide between the tuna or the croquettes. The croquettes were served with grilled asparagus and shaved parmesan and were as light and indulgent as always!
For my main course I went for the mushroom pot stickers, satay sauce, charred endive and pickled mushrooms. This does seem like a risky choice when there is the option of Namibian lamb or Franschhoek trout – but if I have learnt anything with La Mouette it is that they are worth the risk. The mushroom pot stickers were so delicious and I promptly named myself winner of the main course order! Yes – ordering is always a competition!
One thing that I must commend La Mouette on is how kind they are to the vegetarians. I am not a vegetarian but it is something I always notice.  The vegetarian courses are just as beautiful, just as exciting and just as special as the other options. So many restaurants cut corners with the vegetarian options but I feel like La Mouette goes out of their way to celebrate every dish they serve.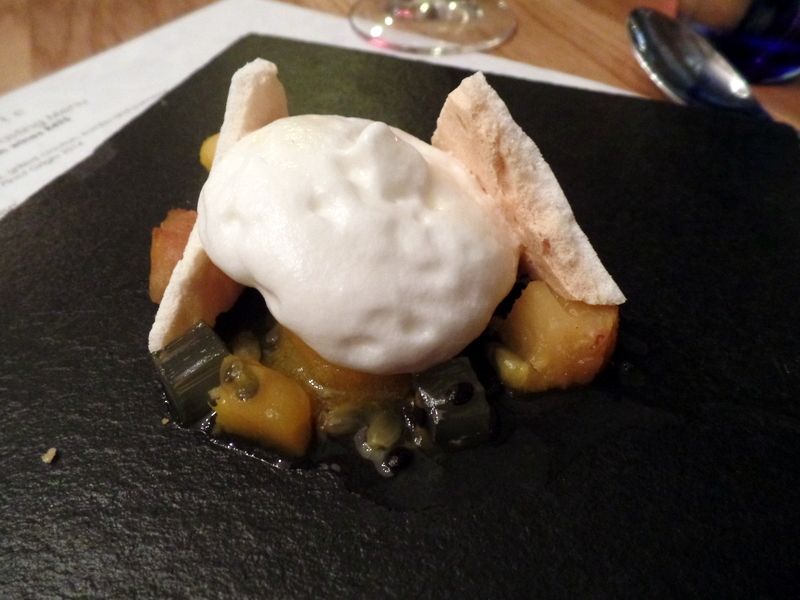 Pre-dessert (Aaaah yeaaah!) was a tropical fruit salad of mango sorbet, passion fruit jelly, roasted pineapple. This was actually the winner of the desserts for me because of the lightness and the vibrant flavours. Don't stone me – but I'm not a giant chocolate person! So having a dessert where the natural sweet flavours of fruit are center stage is right up my dessert alley. The roasted pineapple with the sweet meringue was a seriously bad ass combination!
Dessert course was a chocolate lover's dream of chocolate pave, chocolate brownie, smoked caramel, coffee cream, hazelnut ice cream and amaretto jelly. The chocolate brownies were gooey and delicious! We all left La Mouette a little tipsy and a lot full!

The next time you're looking for some fine dining in the Mother City I would highly recommend a booking at La Mouette!
DETAILS:
Location: 78 Regent Road, Sea Point
Opening times: Tuesday to Sunday 6:00 – 10.30 pm and Sunday 12.00 -3:00 pm
Contact details: 021 433 0856
Booking is essential!