I have wanted to visit Bistro 1682 to try their small plates for a very long time. I took so dang long about it that I actually missed Brad Bell! Bistro 1682 now has a new chef in the form of Kerry Kilpin and although I cannot compare the new menu to the previous  – we had a lovely evening.
I think the reason I took so long to get to Bistro 1682 was because Tokai. Its really pretty far for someone who considers Constantia a push. But I'm glad I braved it because we had a delicious dinner in their gorgeous restaurant and I'm sure we will be back!
Small Plate dining is my absolute favourite way to eat. I hate decisions when it comes to food – so being able to pick a few options is perfection. We went with five small plates between the two of us and we were suitably full. We probably could have squeeze in another plate – but then dessert would have been hard work! And you're not going to want to miss out on dessert!
The small plates are priced between R73 and R38 so if you're ordering a lot it can become quite expensive but four plates shouldn't break the bank! 😉
This is the Asian sticky braised pork belly with sticky soy & ginger sauce, sesame seeds, corn for R48. This was our favourite dish of the evening! The pork was perfectly tender and the sauce was phenomenal. Brad Bell is famous for his cooking with pork – and I feel even he would be impressed with this dish. The inclusion of the sesame seeds and corn added a wonderful freshness to the dish. We were very much on the fence about ordering another round of this dish – but we were unfortunately too full!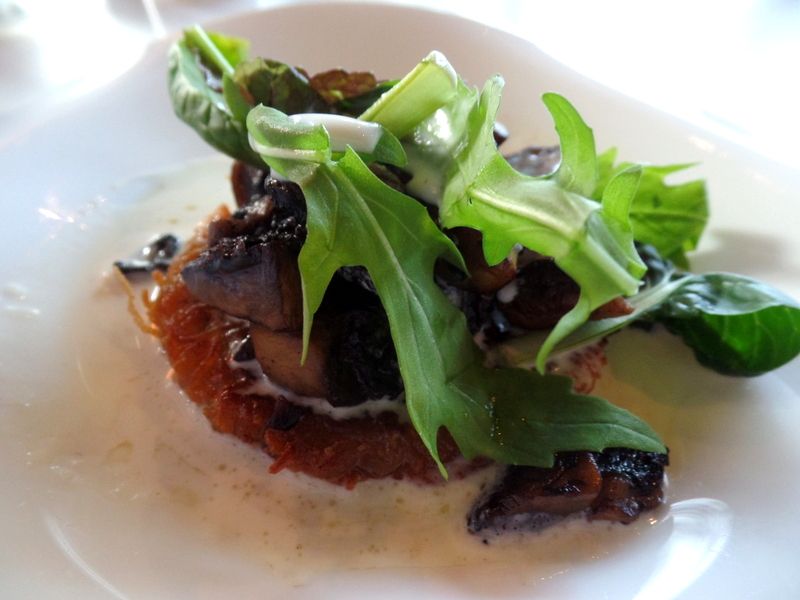 Here is the Potato rösti with mushrooms and truffle cream  for R45. I really loved this little rosti dish but I am a big sucker for anything involving truffle cream. The mushrooms were gorgeous and rich which was the perfect addition to a somewhat basic dish. Again – the sauce was amazing! I think they need to start serving these dishes with fresh bread so we can get every last drop of the rich indulgent sauce!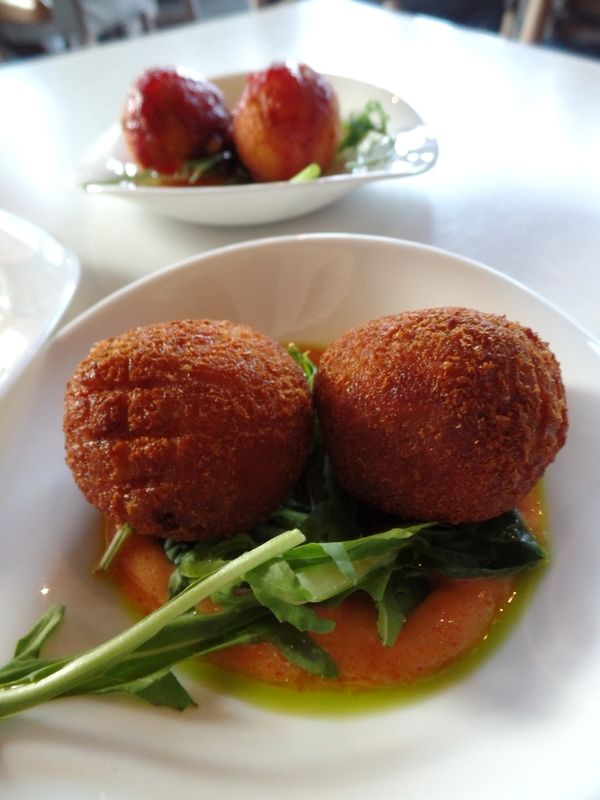 In the front is the Arancini balls with sundried tomato & basil risotto and paprika mayo for R 45. This dish was lovely but a little on the heavy side for a hot summer evening. The batter was perfectly light and crispy and the risotto was cooked just right. Because of the starchiness of all the risotto I would have preferred more paprika mayo for dipping.
And in the back is the 3 Cheese Fritter with poached pear, baby leaves & berry coulis for R40. The cheese fritters were really delicious and I couldn't decide if they were a better main course or a dessert! I could definitely have ordered another round for dessert! The sweetness from the pears and berries was wonderful with the mild melted cheese.
Our last of the main courses was the Beef Sliders for R 54. One was guacamole and bacon and the other was a cheese burger with crispy onions. The burgers were nice but nothing magical. The cheese and crispy onion burger was my favourite of the two. When dining on small plates the bill can become very pricy, very quickly so I suppose the inclusion of the burgers is a way to fill up quicker.
We loved our main courses but the only slight criticism we had was that the menu wasn't particularly exciting. The food was wonderful, fresh and delicious but nothing was particularly out the box which is something I have come to expect from Bistro 1682's menus.
You can order these little chocolate truffles individually which is fantastic if you're looking for just a little sweet finish! They were delicious but we wanted more than just a little sweet finish! We also tried the Chocolate profiteroles for R46. The profiteroles arrive on a crumbly gooey almost brownie base which was so delicious! The choux pastry was seriously light and the first bite combined with chocolate sauce was so moreish! We finished dinner with giant smiles and chocolate on our faces.
Steenberg is a really gorgeous venue and we took the opportunity after dinner to have a little stroll around. It really is quite magical all lit up at night.
DETAILS:
Location: Steenberg Estate, Steenberg Road, Tokai
Opening times: 7 days a week. 9-11am for breakfast, 12pm til 4pm for lunch and 4:30-8:30pm for dinner
Contact details : 021 713 2211