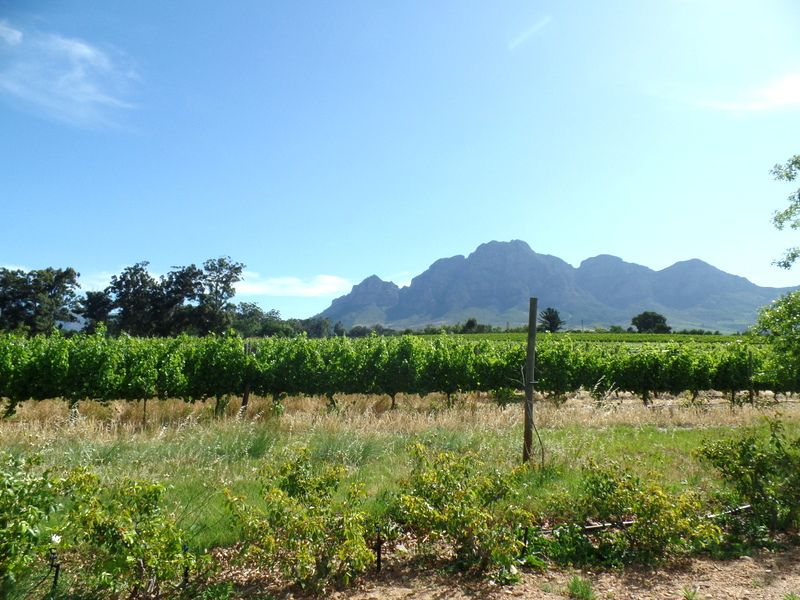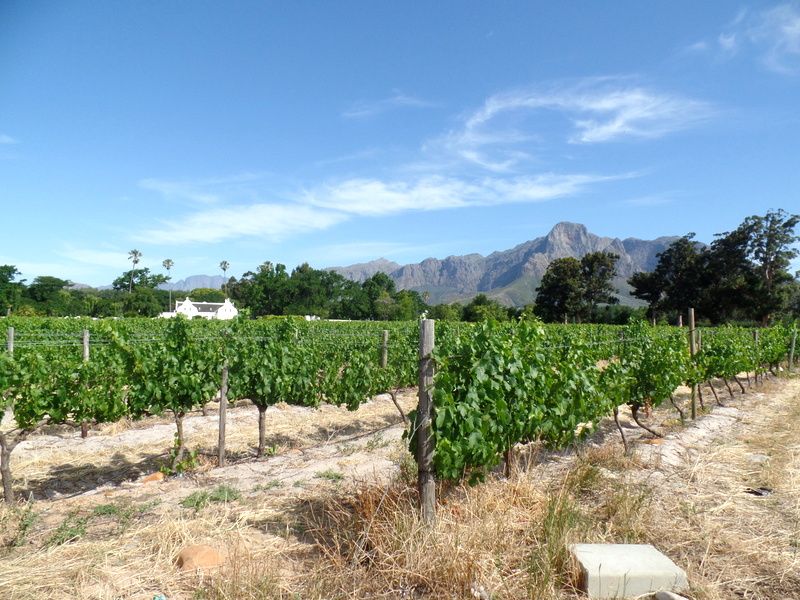 Summer is for adventures! And my favourite adventures involve a passport. When I can't be jet setting I like to explore a little more locally. On a gorgeous sunny day we set off to Franschhoek to visit Allee Bleue!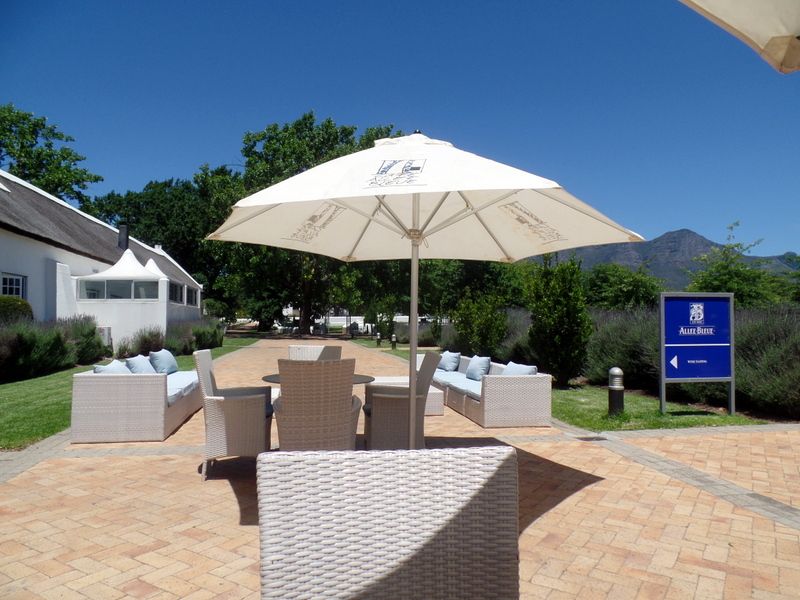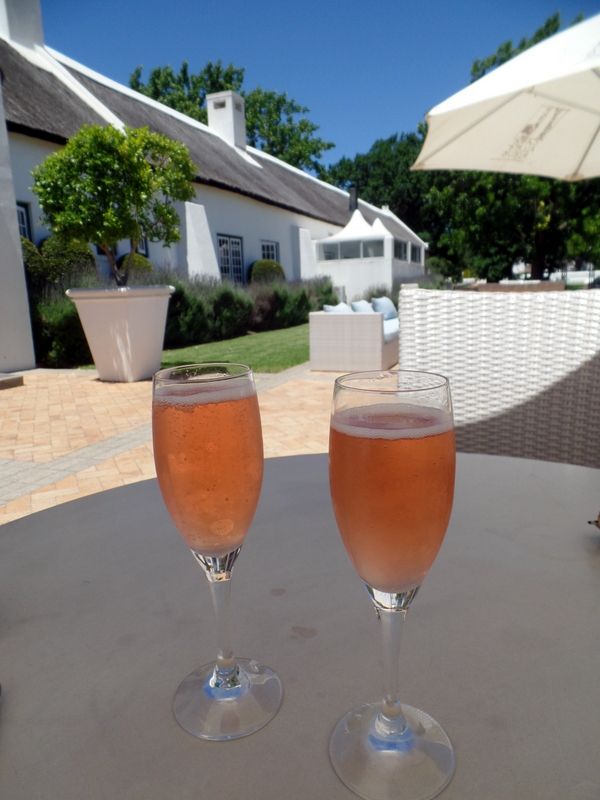 The best adventures start with sparkling wine and luckily Allee Bleue was able to help us kick off our Saturday in style! We started with their Brut Rose which was a lovely light MCC and perfect for quenching our thirst on the hot day. I will definitely be drinking a few bottles of these during our hot summer festivities!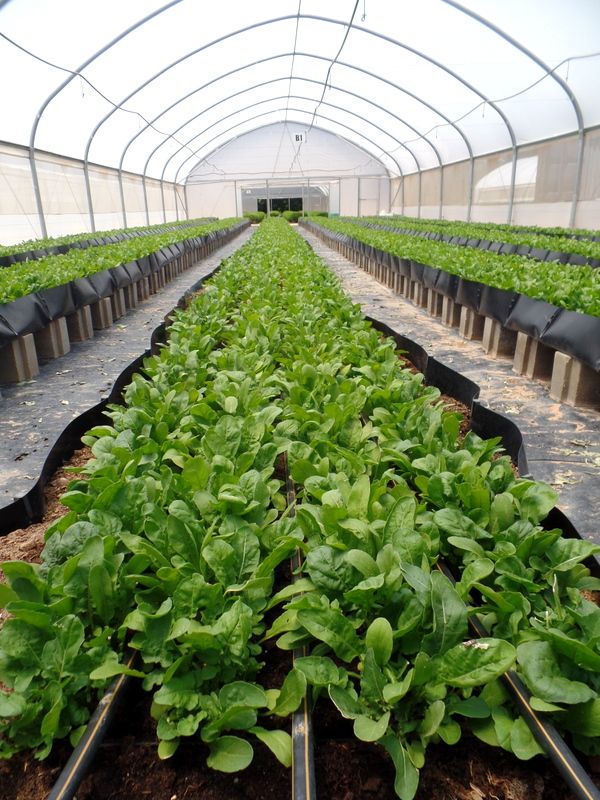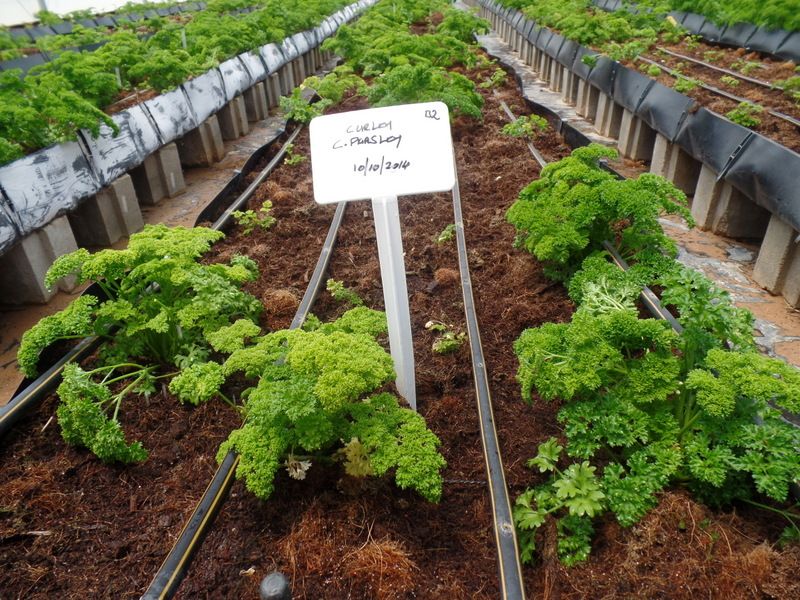 http://i1296.photobucket.com/albums/ag11/toomuchloveliness/basil_zps6f5af0d3.jpg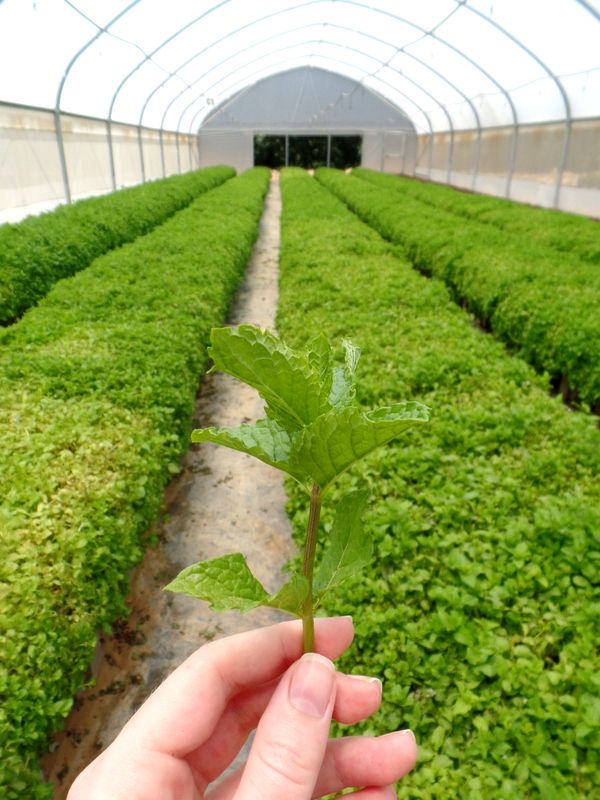 Allee Bleue offers a weekly tour of their herb on a Friday afternoon which is followed by a lunch featuring some of the visited herbs. I've always wanted to do the herb tour but Friday afternoons can be tricky! Luckily Allee Bleue was able to squeeze us in for a quick tour of the herbs before lunch! It was such an interesting experience and really lovely to get a sneak peak behind the scenes of the farm that supplies Food Lovers Market, Spar Pick 'n Pay and Checkers.
http://i1296.photobucket.com/albums/ag11/toomuchloveliness/SAM_3030_zpsf020d562.jpg
After some hot walking around the herb garden we were ready for lunch and wine! We had lunch at the beautiful Allee Bleue pizza and pasta restaurant. We chose to sit outside because of the stunning view over the vineyards.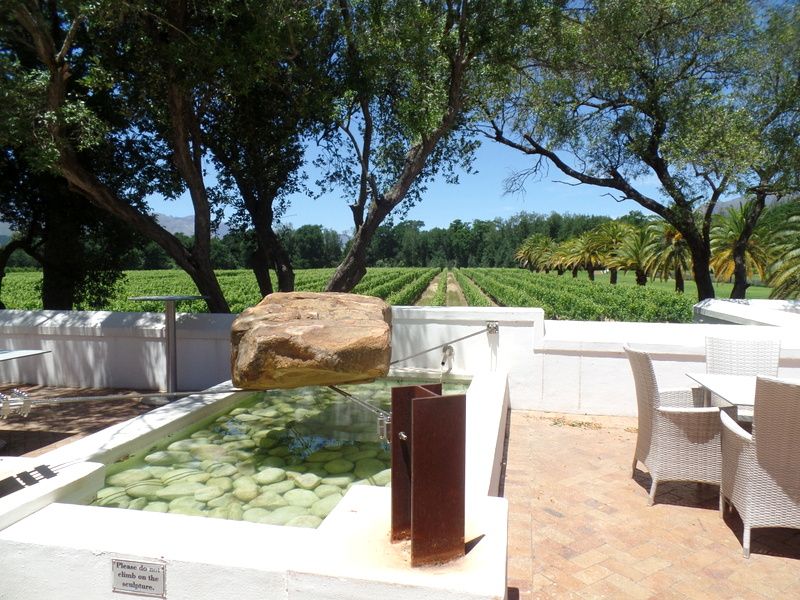 I was delighted to see the herbs from the garden brought into the restaurant to feature on the herb trolley! Our waiter made up the most beautiful salad featuring leaves, herbs, a little salt, Parmesan and an oily creamy salad dressing. It was such a simple salad but the amazing fresh ingredients were so well highlighted and so wonderfully delicious!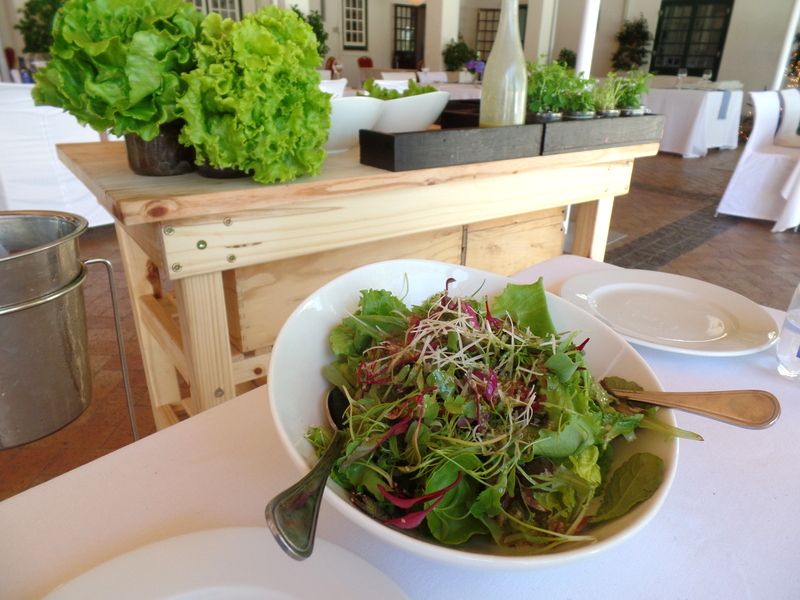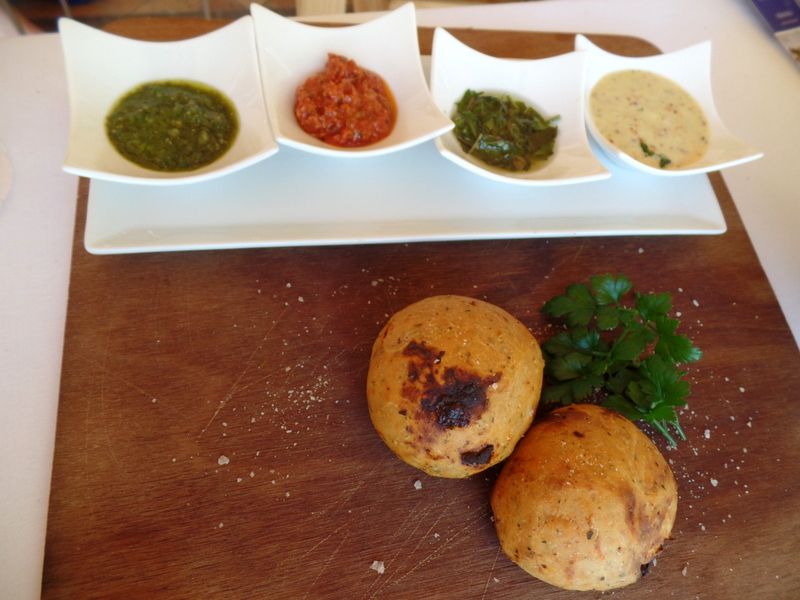 Next we had beautiful little breads with amazing dips! The bread rolls were little savoury buns packed with herbs and flavours. We loved the bread dipped in the tomato pesto and sprinkled with salt!

The pizzas were amazing and we tried all of them! We enjoyed our pizza with chilled glasses of Allee Bleue's Brut which is a seriously decadent pairing! We were really impressed with the pizzas: with their skinny bases, cripsy crusts and fun and plentiful toppings!
Our favourite was probably the bacon, chorizo, parma ham and brie topped with caramelised onions, dijon mustard and red wine reduction for R82. I'm a serious sucker for the caramelised onions and parma ham combo so I had high hopes for this little pizza! It was seriously delicious and all the flavours work so well together! Be careful of the red wine reduction sticky fingers!! They are very generous with their ingredients which is fantastic – but does lead to messy eating! So worth it ;)!
The dark horse of the four pizzas was the smoked feta, semi dried tomatoes and olives served with Parmesan cheese and thyme for R79. The vegetarians often get the raw deal but this was truly outstanding! The smoked feta melted in your mouth into pure cream and salt and paired with the slightly tart tomatoes and olives it was incredible!
For a South African style pizza make sure to try the biltong spiced beef, confit pepper and mozzarella with chilli and herb pesto pizza for R79!
If you're looking for something a little more unusual with some local Cape Malay flavours try the braised lamb bobotie pizza topped with toasted coconut and beef jus for R85. I'm not a big fan of lamb so this pizza was not for me – but I loved the inclusion of the sweet toasted coconut!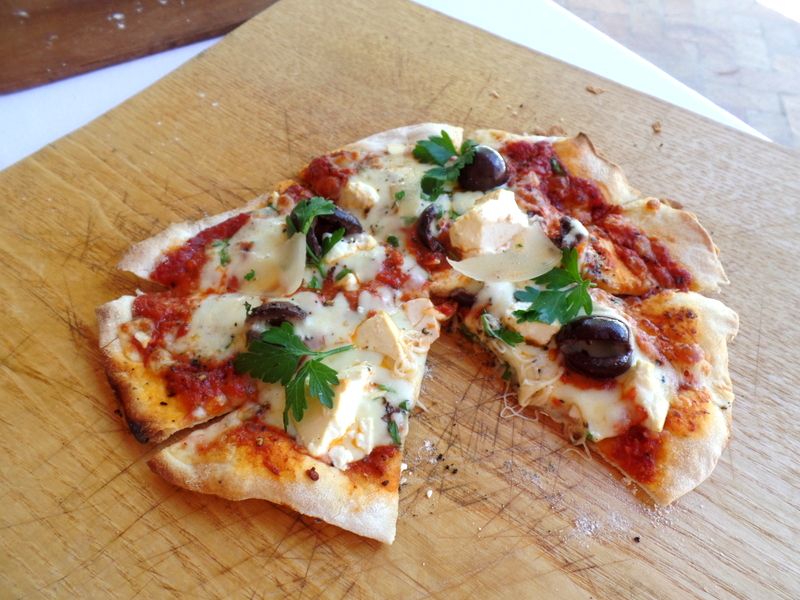 And then as if we weren't full enough the pastas arrived! With the pastas we enjoyed a lovely glass of the Isabeau 2012 which is a lovely lightly wooded blend of Chardonnay, Semillon and Viognier.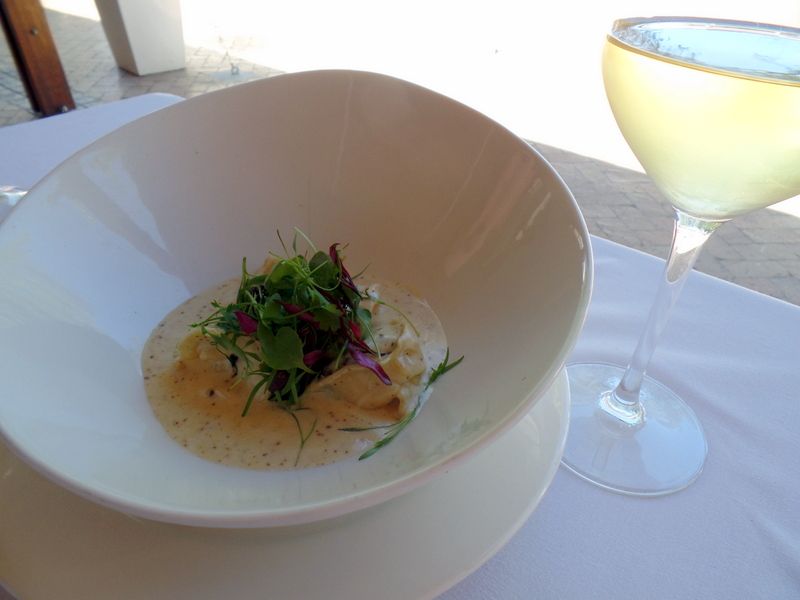 Our favourite of the pastas was the spinach and ricotta tortellini with a light Parmesan cream and green oil for R79. The sauce with the pasta was incredibly moreish and the little tortellinis were filled raw spinach and lots of feta – perfect for scooping up maximum sauce!
The one ingredient I cannot eat is anchovies – So I didn't try much of the classic Puttanesca which features anchovies for R95. The pasta itself however was cooked to perfection.
The homemade gnocchi with mushrooms, mushroom puree, foam and truffle oil for R87 was sadly a little dry and a little boring for my taste. I think maybe it could have done with an inclusion of more sauce and more mushrooms.

We had an amazing time at Allee Bleue's Pizza and Pasta restaurant and left with very full stomachs and giant smiles on our faces. I would highly recommend a visit! When you're next in Franschhoek make sure to stop in for a lovely pizza lunch, friendly and warm service and many glasses of delicious wine!
DETAILS:
Location: Allee Bleue Estate, Intersection R 45 and R310, Groot Drakenstein 7680, South Africa
Opening times: Open for lunch Monday – Sunday from 11h00 til 15h00
Contact details: info@alleebleue.com or call 021 874 1021
Disclosure: We enjoyed our lunch as guests of Allee Bleue however all images and opinions are my own.