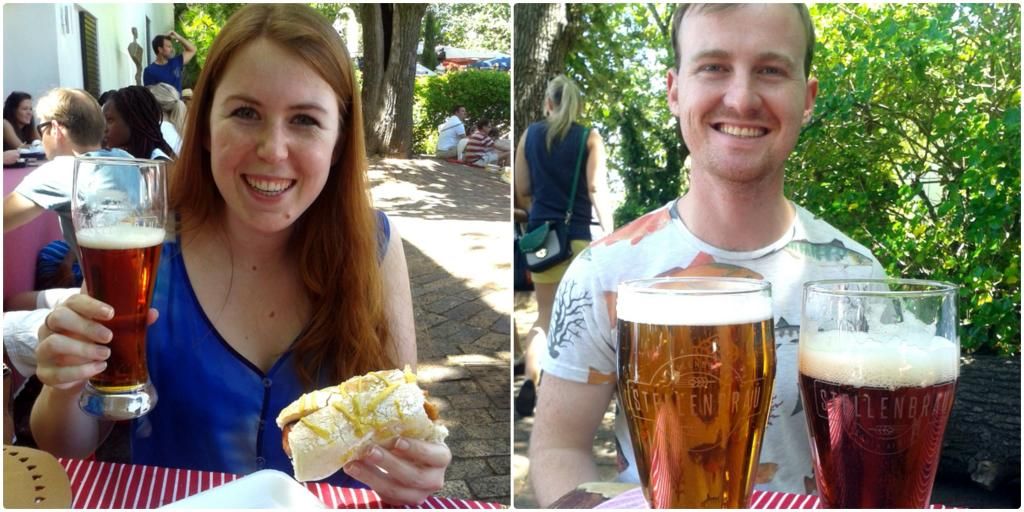 What you're looking at is a very happy blogger and her very happy editor. The reason for such happiness was our discovery of the Slow Food Market. We should have discovered this market years ago considering it ticks all our main market criteria. The market has an outdoors area for soaking in the sun, there's plenty of seating, a large variety of different foods and there's beer on tap. Like I said – it ticks all the boxes!
The most direct answer for our extreme happiness is the feast pictured above! We joined Slow Market for their Oktoberfest celebrations so we knew we had to get our hands on some Germany food! We also considered this practice for our upcoming holiday in Germany!
We started with two ice cold beers from Stellenbrau, this was followed by pretzel snacks (I'm a lightweight and drinking in the sun can be dangerous!). Lunch was seriously delicious too! We had these two fresh rolls stuffed with sausages filled with cheese and drizzled with mustard. There's something so perfect about a cheese sausage! As you bite into these perfect juicy sausages the cheese comes pouring out to add even more yum to your bite!
Dessert was overboard amazing from Armin and Elke! We had this giant waffle covered with cream and berries and chocolate between the two of this! I'm funny about waffles – I don't like them to be cripsy. This waffle was the business – the waffle was moist and soft and is the reason behind my smile! I'm surprised I was photographed without chocolate smeared cheeks!
We also tried the Wild Clover Brewery's range of beers! The Eagle Weiss was fruity with a hint of honey; I would struggle to get through a whole draft though. The Blind Mole Pils on the other hand is something I could drink all day! This beer is wonderfully clean – it reminds me of the Striped Horse Pils. Their Double Owl Brown Ale is probably my favourite brown ale yet! I also enjoyed their Black Dog Smokey Irish Porter, which leans more toward the chocolate side of the porter spectrum.

If you're not all about the eating (we're mostly about the eating…) there are other wonderful things to check out at the market! We had a quick run through their clothing market and spotted these lovely necklaces and gorgeous bright scarves. I also couldn't resist taking photos of the flowers – I'm proudly South African through and through!
Here's some of the wonderful foodie things we spotted! In the bottom column is my cheese sausages cooking!! These amazing sausages can be found at the appropriately names: German Stand. The strawberries are sold by a lovely lady with a giant green and red hat. When I told her I loved her hat – she told me she looked like a strawberry!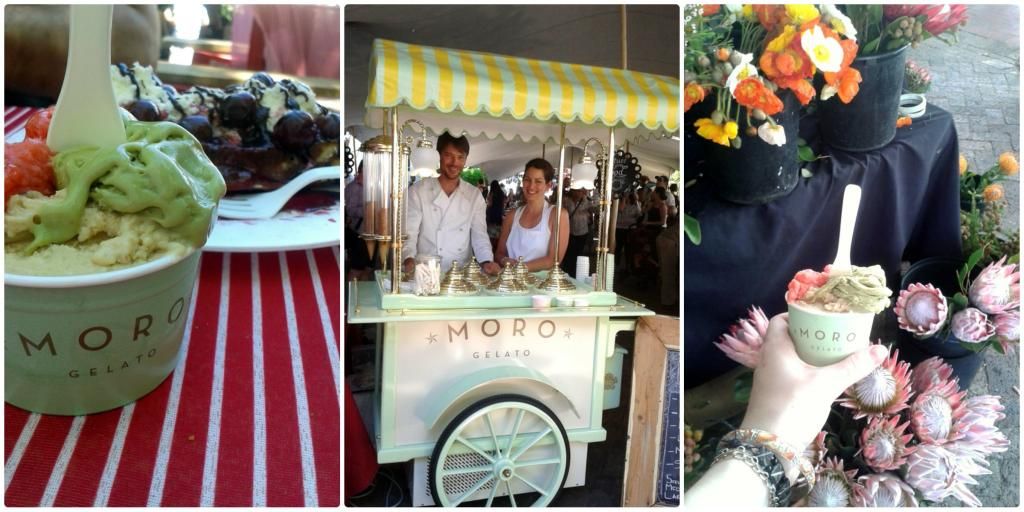 And if we weren't decadent enough we decided to indulge in a second dessert!! I have a weakness for pistachio gelato from my time in Italy. Finding good pistachio gelato in Cape Town is near impossible. I'm happy to report that the pistachio gelato from Moro Gelato is simple superb! I was sad to find the strawberry gelato was actually a strawberry sorbet. A strawberry sorbet is very inferior to a scoop of strawberry ice cream!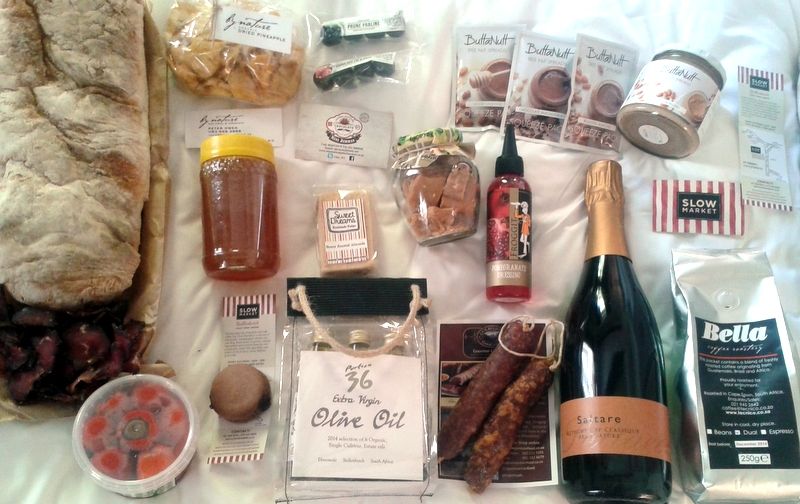 There was simply too much to try at the Slow Market so we had to take some of it home with us! We had the most amazing loaf of bread from Fine Pastries- this loaf is so giant it doesn't even fit in the picture! The biltong from Stokkiesdraai lasted about fifteen minutes with the two of us around – and only about half of it made the picture!! I'm looking forward to toasting to a chilled glass of Saltare and will definitely be trying the pepperdews stuffed with olives and garlic as a kind of antipasti with the beautiful sausages from Cape Mountain Charcuterie.
And sweet treats galore! There was a Yummi Chef brownie – but guys, it was a Yummi Chef brownie so I ate it before I had time to photograph it! I did manage to snap a photo of the beautiful Yummi Chef macaron poolside before I devoured it! More from the sweet side include Honey, chocolate coated figs and prunes from Winston and Julia Chocolate, Honey roasted almond fudge from Sweet Dreams, and fudge from Lucy's. One of my favourites from the shopping basket was By Nature's dried pineapple – this is a particular weakness of mine and it was seriously delicious!
New discoveries include the nut butters from ButtaNut, Bella Coffee Roastery, Portion 36 olive oils and this delicious pomegranate dressing from Froggit! One of the best things about food markets are the amazing foodie discoveries you make on the way!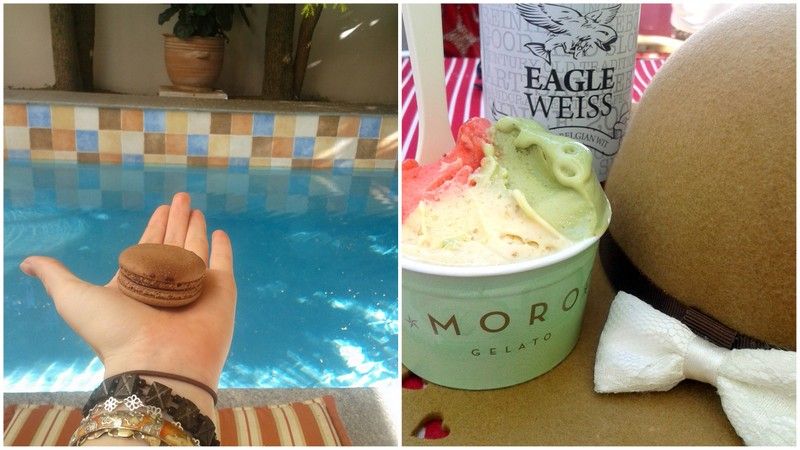 Here's to a fabulous Saturday and to many more visits to Slow Market!
Have you been before? I would love to know your favourite spot at the market!
DETAILS:
Location: Oude Libertas Estate, Oude Libertas Road, Stellenbosch, 7604
Opening times: Every Saturday from 09h00-14h00 rain storm or sunshine
Contact details: 0218868514