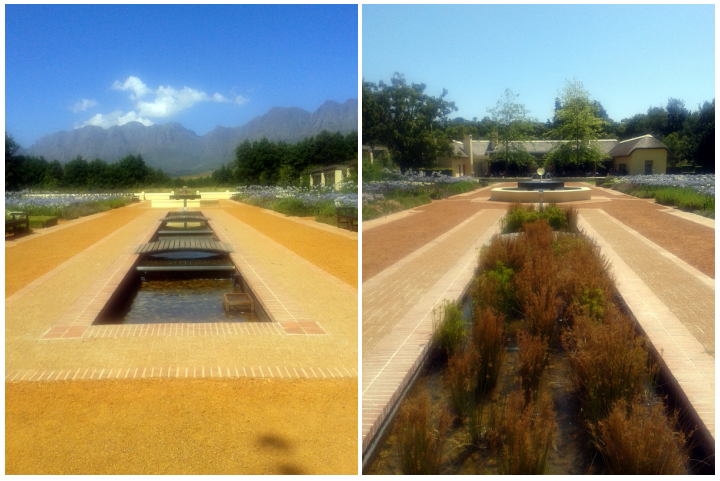 After a particularly fantastic wine tasting of Vergelegen wine we headed through their herb garden and straight for their restaurant! Vergelegen is home to both the gorgeous and upmarket Camphors and the more casual bistro style Stables at Vergelegen. This visit we had the pleasure at dining at the beautiful Stables.
The restaurant it truly very beautiful with lots of lovely fresh and modern features! I love the cows and I desperate wanted to pop my hat on their horns as a hat hook – but I know the price of them and wouldn't dream of doing it! Either before or after lunch make sure to have a little walk around both Stables and the larger estate. Pictured right at the top is the garden right outside the restaurant. If you adventure a little further you'll find giant trees, hidden gardens and if you're lucky you'll spot the resident owls!
Like any good bistro menu their was gorgeous comfort food on offer. And my list of comfort foods definitely includes these incredible bitterballen. The bittenballen were the perfect combination of soft and tender inside with crunchy battered outside – delicious! And the traditional carpaccio was another favourite order around our table with lots of olive oil and Parmesan.
I ordered an amazing pizza with a sweet smoked chicken, bacon, avo, feta and onions. My goodness was this pizza amazing – I ate so much of it! The smokey almost caramelised chicken with the crunchy bacon pits and rich avocado made for an incredible combination. When I visit again I will definitely be repeating my order!
The boys wen with the burgers served with onion rings and fries. These were delicious beef patties topped with bacon, cheddar and mushroom sauce! Make sure you arrive hungry! The mushroom risotto with parmesan was another favourite order.
And with great service too it seems Stables can't go wrong! There's nothing fancy or pretentious here. This is just damn fine comfort food made well!
DETAILS:
Location: Vergelegen Estate, Lourensford Road, Somerset West
Opening times: Daily from 9:30am til 5pm.
Contact details: 021 847 215