I love fine dining and fabulous wines. I could spend all day eating and drinking good wine. Its a good thing I don't because otherwise I wouldn't be able to fit out the door of my house! Luckily every now and then we get to squeeze in a little bit of decadence in the form of a lot of eating and drinking. We did ourselves proud at the recent Big Bottles Festival where we drank many beautiful wines and samples almost all the food on offer!
Big Bottles was hosted at The Taj in town which is a fantastic central location. We actually caught the myciti bus so neither of us needed to worry about over indulging on the wine and having to drive home. The venue was divided up into four sections which were supposed to feature certain wine farms and certain chefs. It appeared many of the wine farms decided to set up wherever they liked which was a little confusing when trying to track them down and navigate the event.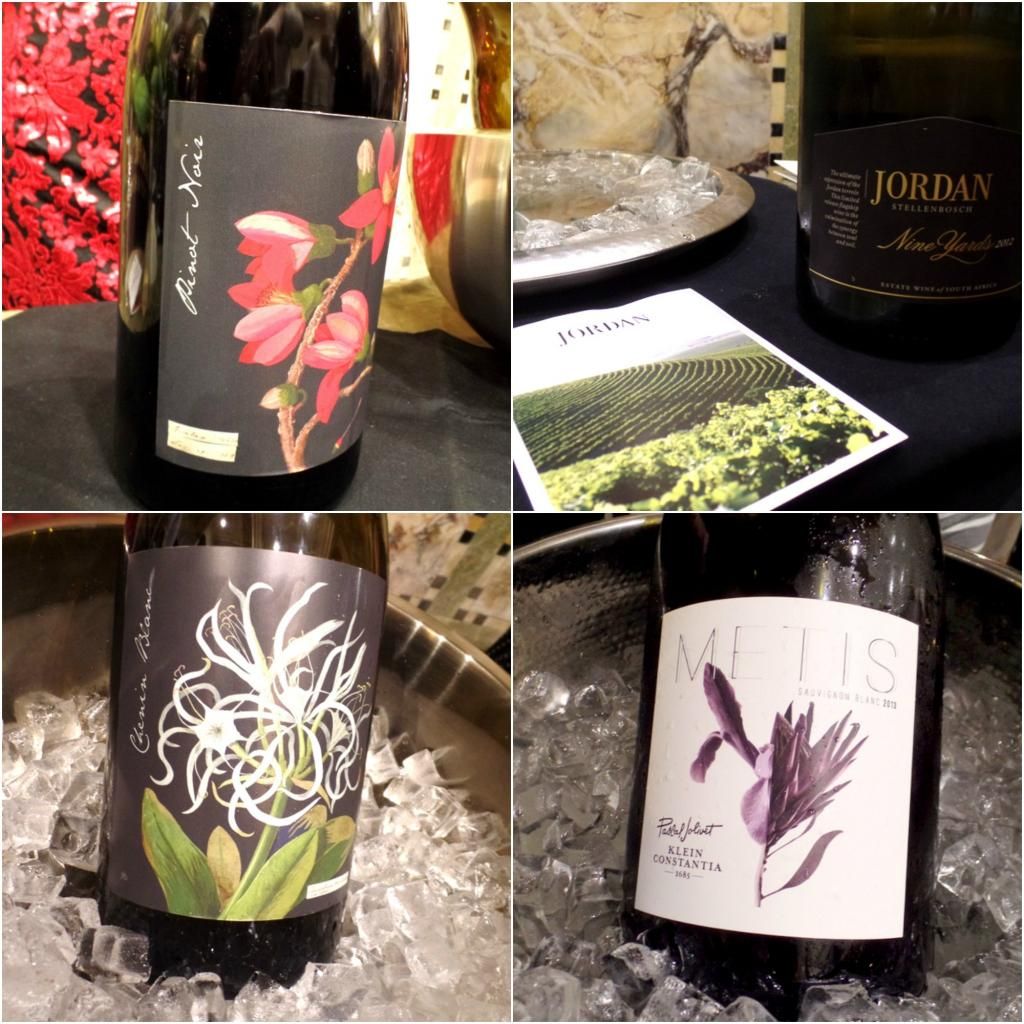 We drank some gorgeous wines which included some old favourites like the Botanica Chenin Blanc and we got to try some new wines such as Klein Constantia's Metis Sauvignon Blanc. I loved all the beautiful big bottles especially these bottles with the flowers featured. The Klein Constantia Metis' flower on the label is a hybrid of the South African Protea and French Iris which refers to the collaboration between France and South Africa to create this wine – I think that's lovely.
Each of the chefs featured presented a starter and a main course.
Christian Harbeck of Raith Gourmet had a fantastic smoked course liver pate with caramelised onions on crostinis. The combination of the sweet onions with the umami pate was fabulous.
Chef Gregory Czarnecki of Waterkloof had gorgeous bitterballen with a beetroot puree. We must have eaten about five of these each – the meat was incredibly tender with a perfect crispy crumb coating.
Brad Bell of Bistro 1682 made the most amazing white onion soup with crispy salted shallots and thyme oil. The flavours of the soup were wonderfully balanced and the crunchy shallots gave a great texture to the dish. This was our second favourite of the starters.

Our favourite were the amazing paper boats floating around with perfectly seared tuna, fresh avocado, an Asian style dressing and micro herbs. The tuna was so tender and perfect with the rich creamy avo. I don't know which chef contributed this dish to the event but it was a serious winner.
Shyam Longani of The Taj created a really delicious curry dish. The base of the dish was a crispy little rosti topped with a vegetable curry, homemade chutney, a sweet yoghurt sauce and coriander. We skipped the coriander and were very happy with this fabulous dish!
Other favourite wines of the day included Steenberg's Magna Carta (That's the giant bottle being poured in the right hand corner), the Drappier Champagne and the Jordan Nine Yard Chardonnay.
The favourite white wine of the event was the Beaumont Hope Marguerite which was a seriously brilliant barrel fermented Chenin blanc. And the red wine favourite of the event actually surprised me – the Newton Johnson 2013 Pinot Noir! I'm not a huge Pinot Noir drinker but Newton Johnson's Pinot really knocked my socks off!
One of the brilliant things about a wine festival of such a large scale and such a high caliber is that you always find new favourites, new wonderful farms to visit and explore and new wine varietals!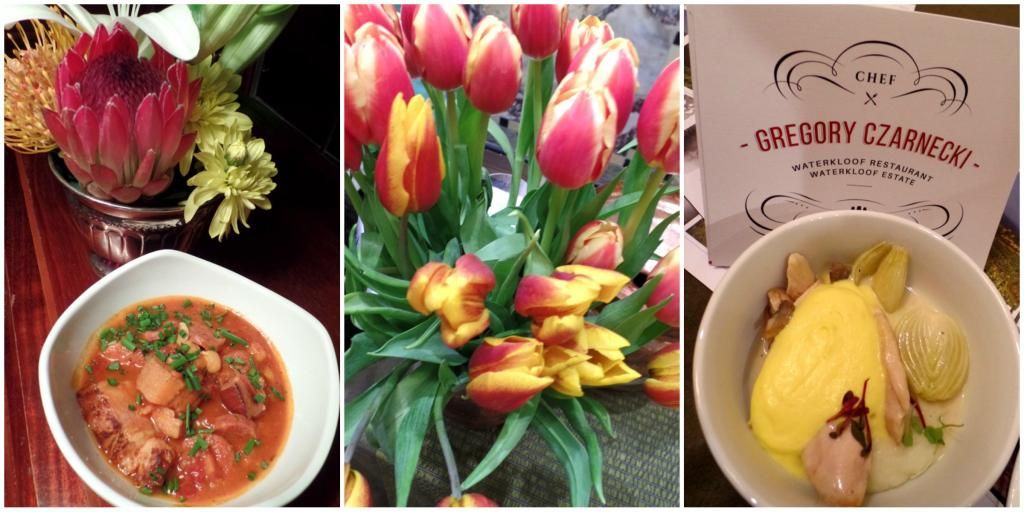 The main courses were not as impressive as the starters. It turned out to be a very warm winters day and with many people moving about in an inside venue it got very warm. Sadly all the chefs opted for stewed and slow cooked kind of dishes which were very warm and heavy for such an afternoon. Our favourites were Chef Gregory Czarnecki of Waterkloof and Brad Bell of Bistro 1682. The first was a gorgeous dish of very tender chicken in a cream sauce with little onions and mash potato topped with a sweet corn foam. The sweet corn foam really made the dish – amazing! And Brad Bell's dish was an Olla Podrida of smoked pork belly, chorizo, chickpeas and tomatoes. The smokiness of the pork belly and the richness of chorizo was a seriously delicious combination.
It was a clever move to have Truth Coffee on hand for a power boost and for a last stop before heading home. The one thing that broke my heart was the lack of any form of dessert. Last year they created a giant pastry wrapped wheel of camembert with berry coullis which was the perfect end to a great day – I was looking everywhere for some sign of dessert! Hopefully next year they will up their game and have dessert to wrap up!
We had a wonderful time at Big Bottles and we are already excited for next years event which will be even better and bigger I don't doubt.
We attended as guests of the Big Bottle Festival but all opinions and images are my own.