I was thinking of putting these gorgeous images in tiny little collages and not showing too many different angles for the fear of people spontaneously combusting from sheer jealousy. I thought about it – and then made an executive decision to show off to my heart's content!
I have a rolling foodie bucket list and this year has seen me tick off quite a few wonderful items. At the top of my foodie bucket list for about three years now has been Waterkloof. When I was invited to visit I jumped at the chance. Now you would think that 3 years of dreaming about lunch at Waterkloof would be a tough expectation to beat, but I will have you know that Chef Gregory Czarnecki, Waterkloof wine maker Nadia Barnard and their incredible team blew us out of the water!
Our Waterkloof experience started outside soaking in the view with a gorgeous Mouvedre Rose. Sunshine and a great Rose is one of those perfect pairings – and Waterford's 2014 Cape Coral certainly falls under the title of great Rose. The Cape Coral was light, fresh and easy drinking with lovely red plums and strawberry tones. It was surprising how wonderfully soft the wine was considering its young age. The outside area of Waterkloof with comfy couches and gorgeous views is perfect for summer lazing and I look forward to a repeat visit to those couches this summer!
Before we got too carried away with the wine they brought out gorgeous Ploughman's platters, which involved beautiful cheeses, sweet chilli preserve, pork terrine, olives and gherkins. The star of the platter was the brand new, recently launched Healey's Single Release Cheddar which is a 12 month matured cheddar.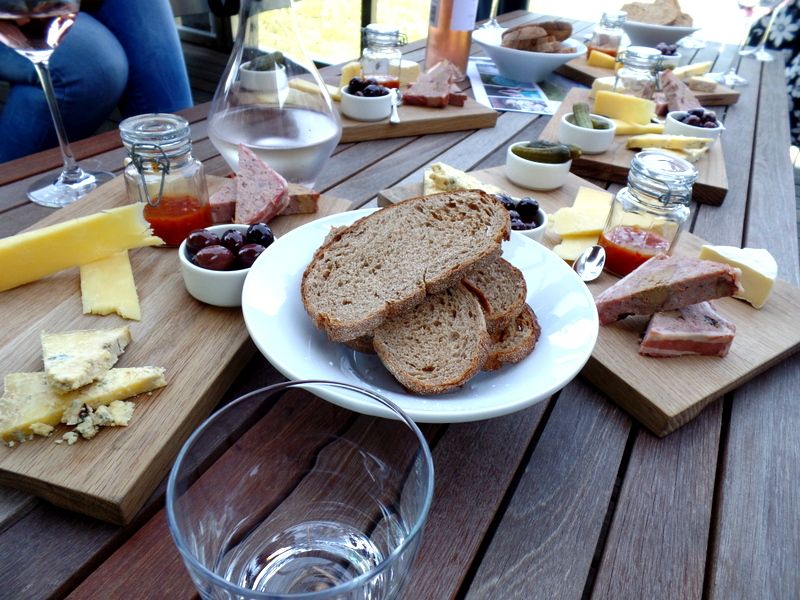 The process behind this cheese is just as complicated as the process behind the great wines of Waterkloof. This cheese only has two ingredients which puts a serious amount of pressure on the milk! And the milk has to be just right – meaning they only use milk in three weeks of the year when the conditions are perfect! This is a serious cheese and it's wonderful to see the gorgeous rich and creaminess of the cheese as a result of all the behind the scenes hard work.
Other highlights on the platter included a gorgeous chunky pork terrine that was amazing with the sweet chilli preserve and fresh bread. I also managed to work my way through an entire wedge of Camembert by myself – not proud but it was delicious!
I've since found out that Waterkloof has a special where you can get a Ploughman's platter for two with a glass of wine each for R130. Yet another excuse to return to Waterkloof – a perfect tasting stop whilst wine farm hopping in Somerset West.
Our cheese platter was paired with the 2013 Seriously Cool Cinsault. Cinsault is not a common red varietal in Cape Town but it is actually a perfect fit for our climate. With so much sunshine and warm weather even in our winter months I find myself drinking much more white wine than red – however the Seriously Cool Cinsault is a perfect in between choice. Whilst Cinsault is a red varietal it is an incredibly light, soft and easy drinking red. And with the Seriously Cool Cinsault only spending nine months on third or fourth fill barrels you will find you've finished the bottle without realising. Cheers to summer and more red wine!
Next up was a tour of the Waterkloof cellar. Waterkloof is backwards in that the way most farms operate is backwards against nature but forward due to convention. Are you following? I Think I'm doing wine somersaults here. The crux of it is is that Waterkloof has taken their wine process back to the basics and they let nature guide the way. This comes through in many ways, such as not using any extra yeast, having horses plough the vineyards and using ducks and geese to sort out bugs!
Whilst marveling at Waterkloof's guts of allowing the naturally occurring yeast to create the wine we bumped into another wine to taste! I don't like Sauvignon Blanc – there is a list of four I drink and that is it. So when were given the Sauvignon Blanc my face kind of fell a little flat. But I'm excited to say that the Waterkloof 2014 Sauvignon Blanc is joining my very short list of Sauvignon Blancs I actually like! It was wonderfully fruity with peaches, apricots and dried fruit followed with a gentle minerality.
And then it was lunch! We sat in the glass box hanging off the restaurant and it really was just breathtaking. As you can see from the photos – the rest of the restaurant was obviously a bit of a dump 😉
And then the lunch began! I love bread so I did a wonderful job of working my way though the bread basket. Paired with this easy-drinking chardonnay I was happy as can be!
We had a beautiful Amuse Bouche of seared duck with an Asian broth. I love how beautiful the presentation of the food is at Waterkloof! The duck was wonderfully tender and the broth was a perfect balance of salty and sweet for the rich duck.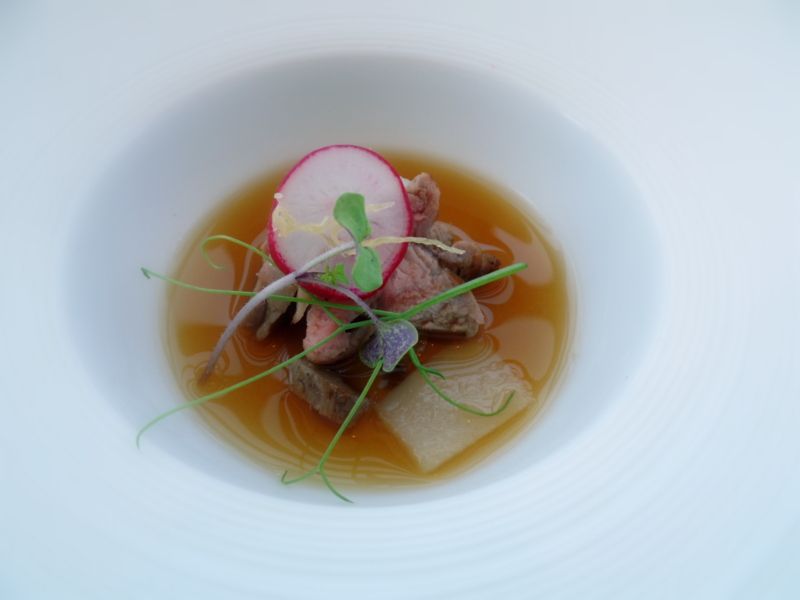 And then arrived the most beautiful starter! The starter featured marron which is a fresh water crayfish kind of thing. Don't feel dumb – apparently only three restaurants in Cape Town can get hold of marron making it a surprise to even the most expert fine diners. It was served with fennel pannacotta, asparagus jelly, peas from Chef Gregory Czarnecki's personal garden and pink lady apple. The marron is wonderfully rich and perfect with the light pannacotta. The dish was kind of like a crayfish creme brulee! Richness from the marron and sweet creaminess from the fennel pannacotta. The addition of the bright green peas, asparagus jelly and pink lady apple reminds me of the beauty of spring. This dish was incredible – and I could easily have eaten about five more!!
The main course was a little bit of a surprise and not at all typical to the normal mains served at Waterkloof. I say that firstly because the dish presentation was not beautiful at all. The main course was a complicated braised lamb shoulder dish stuffed with bone marrow and served with bulgar wheat with sultanas. The preparation and cooking process behind the lamb appears to be very complicated and technical but sadly doesn't seem to have as much of an impact as the effort warrants. The lamb is wonderfully tender with a sticky jammy texture and taste but paired with quite sweet bulgar wheat it doesn't really elevate the dish.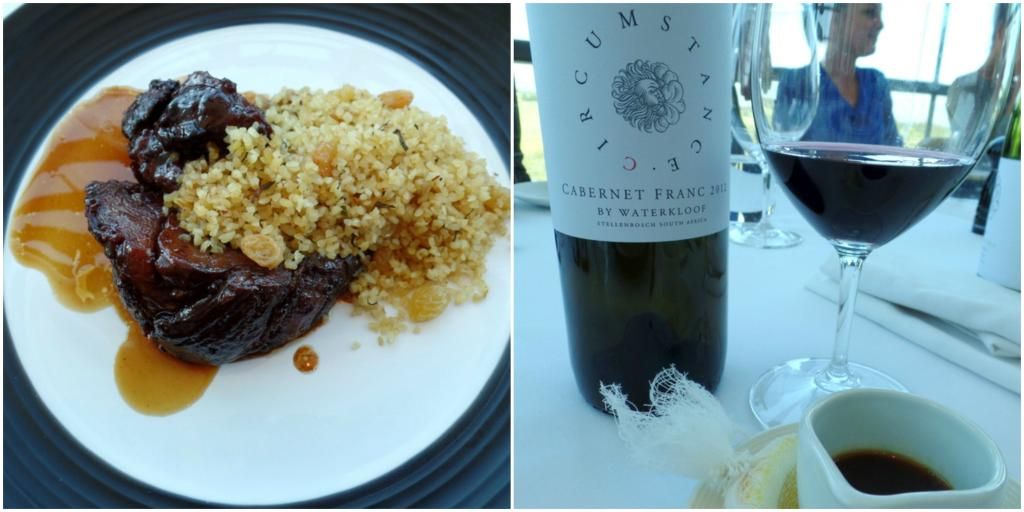 Next up was a pre-dessert! I truly love when chefs drag out dessert!! Pre-dessert was deep fried brioche balls with compressed apple, apple puree, almond meringue and carrot ice cream. This was an incredible dish – and would make an amazing dessert in its own right. The brioche balls were lighter than air and I'm surprised they did not float off my plate. The real show stopper of the dish was the carrot ice cream which tasted like dense rich gooey carrot cake – amazing!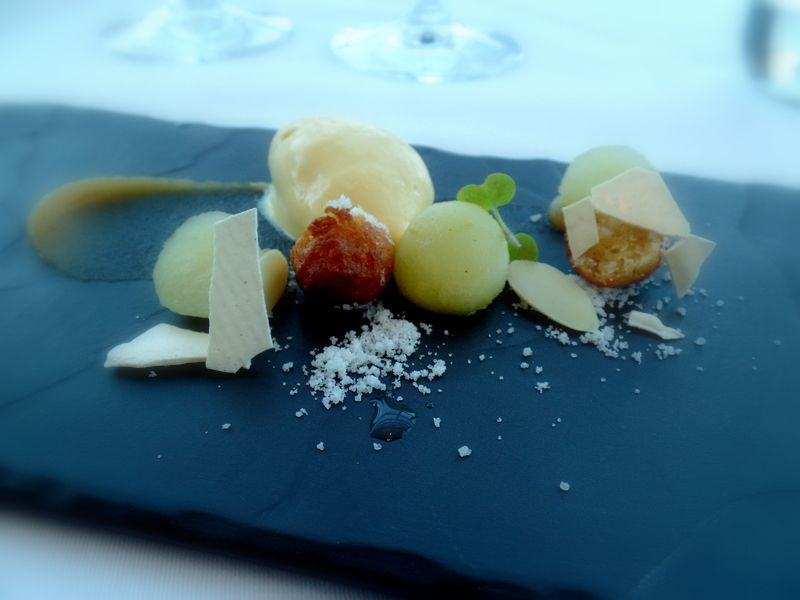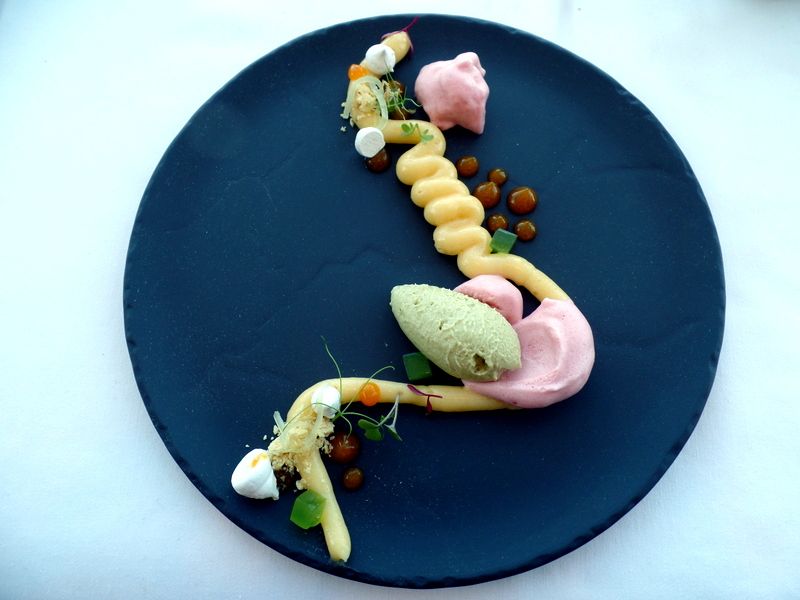 And then the show stopper! This is the most beautiful dessert – which also happened to have the most incredible flavour profiles. This is a pineapple curd with guava foam, cucumber jelly and avocado ice cream. The pineapple curd was tart and sweet and combined with only the sweet almost candy floss-like foam of the guava foam would have been too much. The addition of the salty cucumber jelly squares and rich, almost umami avocado ice cream really balances the sweetness and adds weight to the dish. This was an incredible dessert – and I hope to return again in Spring to taste it again!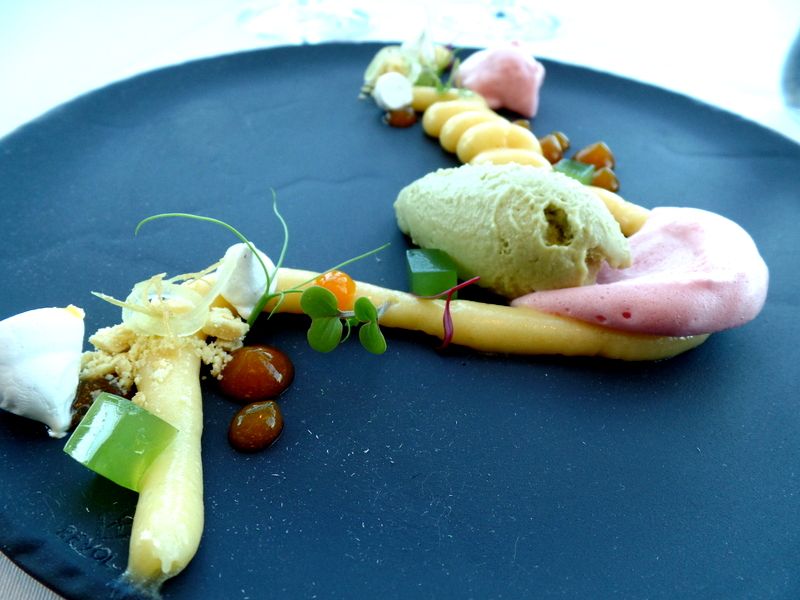 I love that you order three courses – but you get six! As if we weren't spoilt enough we finished off with a tiny little sweetie buffet for one. The little disk of chocolate was delicious, topped with a dried cranberry and served just slightly cold, which is perfect for chocolate.
Here's to lunch, wine, cheese platters and a cellar tour at Waterkloof. Here's to ticking Waterkloof off my foodie bucket list and planning to return again as soon as possible!
DETAILS:
Location: Sir Lowry's Pass Road, Somerset West
Opening times: Lunch on Wednesday – Sunday Kitchen opens at 12h00 and last orders 14h00. Dinners on Wednesday – Saturday Kitchen opens at 19h00 and last orders 21h00.
The restaurant will reopen on Mondays and Tuesdays as from 06 October 2014.
Contact details: 021 858 1292

My visit was at the invitation of Waterkloof but all images and opinions are my own. I have the full intention of returning very soon. If I were capable of robbing a bank – I would be eating lunch here every day!!