What more do you need in life than good bread and good wine. I'm a bit of a brat so I might suggest some good cheese too. But bread and wine is a pretty damn good starting point for a great meal.
We visited Bread & Wine the afternoon of the New School Grand Cru Chardonnay wine event. It was a mad rush between tasting at the event, having a gorgeous three course lunch and back again for more wine at the Chardonnay event – but goodness was it fun!
Obviously the meal had to started with gorgeous fresh bread and some lovely Miss Molly Bubbly and Hoity Toity. Bread and Wine is set up outside and has a relaxed and casual vibe – this does mean the staff are a little hard to track down and you end up pouring your own wine all of lunch. Don't expect first class service and you won't be disappointed.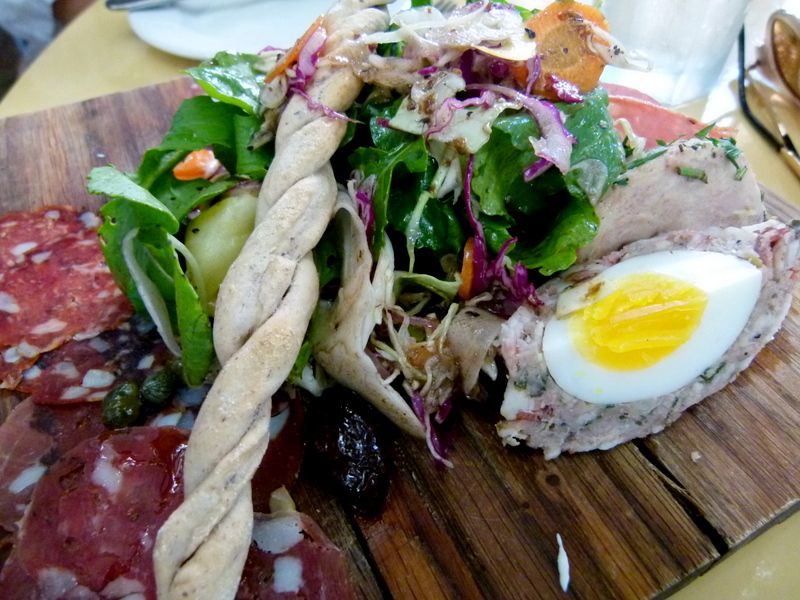 Neil Jewell is famous for this Charcuterie platters so one of our starters was the Chacuterie board with buffalo yoghurt labne, Italian coleslaw, olives and breadsticks for R65. The board was huge and could be shared by two people as a starter. The scotch egg was lovely but needed salt (This is coming from someone who never adds salt to food). The charcuterie meats were lovely but some of the meats were quite fatty which hides the other flavours. The Italian coleslaw was packed with flavour and wonderfully fresh.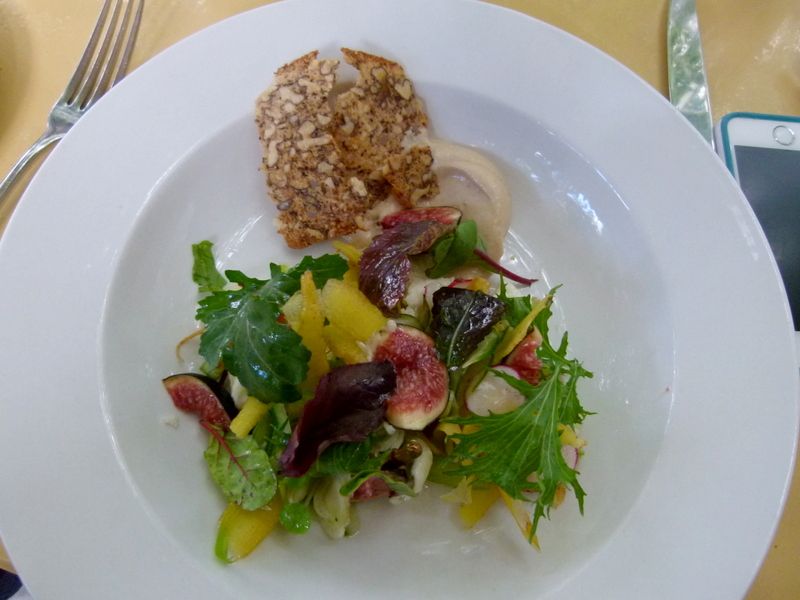 The cauliflower cheese risotto with green olive and fennel for R70 was delicious and very rich and creamy. The smoked salmon trifle with beetroot and cucumber for R55 was really cold and really salty and actually pretty horrible. We tried one spoon of it and put it down – I'm hoping our dish was an exception to the rule. The fig and buffalo ridge bocconcini salad with hazelnuts and port for R65 was wonderfully fresh and delicious.
The main courses were amazing and I believe the highlight of the meal. This is the bacon wrapped springbok, butternut granola and sour fig for R170. The springbok was perfectly medium rare – leaning slightly to rare which is exactly how it should be served. The bacon was sweet and smoky and complimented the slightly gamey springbok perfectly! The butternut granola was made up of butternut and lots of crunchy seeds including butternut seeds and sunflower seeds there was also a sweet addition in the form of dried cranberries and raisins if I had to guess. The granola was really amazing and again the sweetness was amazing with the springbok. Fantastic dish – we were fighting over the last bite!!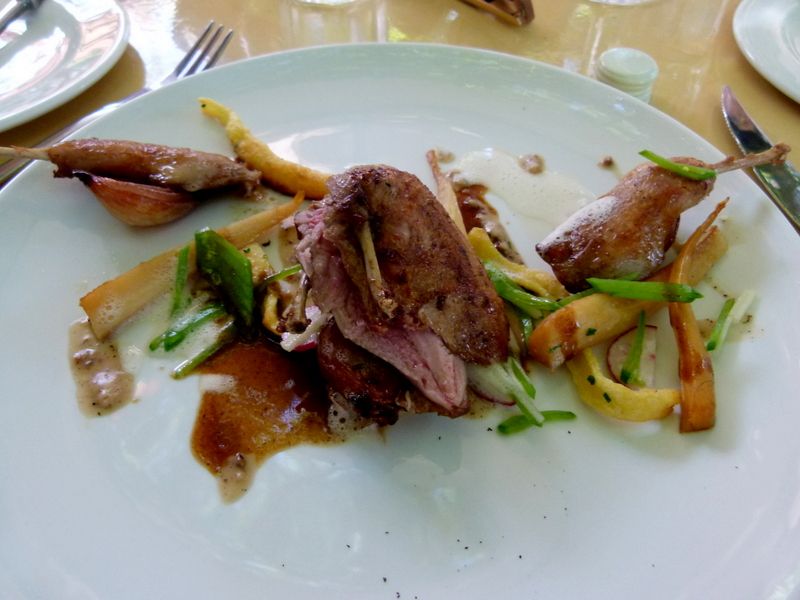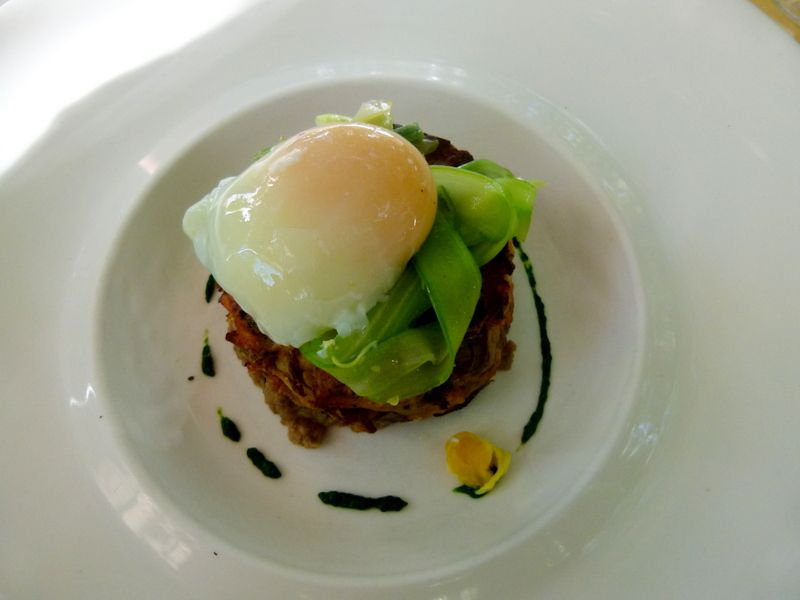 We also had a gorgeous pan roasted quail with spatzle, prune and pepper sauce for R160. This was another serious favourite of mine. I love spatzle and I rarely see it on a menu in Cape Town so jumped at the chance to order it. I was delighted to find the spatzle was just as delicious as the spatzle in Germany! The quail had a slightly sticky basting and was wonderfully tender and delicious. This was tied for best dish with the springbok!
In the middle is the salt beef hash with refried beans and a poached egg for R120. The poached egg was cooked to perfection and the whole dish combined into an amazing bowl of comfort food.
And at the end is the deep fried pork ribs with sweet corn and chakalaka for R160. I loved the balance of flavours of the sweet tender pork with the sweet corn and earthy chakalaka.
And then we had dessert! We were so incredibly full that we had one dessert to share between five of us! By this point I had also had plenty of wine and barely remember what the dessert was besides the fact that it was delicious! All I can remember is that is was some kind of cake thing with a pistachio crust and a jammy fig base, gorgeous fresh baked figs and an ice cream which might have been milk flavoured…. oh wine!
It was delicious and we rolled out of Bread and Wine very happy.
Phenomenal main courses, lovely Moreson wine, seasonal dessert and a lovely venue. I didn't rate any of the starters very highly but luckily the main courses made up for the initial disappointment!
Definitely consider a casual lunch stop at Bread and Wine next time you're exploring the Franschhoek valley!
DETAILS:
Location: Môreson Farm, Happy Valley Road, Franschhoek
Opening times: 12pm til 3pm everyday
Contact details: 021 876 3692