I took my 75 year old grandmother to Beefcakes. Yes Beefcakes- the one with the half naked waiters, innuendo filled menu and weekly drag queen shows. Yes- that's where I took my 75 year old grandmother for dinner. And she LOVED it! My family headed down to Beefcakes to try their Manic Mondays special – 2-4-1 burger night. We were inspired by their wonderful food from Taste of Cape Town. We were absolutely blown away! Unbeivable burgers – must be some of the best in Cape Town.
This giant platter of goodness is the Nibbly Bits which is perfect for sharing! We were a table of 6- and there was plenty for everyone to try. The Nibbly bits platter is R95 and includes beer battered chili poppers, nachos and crispy onion rings. The nachos were delicious! They were covered in melted cheese, guacamole, salsa and sour cream in true tex mex style tastiness! The onion rings were fantastic covered in tempura batter- probably the best onion rings I've had in a while! The chilli poppers were filled with cream cheese and sweet chili- and these guys were hot and delicious!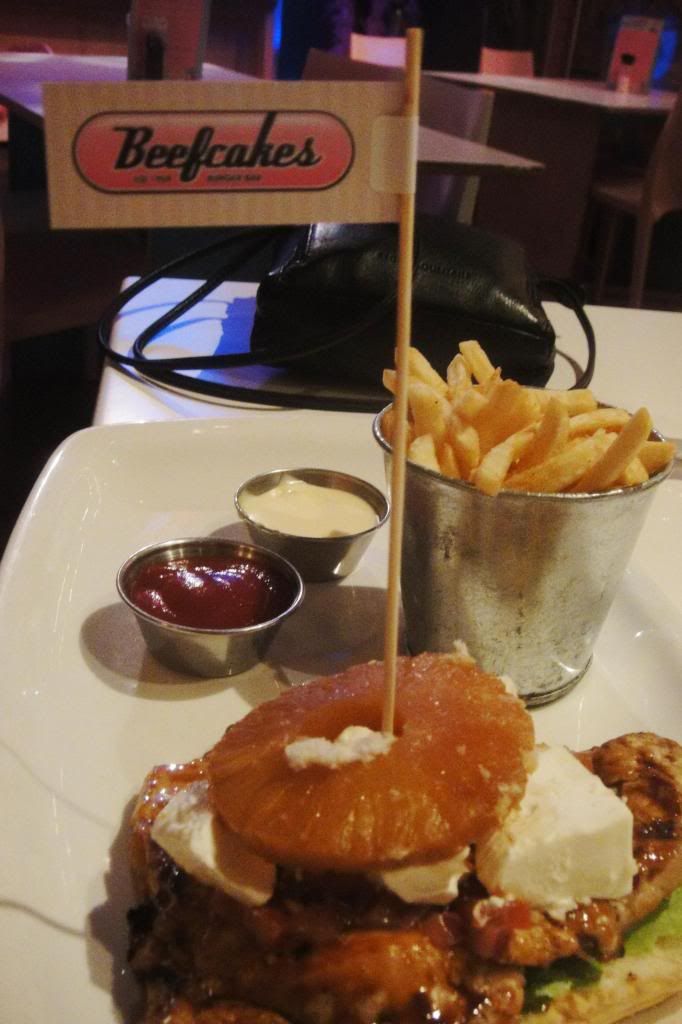 On to the burgers! They have plenty flavour combinations, which you can pair with any burger patty of your choice which include beef, chicken, lamb, ostrich or vegetarian. You then chose how you want it cooked and pick a side – french fries, wedges or salad.  Here you have a topless Hawaiian (served without the top bun). The Hawaiian is R80 for pineapple, mature chedder and chicken. We swapped the cheddar for feta and it was outstanding! The chicken was marinated and cooked to perfection- super tender! And the pineapple, feta and chicken combination was perfect!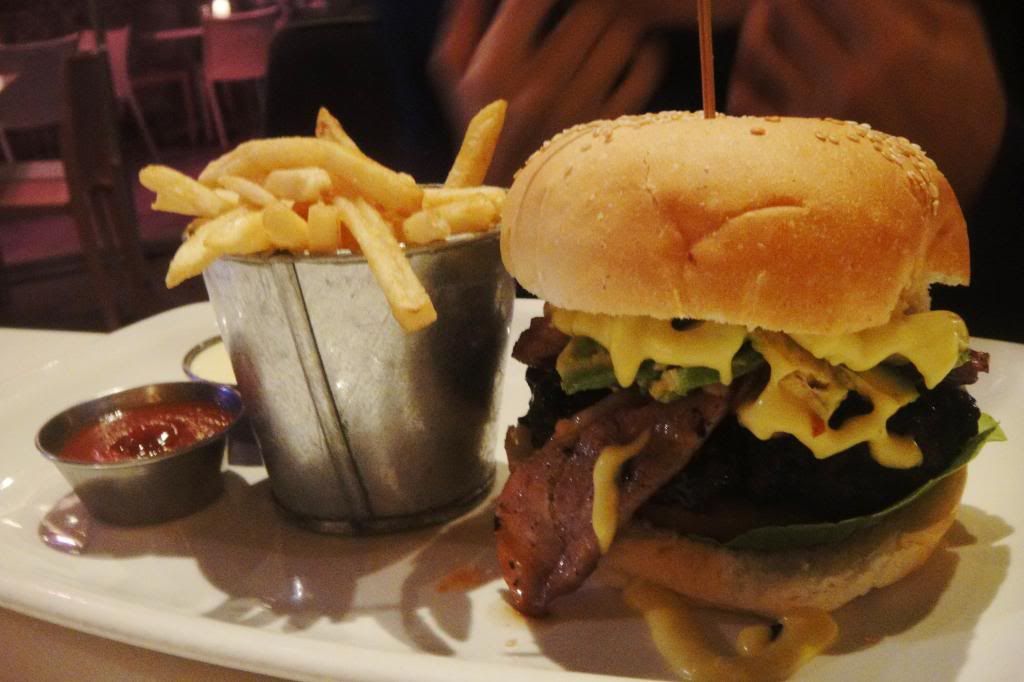 This was the most ordered burger at our table – the F.A.B for R90. This is a beef burger with feta, avo and bacon (see what they did there) with a chive and pepperdew relish and drizzled with warm mustard sauce. And it really was a delicious choice! Truly a FAB combination!
This pretty burger is the Buffy the Vampire Slayer for R95. This is a beef burger with bacon, mature cheddar, caramelised onions, avo and creamy mushroom sauce. This was delicious! I keep stealing the mushroom sauce to dip my chips in!!
Chips are McDonalds level – super thin and crispy golden! Absolutely brilliant and served with mayo and tomato sauce.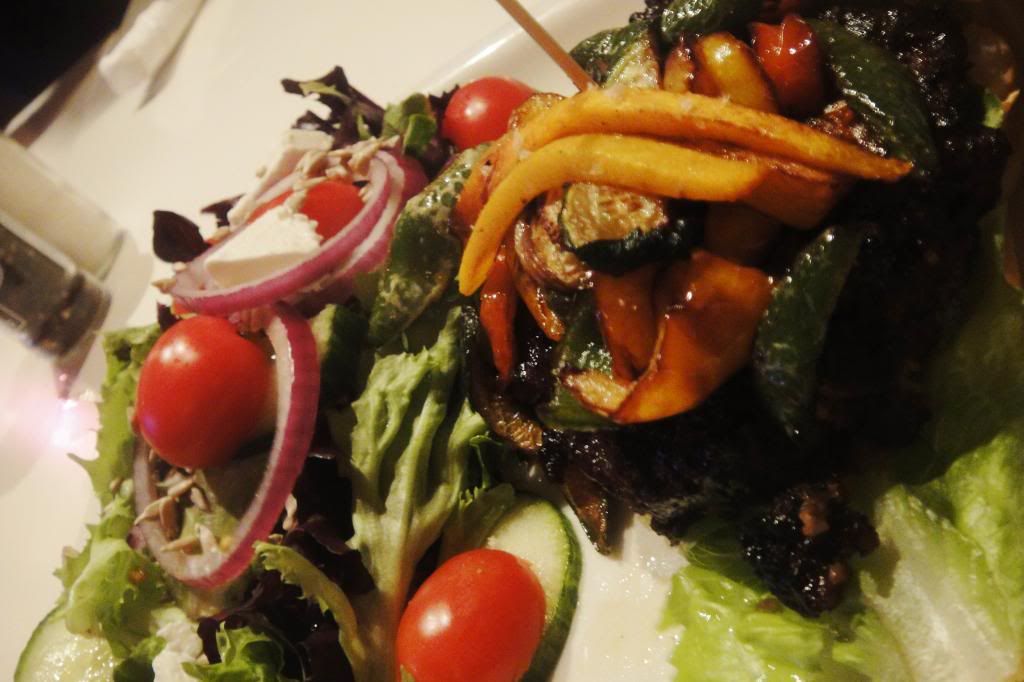 This was my order- which was damn delicious! I crowned myself best order'er of the evening – the boys with their F.A.B disagreed! This is the Sugar Daddy at R85. This guy entails a ostrich patty with roasted veggies, sundried tomato pesto and butternut strips. Every bite was more delicious than the next! The sweet butternut strips with the reoasted peppers and courgettes was just fantastic – and the ostrich patty was cooked a perfect medium. I was very very happy!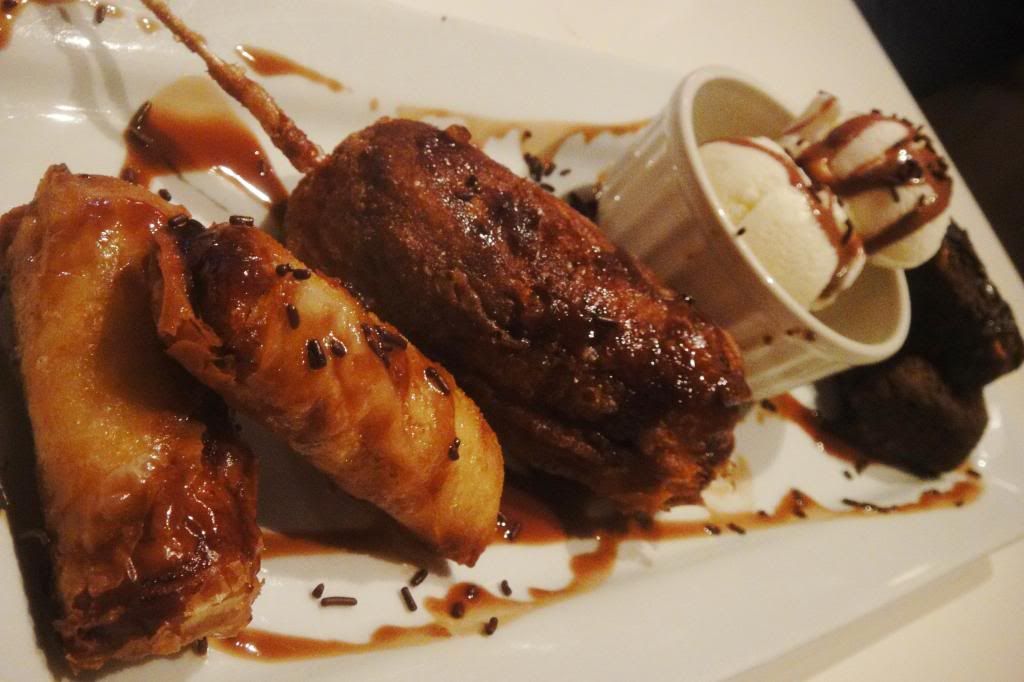 Again monster dessert platter! Happily fed 6 very full people. And what better name for this platter than Priscilla Queen of the Dessert! The platter at R125 includes double chocolate brownies, deep fried twinkies, banana spring rolls and scoops of creamy vanilla ice cream. Yes- this plate is the business! It also could potentially lead to rocketing cholestorel and chances of heart attack- but damn it was tasty!
DETAILS:
Location: Sovereign Quay, 34 Somerset Road, Greenpoint
Opening times: Monday to Friday 12pm til 10pm & Saturdays 6pm til 11pm.
Contact details: 021 425 9019