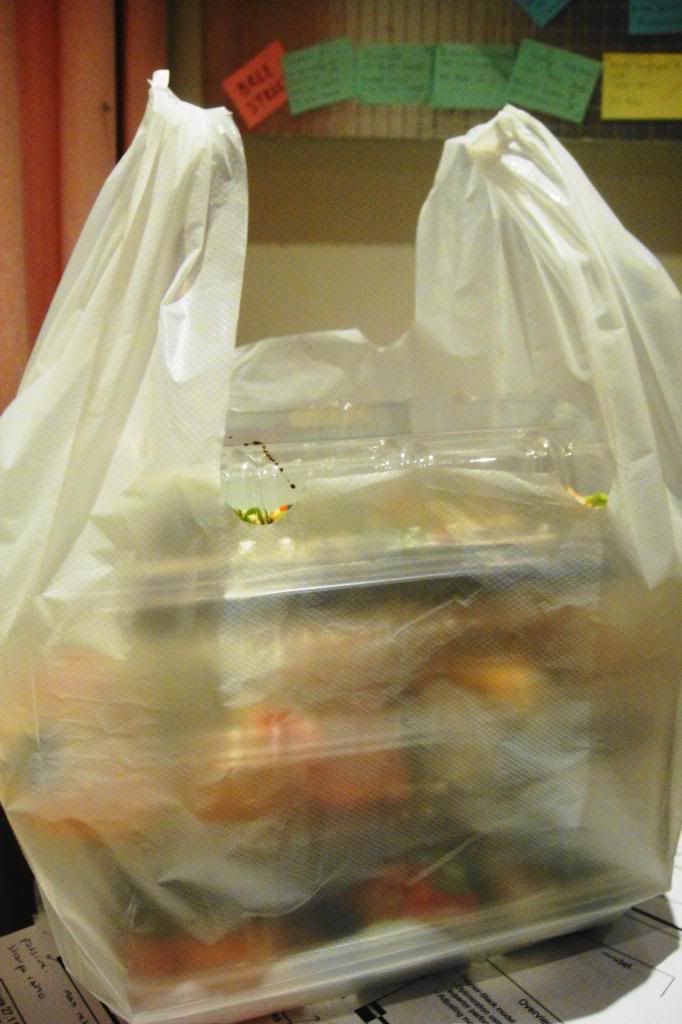 I often find myself with sushi cravings and intense laziness. This normally happens when its cold and raining and making myself get out of bed to find sushi is not going to happen. It also happens when I'm hot and bothered and would rather be eating sushi from the comfort of my balcony in my pajamas. Either way I'm pretty good at justifying sushi delivered to the door. This is where Oishi Sushi comes into the picture! These guys provide your lazy ass with sushi without you being required to get out of bed!
They deliver sushi in the CBD and the Atlantic seaboard. You can place you order via the phone or through their online ordering site. Another bonus is that they accept credit/ debit cards. Delivery is free- but don't forget to tip!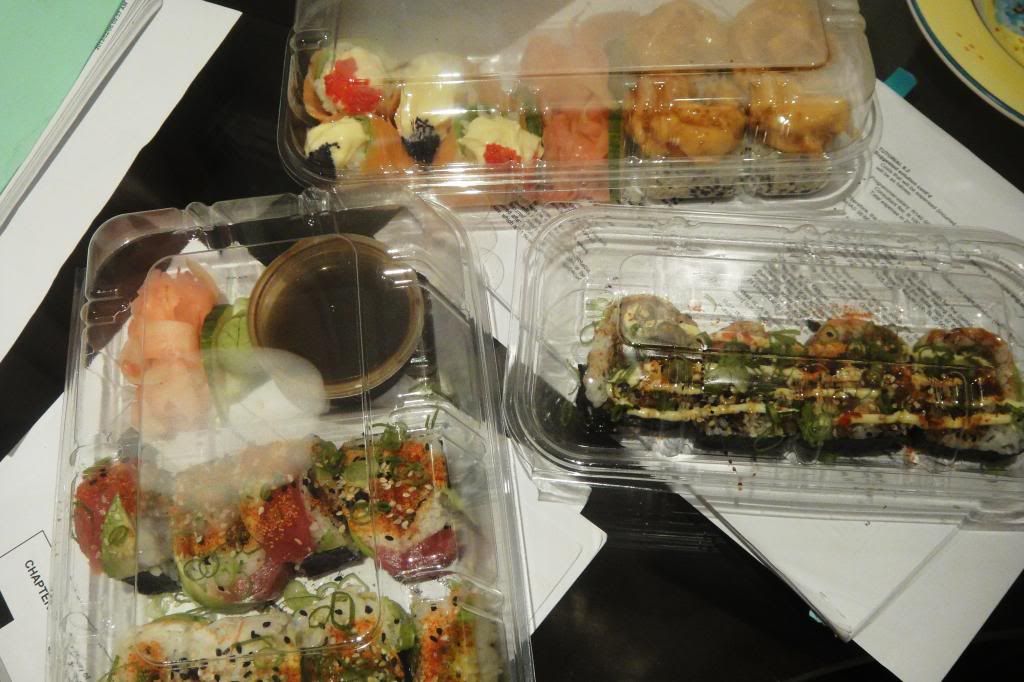 We ordered the rainbow rolls reloaded, rock shrimp tempura rolls, salmon roses, the rock & roll and prawn California rolls. They arrive perfect and squish free.  The plastic boxes they delivered them in were of wonderful quality and we have actually reused them for lunch boxes and cupcake delivery boxes.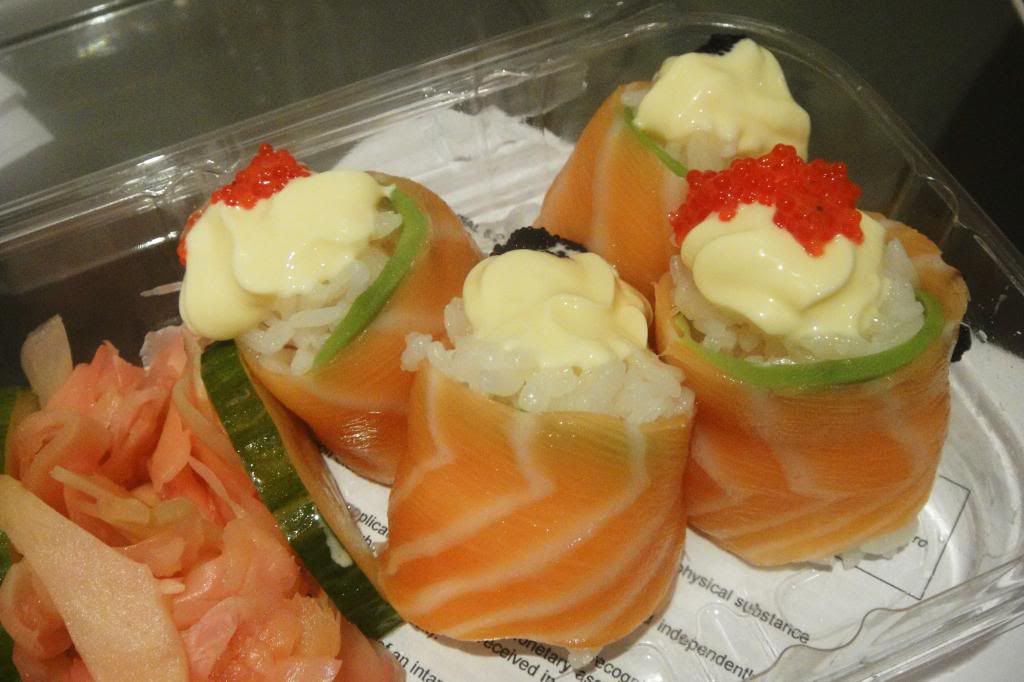 The sushi boxes are thoughtfully put together with a little cucumber slice protecting the ginger from the wasabi – a gesture I greatly appreciate. Clever clever Oishi sushi! These salmon roses were delicious and four for R40 is a pretty good deal.
Next up were the rock shrimp tempura rolls which came as four for R60. The are spicy tuna and salmon California rolls topped with tempura prawns and spicy mayo. These guys were delicious and probably my favourite!! The crunchy prawns tastes a little like nick nacs – odd but delicious! And the rolls were delicious too. Love that delivery is so speedy that the tempura prawns are still warm and crispy.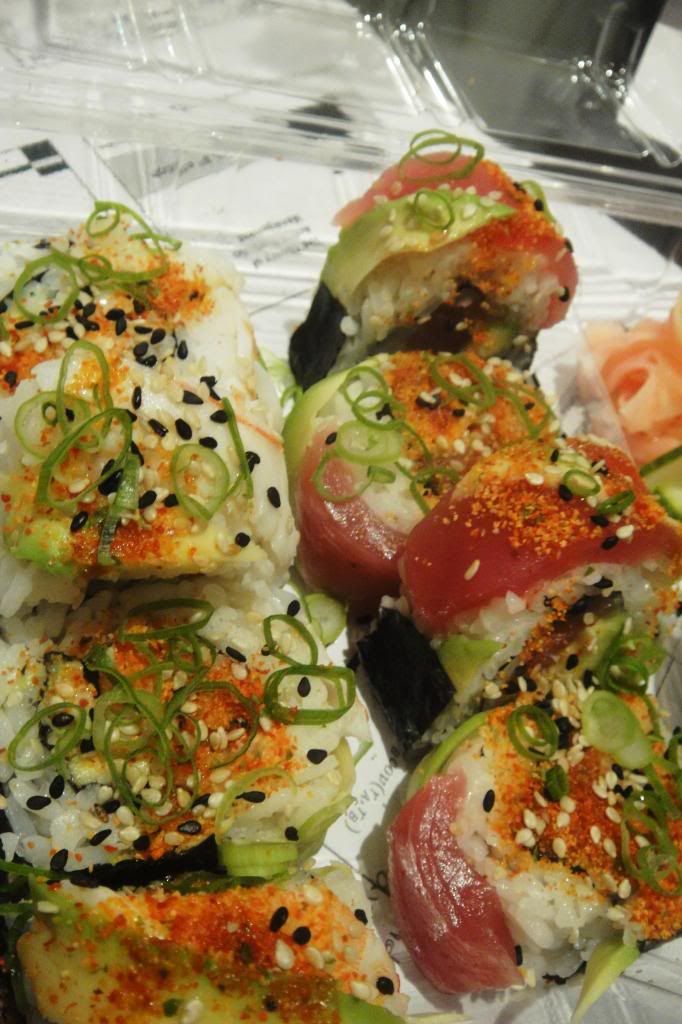 Here you have the prawn California rolls on the right which are four for R30. Pretty good prices! And on the left are the Rock 'n Roll which is tuna California rolls wrapped with tuna and avo with seven spices, sesame seed oil and spring onions which are four for R40.
The prawn California rolls were good but nothing to write home about. The Rock 'n roll rolls were delicious, spicy and full of flavour. Would definitely order them again.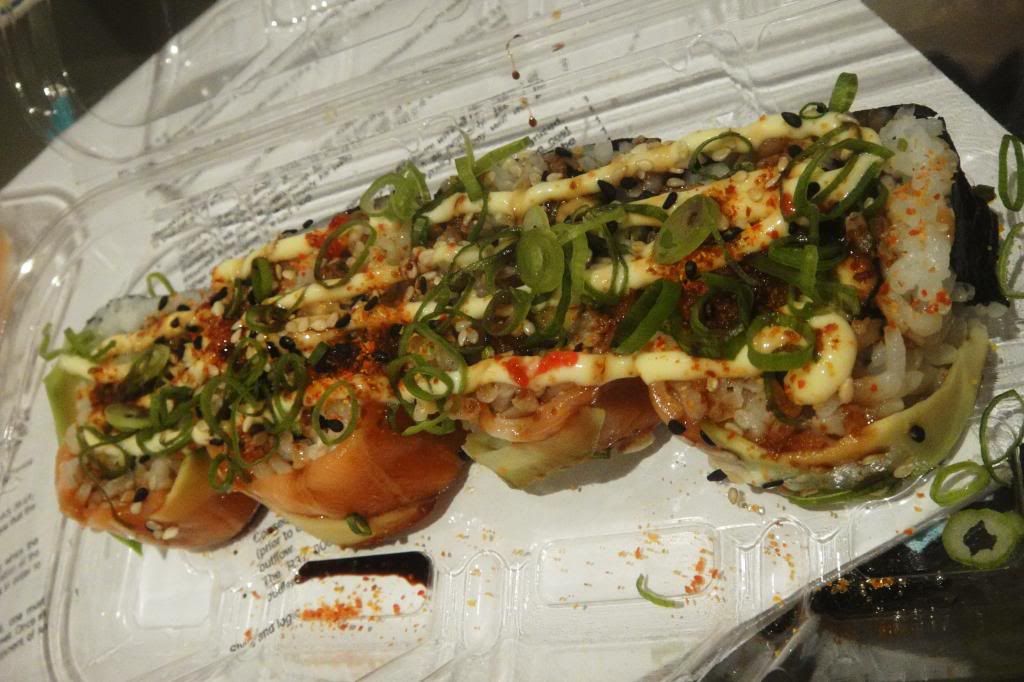 And last but certainly not least are the delicious Rainbow Rolls Reloaded these guys are four for R40. And they were the star of the show. They are salmon and avo California rolls wrapped with salmon and avo and topped with sweet soya sauce, sushi mayo, seven spices, caviar and spring onions. These were so delicious! Loved the salmon and avo with the sweet soya sauce!
All the above sushi was shared between two of us and it was the perfect amount of food – pretty reasonable price for a gourmet meal at home. So get ordering folks- I can hear your stomach grumbling from here!
DETAILS:
Opening times: Monday to Sunday- 5pm til 10pm
Contact details: 021 424 1473, or order online through their website: http://www.oishisushi.co.za/