The lovely boy recently graduated. And the best thing about graduation- is the fancy lunch! No? And his fancy lunch took place at Terroir found on the Kleine Zalze Wine Estate off the R44 in Stellenbosch. Terroir has recently been awarded number nine in the Eat Out Restaurant Awards in South Africa for 2012. I cannot begin to explain my excitement and anticipation of the lunch. Here is the lovely Terroir- green and chic and oh so wonderful!
We started with bread. But this is not any kind of bread- this is really great bread! They apparently make all the bread fresh themselves- and you can tell. The wholewheat bread is rustic and full of flavour. My favourite is the peasant-like bread with tomatoes and assorted herbs on top! Really delicious and wonderful with the oil and vinegar.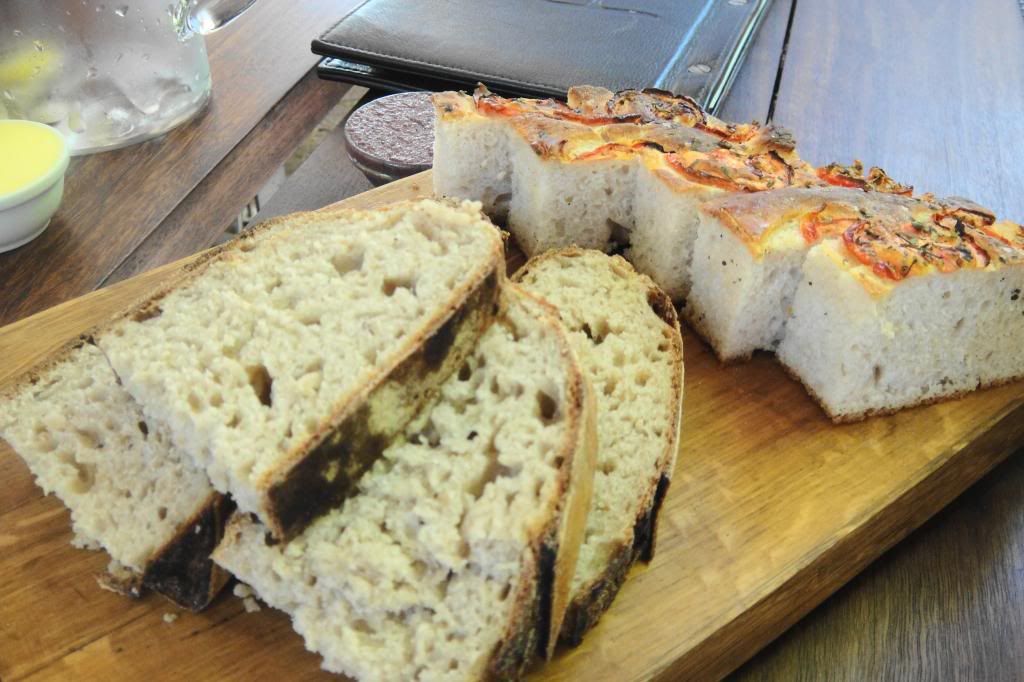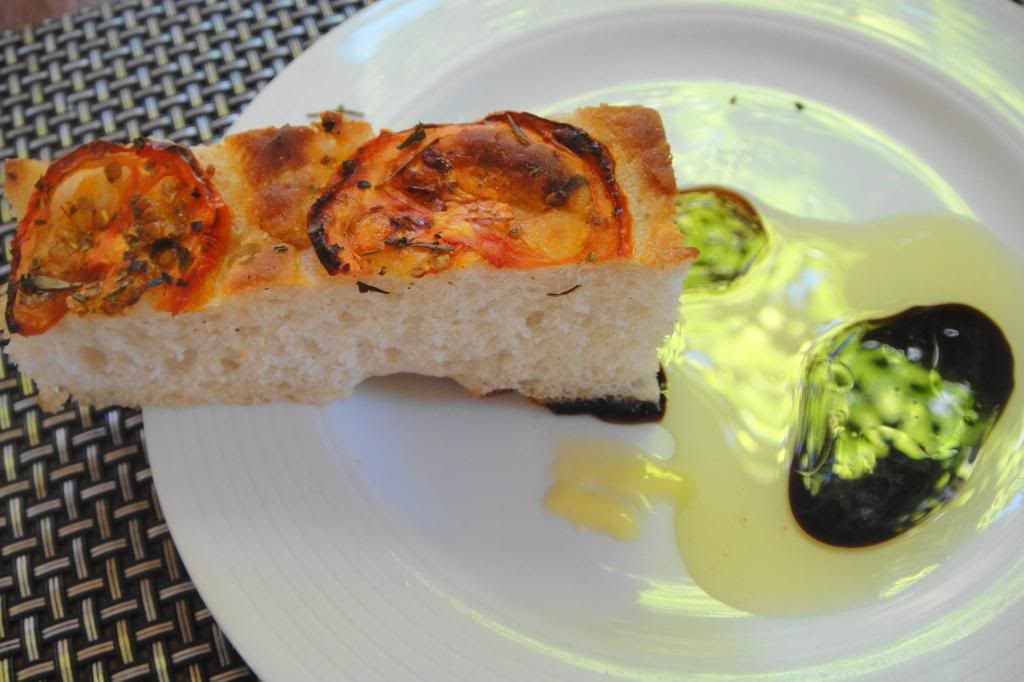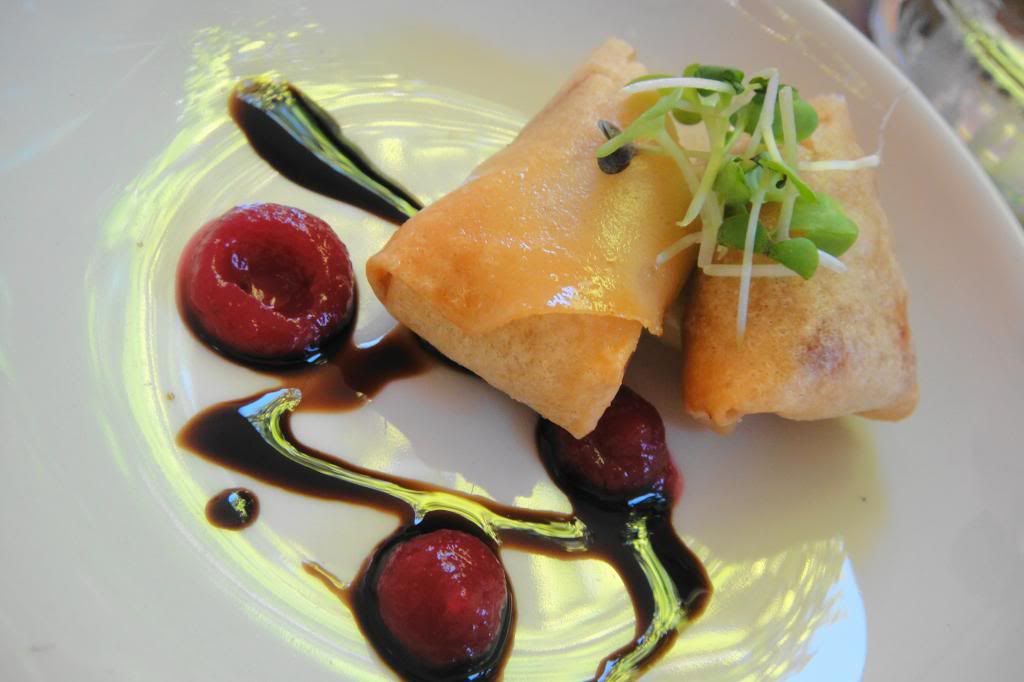 As with all the wonderful restaurants we were given an amuse bouche. It was a dainty little tuna spring roll with some kind of berry coulis and sprinkled with micro leaves. The pastry was crispy and light and wonderful. The berry coulis and balsamic glace worked fantastically with the tuna spring roll.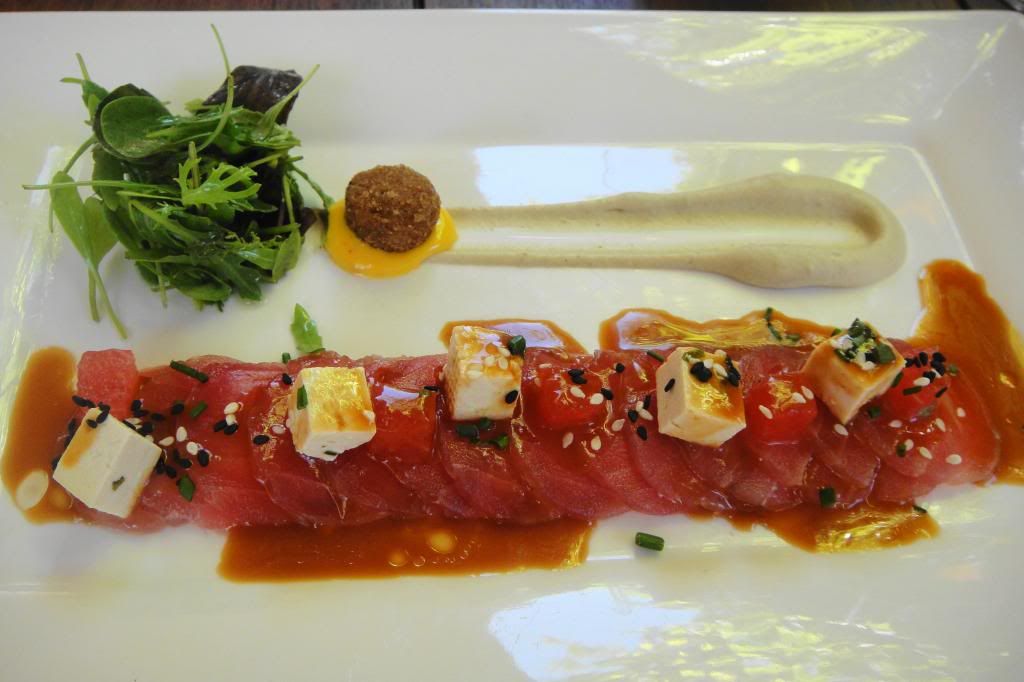 Up top is the incredible tuna carpaccio with tofu, sesame and watermelon for R89. This was an absolutely incredible starter! The tuna was fresh and packed with flavour. The sauce has an Asian style to it- which work incredibly with the tuna, watermelon and tofu. The watermelon was sweet and perfect with the tuna. I'm not a tofu fan- but goodness- I wouldn't have this dish without the tofu. A lovely touch was the tiny tuna fish cake with the aubergine foam- just phenomenal! Would order this again and again. And the prawn risotto with sauce Americaine for R105 below. The prawn risotto was wonderful, creamy and surprising light. The sauce Americaine was complimentary and not over powering- wonderful wonderful food!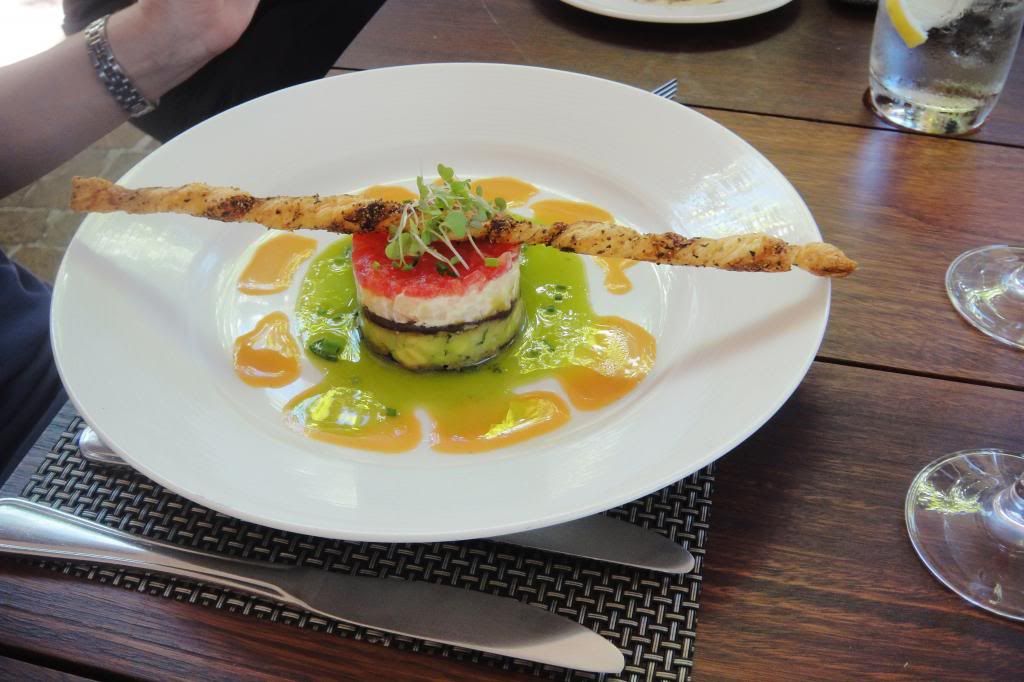 This is the beautiful tomato and avo tian with basil topped with a ceviche sauce for R72. This is incredibly beautifully presented! I thought with it having a ceviche sauce it would be fishy- but the sauce was light and lemony and zesty! Wonderful. The presentation of every dish was perfect and added to the beautiful ambiance of the venue. This was a lovely light starter and perfect for such a hot summers day. As wonderful as all the starters were- I still think my tuna carpaccio was the winner!!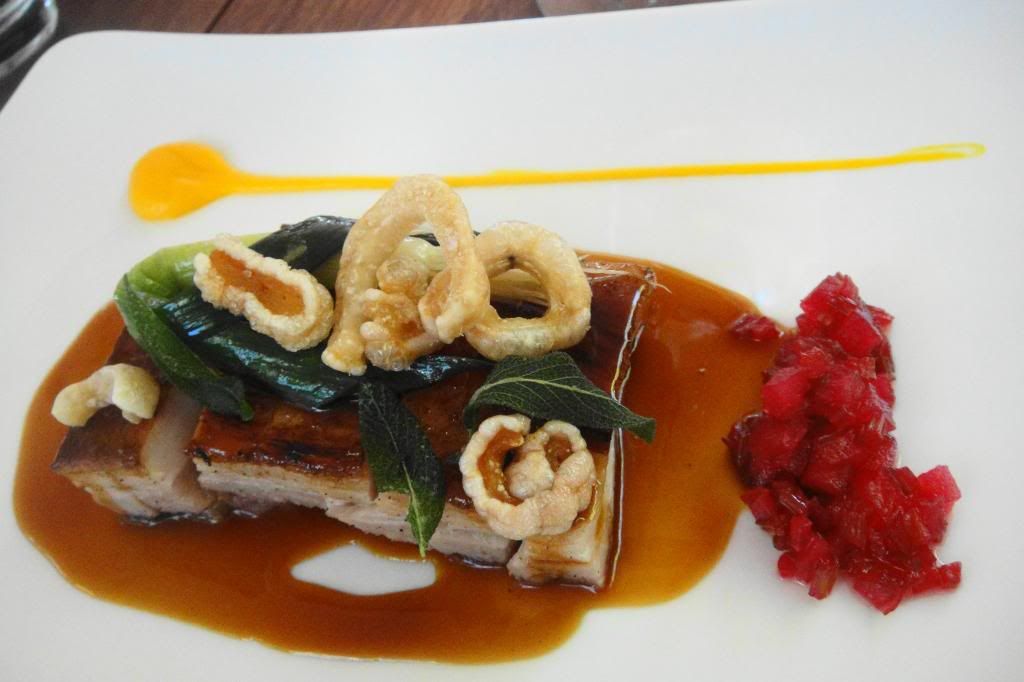 Terroir is famous for their Roasted belly of pork with rhubarb and truffle mac for R185. And rightly so! This is a really wonderful dish! The pork is tender and sweet and soft working perfectly with crunchy pork crackling. The rhubarb on the side is just the most beautiful colour- and works perfectly with the pork! What strikes me most about this dish is that every flavour is individually identifiable- and absolutely great on its own and in conjunction with the entire dish. This truffle mac needs a special mention. It is phenomenal! I think Terroir has now ruined normal mac & cheese for life! I will only accept the rich, earthy, utterly gourmet delights of the truffle mac. This truffle mac is so good- they could serve it on its own without the pork belly and I would still be enthralled!! such a WOW dish!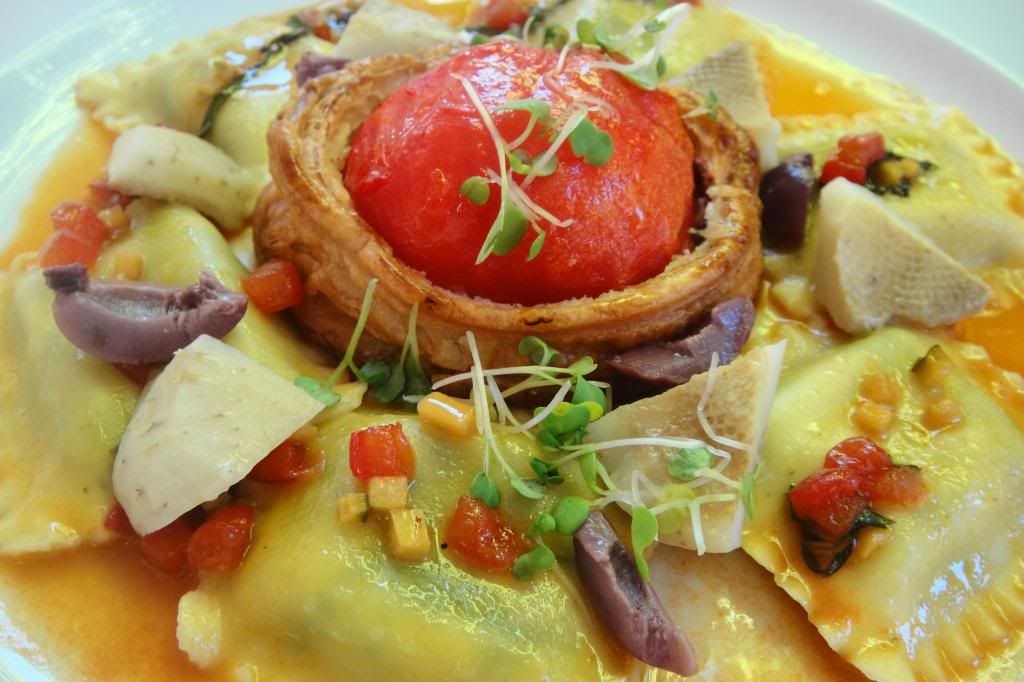 This is the tomato tart with ravioli, artichoke and tomato butter sauce for R170. This dish is beautiful. I have a weakness for artichokes- so already this dish was a winner for me. The ravioli were delicate and cooked to perfection. The fresh chunks of artichoke and olives worked well with the dish. The sauce was zesty and light and wonderful. It was a melting kind of hot day so I was concerned about ordering a pasta dish- but it was light and fresh and utterly perfect! And just look how beautiful it is! So delicious
My beautiful tomato tart was filled with goats cheese and a wonderful pesto! This tart was an absolute treat! Light fluffy pastry filled with creamy goats cheese and pesto for an extra flavour boost. Really simple flavours that your palette can easily identify- but served in such a wonderful way. The little tart was delicious and even better with the lemony sauce from the ravioli. A wonderful main course.
Dessert is a gourmet affair. I must excuse myself here- because after one too many glasses of the Kleine Zalze wine I completely forgot to photograph the menu! So I can only give you a brief overview of what I remember being in the desserts! But the Kleine Zalze wine deserves a mention!! My favourite wine is the Klein Constantia Sauvignon Blanc 2009. The wine is delicious! But now I finally have a contender for first place! The Kleine Zalze Family Reserve Sauvignon Blanc is absolutely incredible! A wonderful wine that worked perfectly with my tuna carpaccio and tomato tart with bruschetta. I will definitely be drinking more Kleine Zalze wine in the future!! But onto dessert! On the left is their famous tarte tine of caramelised apple served with ice cream for R71. This is a beautiful dessert- sticky and sweet and wonderful!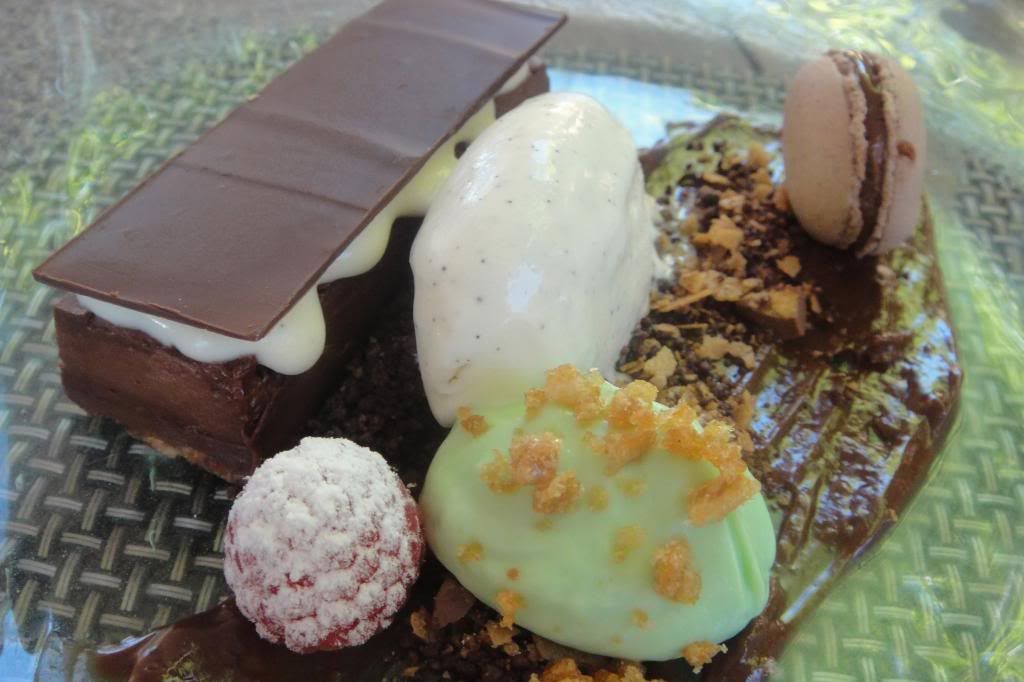 This here is a chocolate lovers dream! This is a whole collection of wonderful things that I sadly cannot remember! So bear with me! I do remember the lovely chocolate macaroon being light and chewy. The chocolate log had chocolate mousse in dark and light chocolate, some cream and a thin chocolate topper. The ice cream was lovely and home made. The most interesting aspect of this dish was the peppermint creme fraiche type thing with a crunch rice crispy topping- it was cold and smooth like ice cream but creamy like mascapone! Absolutely wonderful! And all these delightful things sat on a bed of melted chocolate dusted with crushed up chuckles! This dessert really over delivers in the best way possible!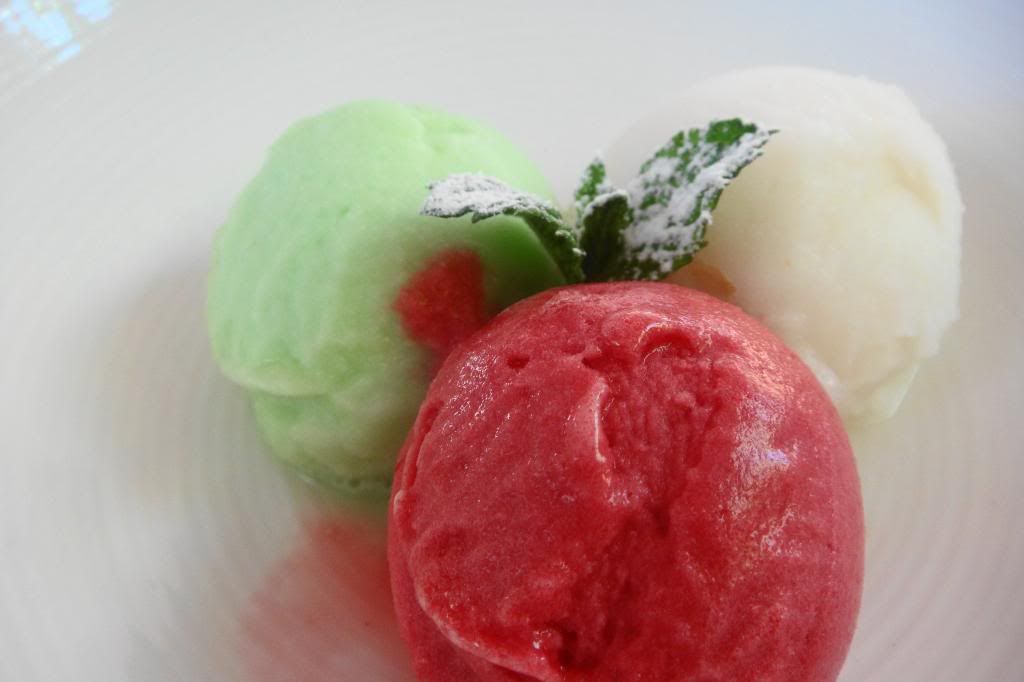 For those feeling full from such an indulgent lunch I would recommend the trio of sorbet for R61. The sorbets were green apple, litchi and raspberry. The flavours came across well- easily tasting the sweet and tart apple, the juice litchi and the sharp raspberry! Light and cold to finish off a hot summers lunch!!
Terroir is beautiful- and I would recommend a walk around the gardens after lunch. Everywhere you look is leafy and green. Booking is essential at Terroir and I would suggest booking outside for both ambiance and view. Our afternoon spent at Terroir was wonderful! My wine glass was never empty, my food was a feast for both my eyes and my stomach and we spent the whole time smiling.
DETAILS:
Location: Kleine Zalze Estate, R44, Stellenbosch

Opening times: Monday to Sunday lunch 12pm til 2:30pm and dinner from 6:30pm to 9:30pm
Contact details: 021 880 8167