I'm a big fan of Sunday Lunches. I'm an even bigger fan of boozey Sunday Lunches whether it be sangria, Bellini's or big jugs of adult level lemonade. A few Sundays back I tried some new lunch experiments that I want to share with you. My favourite lunch experiment was Limeonade for grownups.
You will need:
*12 limes – 10 roughly chopped and 2 sliced
* 300g castor sugar
* 1 litre bottle of sparkling water
* 10 shots of rum
Cut your two limes into slices, put them on a plate and freeze them for at least an hour.
The rest of the chopped limes with their skins in the blender with the sugar and 100ml of water. Whizz until really juicy and broken down.
You'll need to pour this through a sieve to get rid of the pulpy bits.
Taste the limeonade – if it is too sour for your taste- and some more sugar.
When you are ready to serve it- pull your frozen lime slices out the freezer, add them and plenty of ice to a jug with the limeonade and top up with sparkling water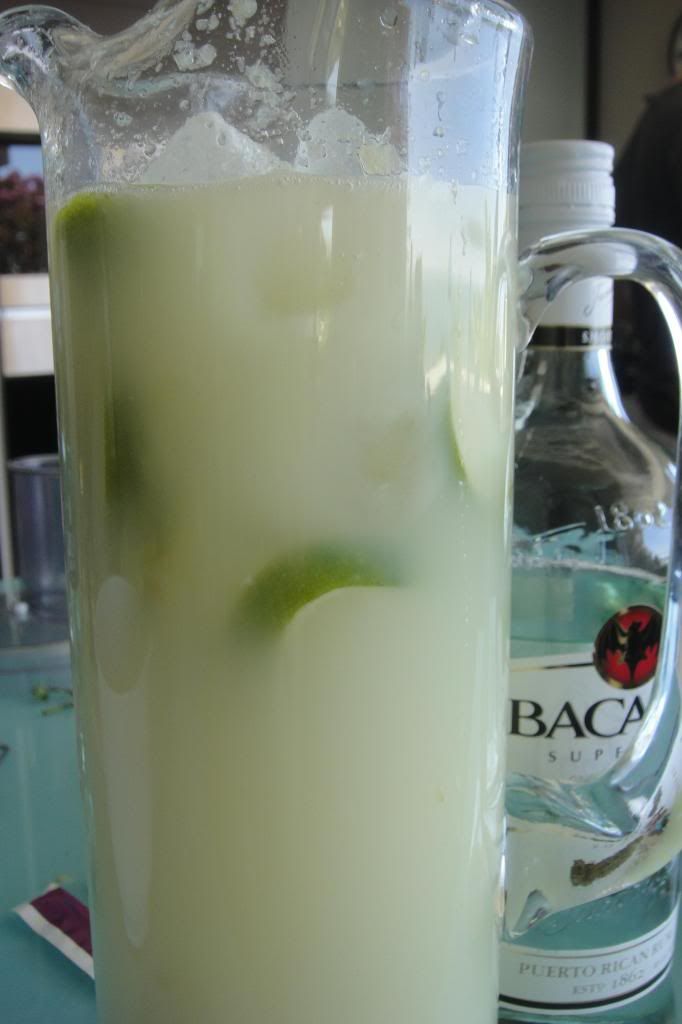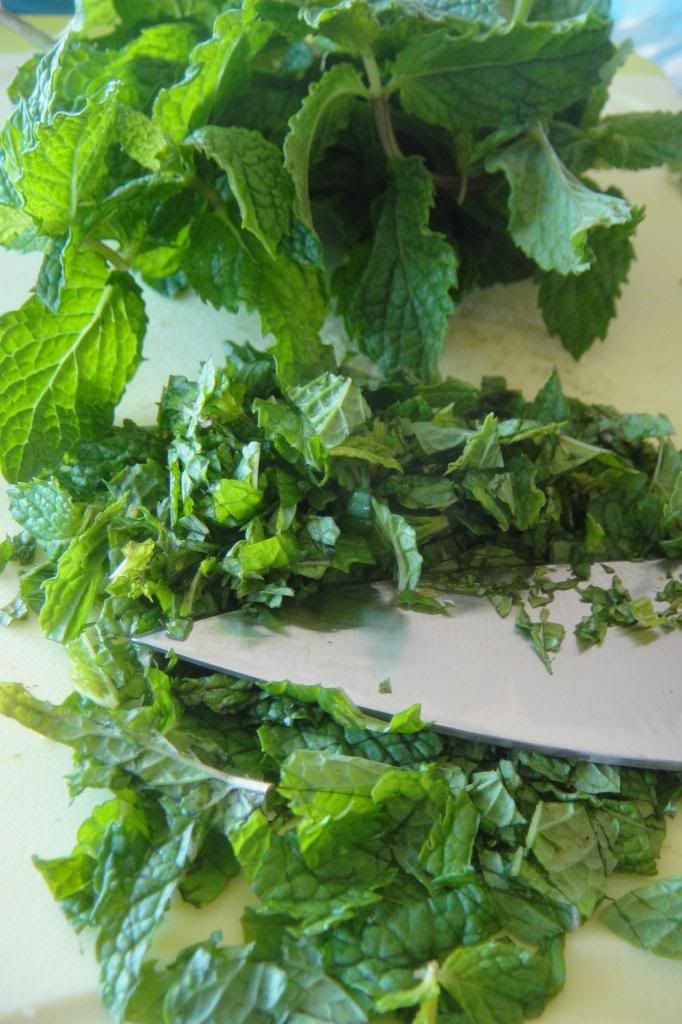 Next up was a gorgeous and summery watermelon salad. Watermelon is one of my favourite fruits so I don't need an excuse to serve it 🙂 But this Sunday I did have an excuse to serve it – in the form of a Tomato & watermelon salad with mint dressing.
You're going to need:
*2tbsp olive oil
*1tbsp balsamic vinegar
*1/2 tsp chilli flakes
*2tbsp chopped mint
*4 tomatoes roughly chopped
*500g watermelon in chunks
*200g pack of feta crumbled
1) Make the dressing by mixing the oil, vinegar, chilli flakes and mint with optional seasoning.
2) Put the tomato and watermelon chunks in a bowl. Pour the dressing over them AND leave to stand for at least ten minutes for the fruit to get really juicy.
3) Last step is to gentle stir through the feta and eat 🙂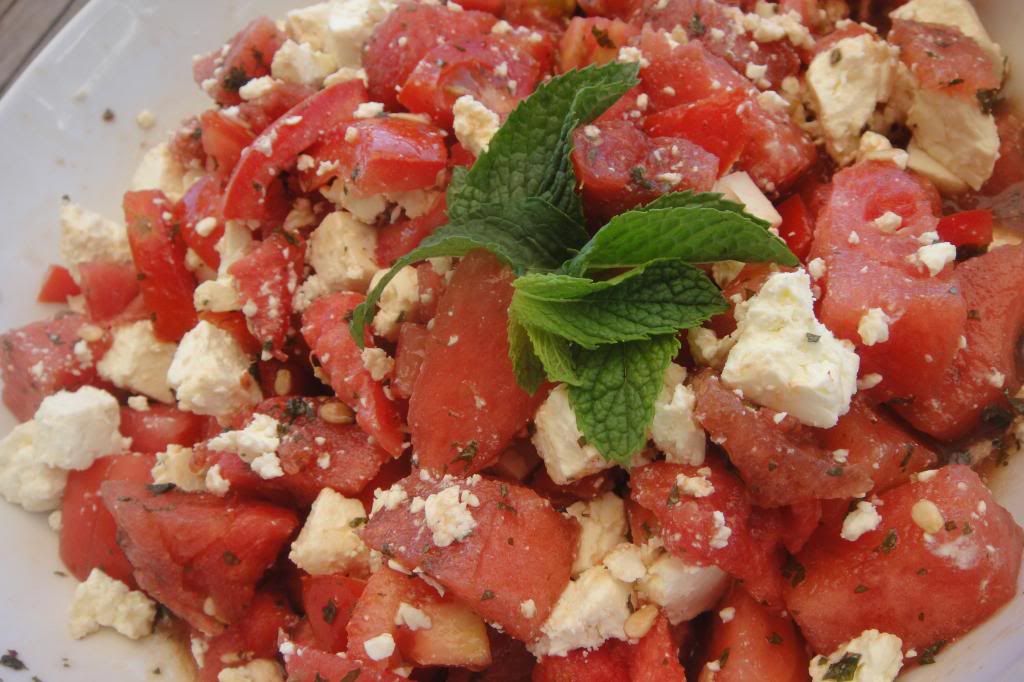 Next up are 'Great for your Cholesterol' bacon wrapped sausages. Please know I am joking- don't go telling people that bacon sausages are good for your heart. These guys are mildly Karen Dudley of The Kitchen inspired. I borrowed her honey mustard marinade. Its super easy- one part wholegrain mustard to one part honey.
So you are going to need:
* 3tbsps whole grain mustard
*3tbsps honey
*8 fat pork sausages
*8 strips of bacon.
Your oven will need to be set to 180C
You need to stretch each piece of bacon out by running a knife in a scraping motion from one end of the bacon to the other. Then wrap a piece of bacon around each sausage being careful to tuck the ends tightly. The honey mustard dressing simple requires adding both ingredients to a bowl and whisking til combined. Place your bacon wrapped sausages on an oven tray and drizzle generously with the honey mustard marinade. The sausages should cook in the oven for about 20 minutes. And will need turning half way through. Feel free to add extra marinade to the other side during the turning phase.
This is my new favourite potato salad. Everyone loves potato salad- it is just such good stuff! But this one is great!!
Potato and sundried tomato salad.
Ingredients:
*500 g potatoes
*4 tbsp creme fraiche
*1 tsp olive oil
*pinch of castor sugar
*10 sundried tomatoes – sliced
* 2tsps dried oregano
*2 spring onions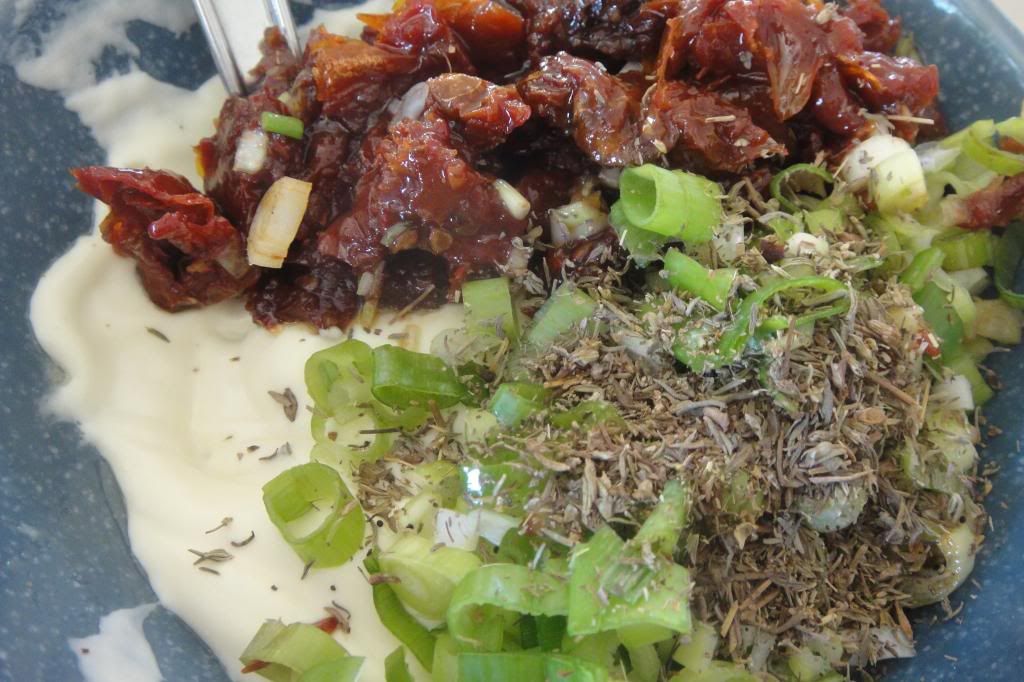 Step 1: Boil your potatoes, allow them to cool and remove their skins.
Step 2: Mix the creme fraiche, mayonnaise, olive oil and sugar and some seasoning. Then gently stir in the sundried tomatoes, oregano and spring onions.
Step 3: Add the potatoes to the dressing and stir gently mixing it all through.
(For added decadence add bacon…)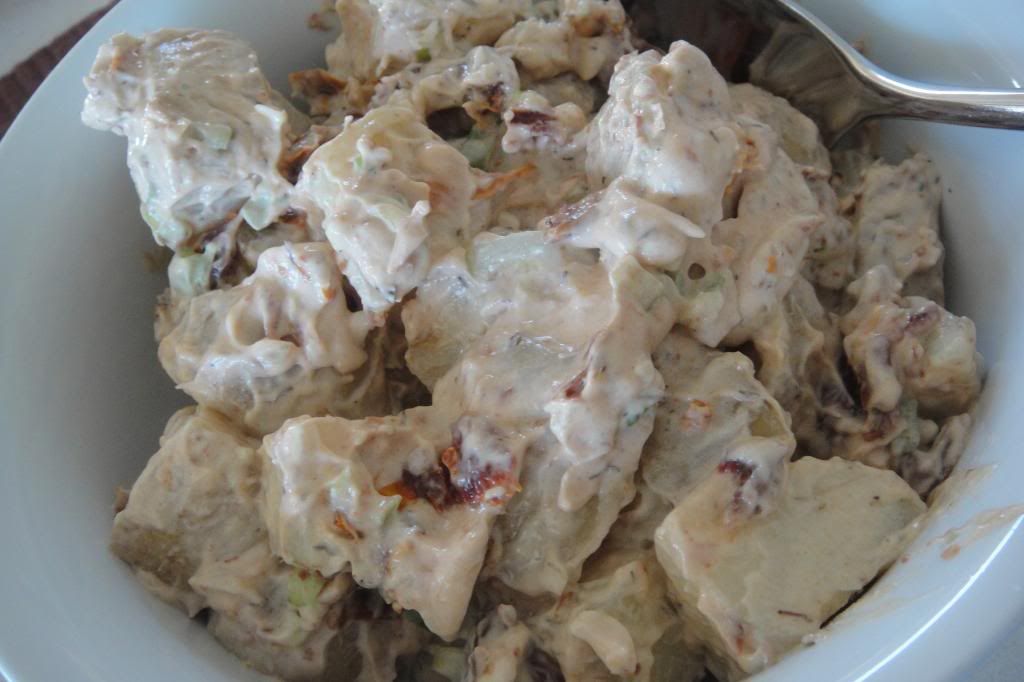 The next recipe up was a bit of a win lose for me. The topping was fantastic but the spinach was not so hot. Here's Spinach with raisins, pine nuts and breadcrumbs. I'll give you the whole recipe but in future I'm just doing to make the topping to sprinkle over warm butternut soups, roasted veggies or cous cous salads. Will be heavenly!
Ingredients:
*Tbsp olive oil
* Thick slice of whole wheat bread blitz'ed to crumbs
* 1 garlic clove
*25g toasted pine nuts
* 50g raisins
*250g bag spinach
Step 1: Heat your oil in a frying pan over a low heat. Add the breadcrumbs, garlic and some seasoning. Cook until golden and crunchy- makes your house smell so good! Garlic and fresh bread smells. Then remove from frying pan
Step 2: Now add the raisins and pine nuts to the pan. Cook for about 2minutes until they have warmed through.
Step 3: Tip in the raw spinach and allow the heat from the pan to wilt the spinach.
Step 4: Put your spinach, raisins and pine nuts in a serving dish and sprinkle with the gorgeous garlic breadcrumbs.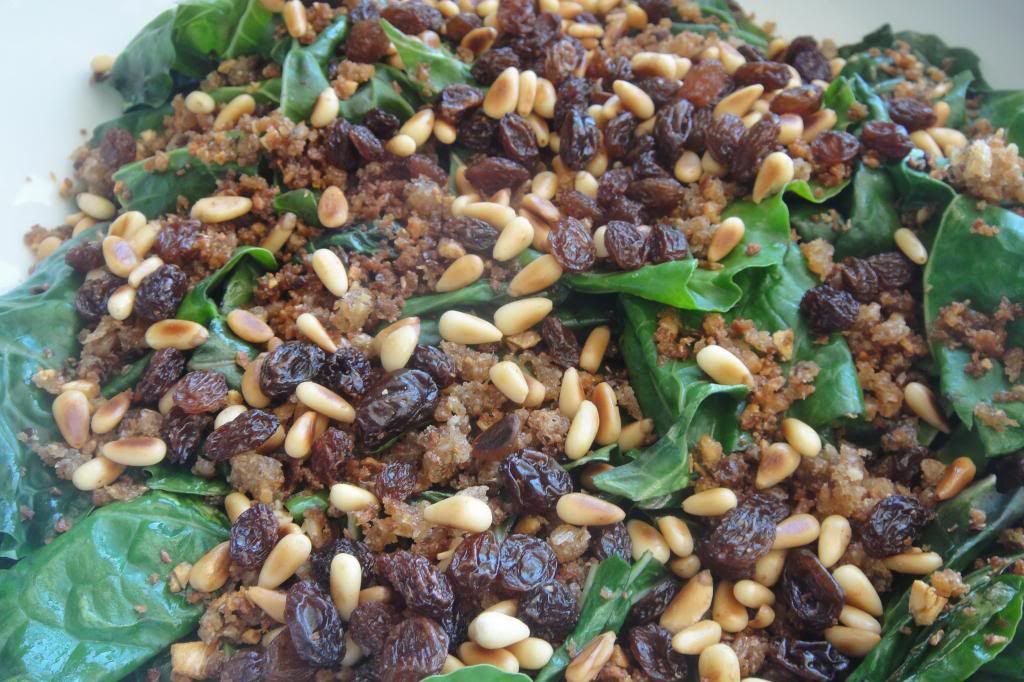 And there was lunch 🙂