Nuri Sushi Factory is a fairly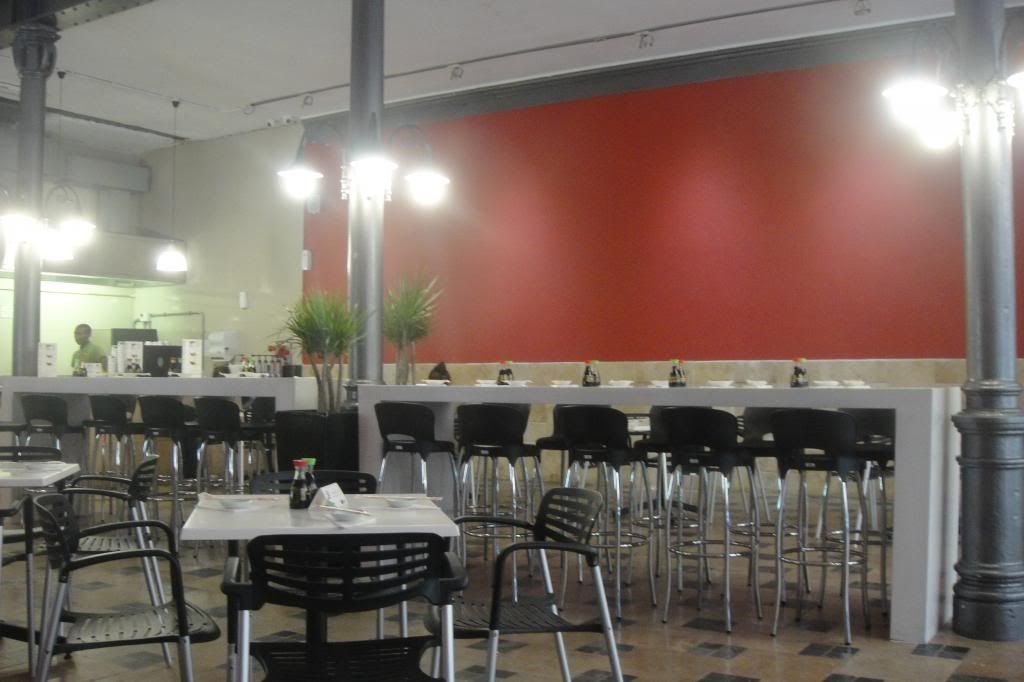 new sushi spot found in the CBD. The emphasis is on take away sushi. They are quick, cheerful and very affordable. The restaurant is in its early days and still finding its feet- but doing so remarkable well. Nuri sushi will be successful due to their top quality sushi and even better customer service. The deal is you order off their giant menu posted above the till. This giant menu has teeny tiny descriptions making it very difficult to work out exactly what sushi you are ordering. Make sure you grab a menu- we only found this out after our order was placed. You sit down after you've ordered and paid and they will bring it to your table or wrap it up ready for a take away. And damn these guys are fast- you won't be waiting long at all!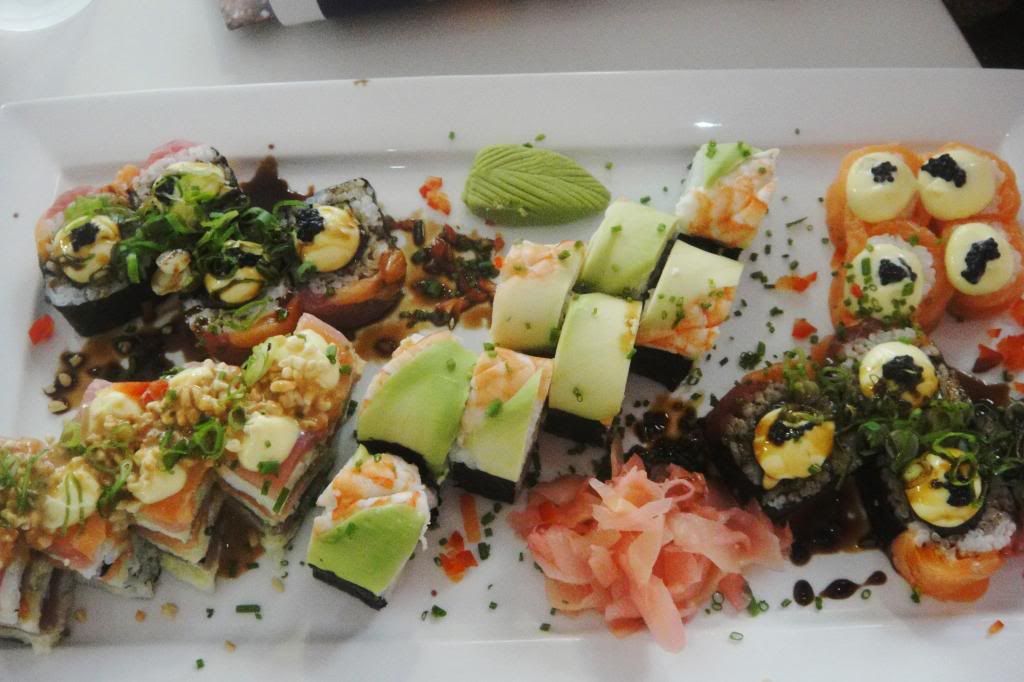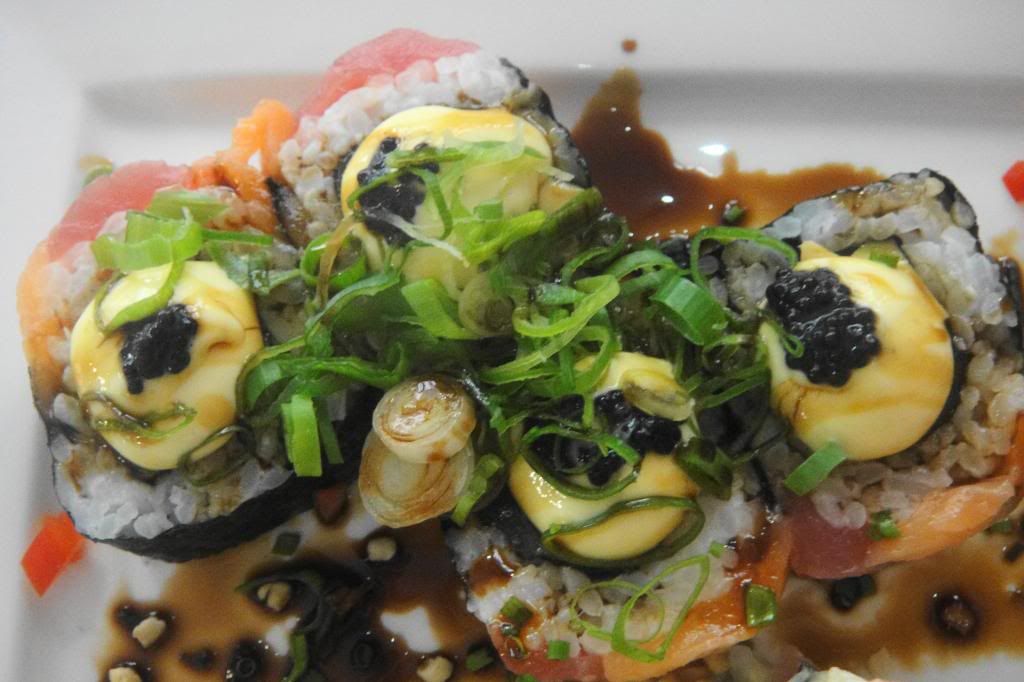 How's about we start with my favourites. This good looking sushi is the rainbow reloaded at R46 for 8. They are tuna and avo california rolls wrapped in salmon and tuna with sushi mayo, teriyaki sauce, caviar and spring onions. I'm a rainbow roll snob- and I do believe these rolls are going to give Willoughby's some serious competition. The flavours are just fantastic- the sweet teriyaki with the crunchy fresh spring onions is perfectly to keep the sushi light. The fish was top quailty, the sushi fresh as can be and so beautifully put together.
My other sushi choice tied for favourite was the spicy prawn tempura rolls at R43 for 8. These are tempura prawn California rolls topped with spicy prawn mayo drizzled with teriyaki and plenty of sesame seeds. This was delicious- and very similar to the Carin's rolls served at Beluga/Sevruga. Fresh, light and packed with flavour will definitely be ordering this next time. And take a moment to look at the price- R43 for 8 pieces? I mean are you kidding me!! Fantastic affordable sushi!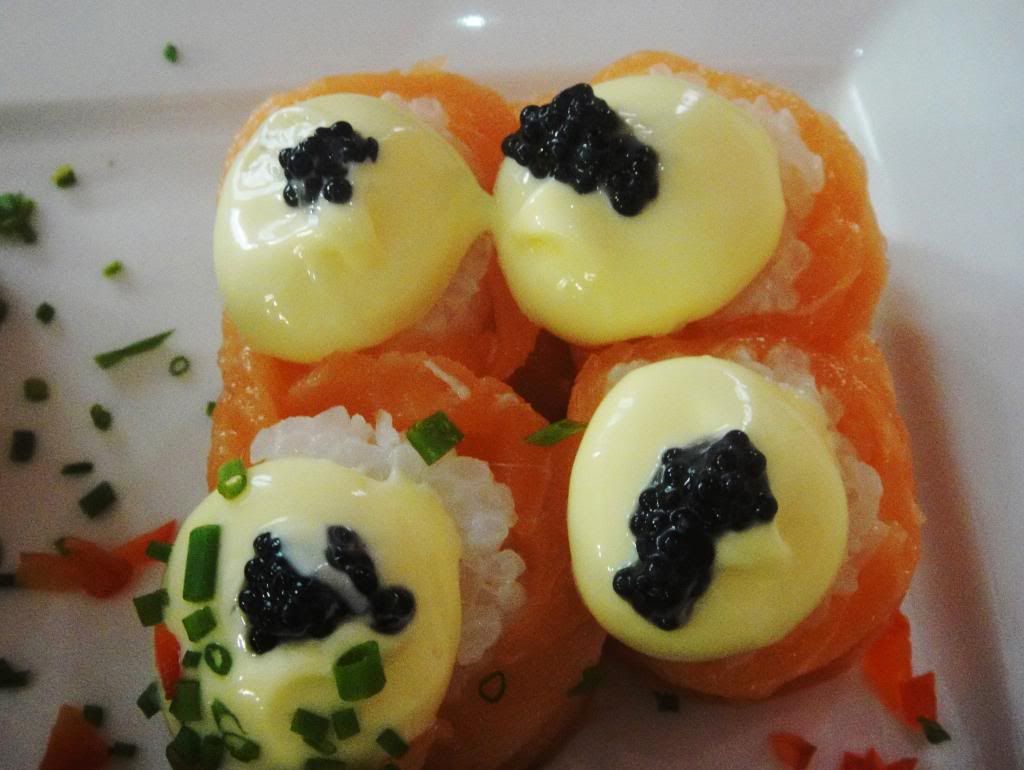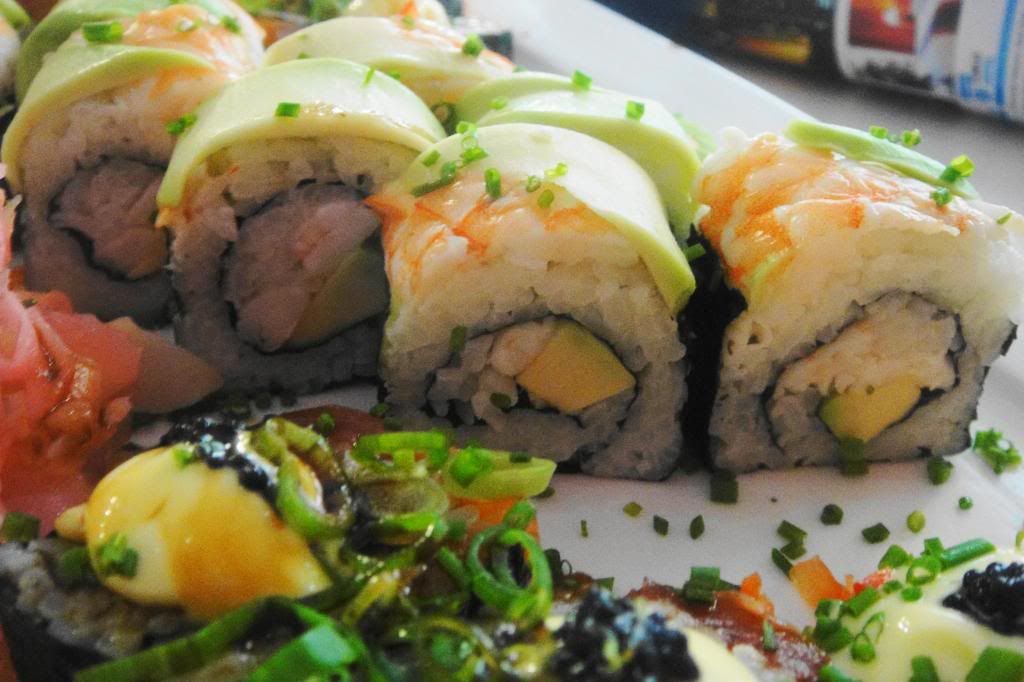 I only have one bad thing to say. And I hate the bad things- so I will be quick so I can get to the good bits. I ordered these prawn and avo california rolls and the avo was rock solid. And the thing about unripe avos is they don't taste nice at all. My face was very sad. The owner/manager came over and chatted to us- I told him about my avo sadness and then came the more professional customer service I have even seen. He apologised profusely, said he fully understood and organised another batch of sushi be made- and promised to checked the avos himself. I will add that the remade batch of prawn and avo California rolls were substituted with cucumber- very very clever Nuri. Clearly their avos were not playing nice. He even went so far as to find out what our favourite sushi was from the order and organised a take away portion of that. Thank you so very much Nuri Sushi for showing us Cape Townians what good service is about.
Now here is where I let myself down with that tiny menu. I saw the name Nuri Stack. And I always like to try a sushi restaurants signature dish- so I ordered this Nuri Stack. But you see the Nuri stack is layer with wasabi. And I cannot stand the flavour of wasabi… so I was man down from bite one. I think this stack would be fabulous without the wasabi (hint hint nudge nudge…). If you are a wasabi fan- then this Nuri stack is specially for you. The Nuri stack involves a triple stacked fashion sandwich with salmon, tuna and wasabi drizzled with sesame oil, peanut dressing, spring onions and crushed peanuts and topped with mayo. It really is the everything sandwich at R52 for 8.
Nuri sushi is a winner- packed with flavour and at ridiculous prices! A real must try and a serious contender for my top ten sushi spot in Cape Town.
Here's my left over wasabi stack taken home for the boyfriend, my kindly remade Prawn and now cucumber California rolls and my extra complimentary sushi 🙂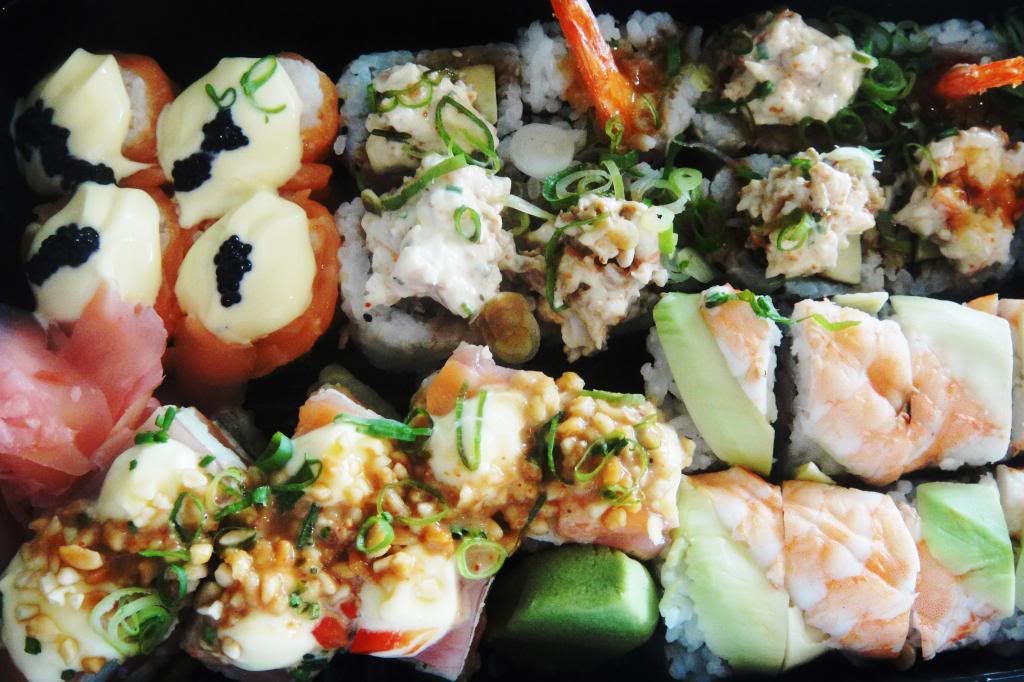 DETAILS:
Location: 8 Parliament street, Cape Town
Opening times: Monday to Saturday: 12pm- 9pm
Contact: 021 461 8719