My baby brother recently celebrated his birthday. He decided for the family portion of the celebrations he wanted to do lunch at Sevruga in the waterfront. I have spend copious amounts of time at Sevruga's less classy sister Beluga whether it's for their cocktails or amazing sushi so was very excited to try Sevruga. On arrival the manager found out it was my brothers birthday and arranged a round of shots for the table- my dad was very amused. The one on the far right is a chocolate cake shot and the other three are some sort of southern comfort shots- very good.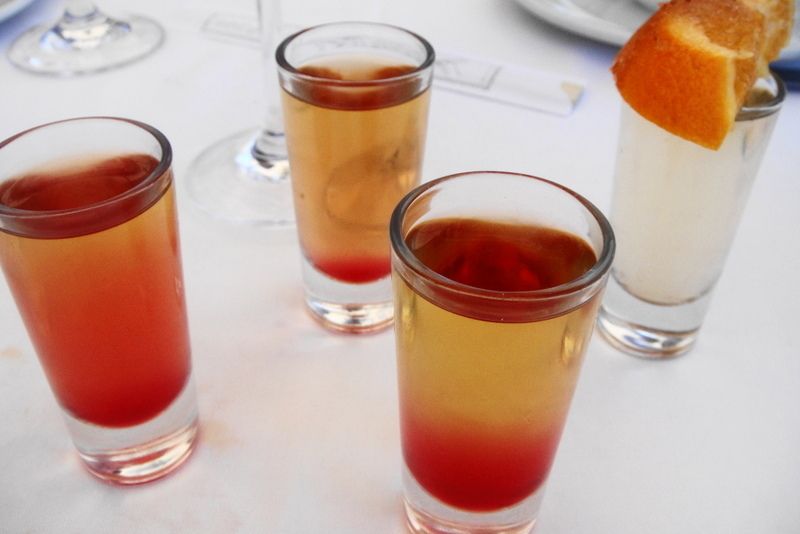 We decided to go for the winter 2-course special which is any two course for R120- and there were plenty of starters, mains and desserts to chose from. My dad is a non-sushi eater (I know-he's useless ) so he opted for the spice fried calamari with peanut aioli and fried veggies. He was not very impressed with it- but the peanut aioli was lovely and helped with the lack of flavour from the calamari.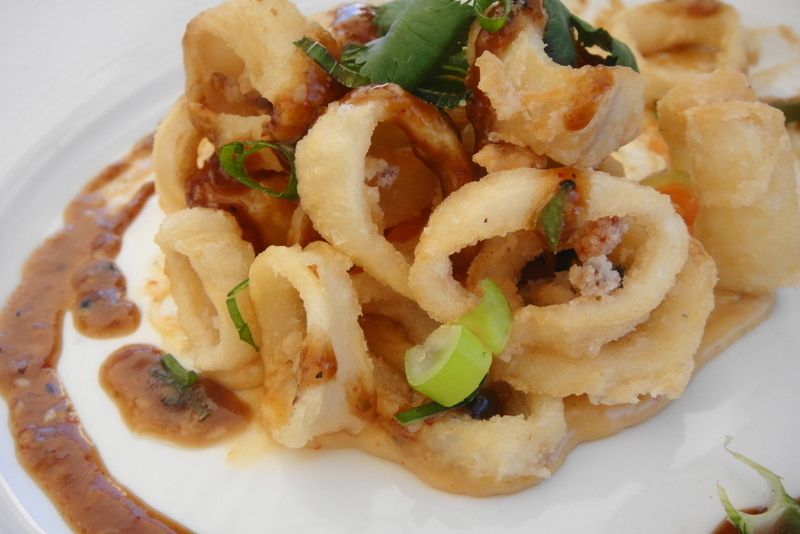 My mom and I sneakily shared the 2-courses. You're really not allowed to but she supplemented her meal with added extras. My choice of starter was the tuna crunch- which has always been a firm favourite- like sushi dessert with cream cheese, tuna and lots of tempura. My mom got a side order of tempura prawns with sweet chilli sauce- which were good- but nothing amazing.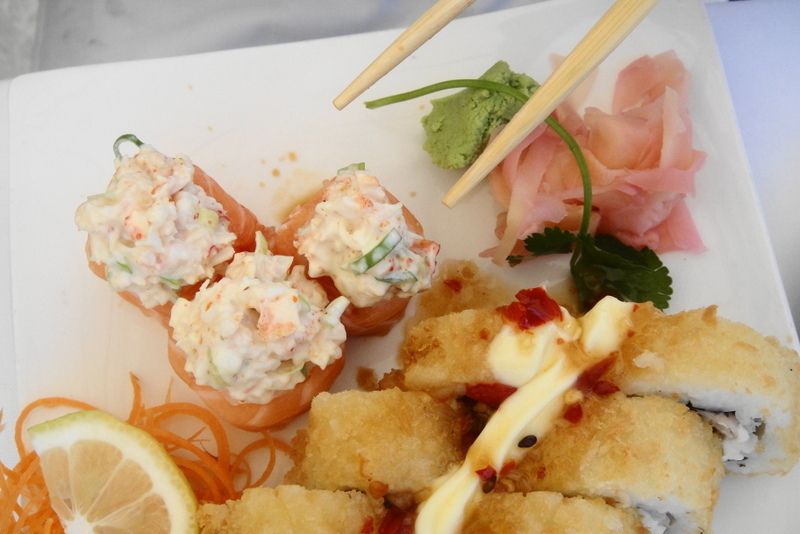 My little brother decided to go all out and order the 2-course meal and added extras. He had the tuna crunch like me- and loved it. And then he also opted for the creamy prawn salmon roses which were R38 during half price for 4 pieces. He was very happy with them- and they looked delicious!!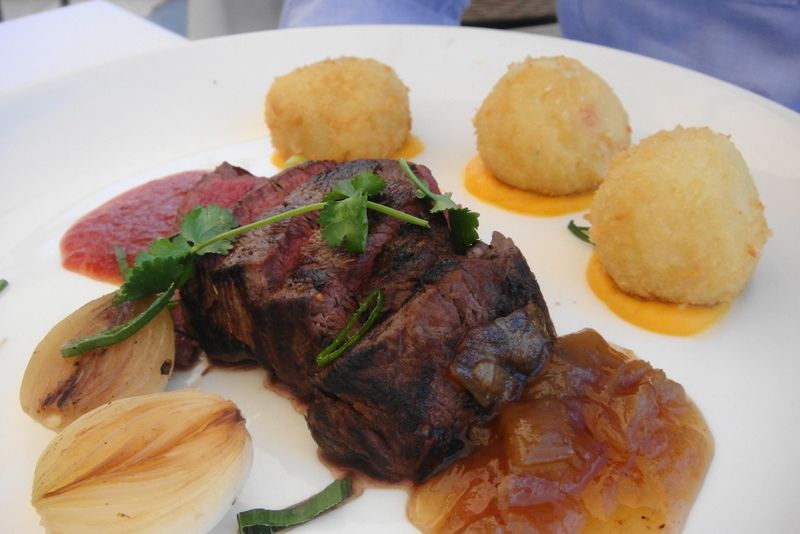 My dad then went for the beef fillet served with pommes cocottes. The fillet was cooked to perfection. And as you can see the presentation was lovely. And the pommes cocottes are pretty much potato croquettes and they were delicious!
And then our beautiful sushi arrived! Our main course choice was the Carin's platter- I have previously mentioned that Carin is a legend- but this platter seals the deal. The platter consisted of 8 Carin's rolls, 8 Samurai rolls and 4 seared tuna salmon roses. The seared tuna salmon roses are little roses of happiness- the tuna has plenty of spice to it and the creamy mayo and rice help cool the spice down. The Carin's rolls are tempura prawn California rolls with diced up prawn mixed with spices and sushi mayo on top. Absolutely delicious- I would recommend this to anyone!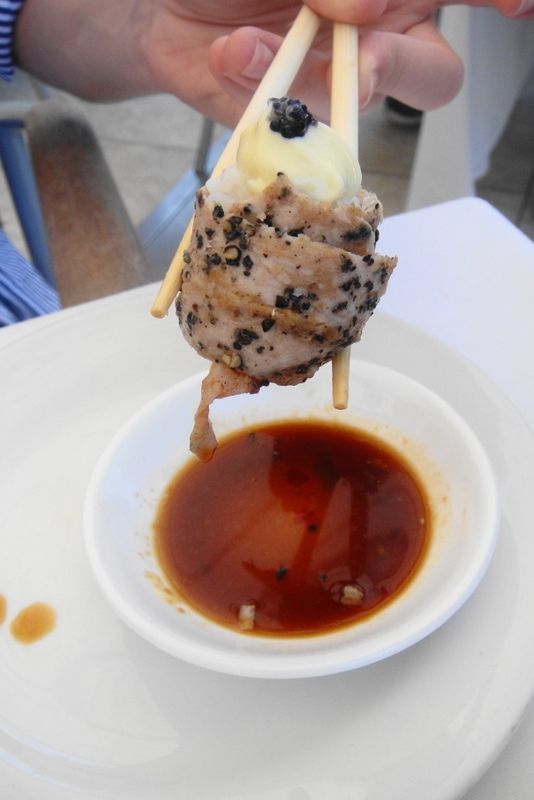 The Samurai rolls have a deceiving name- I was picturing something cover in wasabi and pretty bad ass! But they are not- they are absolutely faaantastic!! They are California rolls with tempura prawns AND seared tuna- have you ever seen such a combination? no! that's why they are so great! And on top of the rolls is plenty of avo creating like a rainbow roll kind of effect. Absolutely delicious! Buttery tuna and crunch prawns with creamy avo- Oh so good!!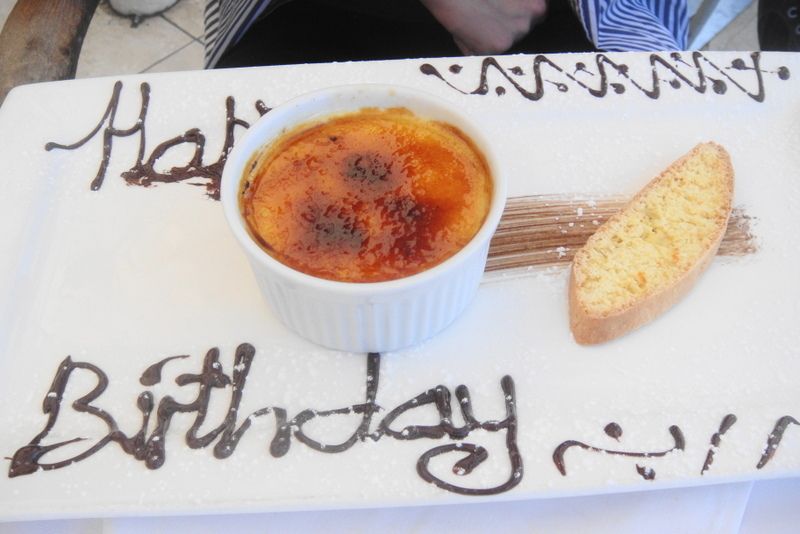 After all this sushi we were feeling very relaxed, very full and very much in need of an afternoon nap. But of course Sevruga decided to make our meal even more perfect- and brings out a complimentary creme brulee for my brother! What a wonderful and thoughtful act- I am so impressed with Sevruga and will definitely be back! And let me tell you- I have a serious love for creme brulee. And my long standing 'best creme brulee in Cape Town' has always been The Top of the Ritz revolving restaurant- BUT now Sevruga holds that very esteemed position! The creme was slightly warmed all the way through and the brulee was thin as possible and cracked from the slightest tap of my spoon. Creamy magic and clearly made with real vanilla! Absolute perfection!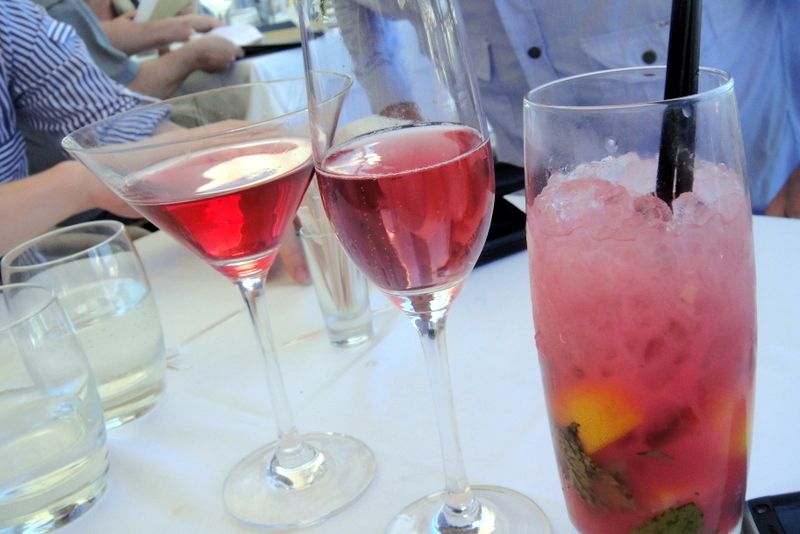 So cheers to my baby brother- who has survived another year of me throwing blackberries at him, forcing him to sing Taylor Swift in the car and much unwanted advice. Cheers to Sevruga for being absolutely fantastic, for the wonderful food and for service that leaves Beluga behind in the dust. And cheers to the copious amounts of cocktails I got to drink- with favourites being the white chocolate martini and the Cranberry Royal. Absolutely wonderful- 5 star experience!